Introduction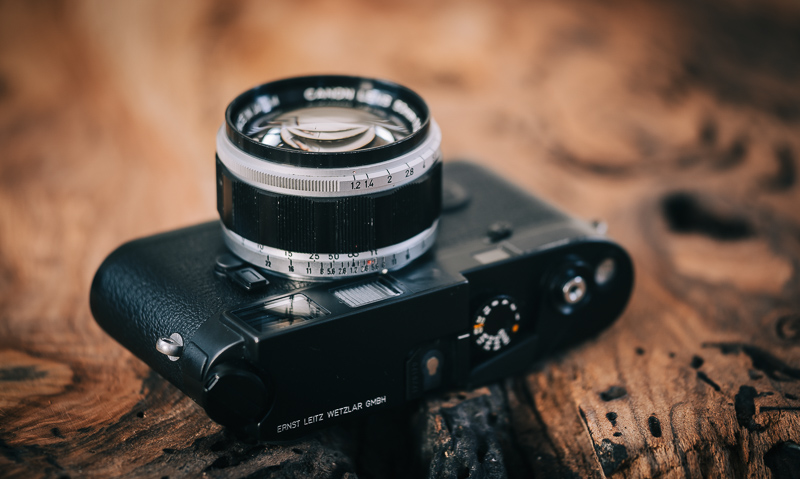 Some of you may not know that before producing FD mount lenses and SLR cameras Canon also manufactured rangefinder lenses and cameras, leading to a line-up of no less than 59 different LTM (Leica Thread Mount also known as M39) lenses between 1946 and 1964. These lenses are fully compatible to Leica M cameras and can be easily adapted to other modern mirrorless cameras as well, so today we will have a look at the Canon 50mm 1.2 LTM, the second fastest lens from this series released in 1956.
This lens will be reviewed on the 42mp Sony A7rII and the 24mp Leica M10.
Sample Images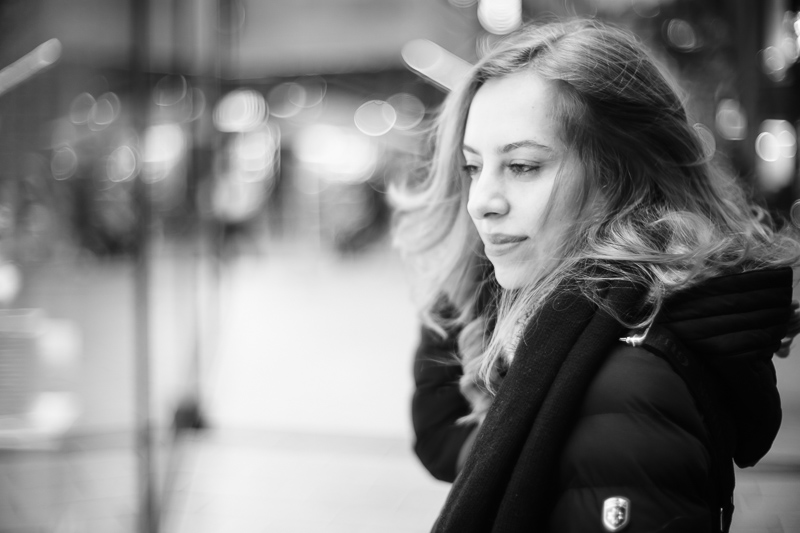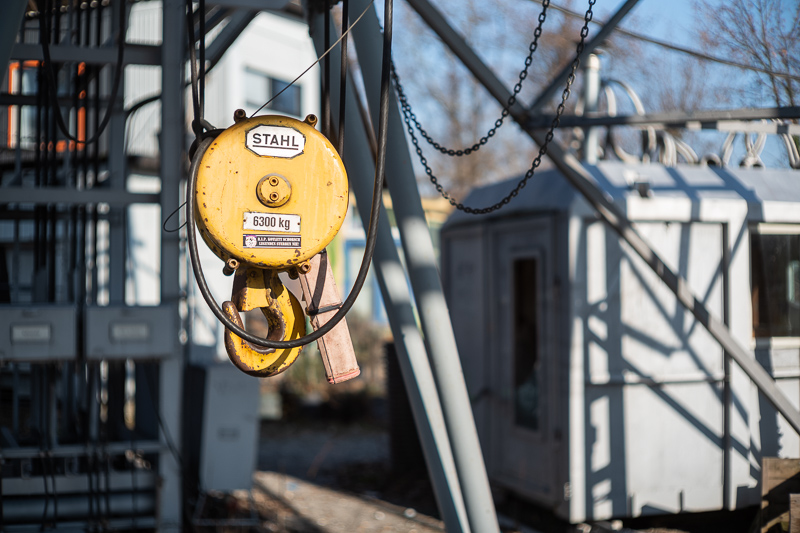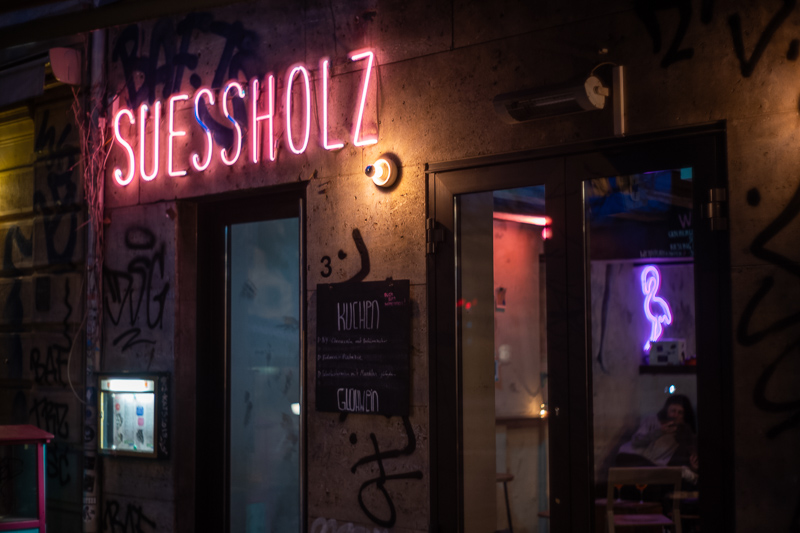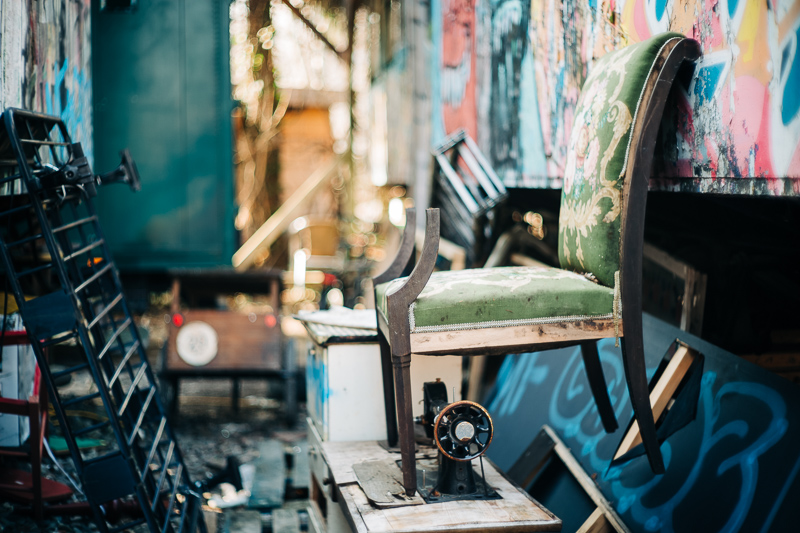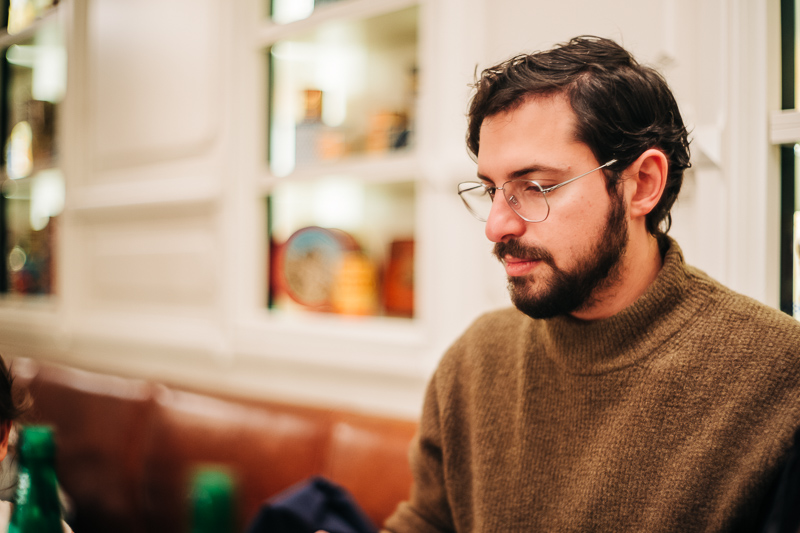 Most of the sample images in this review can be found in full resolution here.
Specifications / Version History
According to Canon's online lens history hall there have been 16 different rangefinder lenses with a focal length of 50mm that have been made between 1946 and 1964, but only one with a maximum aperture of f/1.2, the Canon 50mm 1.2. Its full specifications are:
Diameter: 63mm
Length: 39mm
Weight: 343g (measured)
Field of view: 47° (diagonally)
Filter Diameter: 55mm
Number of Aperture Blades: 11 (inwardly curved)
Elements/Groups: 7/5

Close Focusing Distance: 1.0m
Maximum Magnification: 1:17.1
Mount: M39/LTM
You can usually find this lens on ebay.com (affiliate link), those in very good condition start selling at $400 
Disclosure
The Canon 50mm 1.2 LTM was kindly provided free of charge by our reader Dirk B. from Pforzheim for reviewing purposes, thanks a lot!
Condition of this lens
The Canon 50mm 1.2 LTM has been manufactured between 1956 and 1964, so these are very old lenses now in 2023. Unfortunately there are several possible issues that can occur over time with these lenses, the most common ones are fungus and balsam separation. This sample of the lens does look clean and clear at first sight, but the cemented rear group shows some issues with balsam separation towards the edges. This definitely affects the bokeh as I will show you in this review, but it may also affect other characteristics like contrast and flare resistance in a way that is not quantifiable to me due to the lack of an unaffected sample to compare it to.
I still decided to move forward with reviewing this lens, as sharpness and contrast are pretty good stopped down and we can still learn about the rendering characteristics of it, which is probably the most interesting aspect of such a lens anyway. Furthermore I think it will be almost impossible to get access to a sample of this lens in pristine, as-new condition.
Handling / Build Quality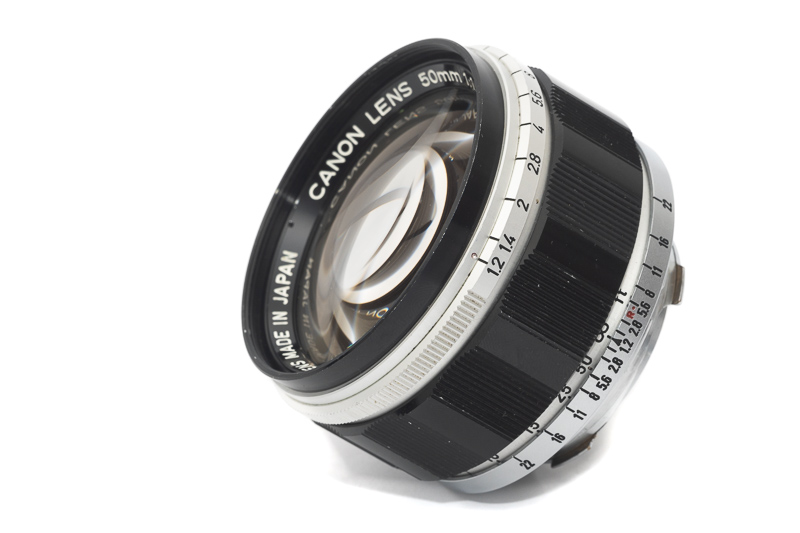 This is the first Canon LTM lens I have been using and considering its age of roughly 70 years it withstood the test of time pretty well – at least when it comes to the outer casing and the materials used.
It feels like everything is made from metal with some parts painted black. All the markings are engraved and filled with paint.
The focus ring travels ~180° from infinity to the minimum focus distance of 1.0 m. The mechanical design is quite complex and the front element does not rotate on focusing.
The aperture ring has very distinct and equidistantly spaced full-stop click-stops. While this design is my personal favorite it should be noted that these click stops are a bit on the noisy side, so if you want to use this lens for filming this might be something that could bother you.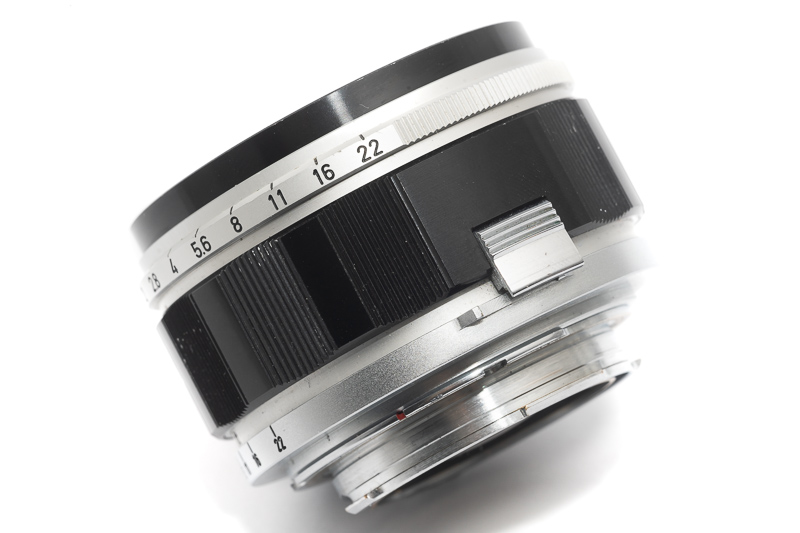 The focus ring also features an infinity lock. If the lens is set to infinity and you want to focus closer you first have to press that striped part you see in the picture on top. This is something I am not a fan of, as I find this to always get in the way, but in the 50s and 60s these locks were somewhat popular, so it is as it is.
The Canon 50mm 1.2 LTM is a short, chunky lens which is good news here as rangefinder blockage is minimal at infinity. Naturally the viewfinder blockage gets worse on focusing closer, as this lens features a unit focus design. Still, this isn't something I would worry about here.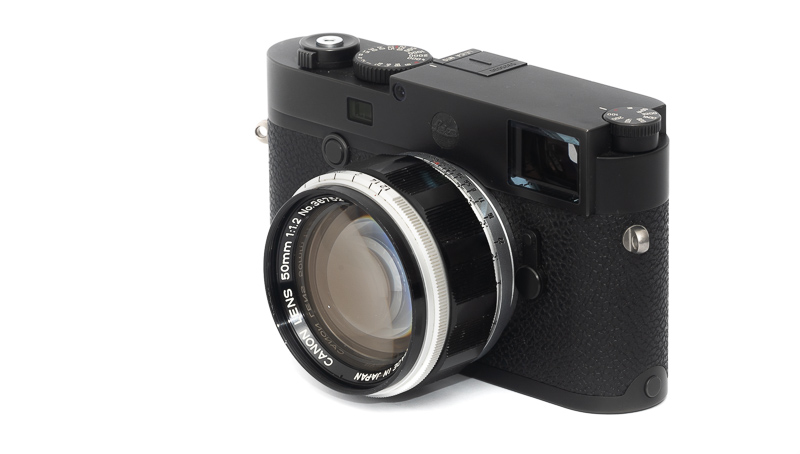 To attach this lens to a Leica-M camera you need an M39 -> M adapter ring. You can find these in wide varieties on eBay (affiliate link) I recommend getting one that brings up the correct 50/75mm framelines and I further recommend to get one that fully covers the 6-bit reader if you are using a modern digital Leica camera. Some of these rings even come with holes to 6-bit code the lens if you care about that.
These adapters are an additional variable that may mess up the rangefinder coupling, so if you rely on the rangefinder to focus it might be a good idea to invest in one of the more expensive adapters – or to order a handful of the cheap ones for the same price and see which works best.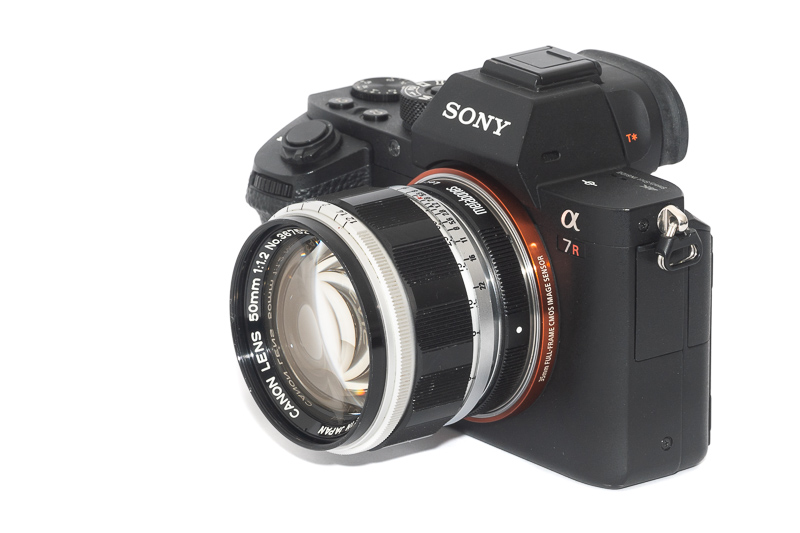 There are also adapters available that allow using this lens on pretty much any modern mirrorless camera.
The lens cannot be mounted on the Techart LM-EA9 AF adapter though, as its diameter is too high close to the bayonet.
Vignetting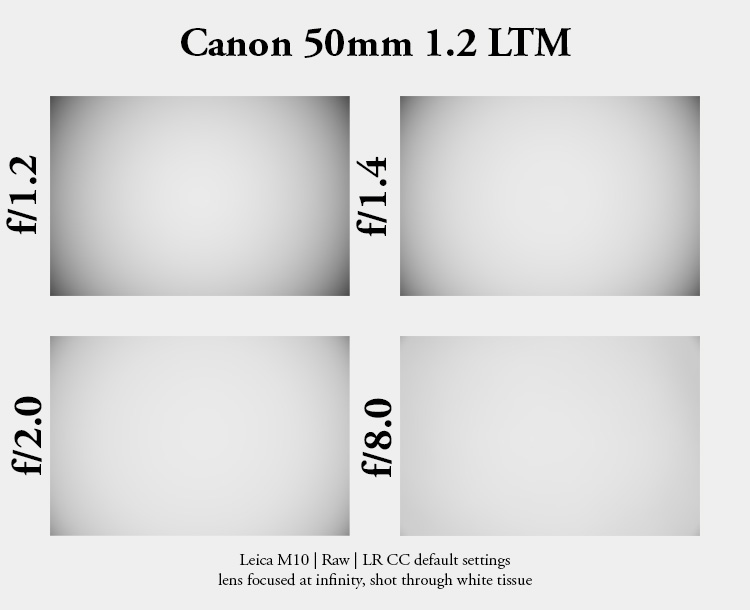 | | |
| --- | --- |
| f/1.2 | 3.2 EV |
| f/1.4 | 2.9 EV |
| f/2.0 | 2.1 EV |
| f/2.8 | 1.7 EV |
| f/4.0 | 1.7 EV |
| f/5.6 | 1.6 EV |
| f/8.0 | 1.5 EV |
| f/11 | 1.4 EV |
The vignetting figures of this Canon 50mm 1.2 LTM are similar to other (also modern) fast and compact 50mm lenses. At wider apertures the values are very similar to the Mr. Ding 50mm 1.1 and slightly worse compared to the Voigtländer VM 50mm 1.2. Stopped down the Mr. Ding 50mm 1.1 is hard to beat though, showing less than 0.5 EV vignetting, here this Canon is a bit on the high side but not to a worrying degree.
The (even more compact) MS-Optics 50mm lenses generally show higher vignetting figures.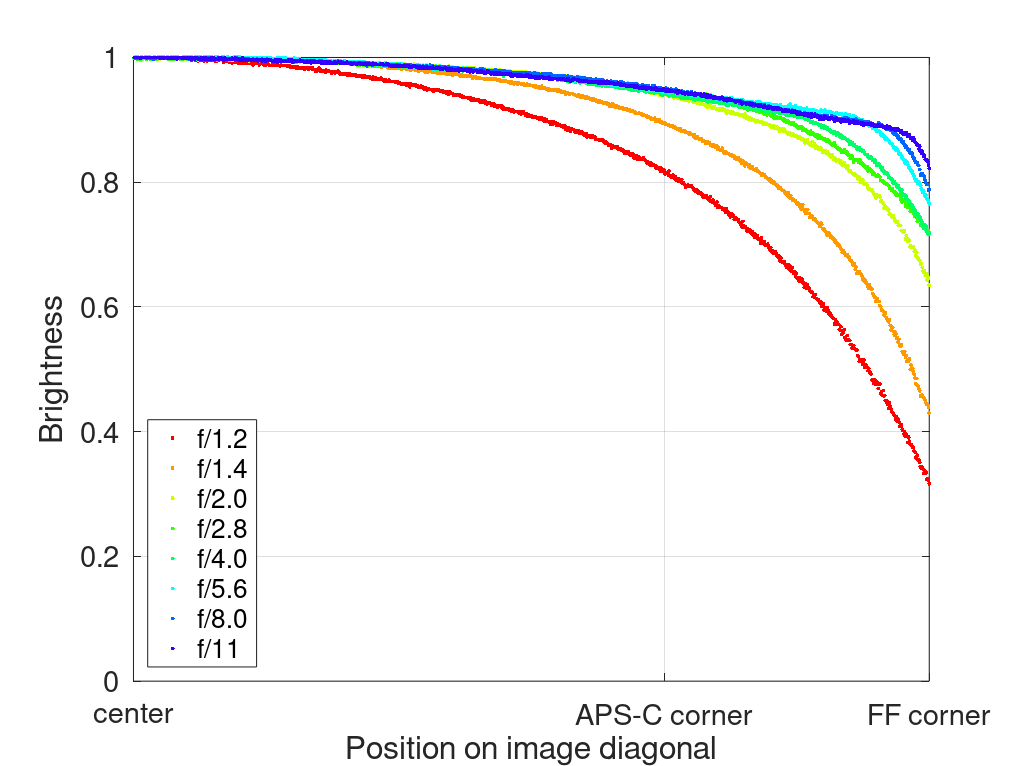 It is recommended to have a look at this article first to get an idea how this brightness graph works.
Sharpness
Focus shift
50% crops, A7rII
A minimum focus distance of 1.0 m is very long for a 50mm lens, definitely longer than I personally like. Designing a 50mm lens with a maximum aperture of f/1.2 in 1950 was also something completely different compared to doing that in the 2020s.
These early super fast lenses (and still some of the modern ones) are designed to give peak sharpness at a certain distance. Often this value is around 30 times the focal length (so 1.5 m in this case), which is a typical portrait distance where you might use such a lens the most at its maximum aperture.
Why am I telling you all this, should we not be talking about focus shift?
At the Canon 50mm 1.2 LTM's minimum focus distance of 1.0 m I noticed very strong focus shift, as can also be seen from those crops above. It is actually so bad, I found it hard to believe that it would have been acceptable when this lens had been released and the only means to focus it was the rangefinder mechanism.
So I double checked at ~1.5 m and – even though we are only talking about 50 cm difference here – not only was the general performance at f/1.2 much better, but also the focus shift was gone.
infinity (42mp Sony A7rII/24mp Leica M10)
At infinity the Canon 50mm 1.2 LTM performs similar on the Leica M10 as well as a Sony fullframe E-mount camera, so the following findings apply to both.
At f/1.2 to f/1.4 the whole image is soft, which isn't overly surprising given the age of this lens combined with its low element count. The center of the frame looks good from f/2.0, very good from f/2.8, but the midframe area looks way worse thanks to field curvature, so it takes stopping down to f/11 for decent performance here.
The situation in the corners is very similar to what we encountered with the MS-Optics 50mm 1.0 ISM: they look quite decent at the maximum aperture and best at f/2.8, but deteoriate noticeably on stopping down further. This can happen with lenses where the astigmatism increases on stopping down.
At the end of the day this isn't a lens I would want to use for stopped down landscape or architecture shooting, but this also clearly isn't what this lens had originally been designed for.
portrait 1.5 m (24mp Sony A7III/Leica M10)
Now what this lens actually has been designed for is taking pictures at portrait distances at wider apertures, so we will see what the performance is like at a typical portrait distance for a 50mm lens of ~1.5 m.

We will be looking at 100% crops from the 24mp Sony A7III and the Leica M10. Both cameras do not have an anti aliasing filter in front of the sensor.
Sony A7III <—> Leica M10
Again the performance is similar to the fast MS-Optics 50mm lenses I already reviewed in the way that they all put an emphasize on correcting Astigmatism at the maximum aperture.
The Canon 50mm 1.2 LTM is soft and has low contrast at f/1.2 though, so I often preferred the look at f/2.0, especially with the main subject located off center.
At f/2.0 contrast and resolution are good and the lens is also easier to focus with liveview than at f/1.2. Performance in the outer midframe area is a bit better on a camera with a thin filter stack like the Leica M10.
Flare resistance
In 1956 coatings weren't as fancy as today, so I am expecting a wild ride here. 
Let me first tell you shooting directly into the sun (or any other strong point light source) is not a good idea with this lens. At wider apertures this leads to plenty of ghosts appearing but when stopping down things get worse as the aperture blades are reflected inbetween the glass elements onto the sensor:
Leica M10 | Canon 50mm 1.2 LTM
Generally the Canon 50mm 1.2 LTM is very soft at f/1.2, but also more susceptible to veiling flare with a strong light source situated outside the frame:
Leica M10 | Canon 50mm 1.2 LTM
From this comparison you also see that stopped down contrast and resolution are surprisingly good across most of the frame though.
Coma
A 70 years old very fast lens, this cannot mean good news for this category. As expected coma is very strong and as we have already seen in the sharpness section the very corners also never look that great, not even at f/11.
100% crops from extreme corner, focused on center, M10
Distortion
Leica M10 | Canon 50mm 1.2 LTM | f/5.6
The distortion pattern of the Canon 50mm 1.2 LTM is very similar to that of the MS-Optics 50mm 1.3 Sonnetar. Over most parts of the frame there is no distortion at all, but towards the corners it is very noticeable. A lens specific profile is needed to fully and properly correct this.
I found that the profile I created for the MS-Optics 50mm 1.3 Sonnetar works surprisingly well with its strength reduced to 50% (I used it for the comparison above and many of the sample images), you can download this distortion correction profile here.
(In Lightroom go to "Edit" -> "Preferences" -> "Presets" -> "Show Lightroom Develop Presets" then go to "LensProfiles" create a subfolder named "1.0" and place the unzipped correction profile in that folder, restart Lightroom and it will show up under "Leica" and works for Raw files only)
Bokeh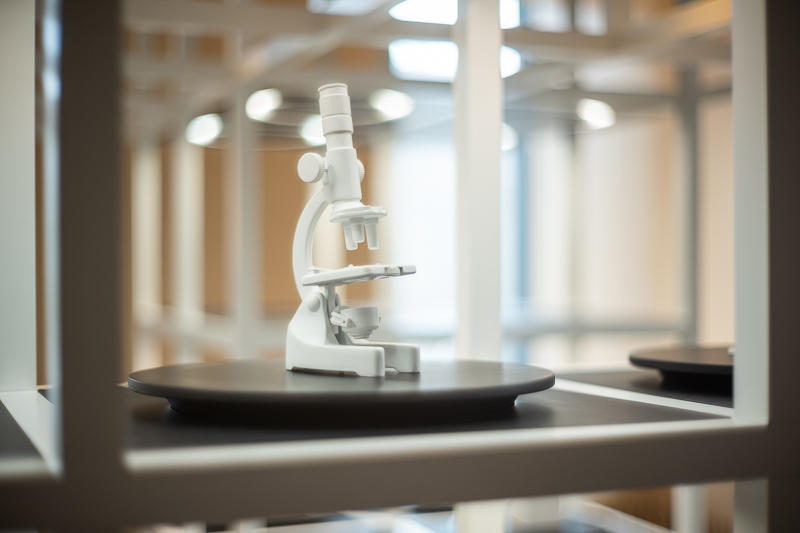 If you mainly care about the treats of a modern high performance lens – meaning a high degree of correction of most optical aberrations – you are probably not interested in a lens from the 1950s in the first place. If you are searching for that certain look though, the situation might be different. This is why we will spend some more time investiating the bokeh characteristics of this lens.
As I told you at the beginning of this article this lens shows some balsam separation of the cemented rear group. With point light sources in the frame this visibly affects the out of focus rendering as it leads to those "cracks" in the highlights that can be spotted at wider apertures:
Leica M10 | Canon 50mm 1.2 LTM
From this series we also see that by f/2.0 the highlights are rendered as 11-sided figures and by f/2.8 they look more like crown corks due to the inwardly curved shape of the aperture blades.
Very similar to many of the fast 50mm MS-Optics lenses the Canon 50mm 1.2 LTM also has a lot of undercorrected spherical aberration at f/1.2 leading to "glow" around already bright parts of the frame and to a generally softer and less contrasty picture. Already on stopping down to f/1.4 some of that glow disappears and by f/2.0 the contrast greatly increases. What follows are some examples of the same motives shot at different aperture values.
Leica M10 | Canon 50mm 1.2 LTM
Leica M10 | Canon 50mm 1.2 LTM
Leica M10 | Canon 50mm 1.2 LTM
Leica M10 | Canon 50mm 1.2 LTM
As was already the case for many of the fast MS-Optics lenses I am not a huge fan of this lens' rendering at its maximum aperture.
It is not only the lower contrast, also the tonal range seems to be a bit limited here.
I found f/1.4 to be a good compromise between sufficient contrast and still gentle rendering whereas the performance at f/2.0 is very similar to that of a modern lens. To me the perceived subject separation is also higher at f/1.4 than at f/1.2.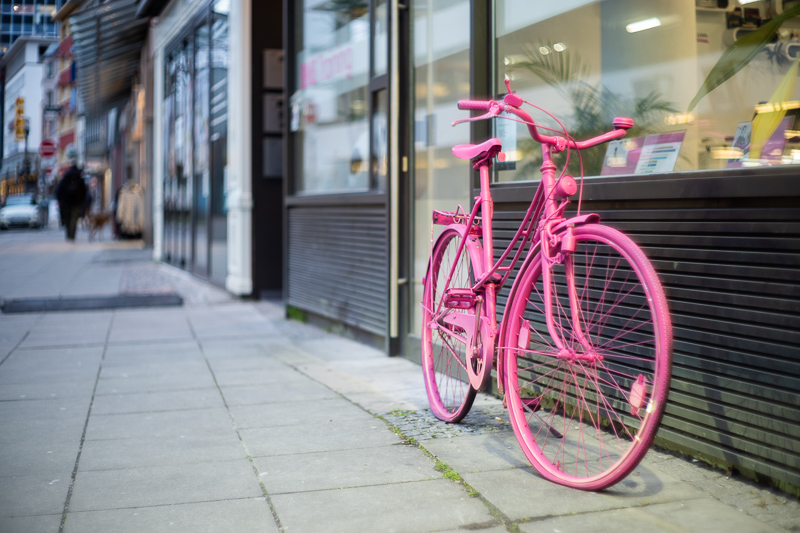 With these old fast lenses it is very subjective whether or not you like the look they give at their maximum aperture or slightly stopped down. Some people really love it while others cannot understand why someone would even consider using an outdated lens full of aberrations.
So as usual my recommendation here is to look at the samples taken with this lens and to decide for yourself if you like what you see or not.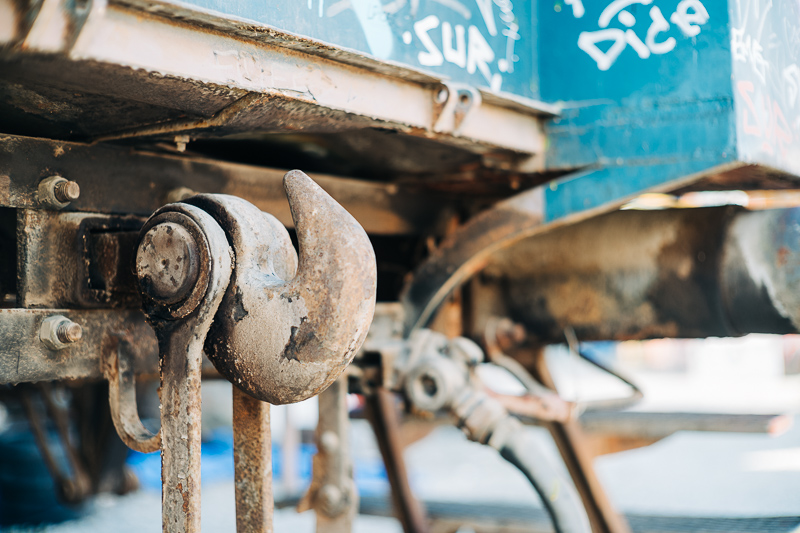 Sunstars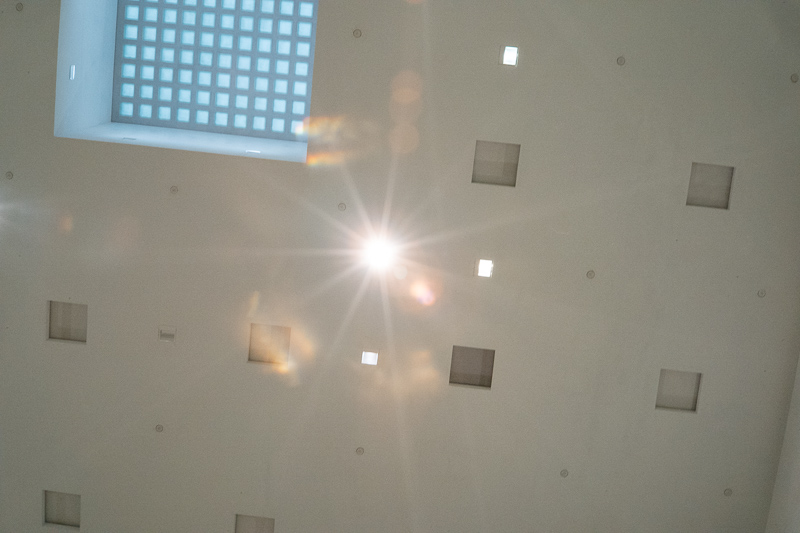 You need to stop down a lot to create sunstars and they don't look particularly appealing as the rays have uneven length and distance to each other.
Furthermore, as we have already seen in the flare section, in such scenarios internal reflections of the aperture blades appear regularly.
If you want to learn more about sunstars have a look at this article.
Chromatic aberration
lateral
100% crops from border, Sony A7rII
Lateral CA are on the medium to strong side but the correction in Lightroom is still doing a good job. It looks like they are not fully corrected here, as we actually see an overlap with other aberrations.
longitudinal
At the maxmium aperture of f/1.2 the high amount of spherical aberration masks the longitudinal CA, so instead we will have a look at a sample taken at f/2.0 here.
Leica M10 | Canon 50mm 1.2 LTM | f/2.0
There is some green outlining in the background and you also see some magenta in front of the focal plane. This isn't overly pronounced ,but it also doesn't clear up as fast as with most other lenses, as at f/2.8 it is still noticeable (see focus shift section).
Still, I have used a lot of lenses that fare worse in a situation like this: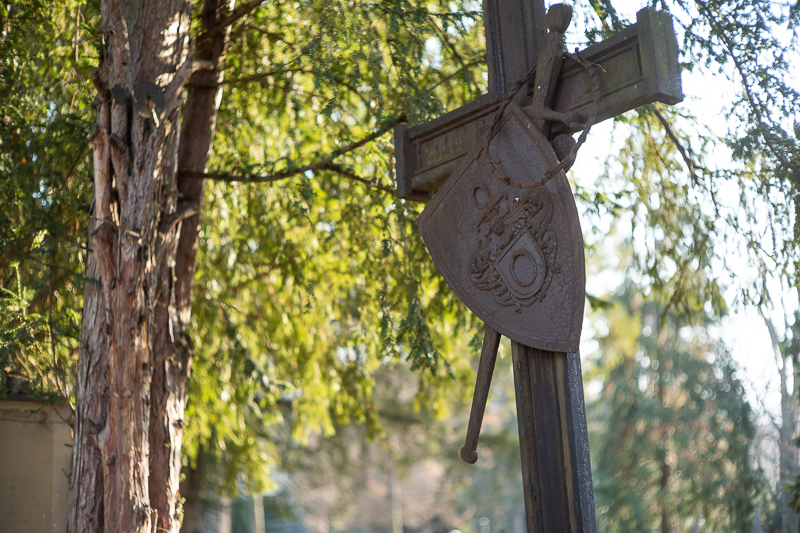 Alternatives
I reviewed a lot of 50mm M-mount lenses all of which you can find listed here. I will only talk about some of the obvious alternatives in detail here.
MS-Optics 50mm 1.0 ISM and MS-Optics 50mm 1.3 Sonnetar:
These MS-Optics lenses can be seen as a modern interpretation of the early Canon LTM lenses. They do give a similar vintage look thanks to using similarly simple optical designs, but they make use of better coatings and also feature better minimum focus distances. They are also very small and lightweight. The biggest advantage is that you are less likely to encounter issues with haze or balsam separation with these lenses, simply because they are much younger. They are expensive boutique lenses though and you generally have to import them from Japan. If you want to know more have a look at my Overview: MS-Optics lenses.
Mr. Ding 50mm 1.1:
This lens is similarly priced and of similar size, but the optical performance is very different. This a very fast yet compact modern 50mm lens with super smooth bokeh. If you are a Sony user it also pairs really well with the Techart LM-EA9 autofocus adapter.
buy from official Mr. Ding Studio shop or ebay.com (affiliate links) for $399
SLR 50mm lenses:
Some of the f/1.2 SLR lenses can be found for similar prices, e.g. the Nikon 50mm 1.2 or 55mm 1.2 Ai, the Canon FD 50mm 1.2 or the Minolta 58mm 1.2. These lenses are roughly two decades younger and you can already tell that there has been some notable technological progress, as they generally have better optical performance and also better (still not great) coatings. Their minimum focus distances are usually also better.
If you want to use these SLR lenses on a mirrorless camera you need long adapters that make the lenses very big and also somewhat awkward to handle though.
Conclusion
There is no point including a pro/con table here, as by modern standards the Canon 50mm 1.2 LTM simply isn't a well performing lens. After all, how could it be? It has been designed and manufactured in the 1950s with the technology of the 1950s. Low element count, no floating elements, no multicoating, no aspherical elements, no complex computer aided design.
So in 2020ff this lens is mainly interesting to two kinds of people: collectors and those looking for a specific vintage look. In the latter category this lens clearly delivers. You can create flare artefacts and a soft look at wider apertures out of the box, that people these days buy expensive prisms or diffusion filters to hold in front of their modern lenses to achieve.
For a 70 year old f/1.2 rangefinder lens that can easily be adapted to Leica M and other mirrorless camera systems the $400 asking price is surprisingly reasonable compared to the other options from this era. Just check what you have to pay for any of the super fast Leica lenses, a Hexanon-M 60mm 1.2, Fujinon 50mm 1.2 or a Zunow 50mm 1.1.
But there is also a pretty big issue to be aware of: many of these Canon LTM lenses have problems with fungus, balsam separation (also the case for this sample), haze and/or oily aperture blades. Some of these issues are also not that easy to spot, so it is risky business buying these lenses online from overseas without any realistic return option.
Where does this leave us? If you want a compact f/1.2 50mm lens from the 50s with actual vintage rendering characteristics and don't mind the 1.0 m minimum focus distance this can be an interesting option. Especially so, it you are looking for a lens to use – and not one to admire in your dry cabinet – it is definitely a smarter choice to pay $400 for this Canon 50mm 1.2 LTM than several thousands for one of the other f/1.2 lenses from this era.
You can usually find this lens on ebay.com (affiliate link), those in very good condition start selling at $400 
Sample Images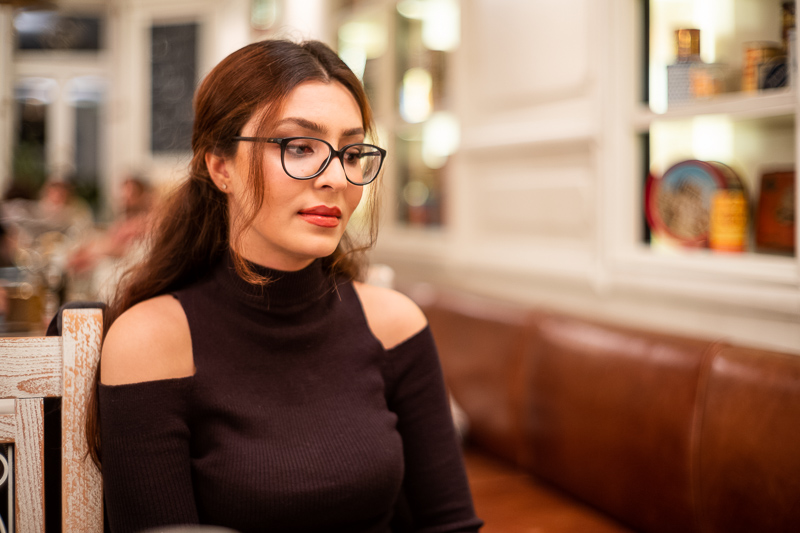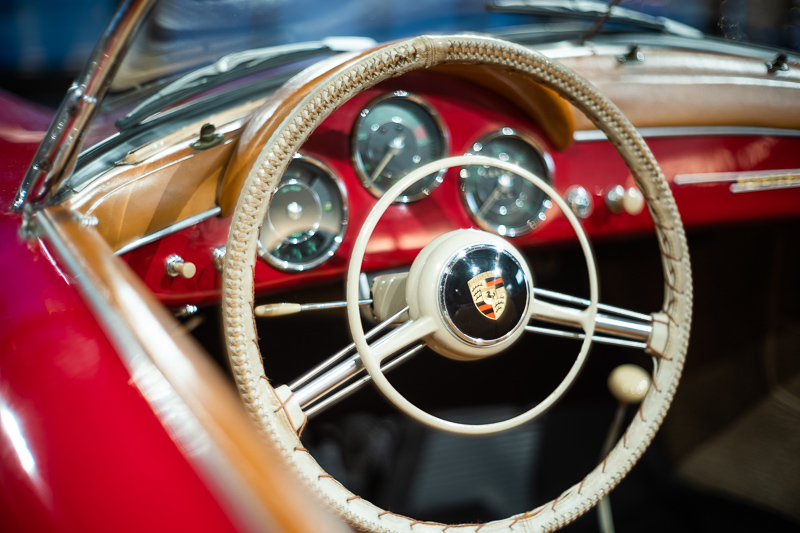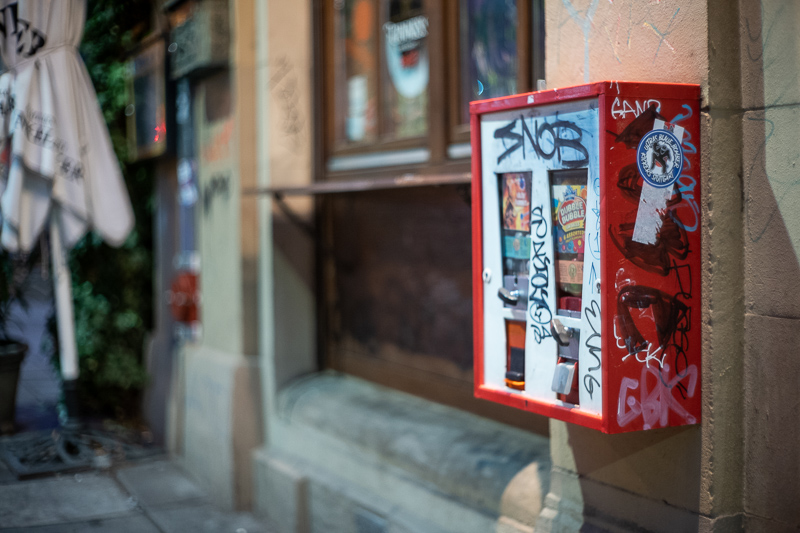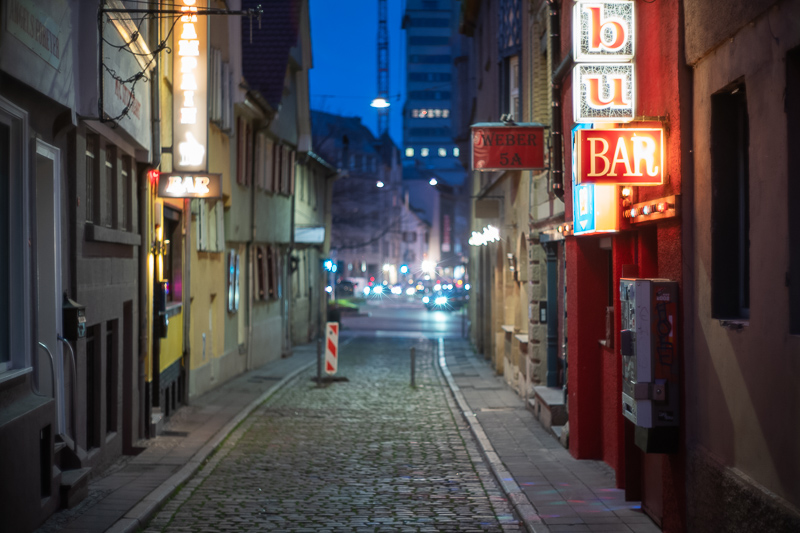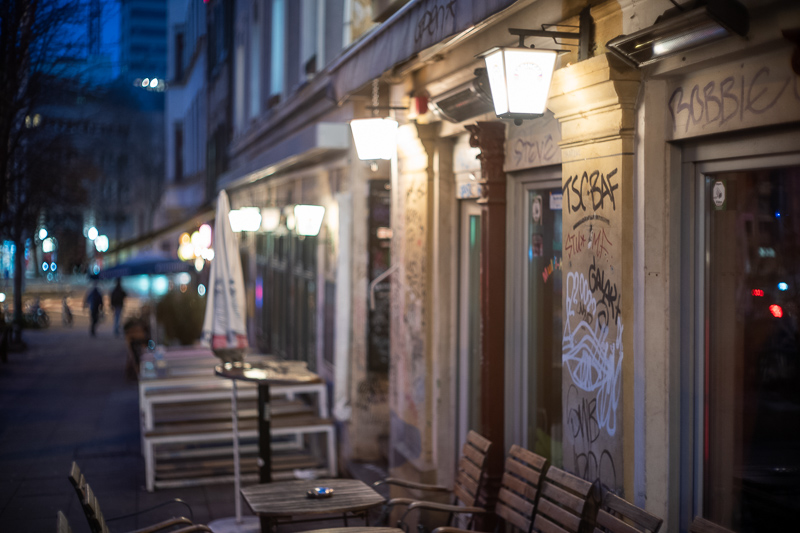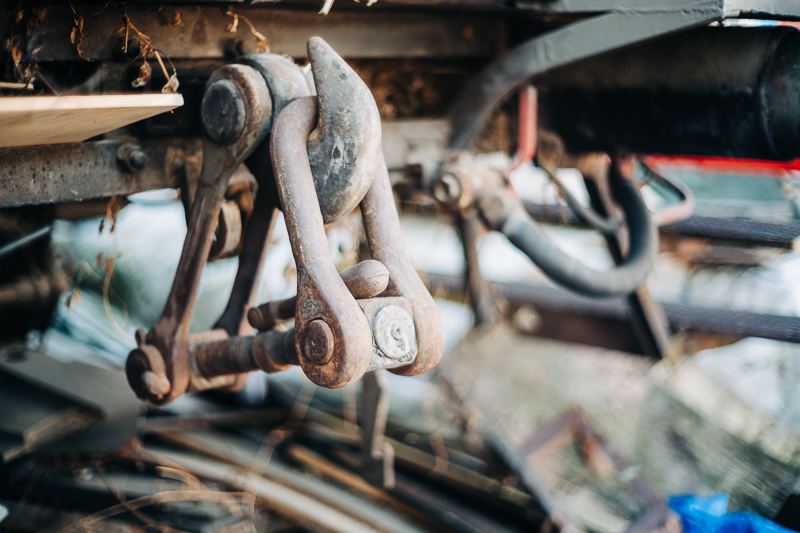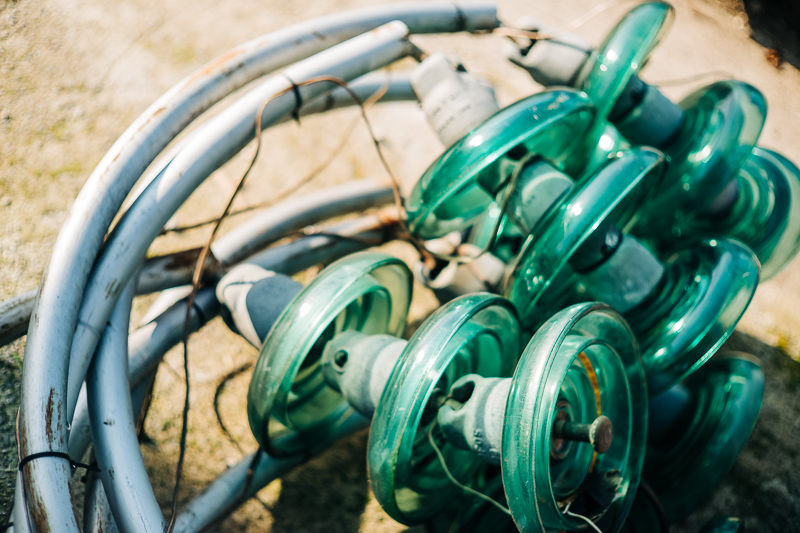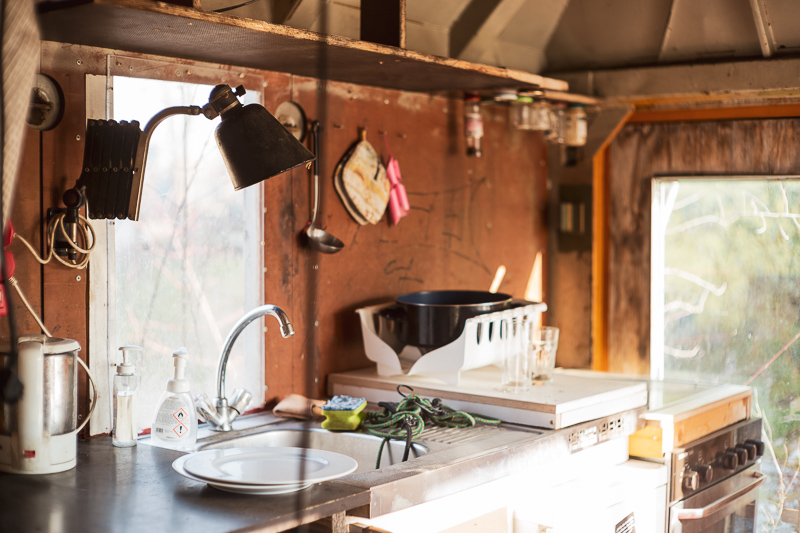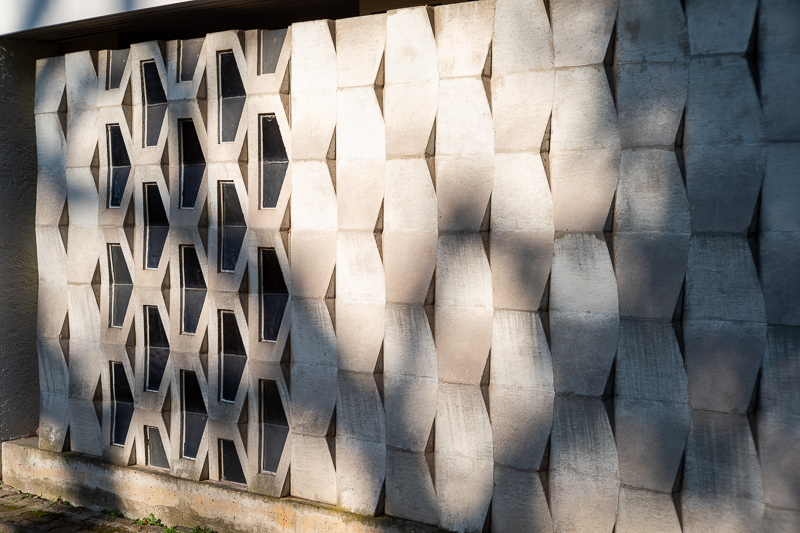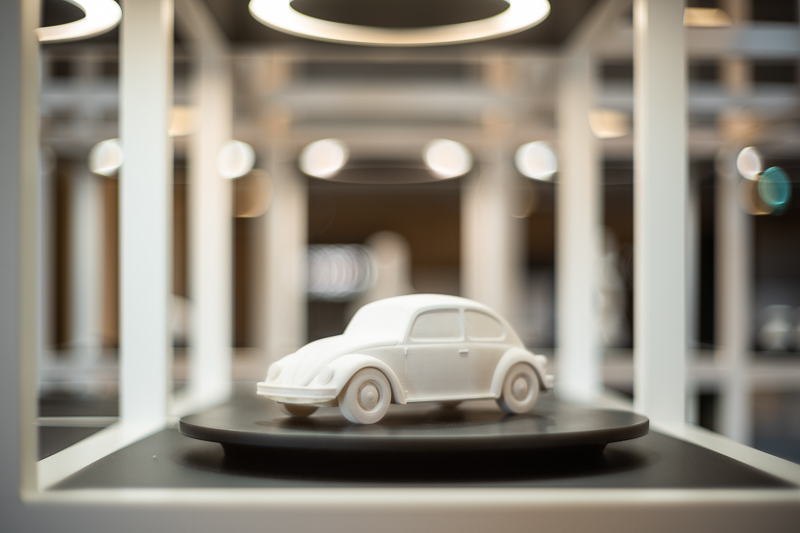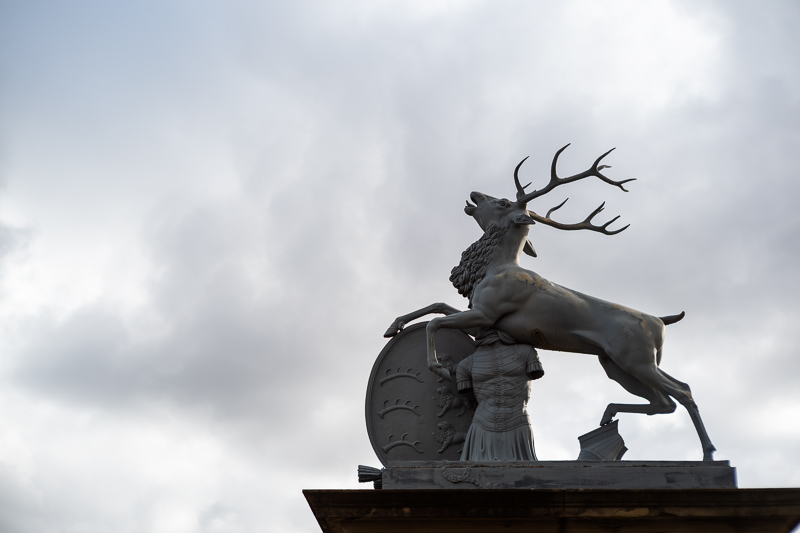 Most of the sample images in this review can be found in full resolution here.
Further Reading
Support Us
Did you find this article useful or just liked reading it? Treat us to a coffee!


via Paypal