Introduction
The Leica Summicron-M 90mm 2.0 has been Leica's top of the line M-mount portrait lens from 1980 to 1998. It is also one of the first lenses I reviewed for this blog, but I had to sell it to fund the Zeiss Loxia 85mm 2.4 back in the day. Yet, I somehow missed this Leica's high contrast look and nice bokeh, so I decided to give it another chance.
Lens is being tested on 42mp Sony A7rII and 24mp Leica M10
Sample Images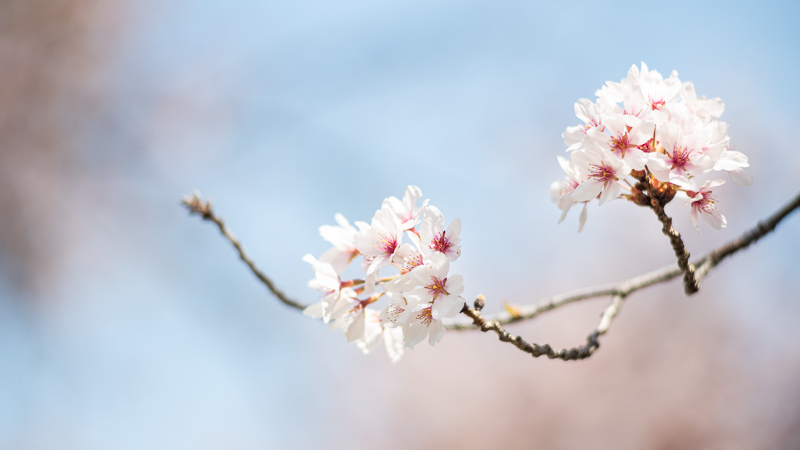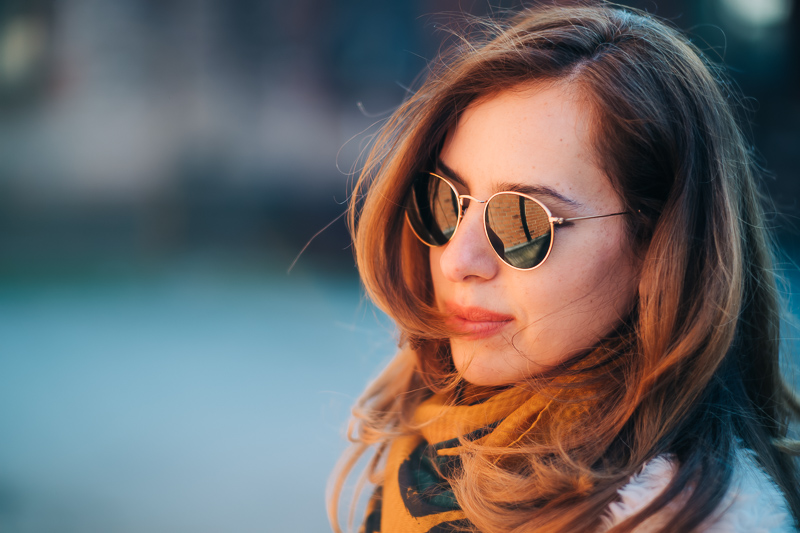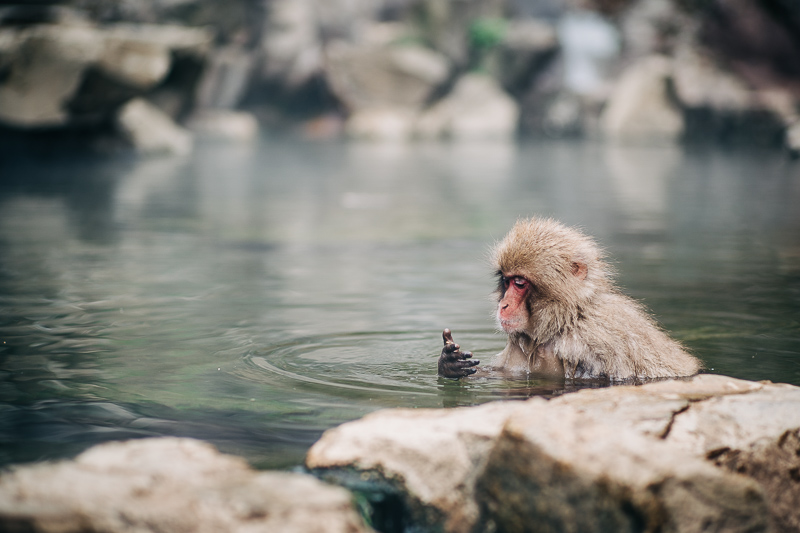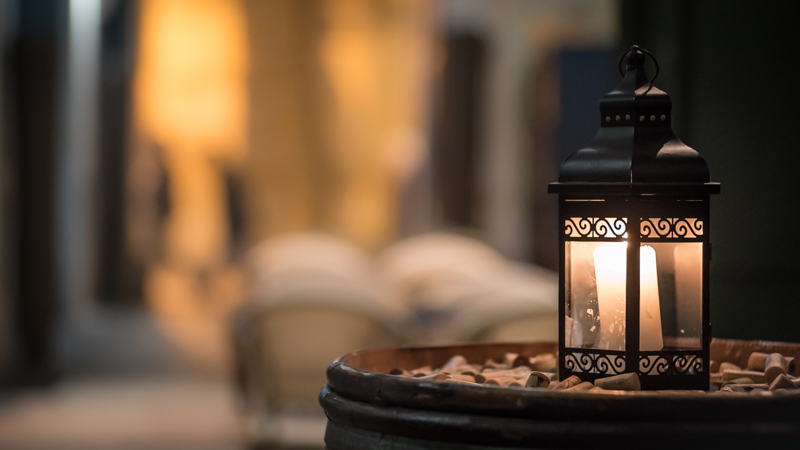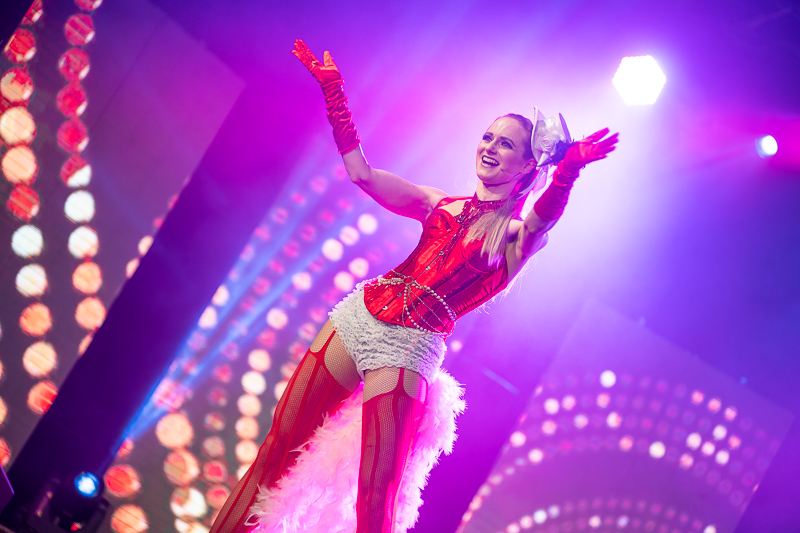 Specifications / Version History
There are roughly three different versions with Leica M-Mount that have been produced in meaningful quantities:
Summicron-M (III) 90 mm 2.0 (often referred to as "pre-Asph")
This one came as E49 version where the retractable lens hood covers the aperture ring and a more common E55 version
Alongside these three there are also 90mm 2.0 lenses with Leica R-Mount on the market which are usually cheaper, but not nearly as compact (especially when taking into account the necessary adapters).
I am reviewing the "pre-Asph" E55 version here which has the following specifications:
Diameter: 63.5 mm
Field of view: 27° (diagonally)
Length:  77.0 mm
Weight: 484g + adapter
Filter Diameter: 55 mm
Number of Aperture Blades: 11 (inwardly curved)
Elements/Groups: 5/4
Close Focusing Distance: 1.0 m (with Helicoid 0.73 m)
Maximum Magnification: 1:9.2 (with Helicoid 1:6.3)
Mount: Leica-M
This pre-Asph version usually starts selling for $800 at ebay.com (affiliate link). In Germany buying one in A-condition will set you back at least 650€. I got mine at ebay.de (affiliate link).
Handling / Build Quality
This is a Leica lens, so you probably expect perfect build quality with very tight tolerances as well as superb handling, and this is mostly what you get.
The focus ring has just the right resistance (and it takes ~225° from infinity to 1.0 m), the aperture ring has half-stop click-stops but could be slightly tighter.
The integrated hood is retractable and does not wobble in any position. These integrated hoods are great and it is a shame you only encounter them so rarely.
Apart from the glass inside and the red dot on the outside the lens features an all metal construction, all the markings are printed and engraved.
Vignetting
light falloff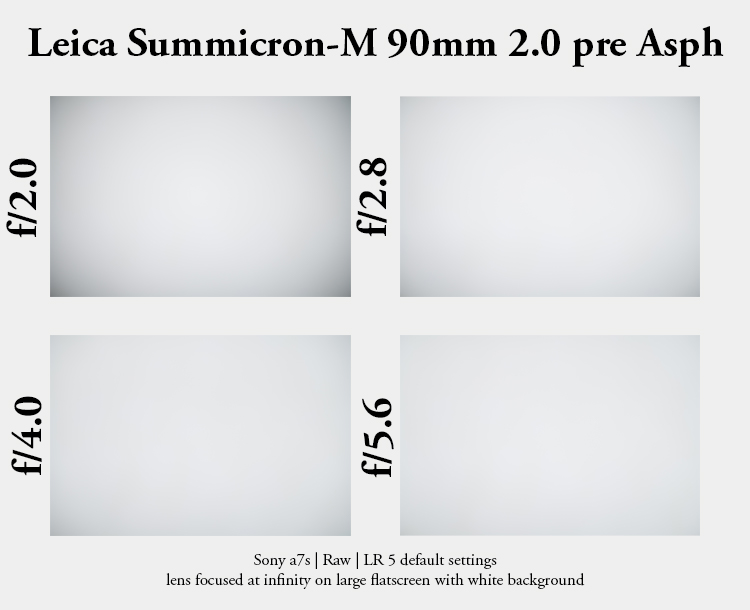 Wide open vignetting in the corners is 2.2 EV and it improves to 1.2 EV at f/2.8. Stopped down to f/5.6 roughly 0.7 EV remain. These values are about average for a lens with such parameters.
It is recommended to have a look at this article first to get an idea how this brightness graph works.
optical vignetting
Very fast yet compact lenses usually show a significant amount of optical vignetting. Without going too much into technical details optical vignetting leads to the truncation of light circles towards the borders of the frame.
In the center of the frame almost every lens will render a perfect circle, but only lenses with very low optical vignetting will keep this shape in the corners.
So in the following comparison we move from the center (left) to the extreme corner (right) and see how the shape of the light circle changes.
Considering its size the Leica Summicron 90mm 2.0 is doing a decent job here. I compared it to the Zeiss Loxia 85mm 2.4 which is similar sized and slower yet shows more severe optical vignetting in the corners.
Even slightly stopped down the shape of the out of focus point light sources is rather unnatural thanks to the inwardly curved aperture blades.
I did shoot both lenses side by side, focus distance was 1.0 m.
Those vertical lines are a sign I need to clean my lens cabinet's glass door and not the lenses' fault.

Sharpness
infinity (42mp Sony A7rII)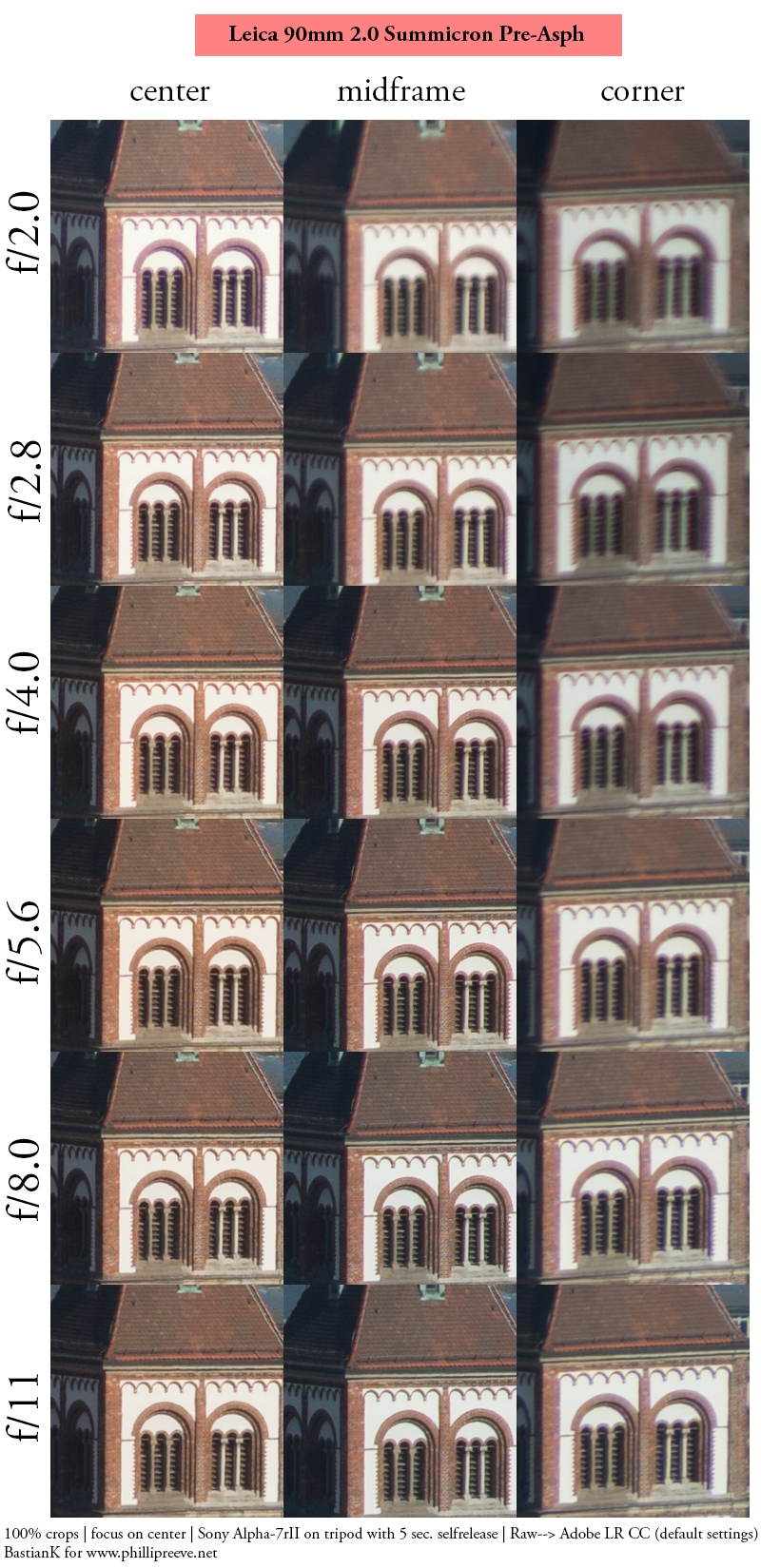 At maximum aperture the lens is slightly soft at the maximum aperture – even in the center – but catches up already at f/2.8.
There is a noticeable midzone dip (also visible in the lens' MTF charts) and it takes f/4.0 to f/5.6 for the midframe to show similar resolution and contrast to the center part.
The corners also suffer a bit due to the thick Sony filter stack, it really takes stopping down to f/11 to get really good across frame performance.
If great infinity performance at wider apertures is important to you the Zeiss Loxia 85mm 2.4 is probably the lens you shoud have a closer look at.
Let us see what changes when using this lens on the Leica M10 with its thinner filter stack.
infinity (24mp Leica M10)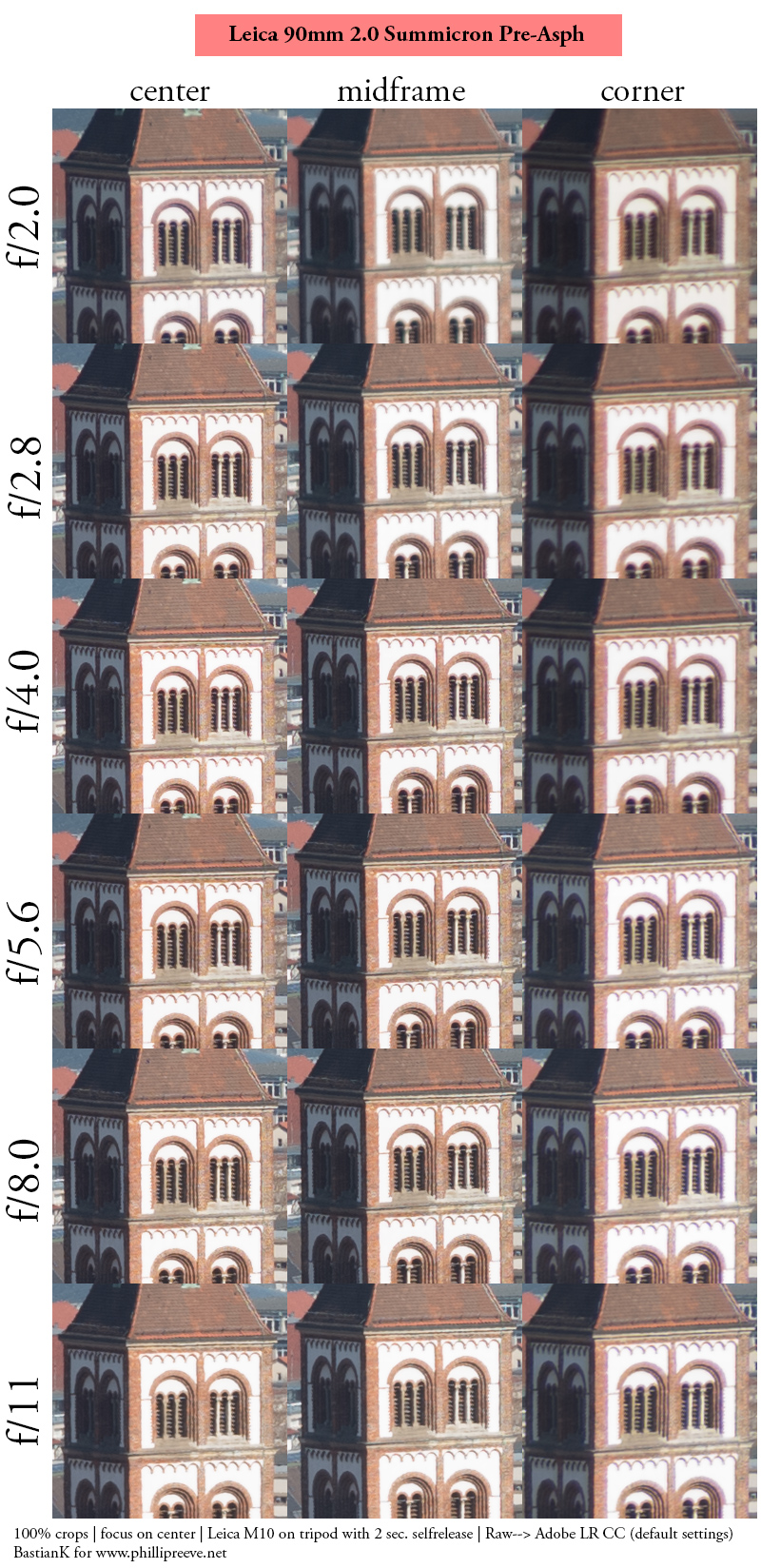 On the Leica M10 with its thinner sensor stack midframe and corners show about a one to two stops improvement compared to using it on a Sony camera.
The midframe starts to look really nice at f/4.0 and I wouldn't mind to use the lens at f/5.6 for infinity shooting where I care about very good across frame performance.
portrait distance (2.3 m)
For portraiture it isn't so important how flat the field is, it is more interesting to see what the sharpness is like when focused at different parts of the frame to take field curvature (and also focus shift) out of the equation.

This is what I did here, I refocused for every shot and aperture to get the best possible result at different locations in the frame (center, inner midframe and outer midframe).
Focus distance was roughly 2.3 m and the circle of the dollar bill is more or less the size of a human eye.
Sony A7III <—> Leica M10
100% crops, Sony A7III, Leica M10
Performance in the center and inner midframe is good, whereas we can see a bit of astigmatism in the outer midframe, especially when the lens is used on a Sony camera.
In the center it looks a bit better on the Sony, but this boils down to more precise focus compared to the M10. A solid albeit not great performance.
close (1.0 m, 1:9.2)
Sony A7rII | Leica Summicron 90mm 2.0 pre-Asph | 100% crops from center
The Leica 90mm 2.0 does not incorporate a floating elements design so a softer image with higher spherical aberration at maximum aperture was to be expected. Using a high resolution camera it also seems that the plane of optical contrast and resolution is not the same, which makes focusing a bit more difficult. Naturally the performance is much better stopped down. If you occasionally want to use the lens at closer distances a good diopter like e.g. the Leica Elpro4 will give better results.
Flare resistance
I have taken shots with the sun directly in the frame and encountered no problems whatsoever, but depending on the angle between you and the sun a considerable loss of contrast and even some small spots may appear:
In my opinion this is not a bad performance at all, but newer lenses with fancier coatings have an edge here.
Coma
Sony A7rII | Leica Summicron 90mm 2.0 pre-Asph | 100% crops from extreme corner
To be honest, coma correction is not particulary high on my priority list for a portrait lens, but maybe it is on yours, so I had a look at this as well. Considering the specifications and age of the lens coma correction is not bad. The corners deteriorate at f/2.0 and f/2.8 and visibly so when you have a look at a 100% crop from a high resolution camera, but at normal viewing distances it isn't really an issue. I have seen much worse.
Distortion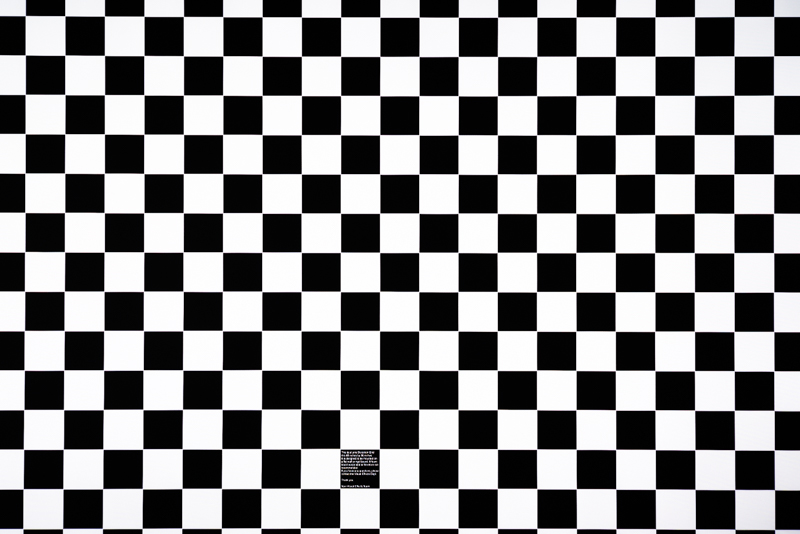 Distortion is very low, for some architecture pictures I had to dial in -2 to correct it though.
Bokeh
A maximum aperture of f/2.0 allows for a good amount of subject separation in a 90mm lens. The design dates back more than 40 years now and at that time the smoothest bokeh rendering did not necessarily make it top of the list of the design criteria – due to the lack of aspherical elements getting the lenses sharp and contrasty was clearly more important.
Now some of the Leica fans love the rendering characteristics of this era ("Mandler Magic" is the esoteric term you can google if you want to get into that), so let us have a closer look at what it is all about.
Now the good news is that the lack of aspherical elements means there are no onion ring structures (which can not be said about the successor, the 90mm 2.0 Apo-Summicron Asph).
But this lens also shares an issue with many other Leica lenses: on stopping down the shape of highlights changes for the worse thanks to inwardly curved aperture blades. While at f2.0 they are perfectly round (except for the border regions, where optical vignetting occurs), between f/2.8 and f/8.0 they can best be described as "crown cork" shaped (take a look at the example below) though. Then at f/11 they are edgy 11-sided-figures and at f/16 perfectly round again.
Therefore when I know there may be highlights in the background I stick to f/2.0, as I find this look extremely distracting.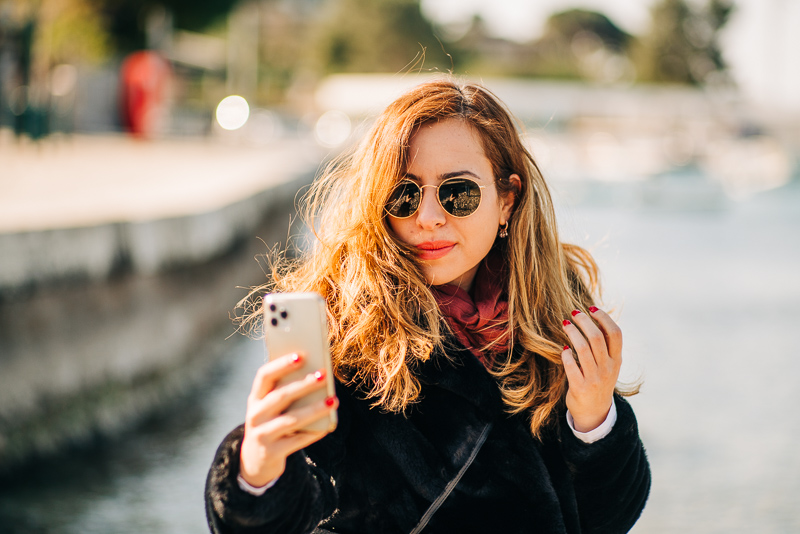 For head or head-and-shoulder portraits the Leica Summicron 90mm 2.0 pre-Asph gives a pretty cool look, the contrast is high and there is enough subject separation to make your subject stand out.
The optical vignetting clearly leads to some busyness in the corners though, this gets more apparent if your subject is farther away.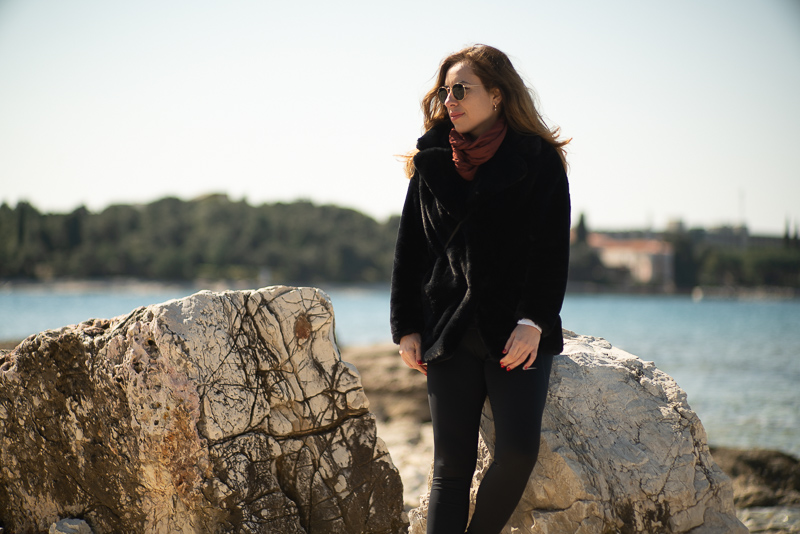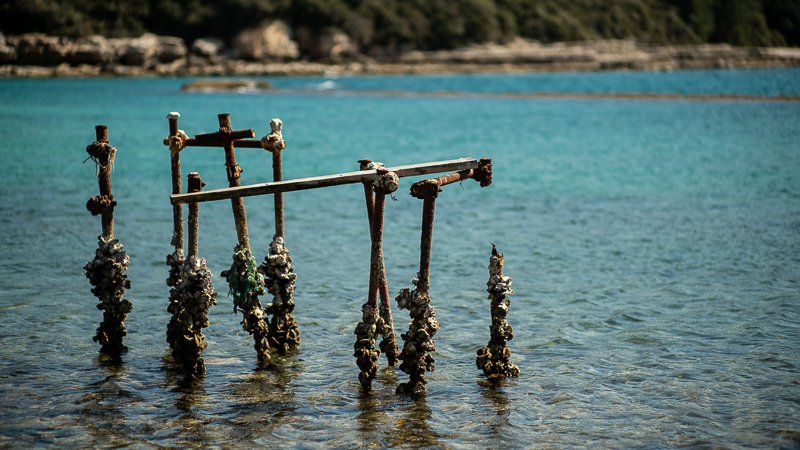 If you have a look at the two samples above you can see that the corners are not rendered as smoothly as the center parts of the image as some double structures appear.
This is true for many small yet fast rangefinder portrait lenses (e.g. the Voigtlander VM 75mm 1.5 Nokton), but will not be that apparent in the latest 85mm designs like e.g. the Sony FE 85mm 1.4 GM or even much cheaper candidates like the Viltrox 85mm 1.8.
Occassionally I like the look this Leica lens yields, but for a job, e.g. a wedding or a reportage, I would prefer one of the modern lenses to make sure there will less likely be issues with elements in the background distracting from the main subject.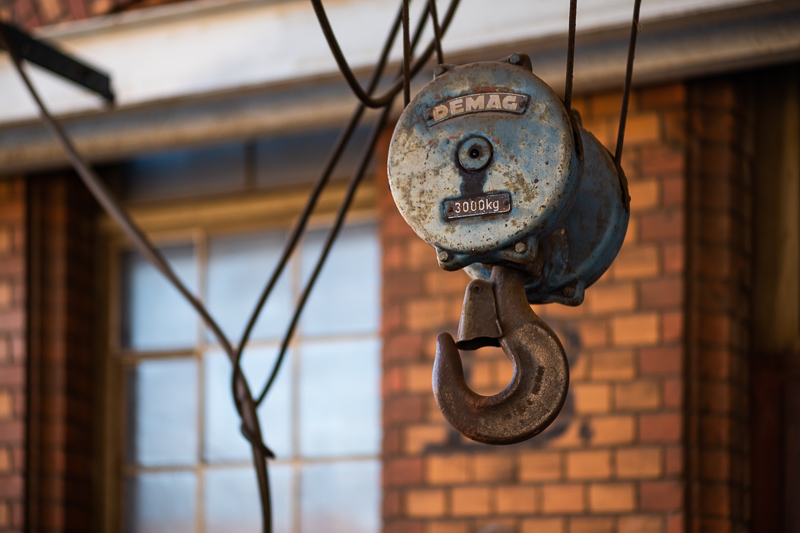 Sunstars
This Leica lens will produce 22-pointed sunstars (between f2.8 and f11 at least), which are actually quite well defined and very nice, have a look at a crop from the photo above: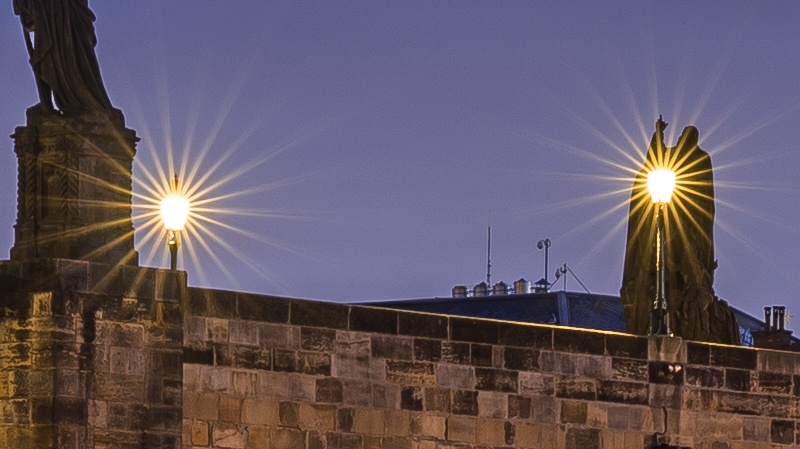 If you want to learn more about this topic have a look at this article.
Chromatic aberrations
lateral
In the corners you can spot some lateral CAs which can be easily corrected in post, as can be seen in the example below (100% crop). This is one of the few lenses where the outlinings are yellow and purple instead of magenta and cyan.

100% crops from extreme corner, A7
longitudinal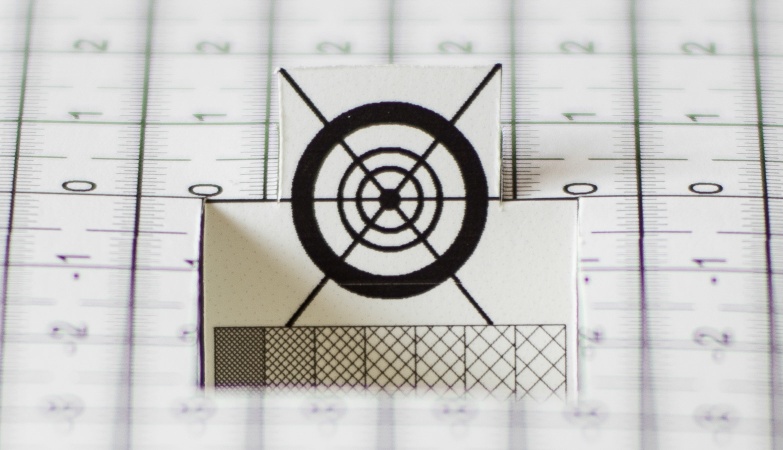 Longitudinal CA can be visible in high contrast scenes. There are some modern lenses that due worse (e.g. the Sony FE 55mm 1.8 ZA or the Sony FE 35mm 1.8 G) but also some that will do significantly better, like the Voigtlander 110mm 2.5 E which offers a very similar amount of subject separation.

Sony A7III | Leica Summicron 90mm 2.0 pre-Asph | f/2.0
It won't ruin many of your pictures, but it is something to watch out for when shooting a backlit scene at maximum aperture.
Alternatives
When I first reviewed this lens the only native lens with similar specs was the (at that time) very expensive Zeiss Batis 85mm 1.8. Now there are plenty of native options available also covered in our guide to 85-135mm portrait lenses which will give you a good overview.
Conclusion
good

center sharpness and contrast already at f/2.0

bokeh (mostly)

build quality and handling

size

coma correction (barely)

distortion

sunstars

average

weight
flare resistance
correction of CA

not good

soft corners at wider apertures

"crown cork" shaped bokeh highlights between f2.8 and f8
Since 1980 – when the Leica Summicron-M 90mm 2.0 hit the market – there have been some notable developments on the technological side of photography: widely spread computer aided design, new materials, fancier coatings, affordable aspherical elements, very capable auto focus and we also went from grainy 35mm film to advanced 61mp sensors, demanding much higher resolution capabilities from the lenses.
Still, at that time this Leica Summicron-M 90mm 2.0 was pretty much the top of the line portrait lens Leica was able to make for the M-system (even though some cost cutting measures like two flat lens element surfaces have been incorporated in the design). So even by today's standards it is still a solid, capable performer with high contrast at maximum aperture, decent CA correction and surprisingly low coma in a very compact and well made package.
My sample is from 1987 and it still looks and works like new, which is a testament to the high mechanical standard of these Leica lenses.
Now the question is: is it worth it? For a Leica lens the price is comparably fair, especially as I don't see this lens loosing much value in the future, but compared to buying a new Samyang 85mm 1.4 AF, Sony FE 85mm 1.8 or Viltrox 85mm 1.8 it isn't exactly cheap either.
These lenses are using newer technology like aspherical elements, floating elements design as well as auto focus and are optically "superior" in most areas while actually being cheaper.
So as a Sony user to choose this Leica lens over the alternatives you must really like the rendering or the build quality/red dot.
If you are looking for a fast manual focus portrait lens with nice mechanical design (or you are in the M-mount eco system anyway) the Voigtlander VM 75mm 1.5 Nokton is probably the better lens for most (me included) these days. But this also boils down to your kit to some degree: I bought this 90mm 2.0 to have something longer to pair with a 50mm lens where I don't see a 75mm lens fit and the list of good lenses in the 85-100mm realm for M-mount is a really short one.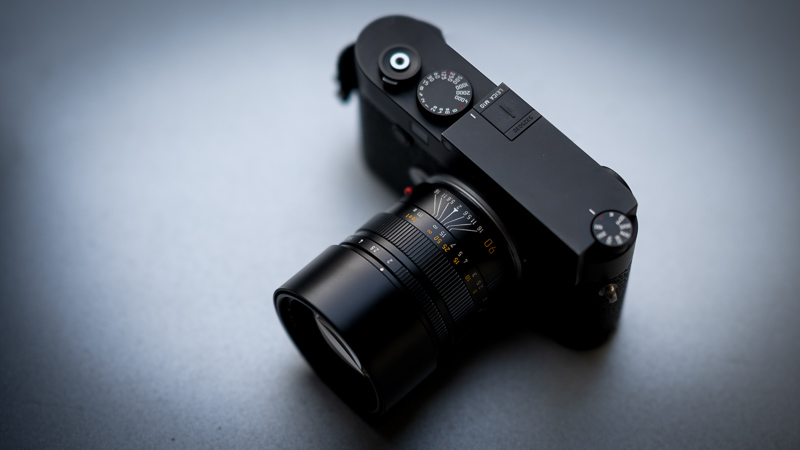 Also, it is to me one of the best looking lenses, no matter whether you pair it with a Sony or a Leica camera, but this probably shouldn't be your main reason to buy it 🙂
This pre-Asph version usually starts selling for $800 at ebay.com (affiliate link). In Germany buying one in A-condition will set you back at least 650€. I got mine at ebay.de (affiliate link).
Sample Images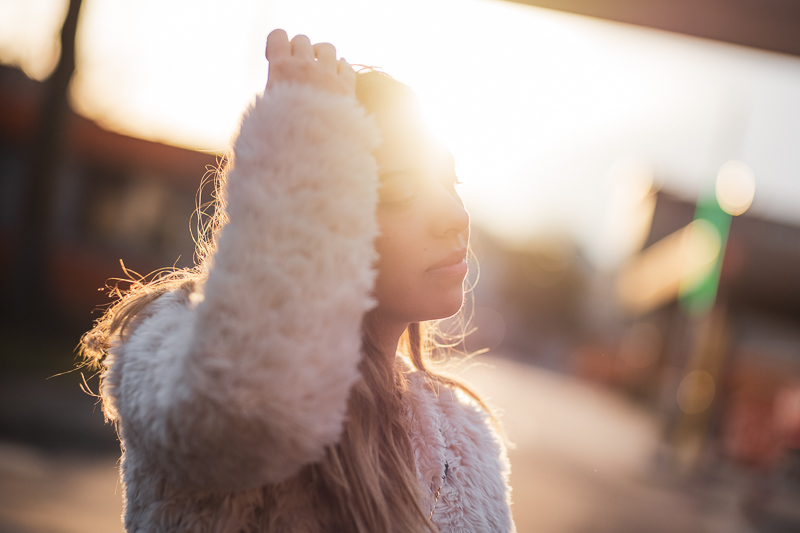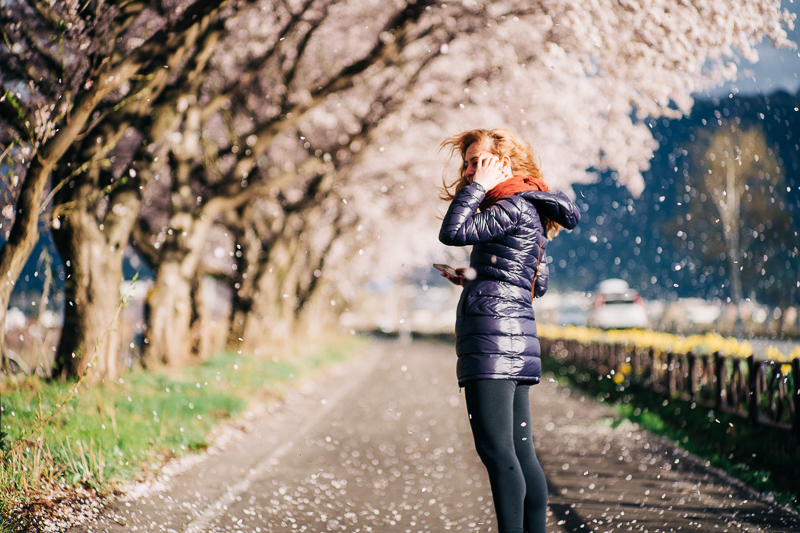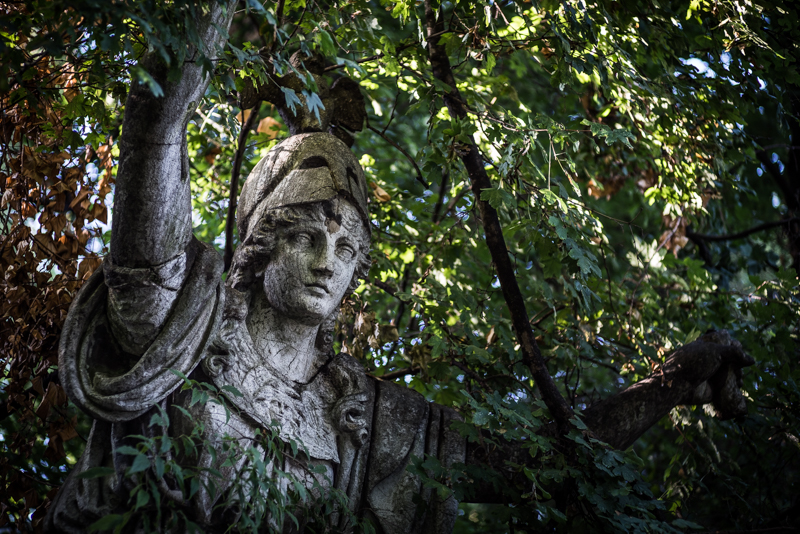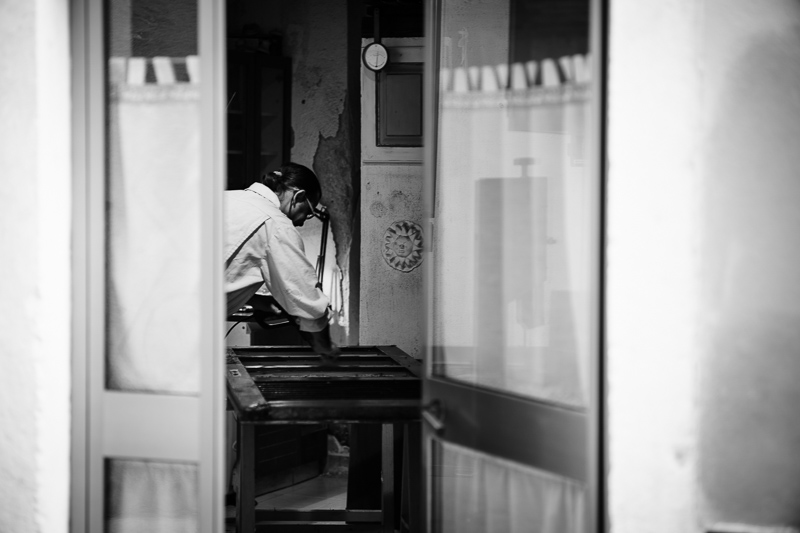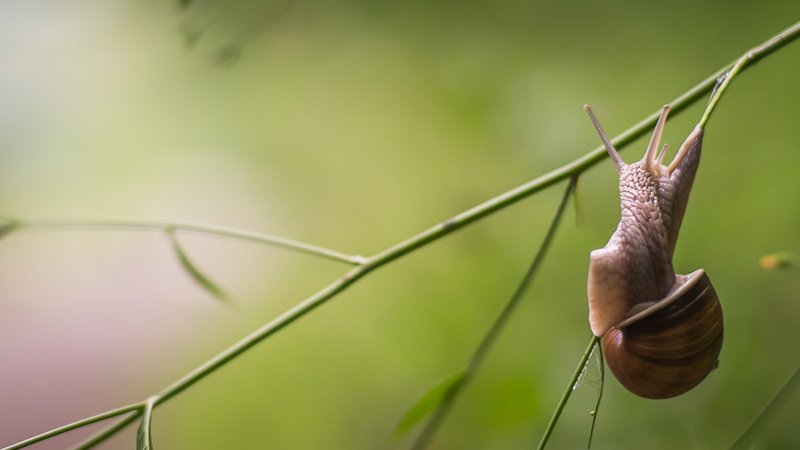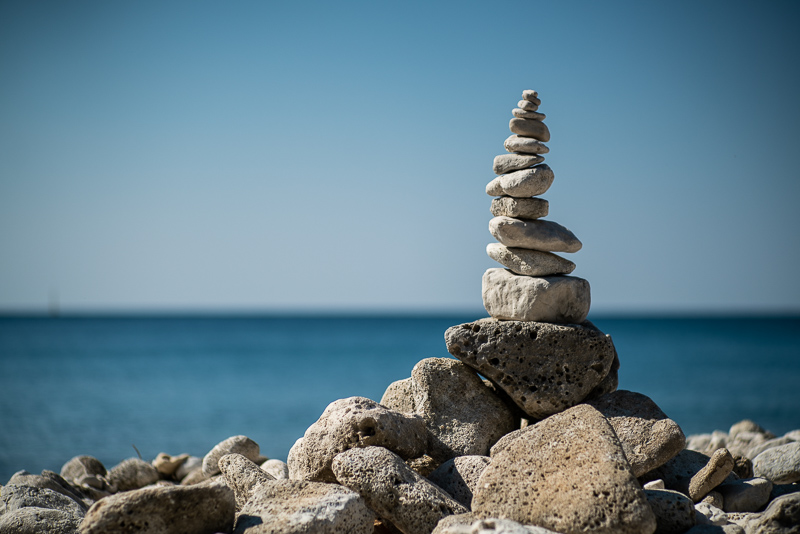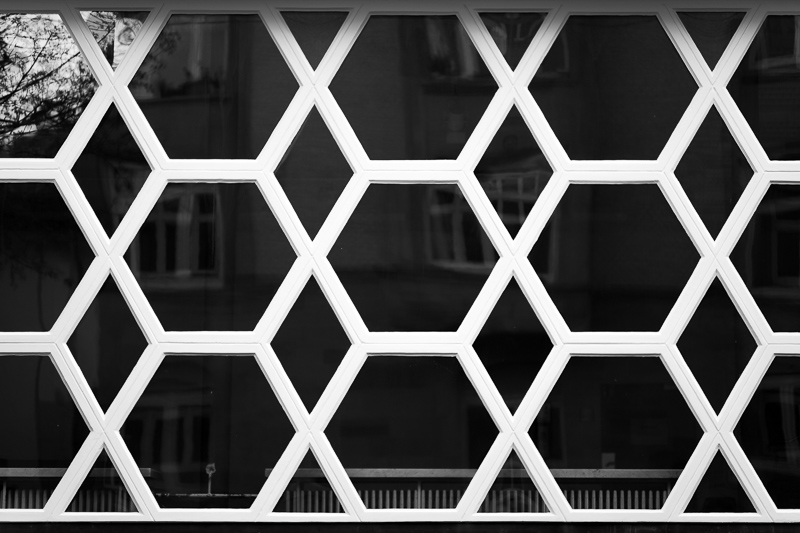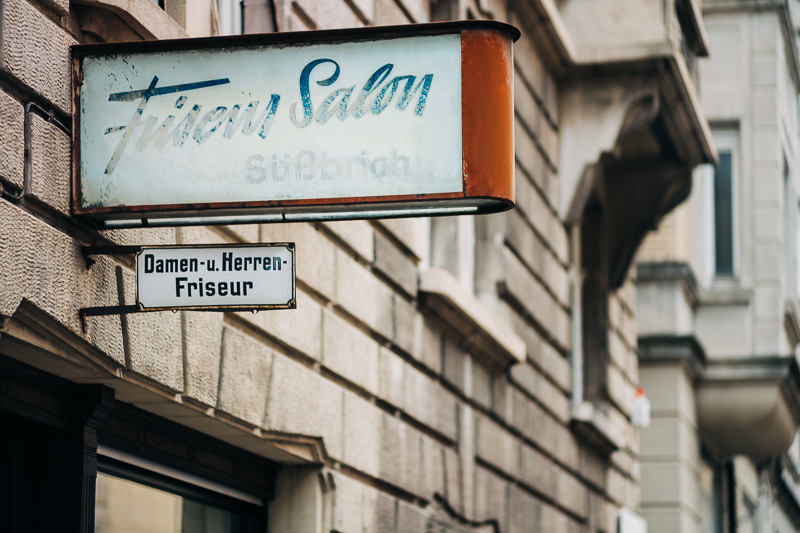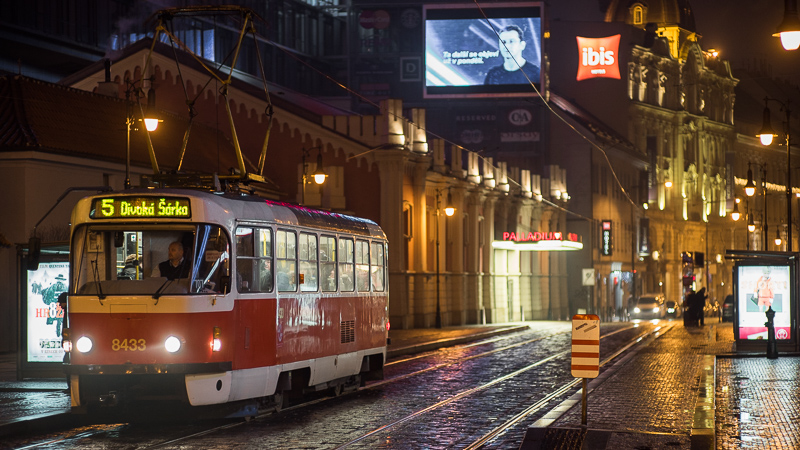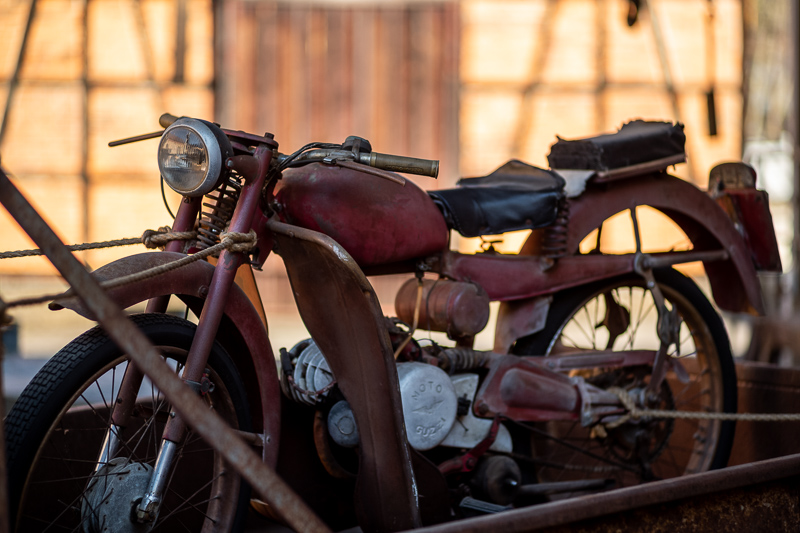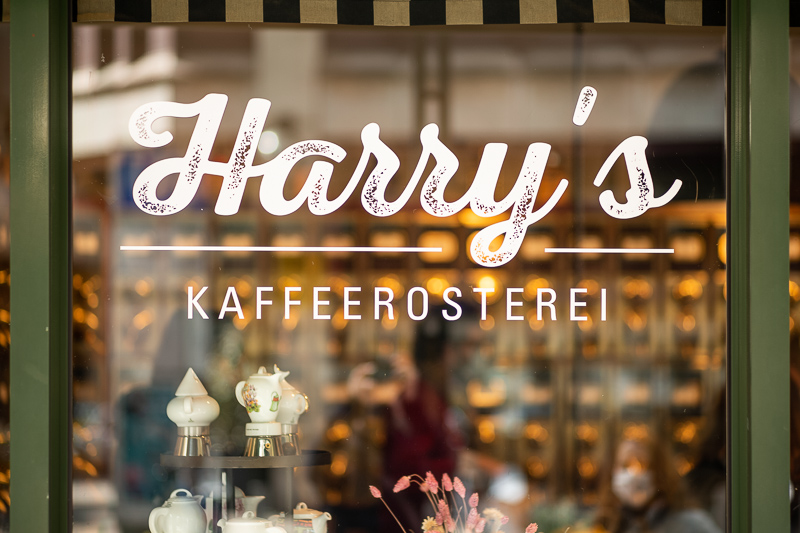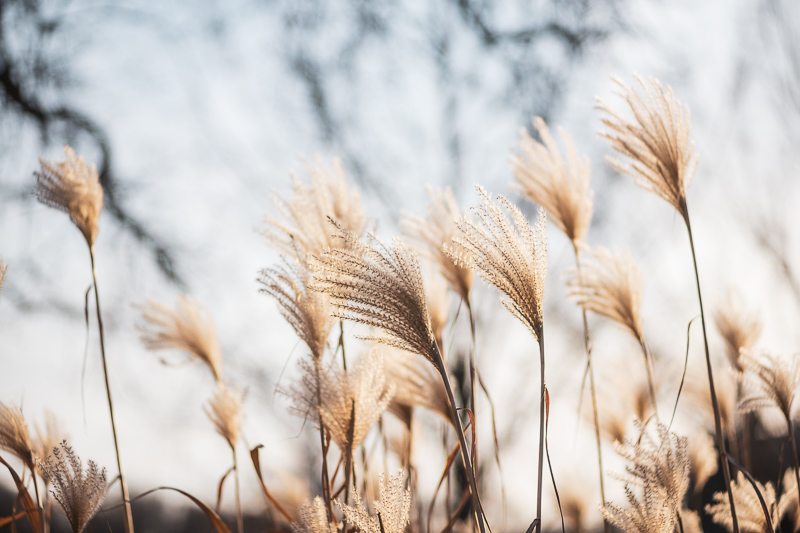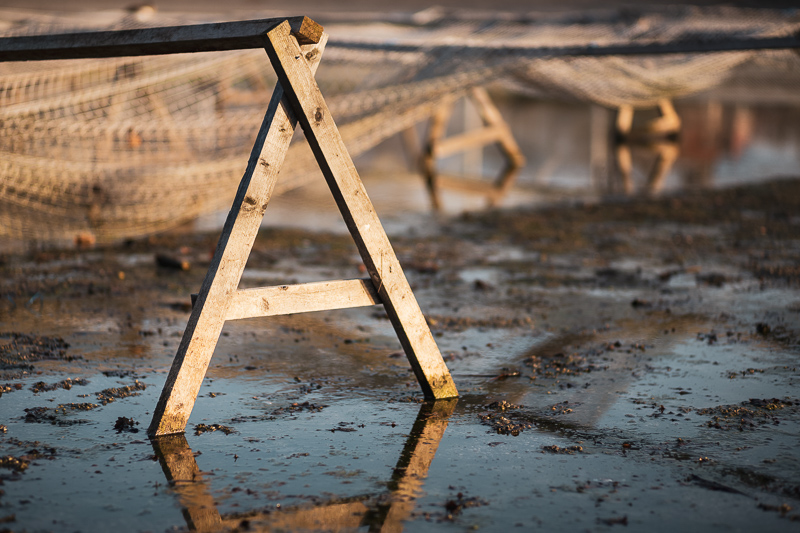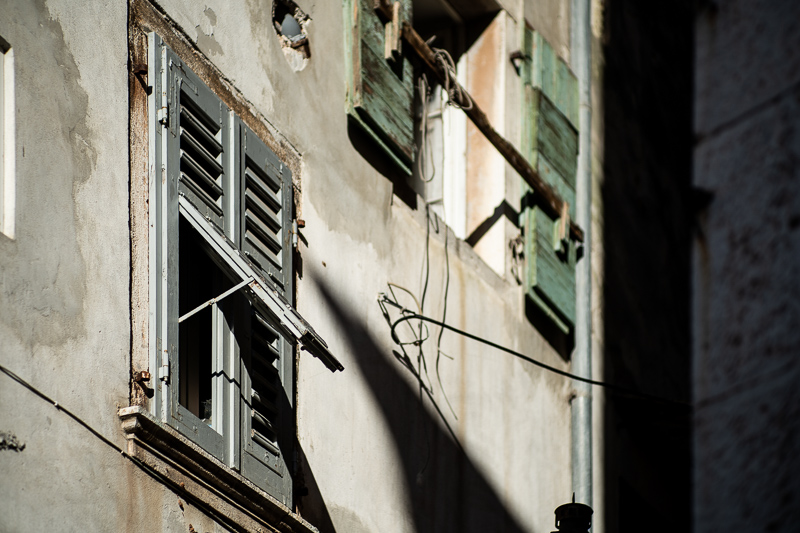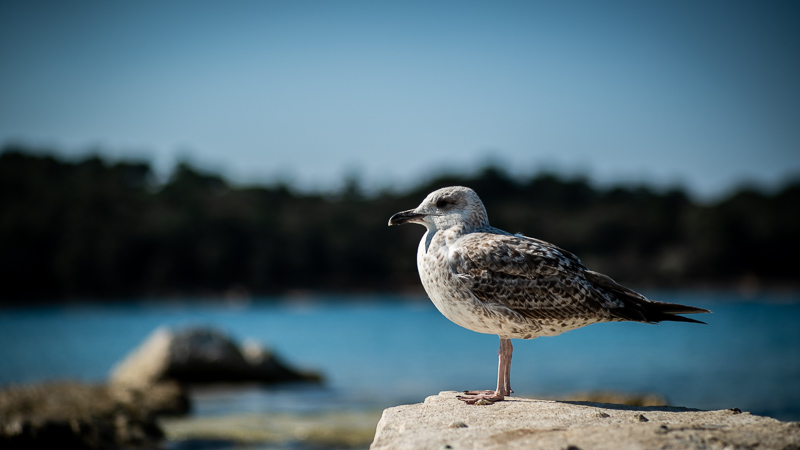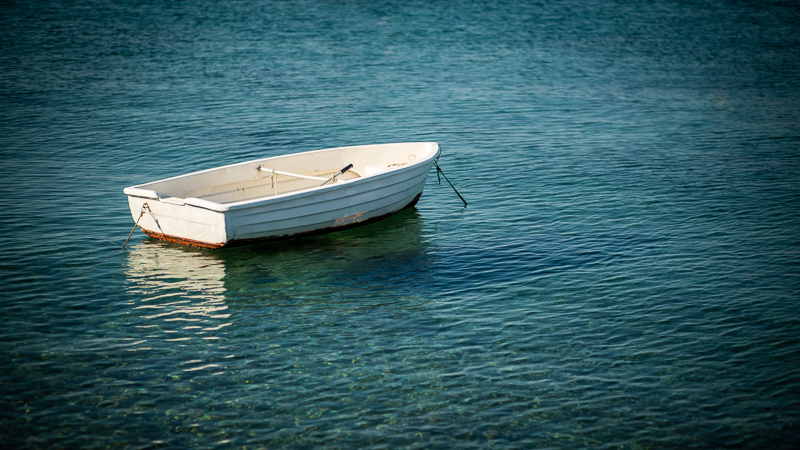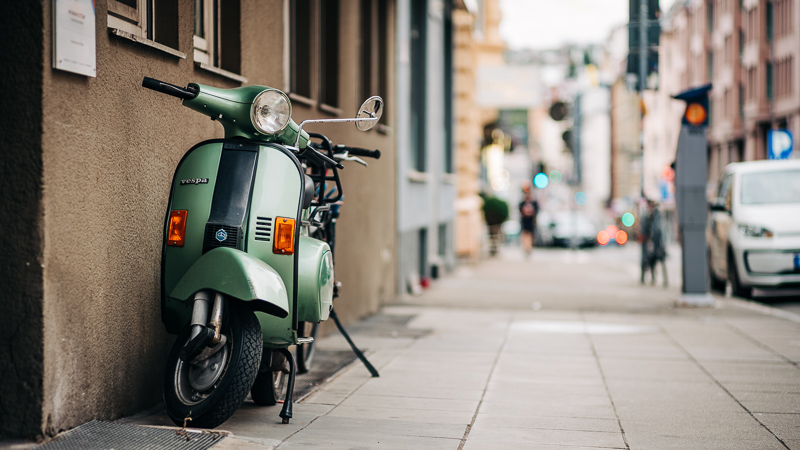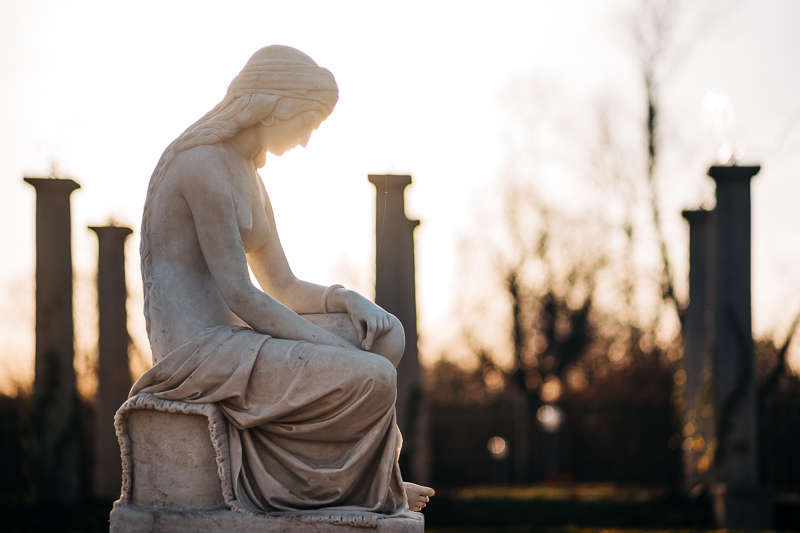 I have set up a flickr album which contains many shots taken with the Leica 90mm 2.0 Summicron pre-Asph.
Further Reading
Support Us
Did you find this article useful or just liked reading it? Treat us to a coffee!


via Paypal
The following two tabs change content below.
My name is Bastian and I am your expert here when it comes to ultra wide angle lenses, super fast portrait lenses (ranging from a 50mm f/0.95 to a 200mm f/1.8) and I also have reviewed way too many 35mm lenses. Don't ask me anything about macro or wildlife shooting though.