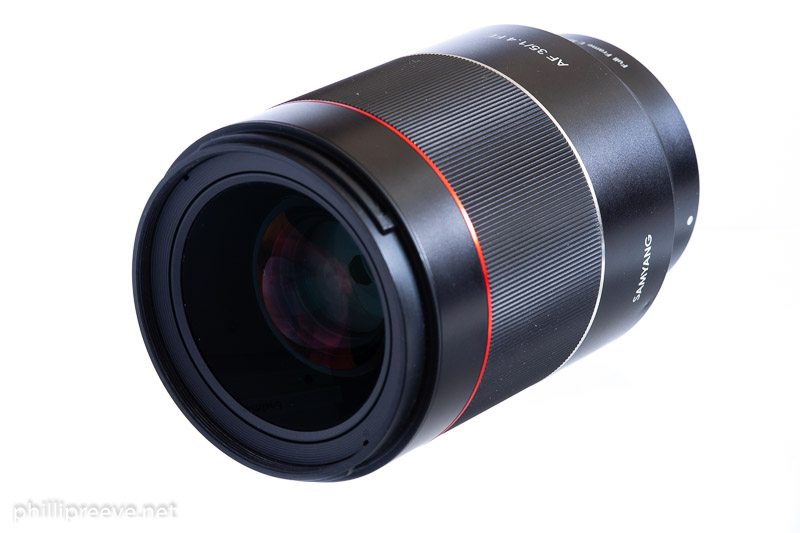 The Samyang AF 35/1.4 FE is the most affordable in the croweded field of fast 35mm AF E-mount lenses. I this review I try to answer the question if it is a smart buy.
Samyang AF 35/1.4 FE Review
Most images in this review can be found in full resolution in my Samyang AF 35/1.4 FE flickr set. There you can also browse samples in a very high quality browser.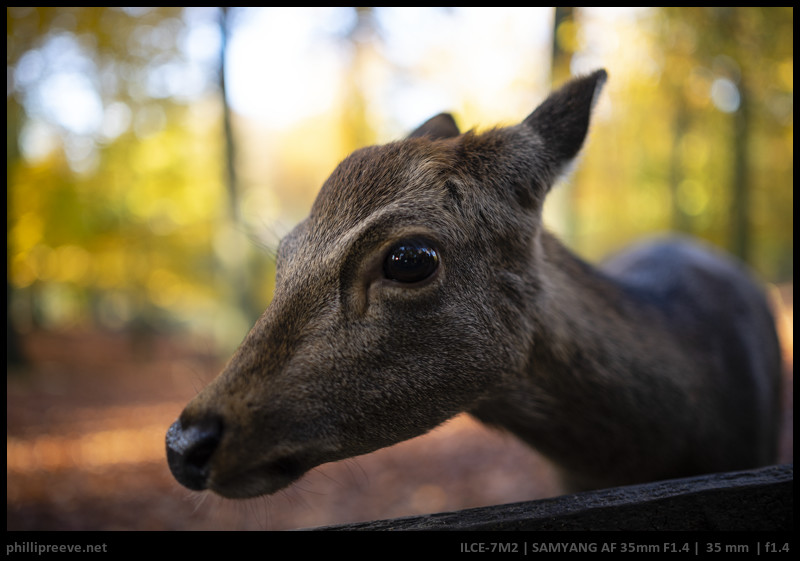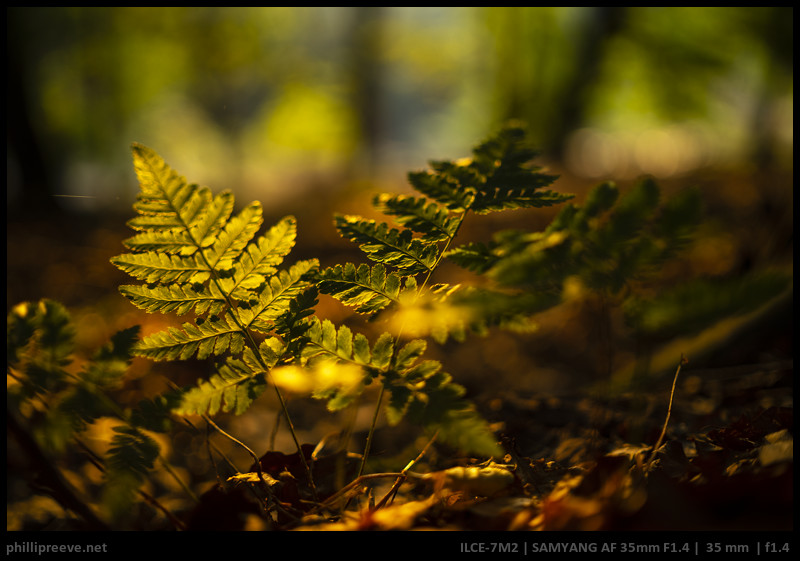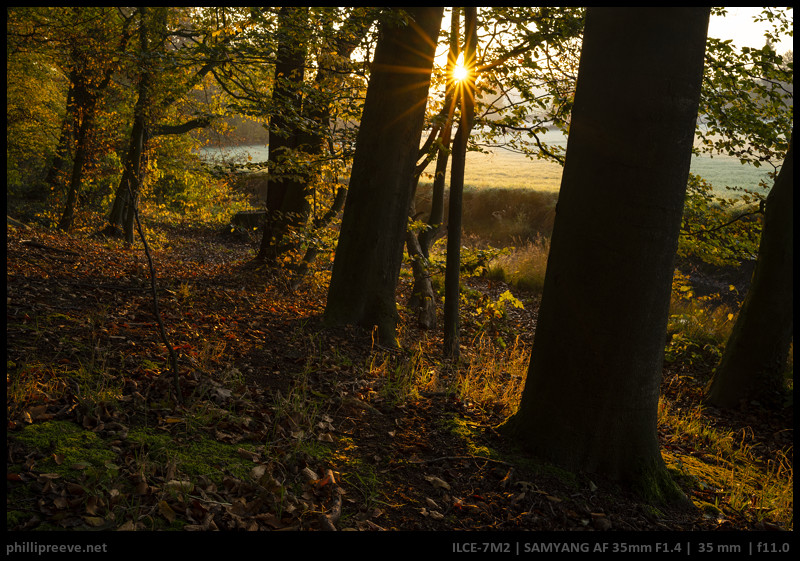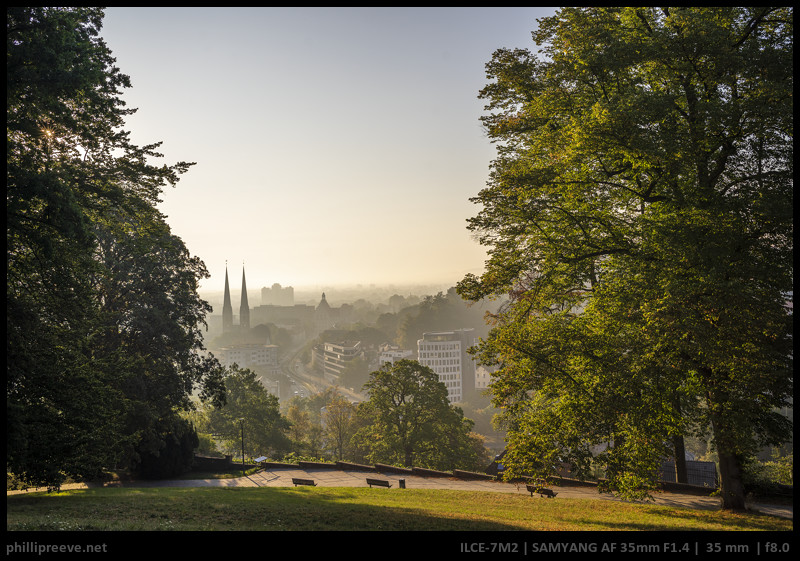 Specifications
| | |
| --- | --- |
| Diameter | 76 mm |
| Length | 115 mm |
| Filter Thread | 67 mm |
| Weight (no hood, no caps) | 645 g |
| Max. Magnification | 0.17 |
| Close Focusing Distance from the sensor | 30 cm |
| Number of aperture blades | 9 |
| Elements/ Groups | 11/9 |
| Mount | E-mount |
The Samyang 1.4/35 has a recommended price of $799 but usually sells for significantly less. Check current prices at amazon.com, B&H or ebay.com. In Germany the recommended price is 649 €. Check at amazon.de.
If you purchase the lens through one of these affiliate-links I get a small compensation with no additional cost to you. 
Disclosure
I bought this copy used from my own money and used it for several months before writing this review. 
Features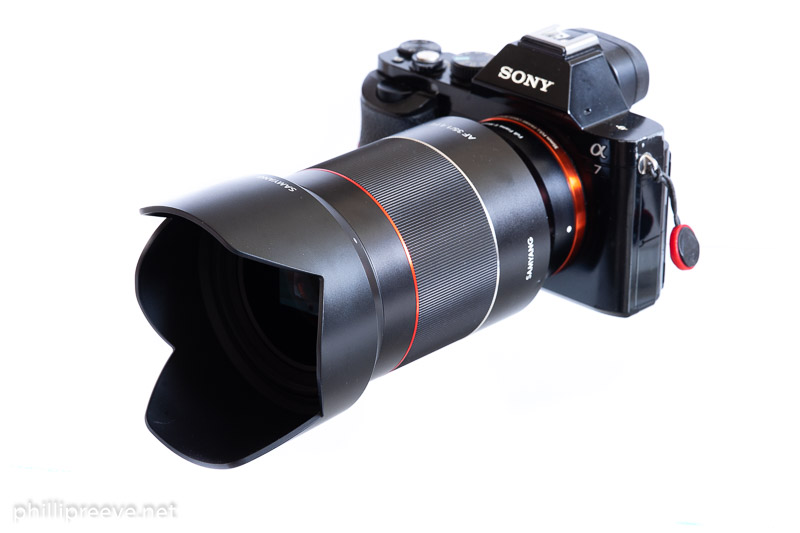 The Samyang AF 35/1.4 FE offers no buttons or any other features worth mentioning.
Samyang offers a lens station ($60) to update firmware and change some settings. I am not sure I should call this a feature though since other manufacturers offer firmware updates without a dock and Samyangs firmware 01 and 02 had serious issues so I would strongly recommend to update it if you have an older version installed.
Build quality
The Samyang AF 35/1.4 FE feels nice enough thanks to a metal hull and a wide focus ring with a little low resistance. It doesn't feel or look as a $1000 lens but at the same time it doesn't feel cheap either.
Samyang does not claim any weather resistance and the 1.4/35 does not have a rubber gasket.
As a team we have had several bad experiences with Samyang lenses which broke with no obvious reason. An experience many other users have had as well, going by forum entries and Amazon reviews. Also we have experienced above average variation with Samyang lenses as documented by lensrentals.com. Of course lenses from other manufacturers break as well but it seems to be a lot more likely with Samyang lenses. I am not in a situation where I could put a reliable number on this but it is an aspect which I would keep in mind when buying a Samyang lens. The risk is offset in part by generous warranties offered by Samyang in some markets.
Handling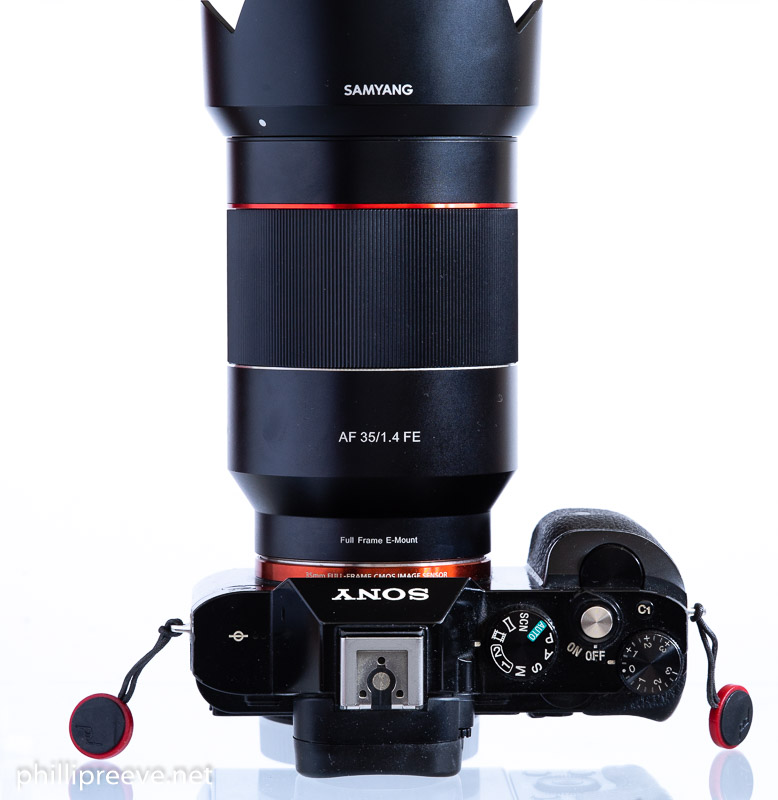 AF
I used the Samyang 35/1.4 only on my a7II wich is a much slower focusing camera than the a7III and Sony's other new models but I never felt limited by the AF-speed of the lens. AF makes a small noise which will probably be an issues for video but it is a non-issue for photography. AF-reliability is an issue though. It works ok most of the time but in other scenarios it is simply unreliable.
Manual Focus
The focus ring offers too little resistance in my eyes. It isn't linear but close to that. In the default setting it travels around 90° from 0.3m to infinity which is way too steep. If you have the dock you can adjust it so that it travels around 180° which makes focusing easier but still no joy. The biggest issue I have is that focus jumps from one position to the next and it often feels like there are too few intermediate positions.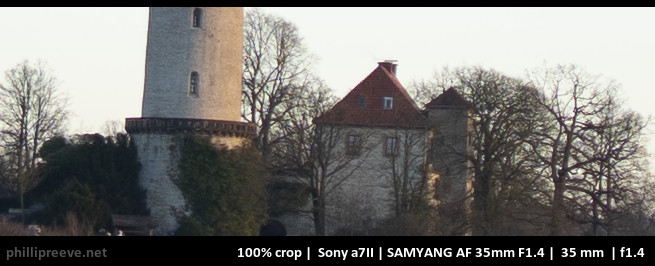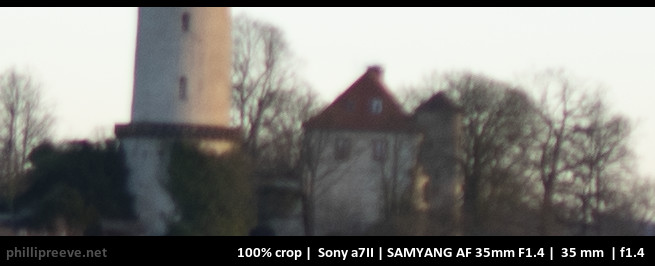 Hood
The Samyang 35/1.4's hood is made from plastics, locks safely into place and protects the front of the lens well. It also adds a lot of bulk to the already bulky lens.
Size and Weight
At just 645g the Samyang 35/1.4 is a rather big an heavy lens. It weights 15g more than the Sony ZA 1.4/35 and 95 less than the Sigma 1.4/35. If you compare it to the Sigma Art 1.2/35 though it looks like a small and light lens being 435g lighter. The half a stop slower Sony 1.8/35 is significantly smaller and less than half the weight.
Optical performance
These results are based on the use with a Sony Alpha 7II.
Flare Resistance
As always evaluating flare is a complex matter since you can get any lens to look bad if you push it hard enough and a slight change of scenario will affect results a lot.
I would rate the Samyang 35/1.4 as below average when compared to other modern fast 35mm lenses. In a very challenging scenario results can look pretty bad with a red halo and significant ghosting as well as an above average amount of veiling flare. In a little less challenging scenarios I found performance ok.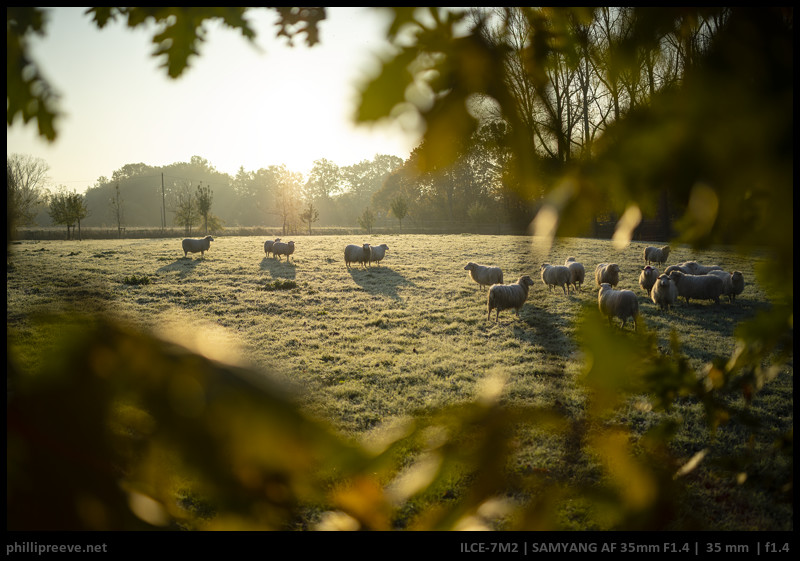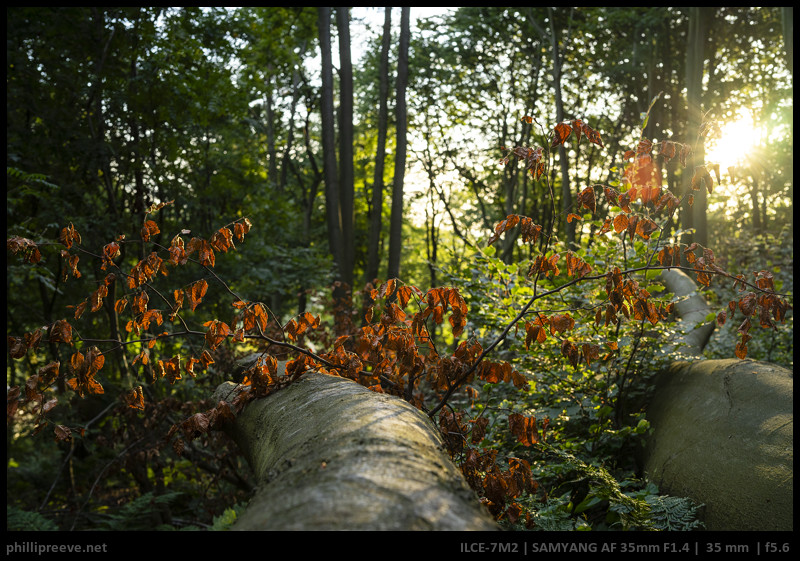 Sunstars
9 rounded aperture blades result in well defined 18-pointed sunstars from f/11.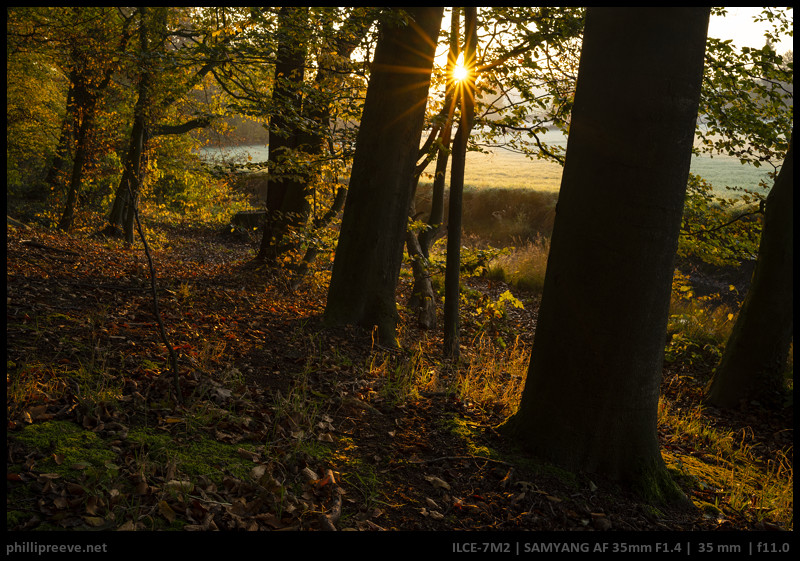 Bokeh
Out of-focus-highlights are rendered neutral with little outlining at shorter distances and some outlining off-center at longer distances.
Bokeh circles show minor onion rings. They also stay more or less round as you stop down.
Cat's eyes are visible but they aren't very pronounced.
The transition zone is a bit nervous.
In most scenarios you can expect rather smooth bokeh from the Samyang 35/1.4 but in more difficult scenarios with high contrast background at longer distances bokeh can become somewhat harsh. A characteristic it shares with most other 35mm lenses.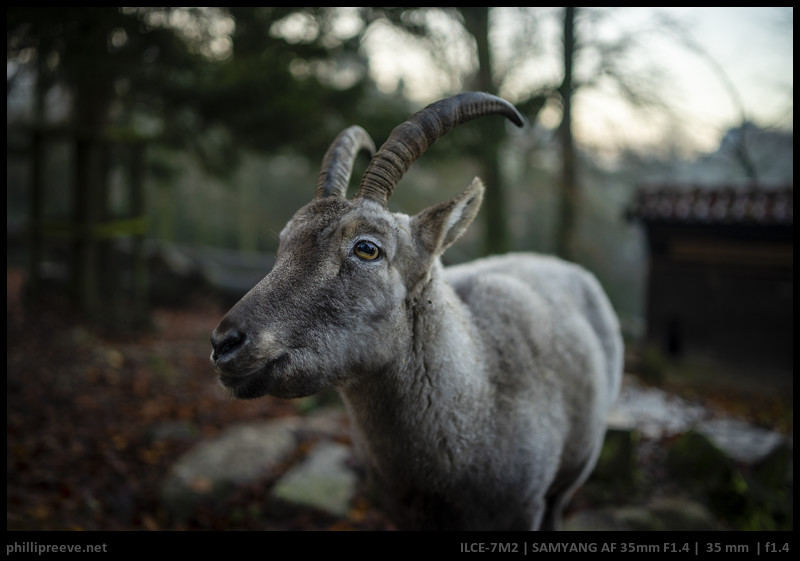 Chromatic Aberrations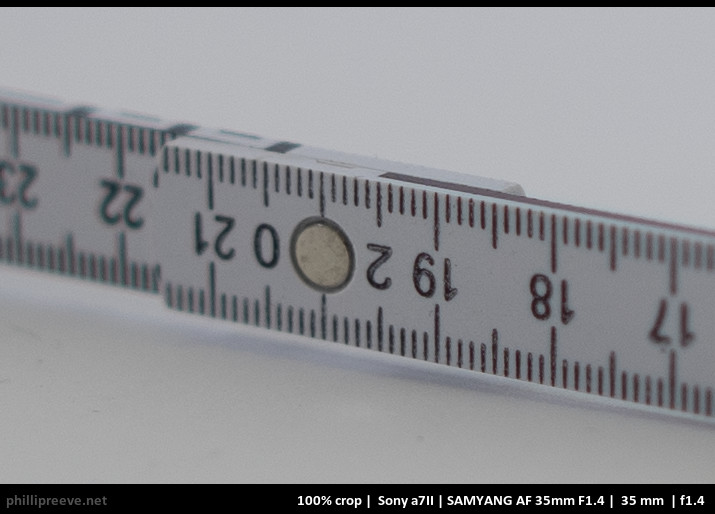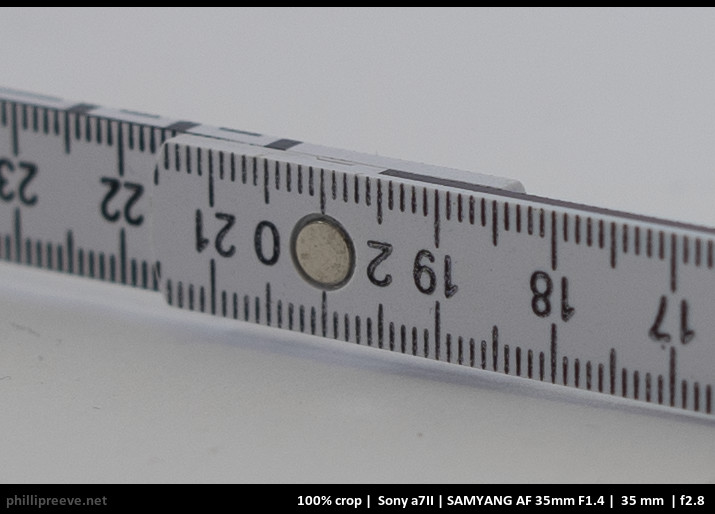 Axial CA isn't well corrected until f/4 and in high contrast scenarios you will see quite bit of color fringing. This is usual for a fast 35mm lens and can be manually corrected to some degree.
Since I use LR correction of lateral CA is corrected by profile and I can't turn the correction off. It isn't corrected that well though and some CA is still visible.
Vignetting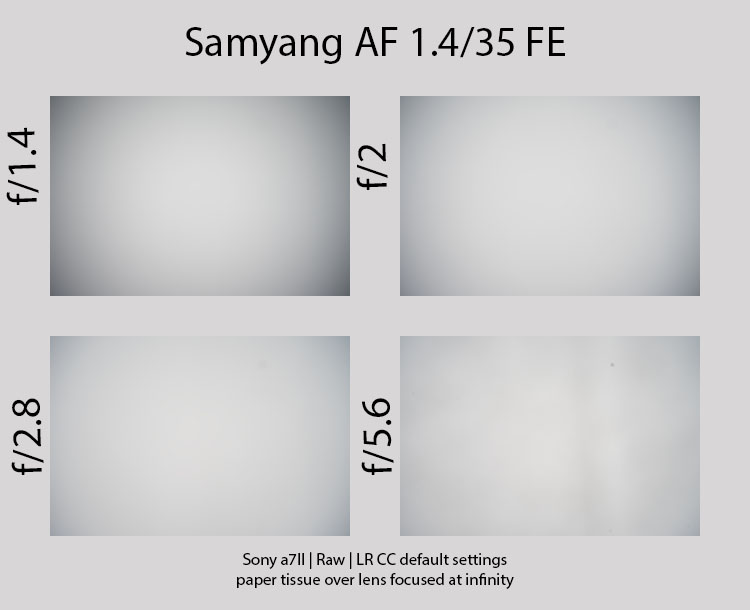 | | |
| --- | --- |
| Aperture | Vignetting |
| f/1.4 | 2.3 EV |
| f/2 | 1.7 EV |
| f/2.8 | 1.2 EV |
| f/4 | 1.0 EV |
| f/5.6 | 1.0 EV |
Vignetting is moderate for a fast 35mm lens at 2.3 stops wide open which is reduced to 1 stop at f/5.6.
Distortion
A rather high amount of mostly barrel correction. +9 in LR corrects it to a degree but not perfectly.
Astro-Performance
Even wide open the Samyang shows a very solid performance. It also shows the least vignetting of any competing E-mount 35mm.
Sharpness
infinity
f/1.4: Good to very good in the center. Good outside of it.
f/2: A noticeable improvement over f/1.4 everywhere.
f/2.8: Excellent in the center, good to very good outside of it.
f/4: Excellent to very good across the frame.
f/5.6: An excellent performance with minor falloff towards the corners.
f/8: A tad softer everywhere.
f/11: Somewhat softer due to diffraction.
All in all a very good performance. You can use f/1.4 with little hesitation for most applications and by f/4 you can expect very good results even in the corners. Only the most demanding users will want to look for slightly better performance in the ART 1.2/35.
Because there is quite a bit of field curvature the midframe area is significantly sharper at wider apertures if you refocus at it.
Portrait Distance
You can place the eye of your subject freely anywhere in the frame and expect very good results from wide open. A very good performance.
Alternatives

Sigma Art 1.4/35: The Sigma is about $200 more expensive than the Samyang and nearly 100g heavier. If you need to save a month longer to get it over the Samyang I would. While the optical performance is very similar the more reliable AF, much better manual focus and especially better longevity will make it the more attractive alternative in my eyes.
Sony ZA 1.4/35: A $1600 lens which is decentered more often than not. Optical performance is comparable to the Samyang.
Sigma Art 1.2/35: The current king of 35mm lenses. At least in E-mount. It is quite a bit sharper and it is currently the only E-mount 35mm lens which offers smooth bokeh across the frame at any distance. It is also two to three times as expensive and 450g heavier.
Sony FE 1.8/35: It is half a stop slower with a little less smooth bokeh and higher vignetting but it is much more portable and not even half the weight and flare resistance is better. It is significantly more expensive though.
Voigtlander 1.4/35: A close relative of a 40-years-old Leica with corresponding performance. If you like character lenses.
Conclusion
pros

Sharpness

Price

Bokeh (mostly)

Coma correction

average

Build Quality
CA Correction
Size
Flare Resistance (just)
Distortion (just)

cons

Manual Focus

AF Reliability

Durability
The Samyang AF 35/1.4 FE delivers surprisingly good optical performance for its very affordable price. Sure, flare resistance is below average and it shows quite a bit of CA and distortion is also a little above average but it can compete with the significantly more expensive Sony ZA 1.4/35 and also the still more expensive Sigma 1.4/35 which aren't perfect either.
The bigger tradeoff lies in the Samyang's handling: Manual focus is one of the worst implementations I have used on E-mount and AF wasn't that reliable either in my experience. I also had to buy the dock for another 50 bucks to update the firmware because with the old firmware it froze my camera several times during a wedding.
The Samyang AF 35/1.4 FE is capable of delivering results comparable to significantly more expensive lenses and in general I was quite happy with the results. No other 35mm will give you as much optical performance for a similar price. There are non-trivial trade-offs in handling and longevity though which should be taken into consideration when making a purchase decision. 
The Samyang 1.4/35 has a recommended price of $799 but usually sells for significantly less. Check current prices at amazon.com, B&H or ebay.com. In Germany the recommended price is 649 €. Check at amazon.de.
If you purchase the lens through one of these affiliate-links I get a small compensation with no additional cost to you. 
More Image Samples
Most images in this review can be found in full resolution in my Samyang AF 35/1.4 FE flickr set. There you can also browse samples in a very high quality browser.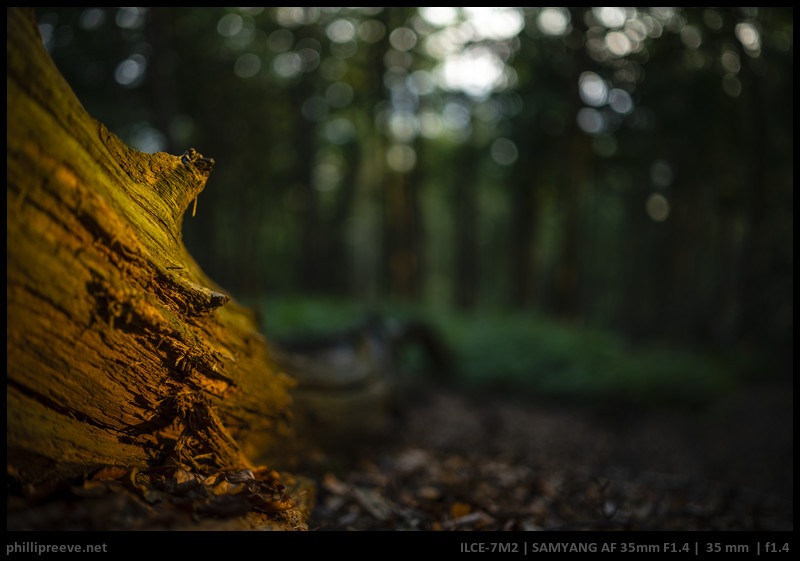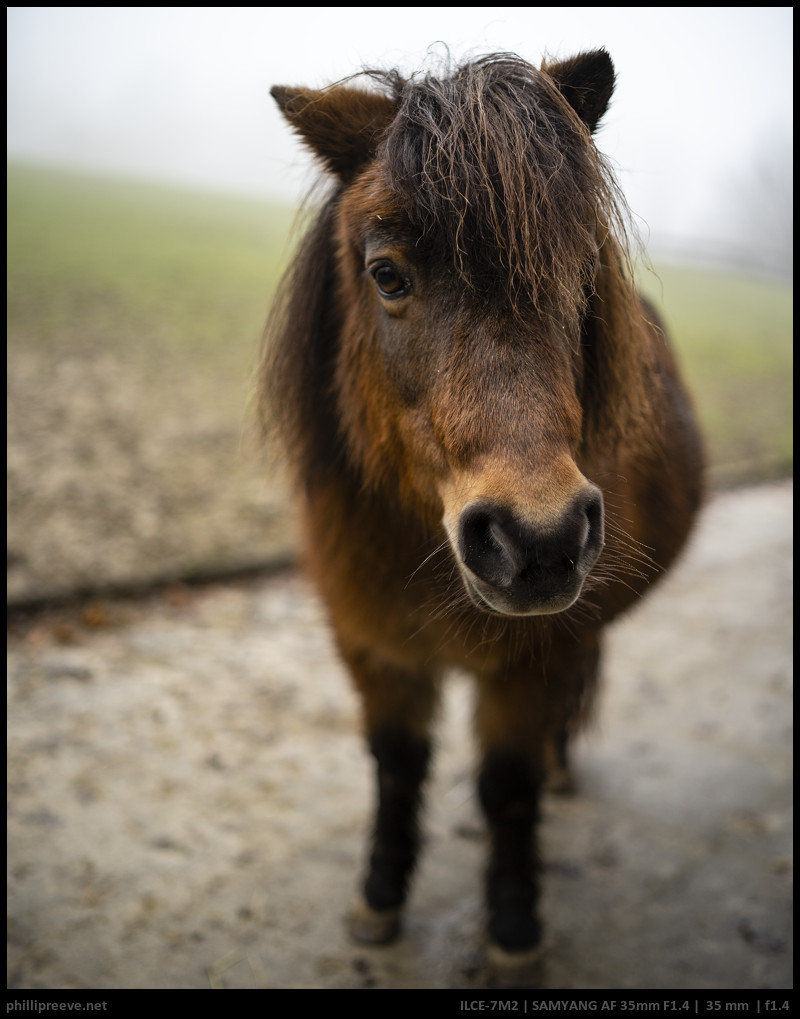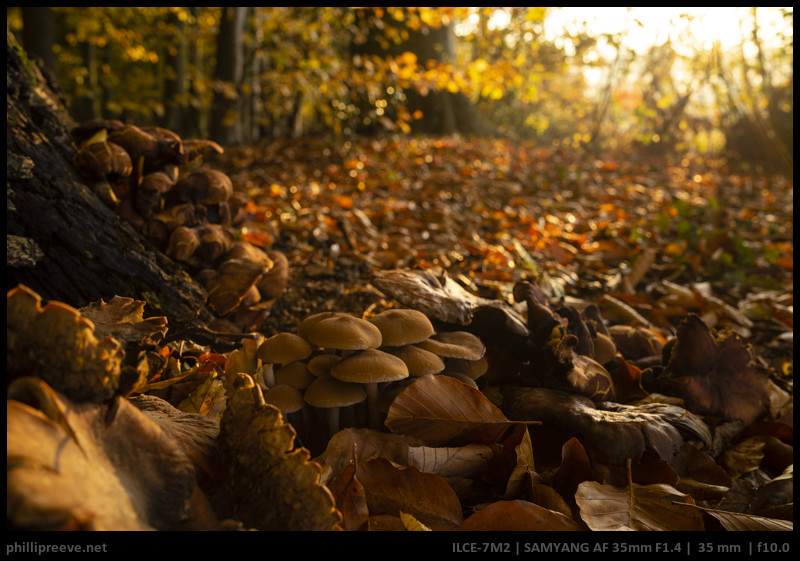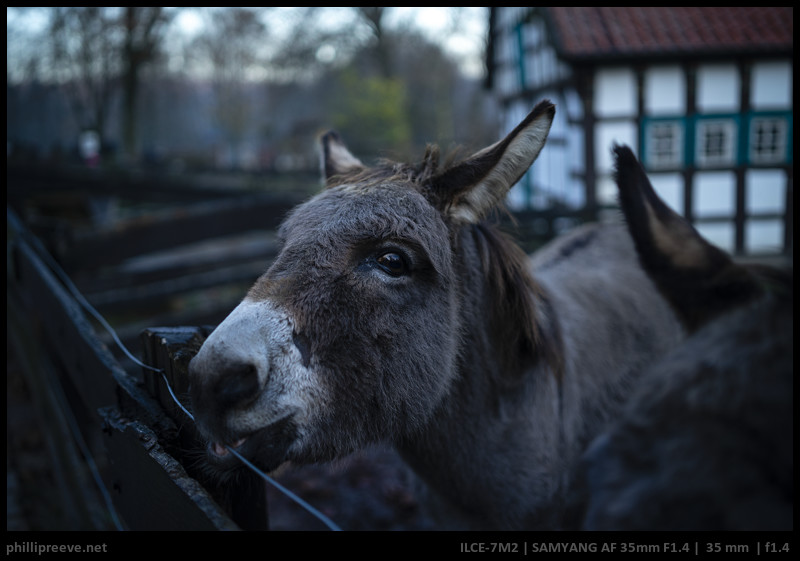 Other articles
The following two tabs change content below.
I have two hobbies: Photography and photographic gear. Both are related only to a small degree.
Latest posts by Phillip Reeve (see all)