Introduction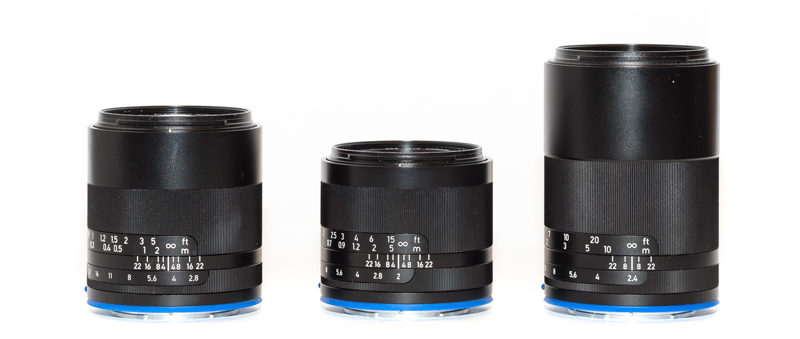 When you start getting more involved with photography – and especially when you prefer using prime lenses – at some point it makes sense to spend some thoughts on building a lens kit.
In this article we want to give you a few ideas of what to consider when building your own lens kit and show you some of ours in the end.
What is a lens kit?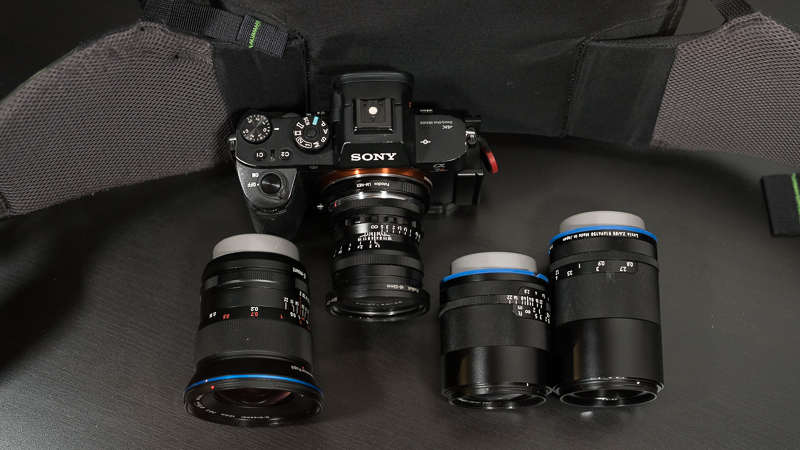 A lens kit consists of a few lenses that (usually) cover different focal lengths and should work well together for your needs. A kit can also be built towards a certain task, like travel, wildlife, portrait, architecture photography or anything else that comes to mind.
Aspects to consider
1. What do you want to use your kit for?
This is obviously the most important to figure out. If you are heavily into wildlife you probably want to look at those longer tele lenses and at the same time have little need for an ultra wide angle lens.
If you are more into architecture photography it will be the other way round.
For portrait you might favor faster lenses to get that shallow depth of field look, for landscape you may need to hike a bit and therefore prefer lighter, slower lenses.
2. How much money are you willing to spend?
This is also a very important aspect. You might have already figured out a kit that works perfectly for you, but those lenses are too expensive, so you have to compromise.
My personal recommendation is to spend more money on the lenses you intend to use most.
If you only use that 2.8/400 super tele two times a year it may not be the greatest idea to spend big money on it. You might consider one of the slower 150-600mm zooms or just rent that special purpose lens when you need it.
Sometimes third party manufacturers offer more reasonably priced lenses. That fancy Sony FE 24-70mm 2.8 GM is too expensive? Maybe have a look at the Tamron FE 28-75mm 2.8 instead.
Often you can save money when going for (legacy) manual lenses instead of the newest AF lenses.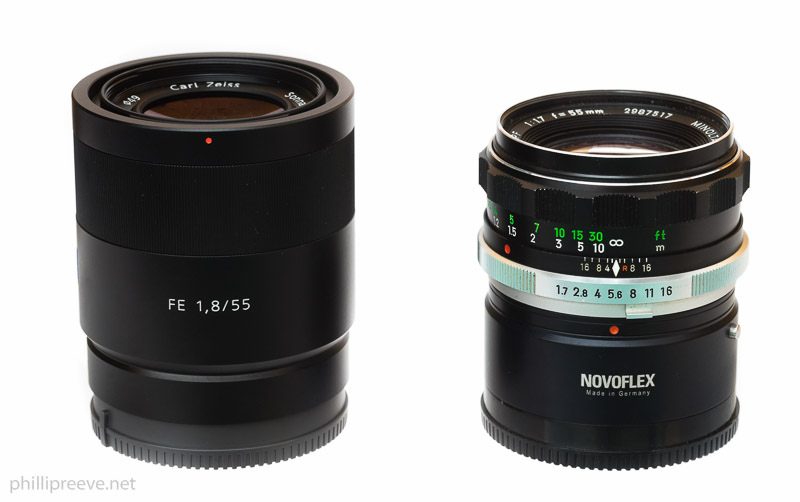 The rule of diminishing returns also applies to lenses. You can take very nice pictures with that $20 Minolta 1.7/55. If you buy the Sony FE 1.8/50 for $200 you get a modern lens with AF and much better coatings and better contrast. If you spend four times as much again for the Sony FE 1.8/55 you get a nicer feeling lens, sharper corners at wider apertures and smoother bokeh but someone without a technical background probably won't notice the difference. Spend twice as much again on the FE 1.4/50 and you gain half a stop, exceptional sharpness and much better CA correction but again: your partner is much more likely to notice the depleted bank account than the difference that it makes for your pictures.
3. How much do you want to carry?
The importance of weight depends a lot on your shooting circumstances. For a multi day mountain hike every gram counts and weight will be the most important factor in deciding which lenses to bring and slower lenses will often be the best choice. For reportage work on the other hand one wants to be prepared for any situation and gear can usually be stored or carried without too much inconvenience so other aspects become much more important.
4. Autofocus or Manual Focus?
I am pretty sure for those of you into sports photography this is easy to answer, you want fast and reliable AF (which means in most cases you should stick to native lenses). Same goes for most wedding photographers or just parents with young children.
For architecture, landscape and macro photography on the other hand you might even prefer manual focus lenses because they can be more enjoyable to use. Many manual focus legacy lenses are very affordable and you can build a solid kit for just a few hundred dollars with them.
5. Zoom or Prime? A mix of both?
Some people prefer the flexibility of zoom lenses while others prefer the (often) superior image quality, smaller size or the faster maximum aperture of prime lenses. This is also a really personal decision.
The really good zooms are also quite expensive, so you may spend some time figuring out if you really want to cover every focal length from 10 to 400mm, which brings us to the next point…
6. Focal length gapping
Some people can spend a near infinite amount of time figuring out what focal length gapping works best for them.
Some of you cannot sleep well when they haven't covered every focal length gaplessly, in that case you pretty much have to resort to zoom lenses.
If you want to build a kit of prime lenses there will be gaps so you should really figure out what focal lengths are most important to you first.
Bastian tries to have roughly a gapping of focal length x2. So something like 21mm, 40mm, 85mm. Or 12mm, 25mm, 50mm, 135mm. With that gapping he still has enough resolution for cropping to get the framing of focal lengths not covered directly. You can also resort to a simple 3-shot-1-row-in-portrait-orientation panorama to cover the focal lengths inbetween at higher quality.
He found that when carrying lenses that are closer in focal length, like a 35mm and a 50mm, one of those two he only uses very rarely.
Phillip usually carries a set of the three primes 21mm, 40mm and 110mm. Compared to a 21/40/85 kit he trades a close to 3x gap for a little more reach.
7. Lens Rendering
For some people this is the most important aspect while others don't care about it at all, so what is this about?
Lenses are not only differentiated by focal length and maximum aperture, there is much more to it: Bokeh, contrast, correction of optical errors, shape of sunstars or color rendition, to only name a few. The sum of these optical qualities we call rendering.
Again, to the trained eye these qualities can be pretty obvious while a bystander will only raise his eyebrow while you talk about the quick transition to a low contrast out of focus background with very little spherochromatism.
For certain tasks it might be preferable for all the lenses in your kit to "look the same". For Bastian this is definitely true for wedding and also architecture photography. He wants to spend as little time as possible with post processing and it helps when in terms of colors, bokeh and sunstar rendering the output of lenses is very similar.
So if rendering is important to you it might make sense to stick to the lenses of a certain manufacturer and also from roughly the same era.
The big manufacturers put quite some effort into making sure the output of their lenses looks the same.
Some ideas for lens kits
We will mostly cover native lenses here to keep this article somewhat short. Nevertheless it should be noted that for Canon EF mount there are many fast zooms available that adapt well to newer generation Sony cameras (gen 2 or newer for fast AF, gen 3 for eye AF). AF is not as good as on a native lens when it comes to tracking, but might still be good enough for your needs. We also have an article on affordable manual lenses that might be worth a look if you are running on a tight budget.
Zoom Kits
Slow-Zoom Kit (AF)
FE 12-24mm 4.0 G or Sony/Zeiss FE 16-35mm 4.0 ZA OSS
FE 24-105mm 4.0 G OSS
FE 70-200mm 4.0 G OSS or FE 100-400mm 4.5-5.6 GM OSS
These are all well balanced lenses in the Sony ecosystem and if you don't need a faster maximum aperture they will go a long way.
Fast-f/2.8-Zoom kit (AF)
FE 16-35mm 2.8 GM or Tamron FE 17-28mm 2.8
FE 24-70mm 2.8 GM or Tamron FE 28-75mm 2.8
FE 70-200mm 2.8 GM
If you need faster zooms you have the choice between the GM lenses (better build quality and bokeh) and the Tamron lenses which are significantly cheaper and smaller mostly due to their more restricted focal length range.
Prime lens kits
"Cheap Primes" (AF)
Sony FE 28mm 2.0
Sony FE 35mm 1.8
Sony FE 50mm 1.8 or Sony FE 50mm 2.8 macro
Sony FE 85mm 1.8
This is a kit of Sony's current "cheap" prime lenses. Personally I think the gapping of these 3 is too narrow. I would advise using a wide zoom instead of the 28mm 2.0.
"Balanced Primes" Batis/ZA (AF)
Zeiss Batis 18mm 2.8 or Zeiss Batis 25mm 2.0
Zeiss Batis 40mm 2.0 CF or Sony/Zeiss 55mm 1.8
Zeiss Batis 85mm 1.8 or Zeiss Batis 135mm 2.8
These offer a bit better image quality than the aforementioned primes and while still being lightweight and reasonably compact they are noticeably more expensive.
"Fast Primes" GM/ZA/Sigma (AF)
Sony FE 24mm 1.4 GM
Sigma 35mm 1.2 Art or 1.4 Art or Sony/Zeiss 35mm 1.4 or Sony/Zeiss 50mm 1.4
Sony FE 85mm 1.4 GM or Sony FE 135mm 1.8 GM
If you like fast lenses with nice bokeh and money is not really an issue a kit of the 24/50/135 will surely give you great results.
If you care less about bokeh and are focussed primarily on sharpness and resolution Sigma offers a full kit of prime lenses from 14-135mm which yield comparable levels of sharpness that you should have a look at.
Manual focus primes (MF)
Voigtlander 10mm 5.6E / 12mm 5.6E / 15mm 4.5E or Laowa FE 10-18mm 4.5-5.6
Zeiss Loxia 21mm 2.8 or 25mm 2.4 or Voigtlander 21mm 3.5 or 21mm 1.4
Zeiss Loxia 35mm 2.0 or Voigtlander VM 35mm 1.7 + 5m PCX or 40mm 1.2E
Voigtlander 50mm 1.2E or 65mm 2.0 or Zeiss Loxia 50mm 2.0
Zeiss Loxia 85mm 2.4 or ZM Tele Tessar 85mm 4.0 or Voigtlander 110mm 2.5
The Zeiss ZM/Loxia and Voigtlander VM/E lenses mix really well, they are all manufactured by Cosina and usually share a 10 blade aperture diaphragm (some newer Voigtlander lenses have 12 blades, still looks nice).
These lenses usually offer superior flare resistance and contrast, but vignetting is on the high side.
Our personal kits
Bastian's Travel Kit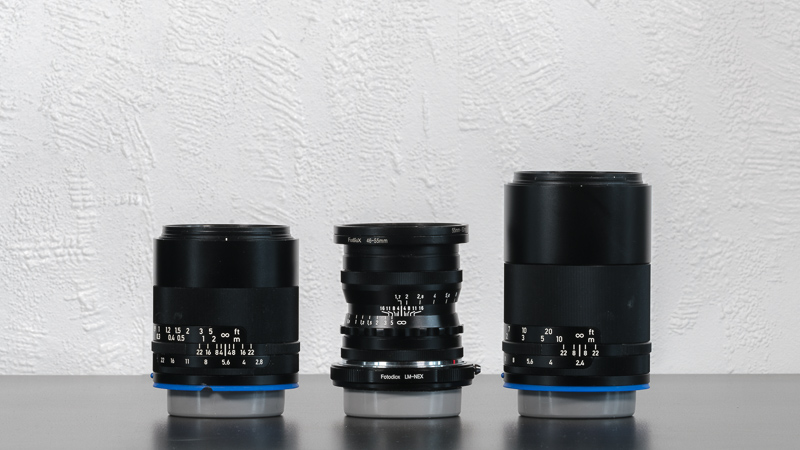 Zeiss Loxia 21mm 2.8
Voigtlander VM 35mm 1.7 + 5m PCX filter
Zeiss Loxia 85mm 2.4
When I travel size is a very important aspect, so I want my lenses to be small. To capture unforgettable moments I also want high image quality, so these are very high resolving lenses. I also do a lot of blue hour and backlit shooting, so I want nice sunstars (all lenses feature well defined 10 stroke sunstars) and I need good flare resistance. These lenses also share a 52mm filter thread, which is nice to have. The lenses are all manufactured by Cosina, so color rendition is very similar.
None of these lenses is super fast and they are all manual which saves some weight. If often complement this set by bringing an ultra wide lens. So if I was to do some astrophotography on a given trip I would be using the Laowa 2/15.
As there is no really close focusing lens in this kit I often carry an extension tube to use with the 85mm.
Bastian's Architecture Kit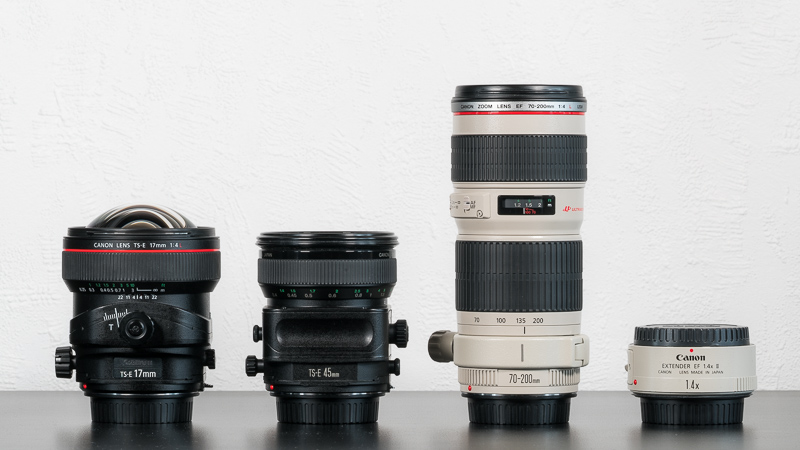 Canon TS-E 17mm 4.0L
Canon TS-E 45mm 2.8
Canon EF 70-200mm 4.0L USM
Canon TC 1.4 II extender
For architecture assignments I really want the outcome of the different lenses to look the same to save some post processing time. The Canon TS-E 17mm 4.0L is without question my most used lens for this type of shooting so I built this kit around it (all these lenses feature pretty much the same color rendition and 8 aperture blades).
My architecture shooting is mostly tripod based and around f/11 so I don't care about a fast maximum aperture. Weight and size of the lenses is also less of an issue.
The TS-E 45mm 2.8 offers the same "Tilt/Shift shooting experience" as the TS-E 17mm 4.0L which I like. The TC 1.4x II turns the 17mm 4.0 into a 24mm 5.6 Tilt/Shift lens which is still good enough stopped down and saves me money for another lens.
For detail shots I am using the Canon EF 70-200mm 4.0L USM.
Bastian's Portraiture Kit
Sigma 35mm 1.2 Art DG DN
Sony FE 85mm 1.4 GM
Canon EF 200mm 2.0L IS USM
I really like shallow depth of field in my portraits so all of these lenses are very fast. For some portrait shootings the AF (especially eye-AF) also comes in really handy, so these are all AF lenses.
Every now and then I like to take a Brenizer/Bokehpanorama.
The Canon EF 200mm 2.0L IS is my lens of choice these days for this task, as of all the lenses in this class I tried it is the one that works best on Sony cameras.
Phillip's Default kit
This set is geared towards my landscape/ nature photography. When I am on my own I prefer to take my time and to work with manual focus primes. When I was still a student my budget was very limited, so I used mostly rather affordable older lenses. Noways my budget is a bit bigger and I value the better flare resistance and more comfortable handling of native lenses. I am not very concerned about having the perfect lens in any situation but I know that I can capture almost anything well with this set.
Since I don't do any astro photography I don't need a fast wideangle so I decided against the heavier Loxia 2.8/21 and chose the tiny 3.5/21 instead. The 1.2/40 is very versatile because of the focal length and the speed. The 2.5/110 Macro doesn't get used much in the macro role but also delivers excellent results for landscapes and works well enough as a portrait lens. For more strenuous hikes I will replace the rather heavy 2.5/110 Macro with a tiny Zeiss 2.8/90.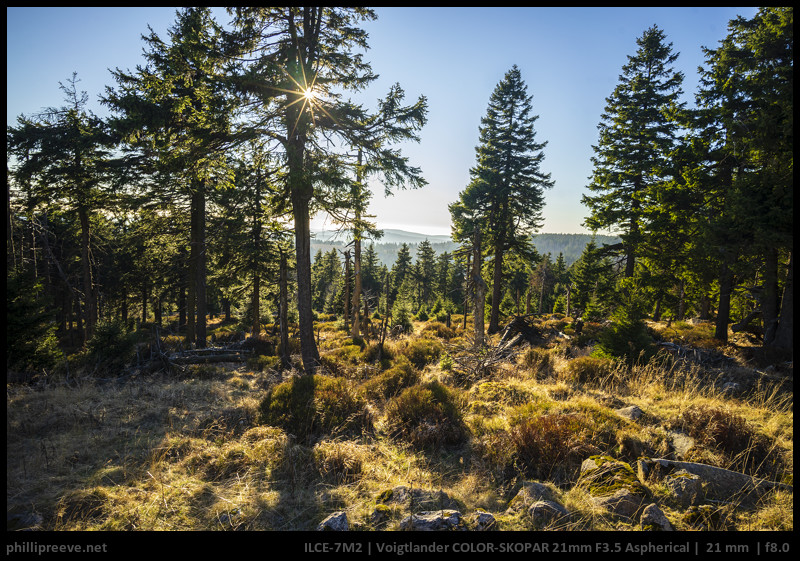 Phillip's Travel Kit
Most often I travel with my gf who isn't a photographer and having a Zoom with AF speeds up operation a lot and reduces the amount of time she has to wait for me. The 40mm is close to the 35mm end of the zoom but that is weakest at the long end. so important landscape images as well as environmental portrait the Voigtlander still gets a workout. The 4/300 usually stays in the car and gets used for occasional wildlife photography.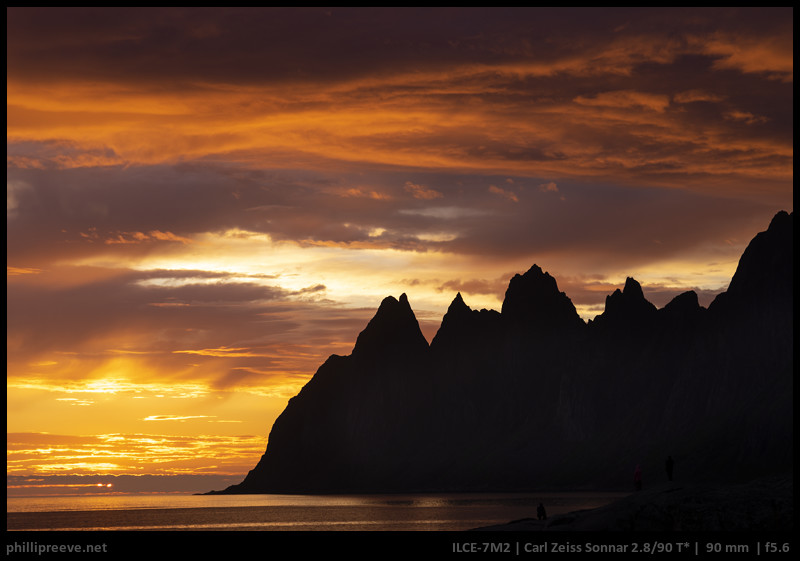 Jannik's one and only kit
I have been a lens collector and a manual lens lover for a long time. The big caesura that changed my kits (there were quite a few) was the birth of my son. Nothing changes the course of life as as much as this and from one moment to another, my photographic needs changed totally. The pictures that matter and mean the most to me are the images of my family and therefore I need lenses that have AF, speed and good rendering. This is also helpful for the portrait-, baby- and wedding photography outdoors and in the studio that I like to do whenever I find some time. Nevertheless my passion for landscape and architecture photography is not completely gone, so my kit has to fulfill that job as well.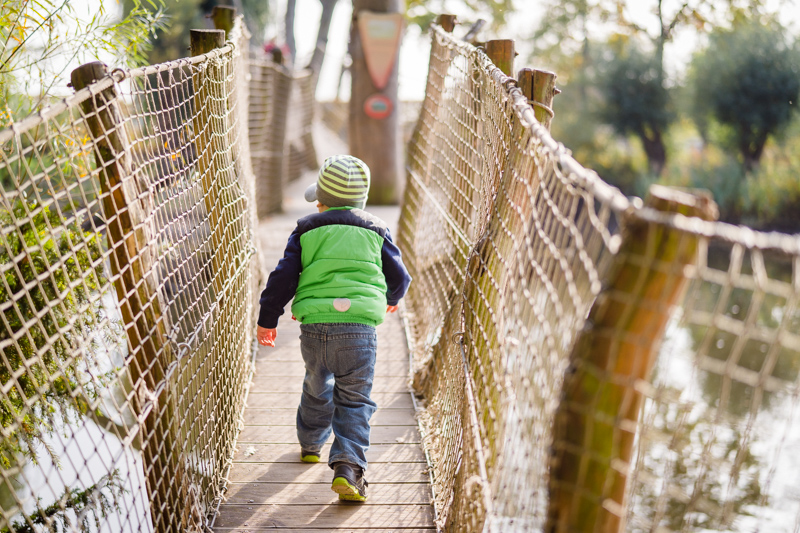 All these lenses have in a good amount of manual lens controls (AF/MF switch) and linear manual focusing in common. Having the AF/MF switch on every lens leaves more space for the other custom buttons on the camera.
The Sony FE 1.4/24 GM and the Sony FE 1.8/85 are the core of the kit and work also as a pair of two lenses. Both lenses focus very fast, are sufficiently sharp and work for portrait and landscape scenes. It is also welcome that both lenses have 67mm and about the same size. I carry my smallest kit in a Peak Design Everyday Sling 5L*.
The standard focal length is the one I am the least happy with. I would prefer a 50mm lens with a lens button and moderate size but this is not available yet (except for the odd 2.8/50 macro). The Sony 1.4/50 ZA is very heavy (778g) but optically the most exciting lens in that focal range. Whenever I feel limited by its size, I take a smaller lens (FE 1.8/50) and when I need more flexibility, I take the Tamron 2.8/28-75 RXD.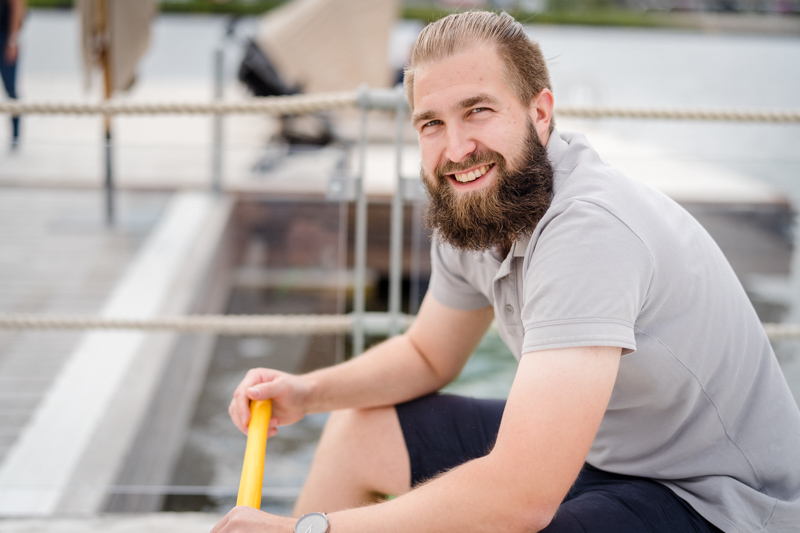 Very soon, this kit will be rounded by two lenses that I will grab for special purposes: The new Tamron 2.8/17-28 RXD looks very small but is reasonably fast and the new Sony FE 1.8/135 GM seems to combine stellar IQ with great AF speed and macro-like capabilities.
David's Travel Kit
Zeiss Batis 18mm f2.8
Sony GM 24mm f1.4
Sony Zeiss 55mm f1.8
Zeiss Batis 135mm f2.8
When I'm at home I have access to too many lenses (due to excess enthusiasm) so it's when I travel that I have to think hard about kits. For me there two main types of travel kits: wilderness hiking, and regular travel. For regular travel I want AF for occasional people pictures. I also find a longer focal length sometimes helpful, and I can tolerate a bit more weight. I like an ultra wide because it's very handy for interiors, and the Batis 18mm is a lovely sharp no hassles ultra wide, and I sometimes use AF with it wide open for extreme environmental portraits. The GM 24mm 1.4 does more moderate environmental portraits with great bokeh, as well as being a very fine landscape lens. It's also plenty sharp enough to crop a little in situations where I want something between it and Sony FE 55mm 1.8 ZA, and can't easily do a pano with the 55mm. The 55mm is a lens many are annoyed by, including me (if only it had more contrast, better MF, less CA) but, astonishingly, it remains the best compact AF lens you can get, perhaps for any mount. It's very sharp, much more so than classic nifty fifties, and easily earns in the place in my travel kit over the (much nicer at wide apertures) ZA 1.4/50 which I only take if I know that people photography at wide apertures is a central part of the trip. If I expect to take relatively formal indoor portraits I'll take Batis 85mm, but more often I'l take Batis 135. It is great for outdoor portraits, and for general travel work it's like having some of what's good about a 70-200 f2.8 in a relatively tiny and light package with better quality (as long as you are shooting 135).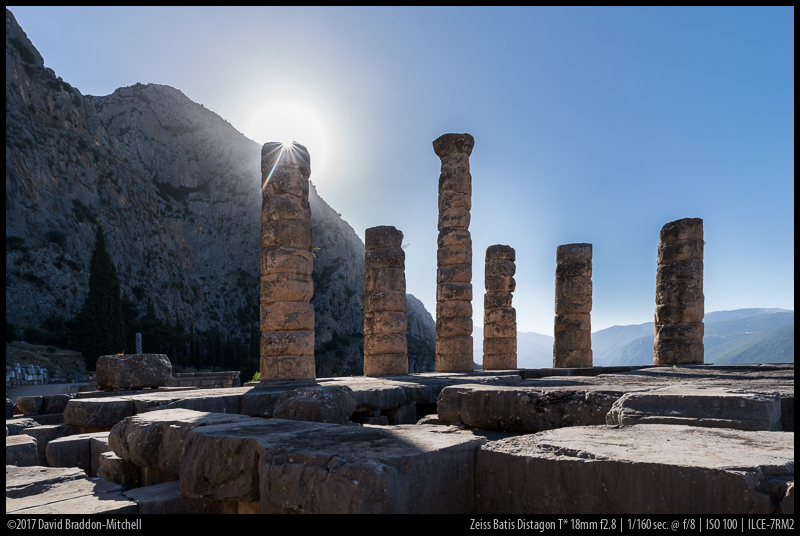 David's Hiking Kit
Zeiss Loxia 21mm 2.8
Zeiss Loxia 35mm 2.0
Sony FE 50mm 2.8 macro
Zeiss ZM Tele-Tessar 85mm 4.0
This is a very typical hiking kit (though sometimes I might cut it down to three lenses). No need to say anything about the Loxia 21mm, except perhaps focal length is worth commenting on. For wilderness landscapes 21mm is about as wide as I usually go. I don't, therefore, feel the need to take wider – especially as  when moving water isn't in the image,  it's possible to get wider with pano anyway. The Loxia 35mm is a great, contrasty, performer stopped down for landscape, and I'm a fan of that classical 35mm look. The Sony macro is extremely light, so I can just add it to the kit for the occasional botanical macro shot, which it does very well, and it's also a surprisingly good performer at infinity, so it does duty as a 50mm landscape lens too. Finally the Tele Tessar goes with me on every multi day hike. It gives high sharpness and great sunstars in a tiny package.

Juriaan's standard kit
Voigtländer SWH 15mm f/4.5
Nikon Nikkor 35mm f/2.8
Carl Zeiss Loxia 50mm f/2
SMC Pentax-M 135mm f/3.5
My kit is a bit different from the kits of the rest of the team. Since my budget was very limited until recent, cheap legacy lenses fill gaps every here and there. My focus is on landscape photography so good sharpness across the frame stopped down and good flare resistance are important criteria for me. Small size is also important for my hiking trips. The Voigtländer and Loxia meet these criteria well and cover two very different perspectives. In case I need a specific bokeh rendering I pic one of my vintage fifties with better or very distinct bokeh like the Pentacon 1.8/50.
The Nikkor is relatively cheap but very sharp stopped down and flare resistance is good enough for most situations. This makes the Nikkor an interesting wide angle option for who's on a tight budget.
Recently I got a SMC Pentax-M 135mm f/3.5 which is now the tele lens in my kit if. It is very small and light, stopped down sharpness is very good, contrast is nice and sunstars are lovely as well. Only flare resistance isn't very good.
In the near future I will add the GM 24mm f/1.4 to my kit at the expense of the Nikkor. It will give me the speed I need for milkyway photography and nicely fits the gap between the Voigtländer and Nikkor in case weight doesn't matter.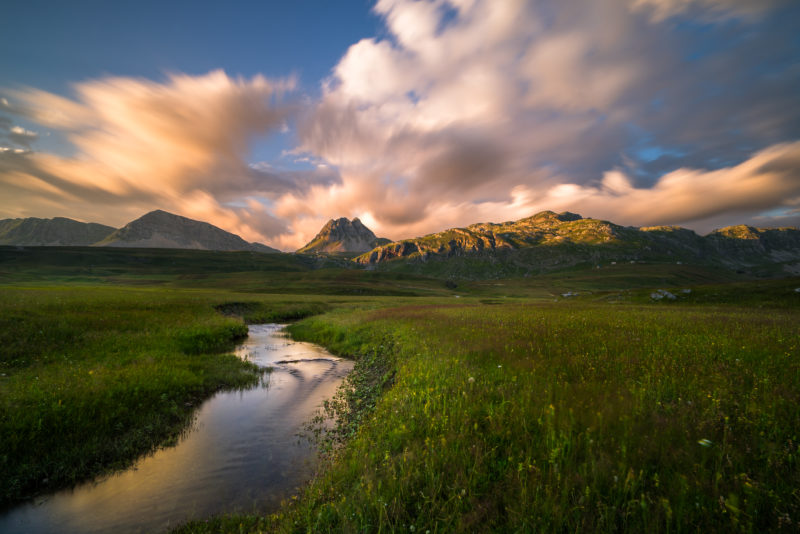 Conclusion
We hope we could give you some ideas on how to assemble a lens kit that works for you and what to look out for while doing so. You are also invited to share the kits that worked best for you in the comments!
Other Articles
The following two tabs change content below.
The team, that are four gearheads: Bastian, Jannik and Phillip from Germany as well as David from Australia. All like to use manual lenses and have a passion for the outdoors. None the less they are specialized in different areas so they can provide you with a wider perspective.