Introduction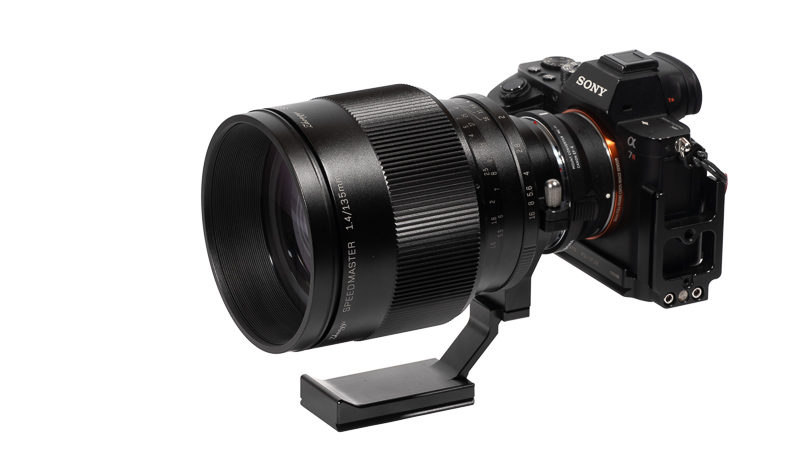 The Zhong Yi Mitakon 135mm 1.4 Speedmaster is a very rare and also unique big aperture portrait lens. So far only ~100 have been made and trying to find useful information on it is more than difficult, so with this review I will try to change that.
Sample Images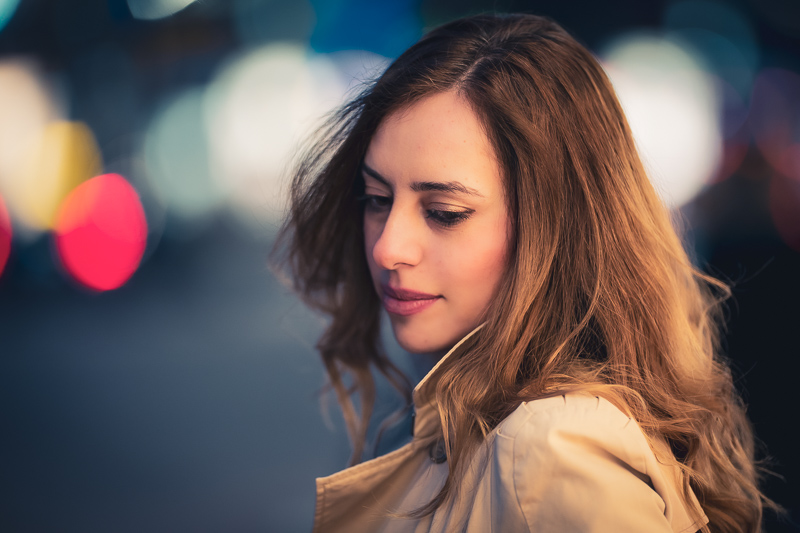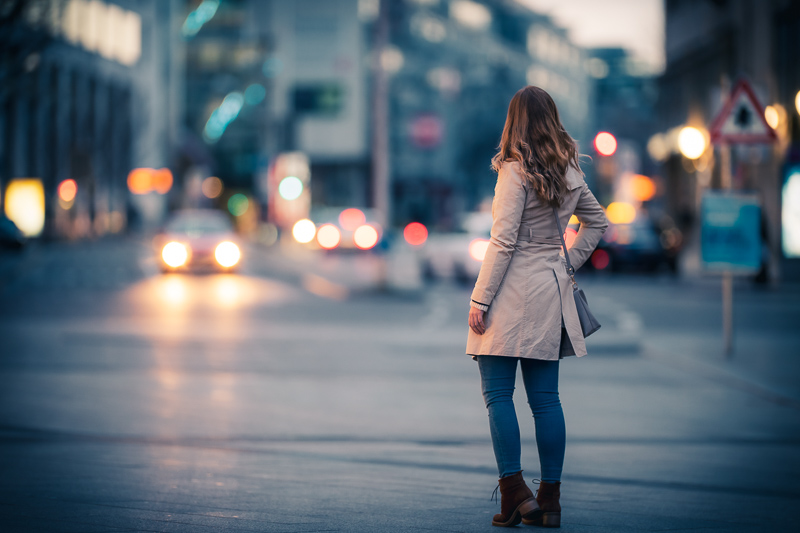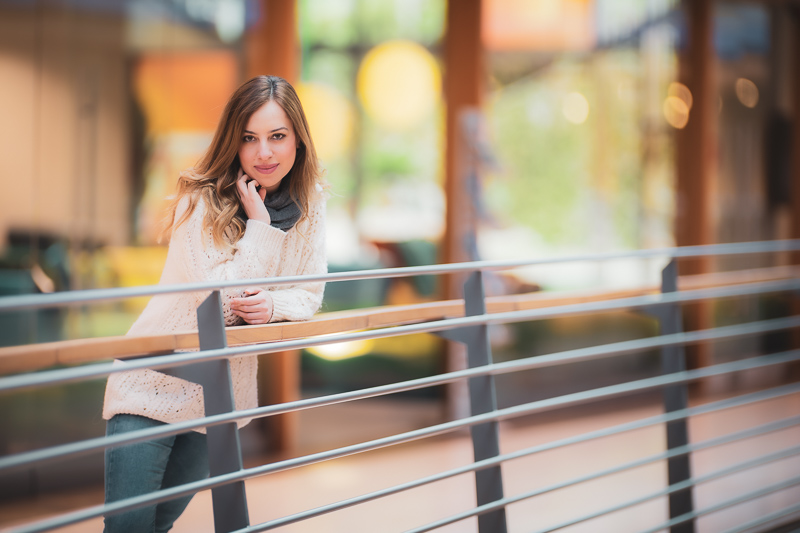 135mm f/1.4?
There has been a 135mm f/1.5 lens made by Soligor back in the day, but apart from that the latest fast 135mm lenses top out at f/1.8. The jump from f/1.8 to f/1.4 is a pretty significant here: while your 135mm f/1.8 lens can be built with a 75 mm diameter front element a 135mm f/1.4 needs a 96 mm front element, which puts it in the same league as the 200mm f/2.0 devices, which is also true for the weight of the lens.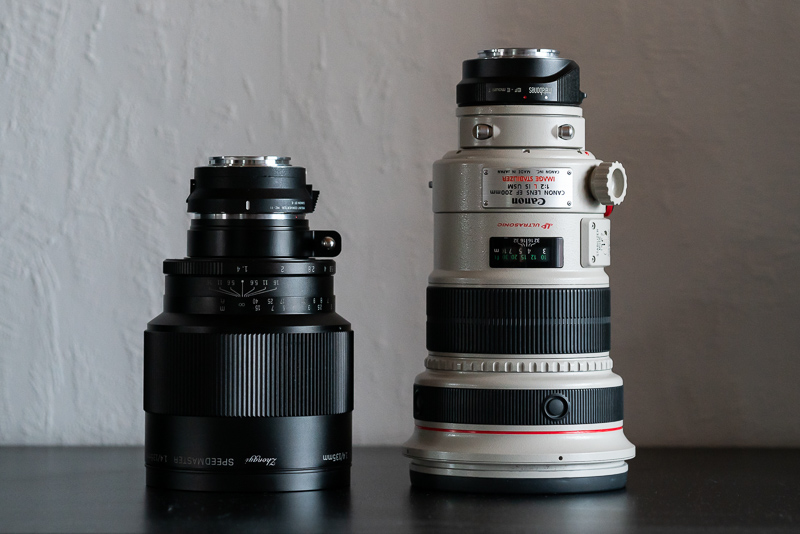 So a 135mm f/1.4 will always be a niche lens only few are willing to carry while the Sony FE 135mm 1.8 GM is a pretty reasonable lens by comparison.
Canon has also patented a 135mm f/1.4 lens for their RF system, but it remains to be seen whether it will ever be released – and at what price.
Disclosure
I bought the lens used from a shop but unfortunately after a few days noticed that there is a mechanical defect, namely that the focus ring became detached from the internal mechanics, meaning, I could still turn the focus ring but then nothing happens. Therefore I had to return the lens very soon and wasn't able to use it as long as I usually do before writing a review.
Specifications / Version History
In late 2015 the Zhong Yi Mitakon 135mm f/1.4 Speedmaster was announced. It had to be preordered and there was a limited production run of about 100 pieces in different mounts.
In late 2018 it was announced that the lens will be re-released under the "Medium One Optical" brand and a Japanese shop offers it as preorder item with an expected delivery time of 2-3 months. All traces of this lens on the Zhong Yi homepage have disappeared.
I am reviewing the original Zhong Yi version in Canon EF-mount here which has the following specifications:
Diameter: 115 mm
Field of view: 18.5° (diagonally)
Length: 175 mm (from mount incl. adapter)
Weight: 2525g (lens) + 255g (hood) + 175g (tripod collar)
Filter Diameter: 105 mm
Number of Aperture Blades: 11
Elements/Groups: 11/5
Close Focusing Distance: 1.6 m
Maximum Magnification: 1:10 (measured)
Mount: Canon-EF
You can either order this lens through a Japanese shop with 2-3 months delivery time for ~$3000 or try to find a used one on ebay.com/ebay.de (affiliate links), where I got mine (only took a few years until one showed up…).
Handling / Build Quality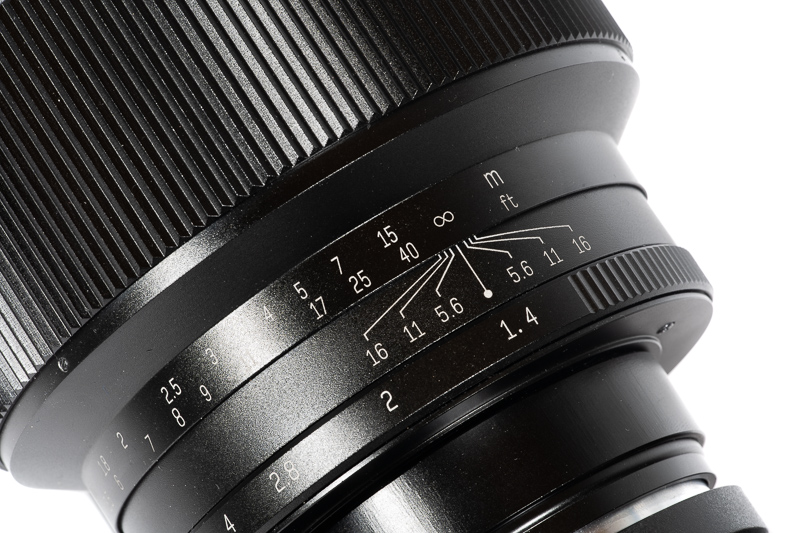 The lens is full of glass and the outer barrel is an all metal construction, therefore the lens feels very solid but this is not the whole story.
Usually big tele lenses have an internal focus design where you only move small elements to change focus. This lens on the other hand has ~2 kg of glass hanging on the helicoid. Not only is this a design that does not inspire trust in its longevity, but after 2 days of usage it already happened to me, that the focus ring became detached from the internal mechanics, meaning, I turn the focus ring but nothing happens. Totally unacceptable for a $3000 lens. Of course I don't know how the lens has been treated before and this could be a rare single case, but the mechanical design really does not inspire confidence (which was already true for the Zhong Yi 50mm 0.95 II).
The focus ring on my sample had a too high resistance, which is probably due to the fact that there is so much weight to be moved. It takes about 90° from Infinity to 1.6 m, but due to the diameter of the lens setting precise focus was still easily possible. The aperture ring is clickless. I managed a few times to accidentally change the aperture because of that. It also is slightly wobbly.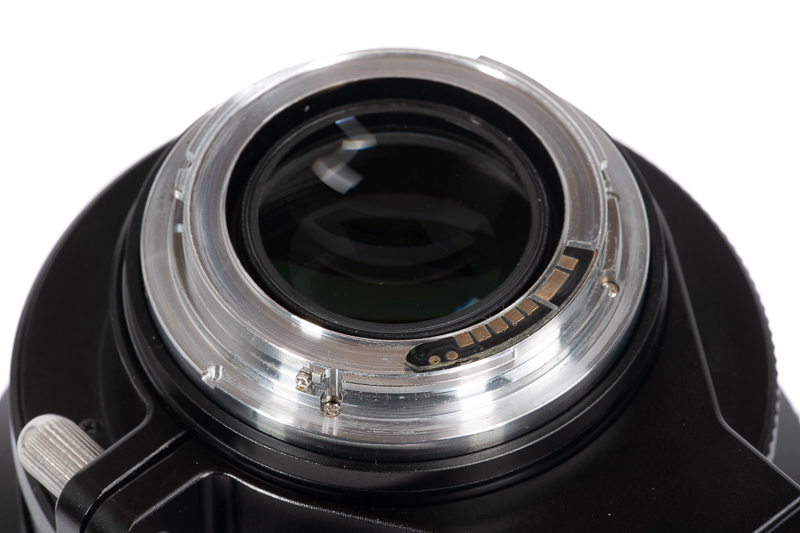 The lens comes in different mounts but only the Canon-EF version comes with electronic contacts thanks to a Dandelion chip. This is also the reason I chose this version.
The chip can be programmed to transmit the correct focal length and maximal aperture value.
The lens comes with a tripod collar which is unfortunately way too flimsy to support the weight of the lens. The good news is that it is equipped with an arca profile. I would love if every manufacturer did this. It would not cost the manufacturers anything to implement it, but it would save us lots of money.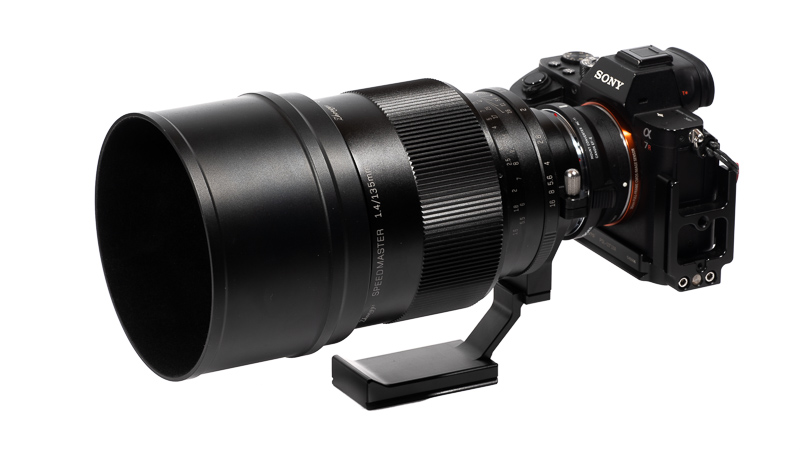 The lens also comes with a very big lens hood with a similar design to that of lenses like the Canon 1.8/200 or 2.0/200 IS. It can be stored reversed, which is probably part of the reason for the flimsy tripod collar.
A 105mm protection filter was also included, but I am not sure if this is the case with every lens of this type and thanks to the recessed front element I also don't think it is necessary.
Vignetting
light falloff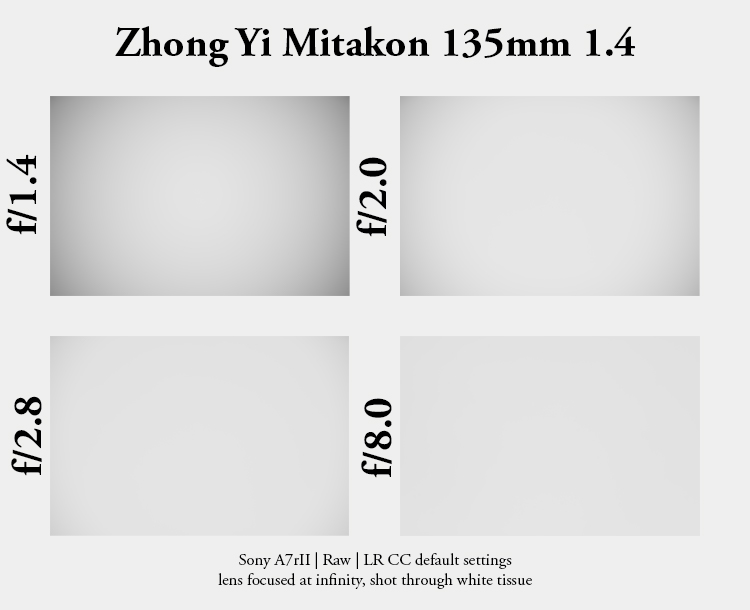 Wide open there is light falloff of roughly 1.9 EV, stopped down to f/2.0 this improves to 1.4 EV, stopped down to f/2.8 it is 0.7 EV and further improves to 0.1 EV at f/8.0. At maximum aperture these values are similar to those of the Canon 1.8/200 and 2.0/200, which is actually not bad.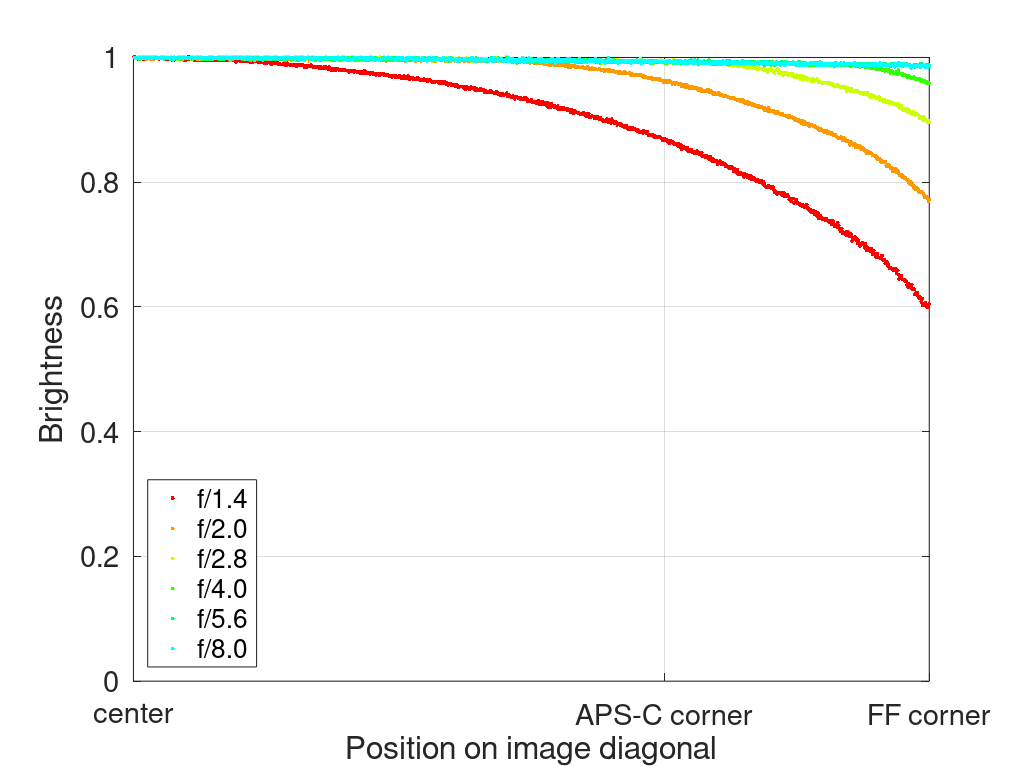 It is recommended to have a look at this article first to get an idea how this brightness graph works.
optical vignetting

Very fast lenses usually show a significant amount of optical vignetting. Without going too much into technical details optical vignetting leads to the truncation of light circles towards the borders of the frame.
In the center of the frame almost every lens will render a perfect circle, but only lenses with very low mechanical vignetting will keep this shape in the corners.
So in the following comparison we move from the center (left) to the extreme corner (right) and see how the shape of the light circle changes.
The performance is similar to that of other very fast tele lenses,
Sharpness
infinity
Center performance at maximum aperture at infinity is surprisingly good, but then, not as good as that of the Sony FE 135mm 1.8 GM or Sigma 135mm 1.8 Art.
Midframe and corners at wider apertures look pretty bad in the crops, but this is mainly due to field curvature.
If you focus on the corners they show a surprisingly good performance already at maximum aperture.
Stopped down to f/8 the across frame performance is quite good, too, but I doubt this is what you are after when looking at a lens like this.
portrait distance (2.5 m)
For portraiture it isn't so important how flat the field is, it is more interesting to see what the sharpness is like when focused at different parts of the frame to take field curvature out of the equation.

This is what I did here, I refocused for every shot to get the best possible result at different locations in the frame (center, inner midframe and outer midframe).
The lens shows a good to very performance in those parts of the frame where I would usually put my subject or the eye of my subject.
In the field it was always easy to focus on the eye due to good contrast and resolution.
100% crops, A7rII
close (1.60 m, 1:10)

100% crops from center, A7rII
A minimum focus distance of 1.6 m is not exactly great for a 135mm lens. The performance at maximum aperture is okay, but stopping down to f/2.0 makes a big difference as can be seen from the crops.
At this focus distance there is significantly less field curvature present, so across frame performance is good even at wider aptertures.
Flare resistance
Zhong Yi 50mm 0.95 lenses were both pretty bad when it comes to flare resistance. The 135mm 1.4 seems to generally show a better performance in this regard (at least there are not so obvious internal reflections visible), but fast tele lenses are not such great performers here in the first place, even when using the huge hoods.
With the sun in the frame there is a noticeable loss of contrast and small ghosts can appear.
With a point light source near the corner of the frame most lenses show significant amounts of veiling flare and this one is no exception: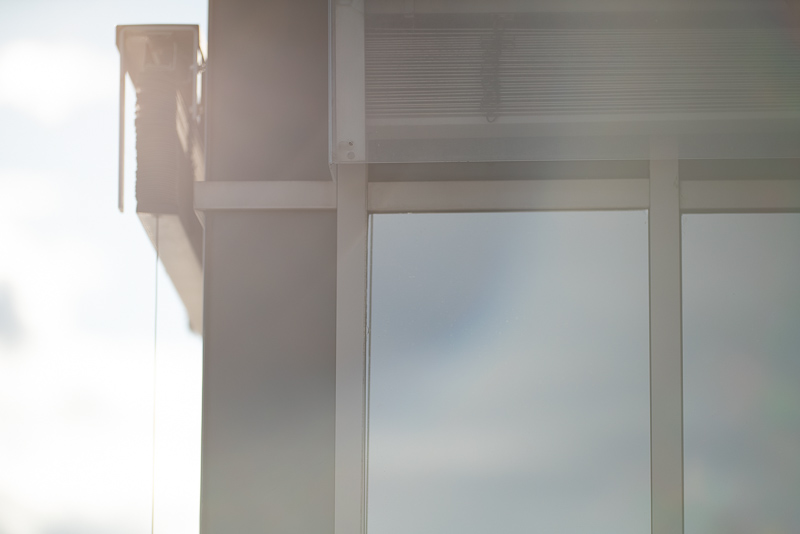 This is an average performance for a lens with these parameters, the Sony FE 135mm 1.8 GM does not seem to show a significantly better performance.
Coma
Considering the parameters of this lens coma correction is quite good, but as you have already seen in the sharpness section there is severe field curvature at infinity, so probably not a lens you want to use for deep sky astrophotography (hint: get Sigma 105mm 1.4 Art instead).
100% crops from extreme corner, focused on corner, A7rII
Bokeh
If you are interested in this lens, then it is probably because of the bokeh rendering at f/1.4. Especially those that like the bokehpanorama/brenizer look will be interested, as it offers a similar blur amount as the 200mm f/2 lenses combined with a more versatile focal length.
So I will mainly have a look at how the bokeh looks at f/1.4. If you don't need the f/1.4 maximum aperture there are way smarter lens choices available (see Alternatives section).
Head shot distance the bokeh is simply beautiful, the backgrounds just melts away, as was to be expected: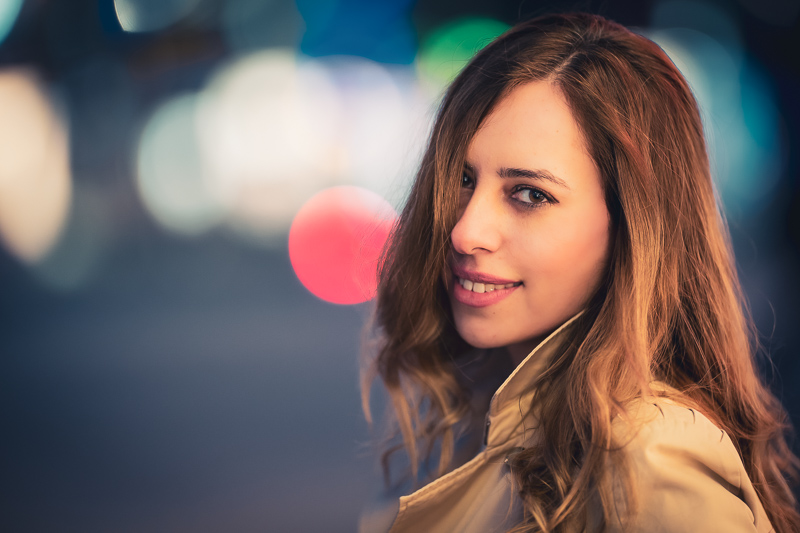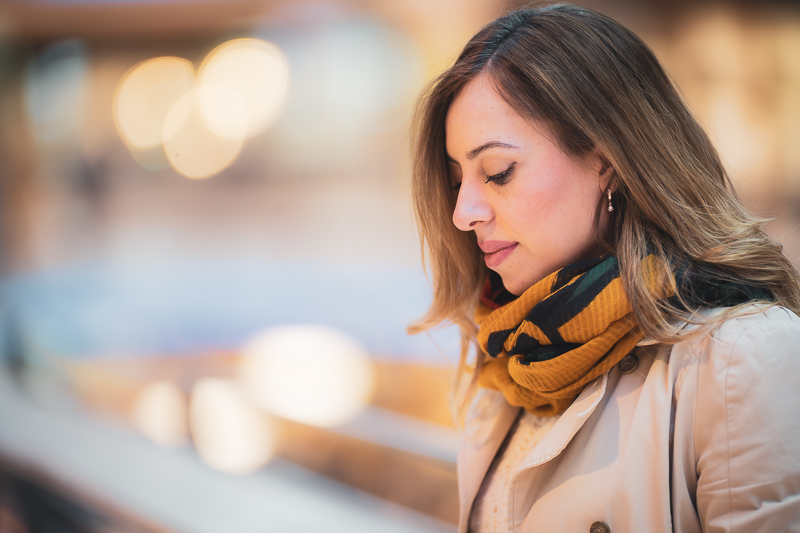 This still holds true at half body portrait distances, but cat's eyes towards the corners can become more noticeable here, depending on the background, obviously.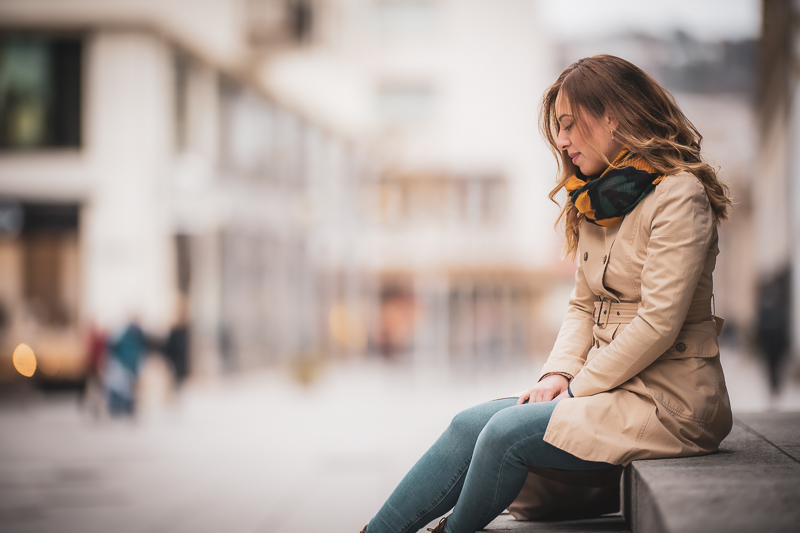 When taking full-body-portraits complex backgrounds can show some double edged structures, but the amount of subject separation coupled with the good other optical qualities (sharpness/contrast) can give really nice results: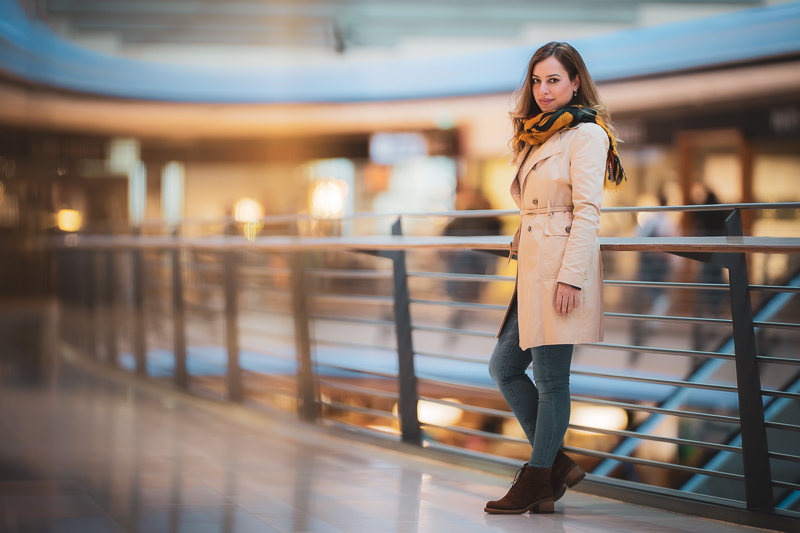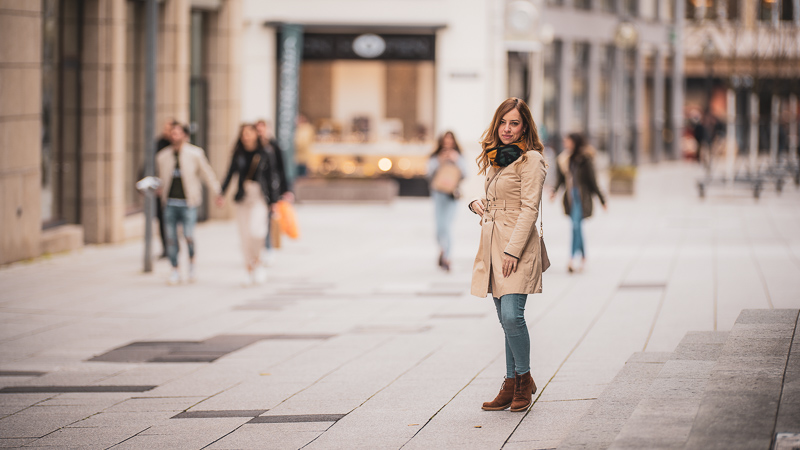 Did I like the bokeh of this lens? Yes, definitely. Whether it is good enough to bother carrying this lens around? That is another question that you can only answer for yourself.
Sunstars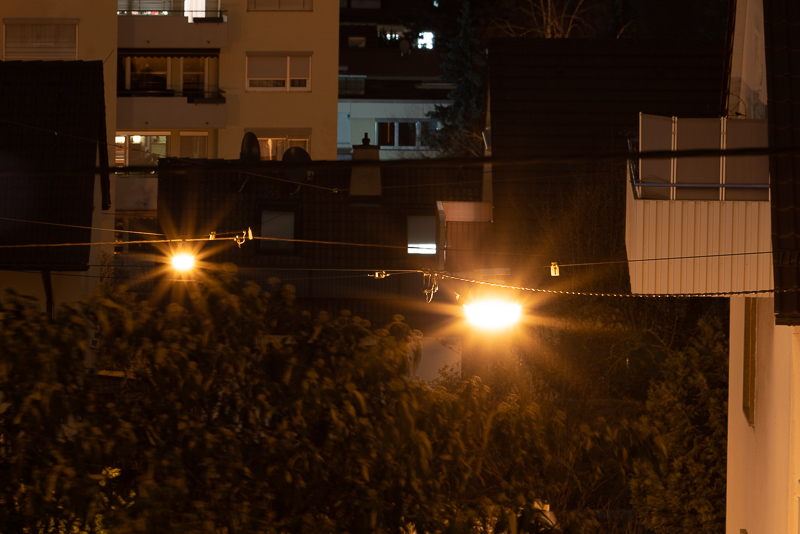 This lens features 11 rounded aperture blades that lead to not so well defined sunstars even stopped down. I doubt anyone will care when it comes to a lens with these parameters.
Chromatic aberration
lateral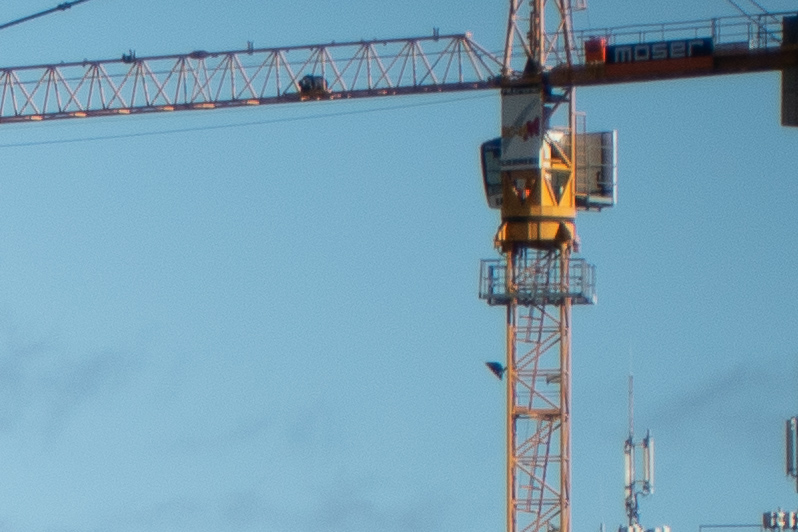 Lateral CA are corrected surprisingly well. No correction has been added to the corner crop above and there are barely any lateral CA visible.
longitudinal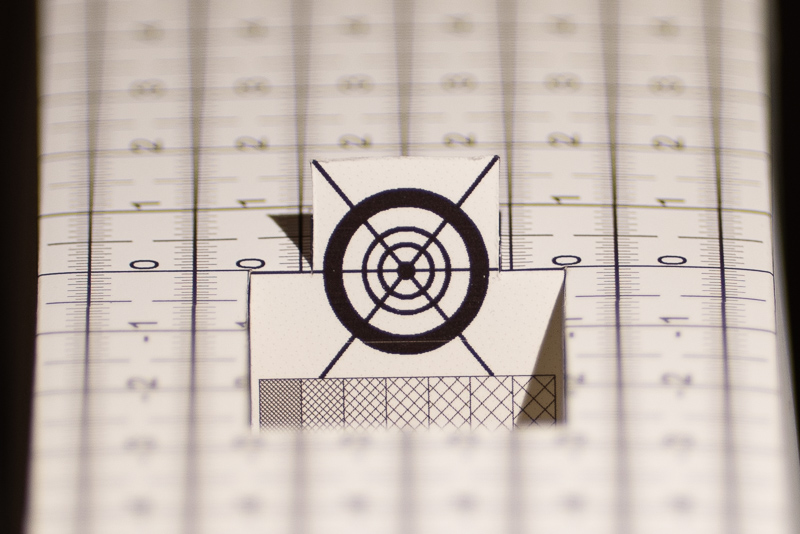 While this isn't a perfectly APO-corrected lens the amount of longitudinal CA is still surprisingly low, the 3 ED elements seem to have made quite the difference here.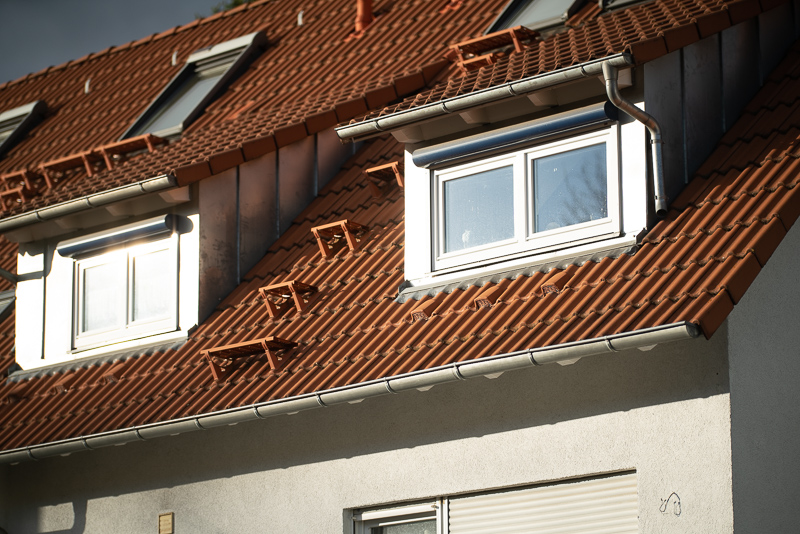 Purple fringing is also surprisingly well corrected, as can be seen from the sample above.
So all in all: not APO, but not that far away from it either.
Focus shift
50% crops, A7rII
The lens shows only a very minor amount of focus shift, nothing to worry about!
Alternatives
While there are some Cine 135mm f/1.4 lenses available there hasn't been another 135mm f/1.4 lens for photographic purposes (yet), so we will be having a look as the next best choices.
Sony FE 135mm 1.8 GM:
This is the most obvious alternative: it has a very fast AF, higher sharpness and contrast, is "only" 950g and way more compact and also cheaper.
The thing is, it is only f/1.8 and unlike the Sony FE 85mm 1.4 GM it has not been design to yield a most beautiful bokeh rendering but high sharpness and AF instead.
Still, for most this will be the smarter choice.
buy from amazon.com | amazon.de | B&H | ebay.com for $2100 (affiliate links)
Sigma 135mm 1.8 Art:
Surprisigly the performance (sharpess/bokeh) of this Sigma lens is almost indistinguishable from the aforementioned Sony.
It is a bargain compared to the Sony if you don't need the better AF capabilities and the smaller size/weight of the Sony.
buy from amazon.com | amazon.de | B&H | ebay.com | ebay.de for $1400 (affiliate links)
Canon EF 135mm 2.0L:
This lens has been around for roughly 25 years, but it still holds up well until today. It does not offer record breaking resolution like the two aforementioned lenses but it is a really well balanced instrument without any major issues.
buy from ebay.com
| ebay.de
| Amazon.com | Amazon.de | B&H for $700 (affiliate links).
Samyang 135mm 2.0:
Also a manual lens and very well corrected for longitudinal CA. Optically one of Samyang's best lenses yet.
buy from ebay.com
| ebay.de
| Amazon.com | Amazon.de | B&H for $700 (affiliate links).
Conclusion
good

unique parameters

bokeh

good sharpness and contrast at f/1.4 across most of the frame

correction of CA

average

flare resistance
vignetting

not good

size/weight

build quality

handling

price/availability
I am talking about a lens here that no one talks about. So far there has been no review (at least in the western world) and only very few sample pictures are available.
This will be mainly due to the low production volume and the prohibitively high price, especially for a lens from a not so well known manufacturer.
Yet the lens offers pretty much unique parameters and I generally like super fast lenses like this for their bokeh rendering and here the Zhong Yi 135mm 1.4 certainly did not disappoint.
The bokeh is generally smooth and undistracting while sharpness and contrast in the focal plane are noticeably higher than I would have expected. Also the longitudinal CA correction is surprisingly good for a lens with these parameters, something I most certainly did not expect.
In the past we have seen some Chinese lenses with really nice build quality and handling yet rather mediocre optics. This lens is quite the opposite: the optics are really solid (except for the severe field curvature at longer focus distances, which luckily is in the "good" direction, meaning you get more blur in the corners) but unfortunately the mechanics are not.
Moving an optical block of ~2 kg is a really bad mechanical design decision. The focus ring is quite stiff because of this and it puts too much stress on some of the internal parts. The result of this is something that I have experienced with this very sample, when the focus ring became detached from the internal mechanics.
Let me be honest with you: due to the size, weight, price and handling issues for almost everyone either the Sony FE 135mm 1.8 GM or the Sigma 135mm 1.8 Art will clearly be the better choice, despite them being 2/3rds of a stop slower.
I still like the results I got from this lens very much, and hadn't there been the mechanical issues I would have probably kept it.
You can either order this lens through a Japanese shop with 2-3 months delivery time for ~$3000 or try to find a used one on ebay.com/ebay.de (affiliate links), where I got mine (only took a few years until one showed up…).
Sample Images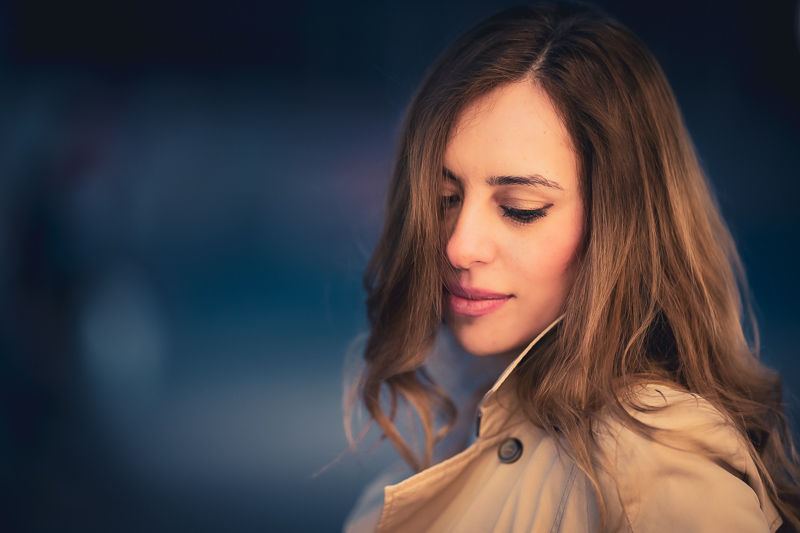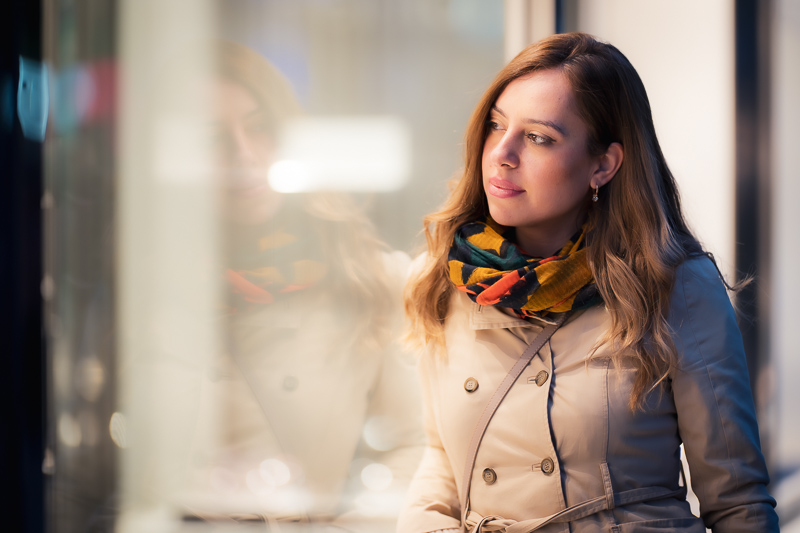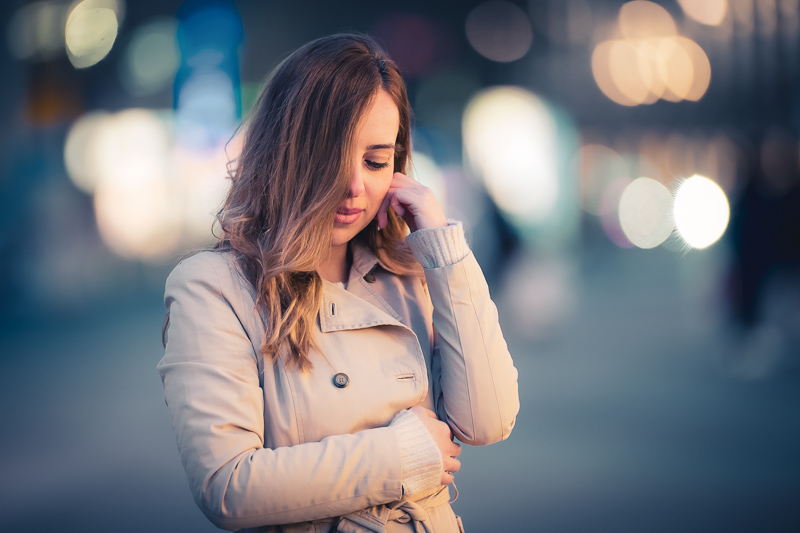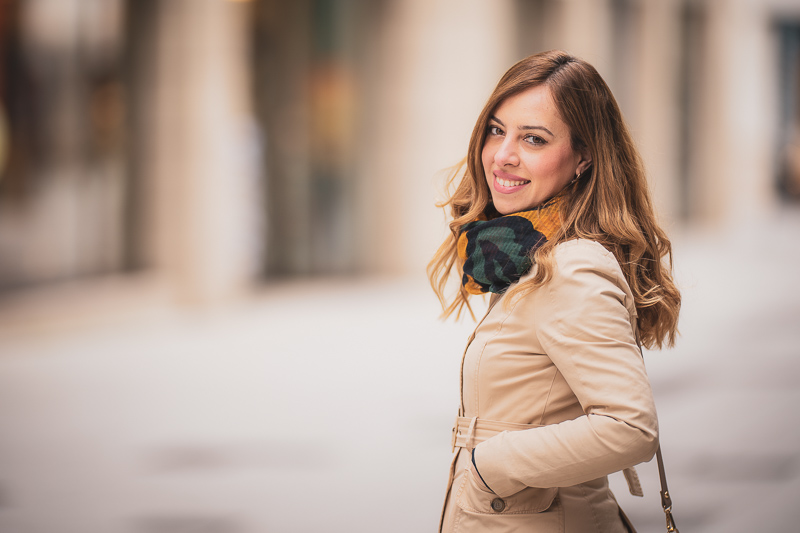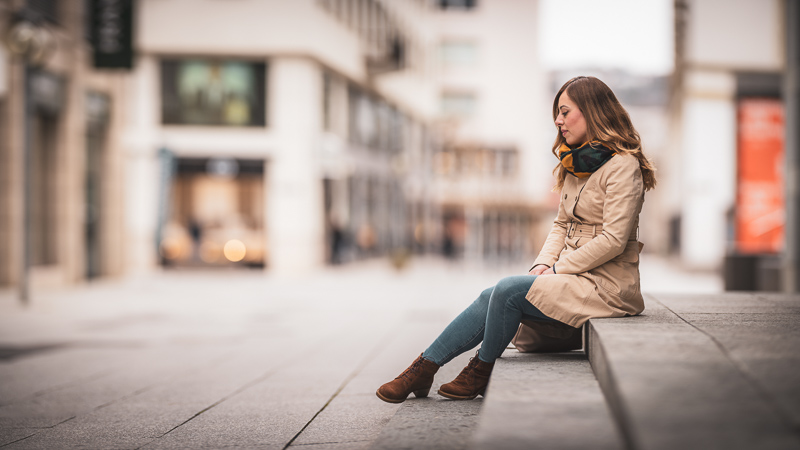 Further Reading
Support Us
Did you find this article useful or just liked reading it? Treat us to a coffee!


via Paypal
The following two tabs change content below.
My name is Bastian and I am your expert here when it comes to ultra wide angle lenses, super fast portrait lenses (ranging from a 50mm f/0.95 to a 200mm f/1.8) and I also have reviewed way too many 35mm lenses. Don't ask me anything about macro or wildlife shooting though.