Introduction
It seems every two years we see an interesting ultra wide angle FE lens by Laowa. First the Laowa 15mm 2.0 Zero-D FE at Photokina in 2016 and now 2 years later the Laowa 10-18mm 4.5-5.6 C-Dreamer FE at Photokina 2018.
The Voigtländer 10mm 5.6 E held the crown for being the widest rectilinear lens, now we have a zoom lens starting at 10mm but going all the way up to 18mm by Laowa. Is the image quality good enough to get this over the Voigtlander?
This is a Rolling-Review, bits and pieces will be added as we get to know the lens better.
Last Update: More samples added, distortion correction profiles added, chapter use with filters added (10/14/18)

Sample Images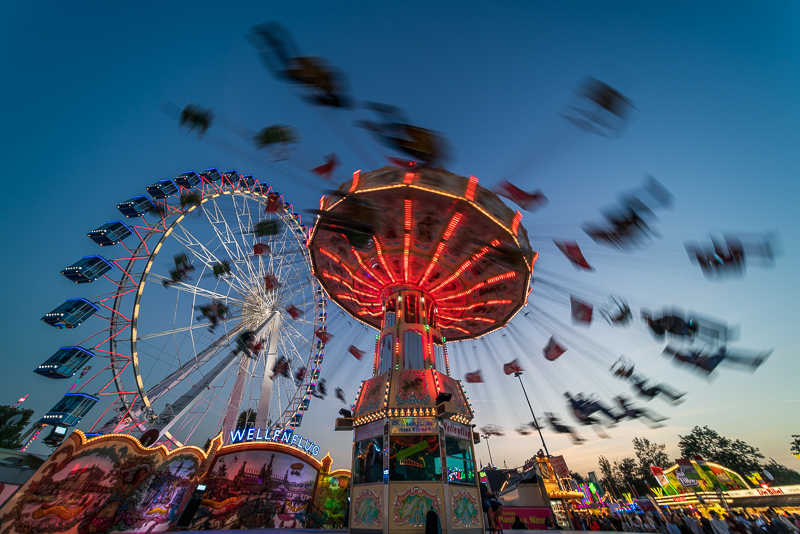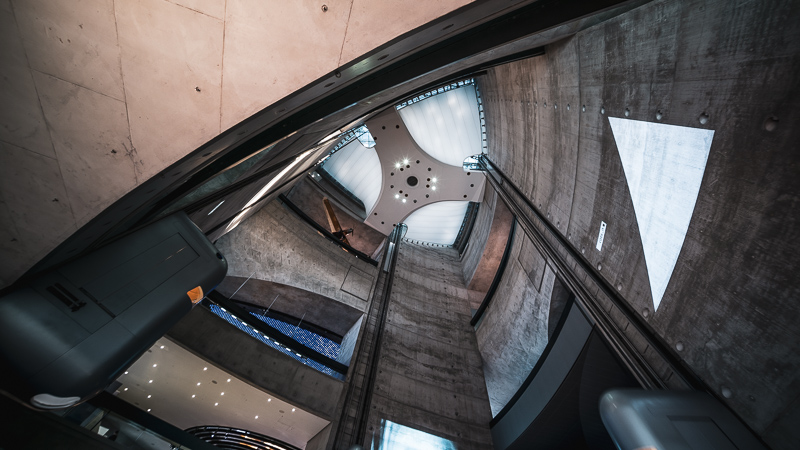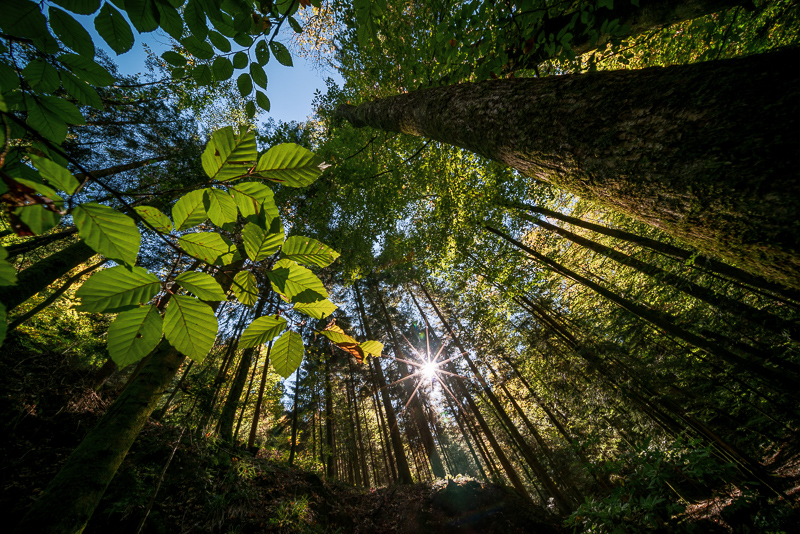 You can find most of the shots in this review in full resolution here.
What the optical designer Mr. Li says about his lens
"The range of usage of a 10mm lens is limited, yet there are people who want to have this focal length available, me included. Therefore I decided to design a zoom lens starting at 10mm, that is more convenient to use than a 10mm prime lens. I made use of the narrow flange focal distance of mirrorless cameras to design a 10-18mm zoom lens as compact as possible. We got asked a lot about more defined sunstars, so this was another design goal for this lens. With the 37mm rear filter and a 100mm front filter holder we also want to give the photographers the opportunity to use this lens for an expanded range of applications."
Specifications / Version History
I am reviewing a pre-production model here which has the following specifications:
Diameter: 70mm
Field of view: 102° to 130° (diagonally)
Length: 81mm
Weight: 499g
Filter Diameter: 37mm (rear)
Number of Aperture Blades: 5 (straight)
Elements/Groups: 14/10
Close Focusing Distance: 0.15m
Maximum Magnification: ~1:5.5
Mount: E-mount
As soon as pre order starts I will tell you here how much it costs.
Disclosure
The Laowa FE 10-18mm 4.5-5.6 C-Dreamer pre-production model was kindly provided free of charge by Venus Optics / Laowa for reviewing purpose for a few weeks.
Handling / Build Quality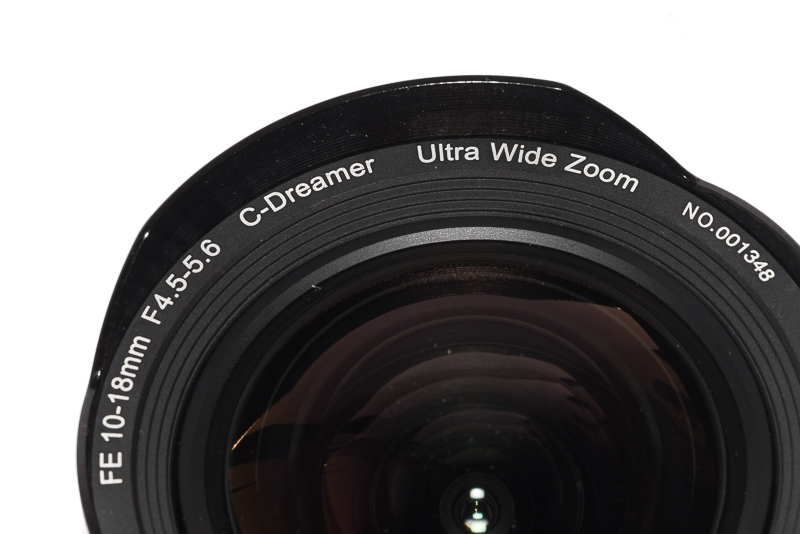 So far all the Laowa lenses I reviewed had very nice build quality and this holds true for this zoom lens as well. Most parts of the outer casing seem to be made from metal and the lens feels very dense and solid. Markings are engraved and filled with paint.
The focus ring has (for my taste) pretty much perfect resistance; a little more than the Zeiss Loxia lenses, maybe a tad less than the Zeiss ZM or Voigtlander lenses. The throw of the focusing ring is about ~100° from the minimum focus distance (0.15m) to 1.0m and only ~5° from 1.0m to infinity. because it is such a wide and slow lens this hasn't really been an issue.
Another good news (especially for those among you into filming): while I cannot tell you whether this is a true parfocal design, it handles as one – even at minimum focus distance – so you can adjust the focal length without loosing focus on your subject.
Infinity is slightly before the infinity symbol on my sample.
The aperture ring has one-stop click-stops and it takes about 35° from f/4.5 to f/22.
This lens incorporates a small lever for de-clicking the aperture ring. It is very close to the aperture ring and it might be possible to turn it by accident.
Unlike the Zeiss Loxia or the the Voigtlander E-mount lenses the Laowa does not feature electronic contacts to communicate with the camera, so there is no Exif data transmitted. Compared to primes this is more of an issue to me on a zoom lens, as it makes using correction profiles for vignetting or distortion quite a bit harder.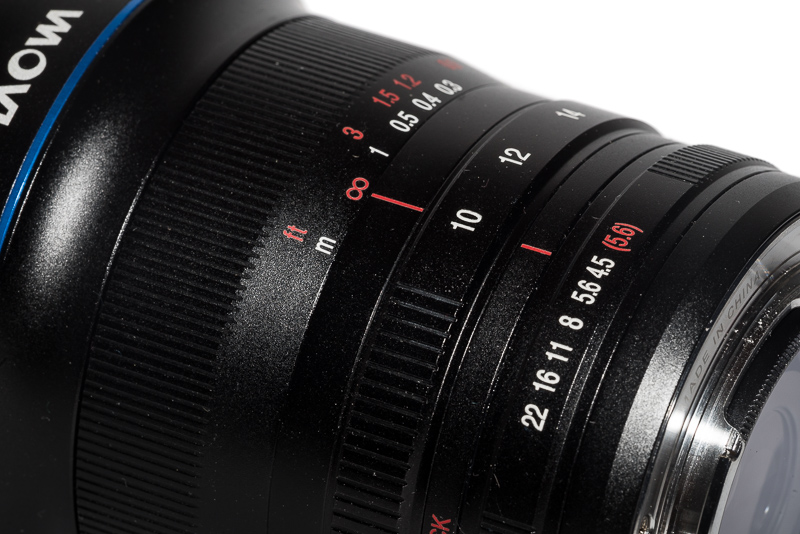 As it is a variable aperture zoom you won't always know the exact aperture value you are at. On the aperture ring next to the 4.5 there is a 5.6 in brackets, meaning at 10mm your maximum aperture is f/4.5 but at 18mm only f/5.6. Personally, this doesn't bother me, but if you are using an external calculator when having an ND filter attached it should definetly be considered.
Use with filters
This lens features a 37mm rear filter thread. The lens comes with a clear filter which is part of the optical formula so you should not remove it, only replace it with another filter if desired. This only really makes sense for ND filters. Despite the obvious disadvantages I tried using it with a slim polarizer but even the slim one was too thick, so I wasn't able to mount the lens on camera anymore.
To my knowledge Laowa is also working on a 100mm square (front) filter holder.
The optimal thickness for the rear filter is 1.1 mm, but it will also work with filters up to 1.5 mm.

Sharpness
infinity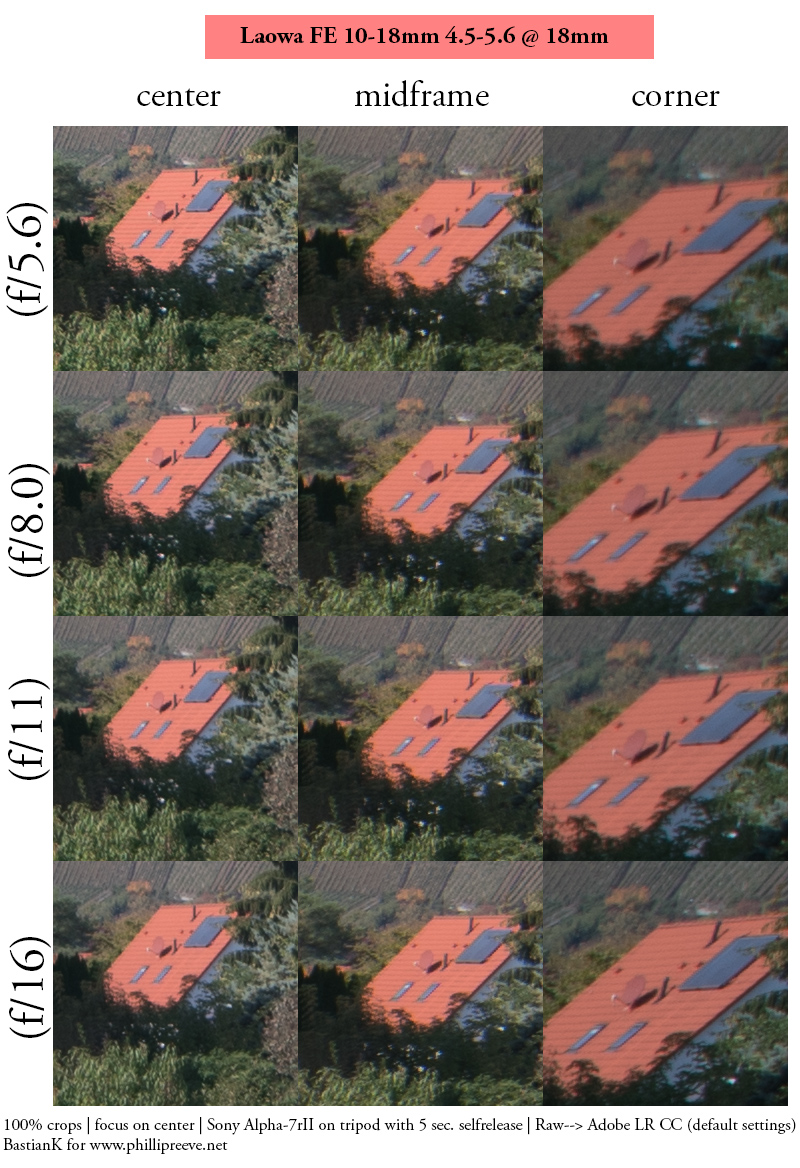 It is clear from the crops above this lens won't be breaking any resolution records and considering the small size and the ambitious focal length range I also didn't expect it to. The lens also shows some field curvature, in the shots above I focused for the midframe which gave pretty good across frame results but not best center results.
Stopped down the zoom might actually have more resolution at 10mm than the Voigtlander 10mm 5.6 E, but I am pretty sure the 12mm 5.6 E will surpass it at 12mm, the Laowa 15mm 2.0 clearly surpasses it at 15mm (I checked) and the Zeiss Batis 18mm 2.8 will clearly surpass it at 18mm.
The centering quality of my sample is quite okay, especially for a zoom lens. All the corners look pretty similar at the focal lengths I checked (10, 15 and 18mm).
Distortion
Unlike the 15mm 2.0 and the 12mm 2.8 this zoom lens is not part of Laowa's "Zero-D(istortion)" line and indeed it shows more distortion than these two prime lenses.
At around 14-15mm the lens is pretty much distortion free, but at 10mm we have noticeably wavy barrel distortion and at 18mm wavy pincushion distortion. Considering the fact this lens does not come with electronic contacts this is very unfortunate as applying correction profiles is a tedious task.
I created distortion correction profiles for 10mm, 12mm, 14mm, 16mm and 18mm (the focal lengths marked on the zoom ring) for infinity, you can find them here.
(In Lightroom go to "Edit" -> "Preferences" -> "Presets" -> "Show Lightroom Develop Presets" then go to "LensProfiles" create a subfolder named "1.0" and place the presets from my zip file in that folder, restart Lightroom and they will show up under "Sony" and work for Raw files only)
Sunstars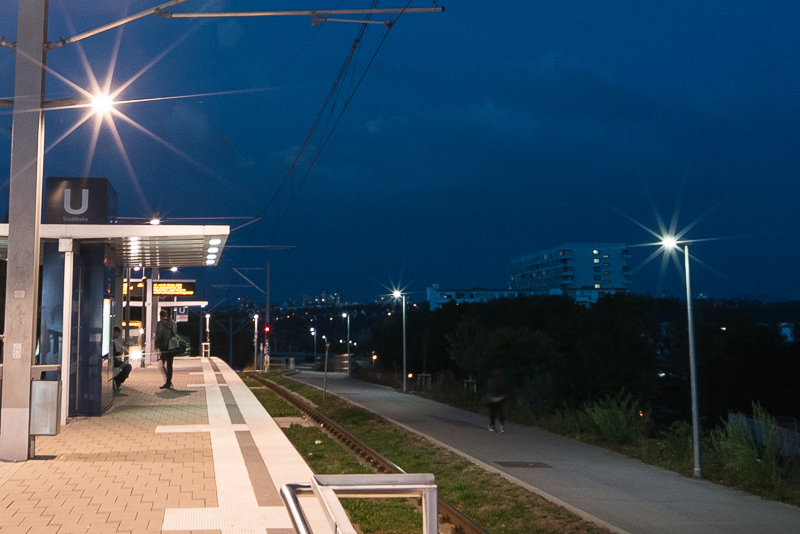 One of my complaints regarding former Laowa lenses were the not so well defined, rather fuzzy sunstars (see my review of the 2/15 or 2.8/12). This is the first Laowa lens where nice sunstar rendering was a design criteria and the lens uses 5 straight aperture blades (instead of 7) that yield well defined 10-stroke sunstars.
This is a highly subjective topic so you might want to have a look at this article and decide for yourself, what you prefer.
There is one thing to notice though: at 10mm you will see sunstars already at the maximum aperture of f/4.5. At the 18mm end at the maximum aperture of f/5.6 the opening is perfectly round and therefore you won't get sunstars unless stopping down.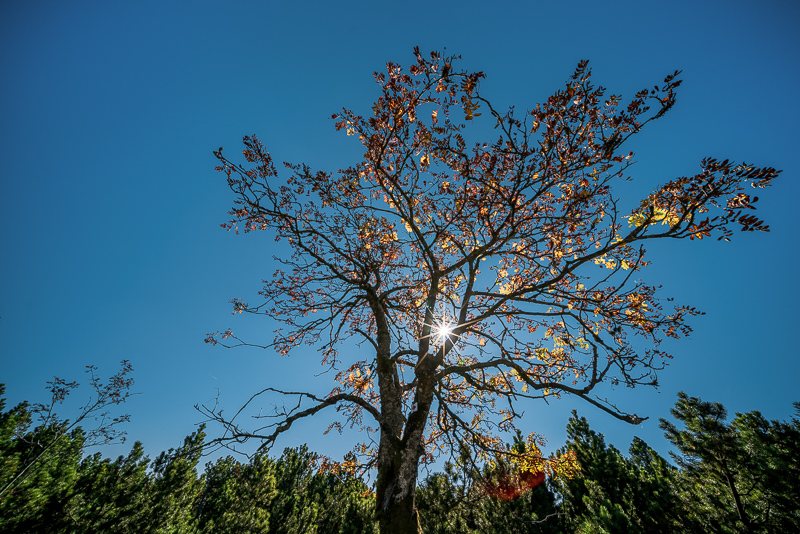 Flare resistance
The lens is not free of lens flares, but this topic needs some more investigating before being able to fully evaluate it.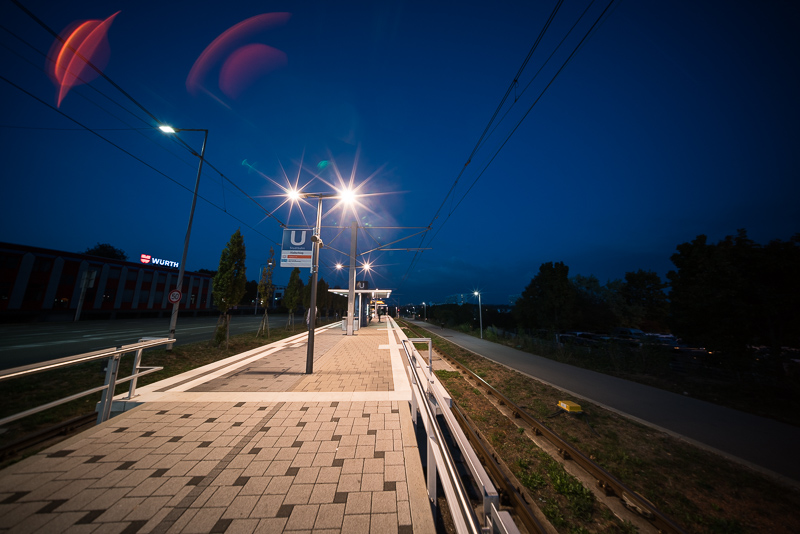 Chromatic aberrations
lateral
Sony A7rII | Laowa FE 10-18mm 4.5-5.6 | 10mm | f/11 | CA 100% crop before/after extreme corner
The lateral CA are strongest at the wide end, they can still be corrected pretty easily in post with one click.
longitudinal
As this is a very wide and rather slow lens longitudinal CA (loCA) are nothing to worry about.
First impressions
The main selling points of this lens are the compact size and the widest focal length of 10mm. Up until now we only had the Voigtlander 10mm 5.6 E this wide (Samyang also showed a 10mm f/3.5 prime for DSLRs at Photokina 2018) and I have been using that lens since it was released.
After using the Voigtlander 10mm 5.6 E I can say it really is a special purpose lens. Some of my most favorite pictures from the last years I took with this lens, but it demands good framing skills and even then it won't be your everyday lens. Therefore, despite being a small and rather lightweight lens, I didn't carry it that often, almost exclusively for city trips.
Laowa managed to produce a zoom lens that starts at 10mm – and at 10mm the resolution and vignetting figures look quite comparable to that of the Voigtlander prime – yet it is only slightly bigger and heavier and you can zoom in all the way up to 18mm.
So if you are interested in a lens starting at 10mm but want something more flexible than a 10mm prime this lens might be for you.
If on the other hand you think you get a smaller and wider Sony FE 12-24mm f/4.0 in a smaller package you will be disappointed, the 10-18mm won't match it in the overlapping focal length range in terms of resolution and contrast.
Check back later for more information.
Sample images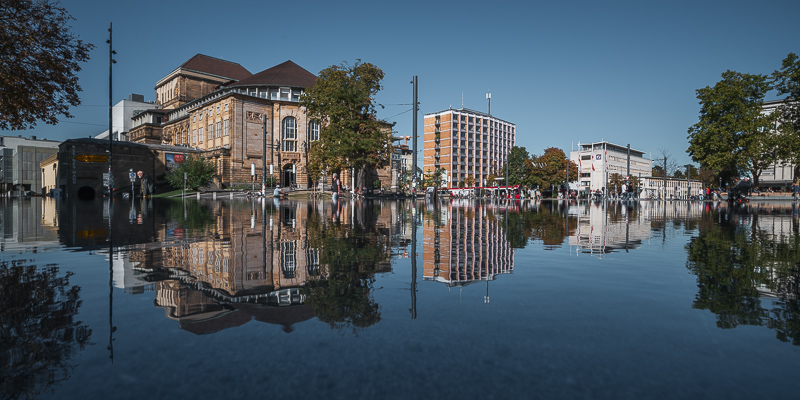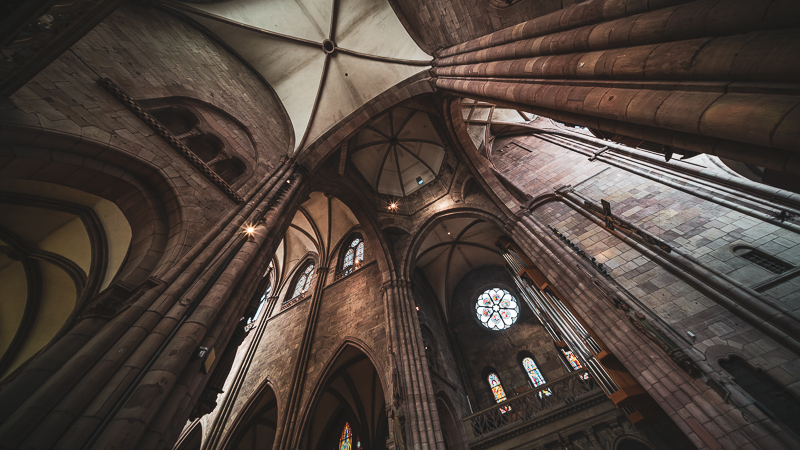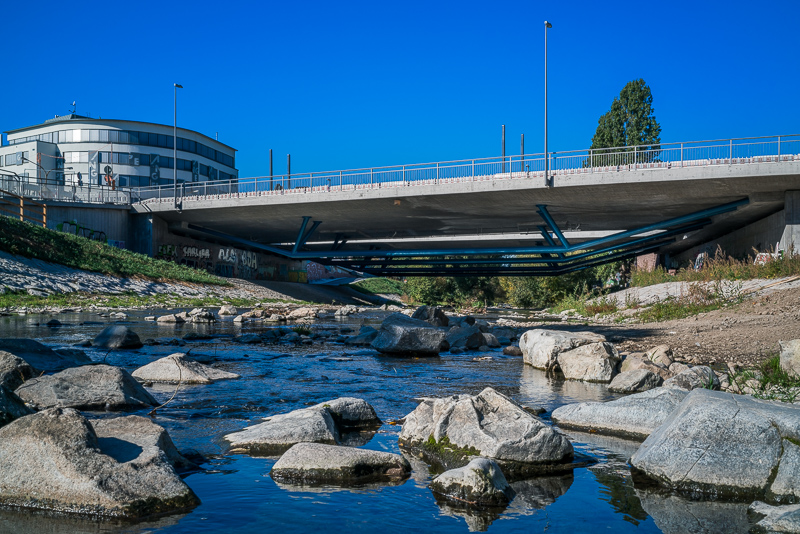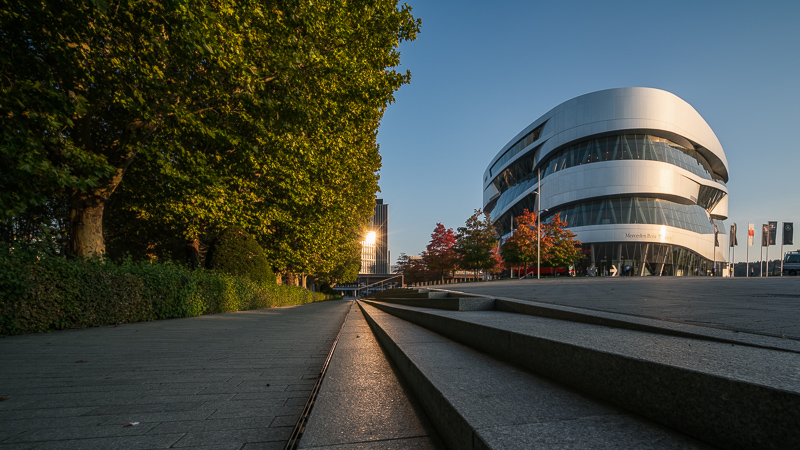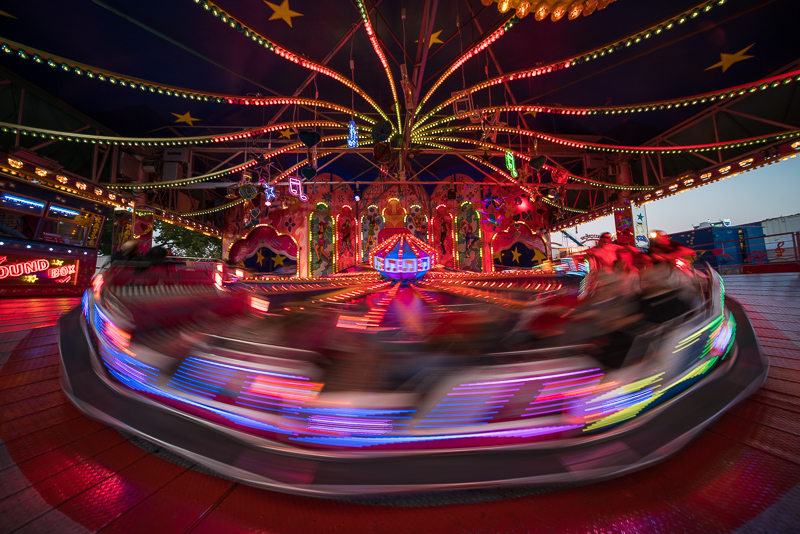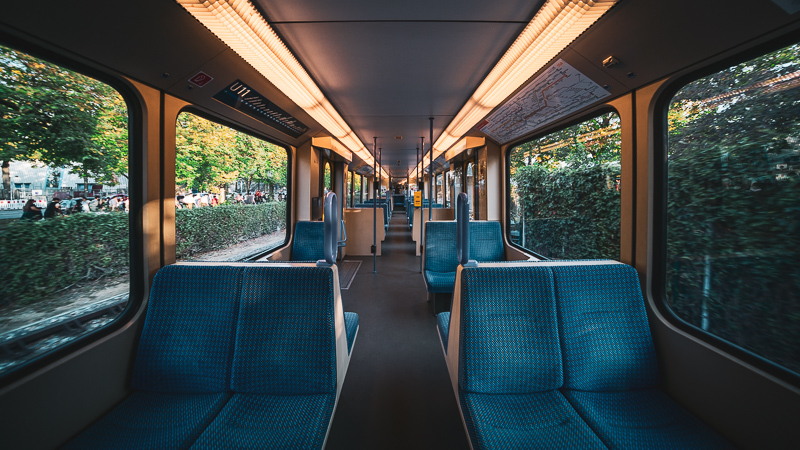 You can find most of the shots in this review in full resolution here.
Further Reading
The following two tabs change content below.
My name is Bastian and for many years I have been mostly shooting Nikon DSLRs. As of today I have made my transition from Nikon to Sony and I am mainly using small but capable manual lenses. My passion is landscape photography but I also like to delve into other subjects from time to time.