Introduction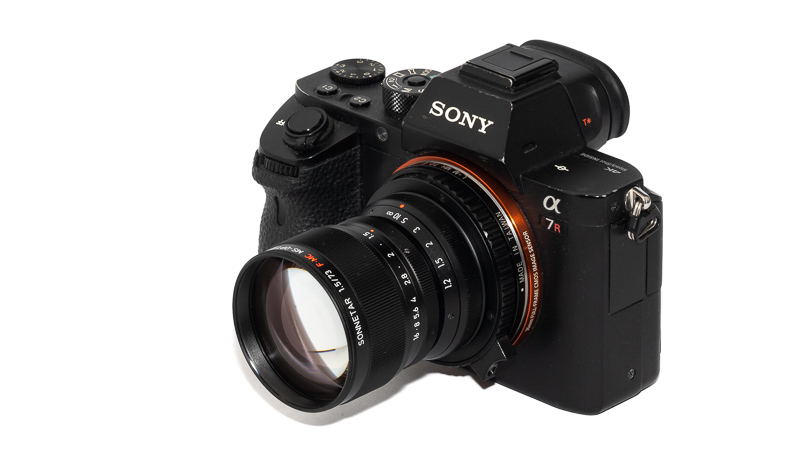 I always considered the Voigtlander VM 75mm 1.5 Nokton a very small and lightweight fast portrait lens, that is until I came across this MS-Optics 73mm 1.5 Sonnetar.
But what does this tiny lens have to offer? Are we better off carrying the heavier Voigtlander lens or is the Miyazaki lens actually holding some surprises for us?
Lens is being tested on 42mp Sony A7rII and 24mp Leica M10
Sample Images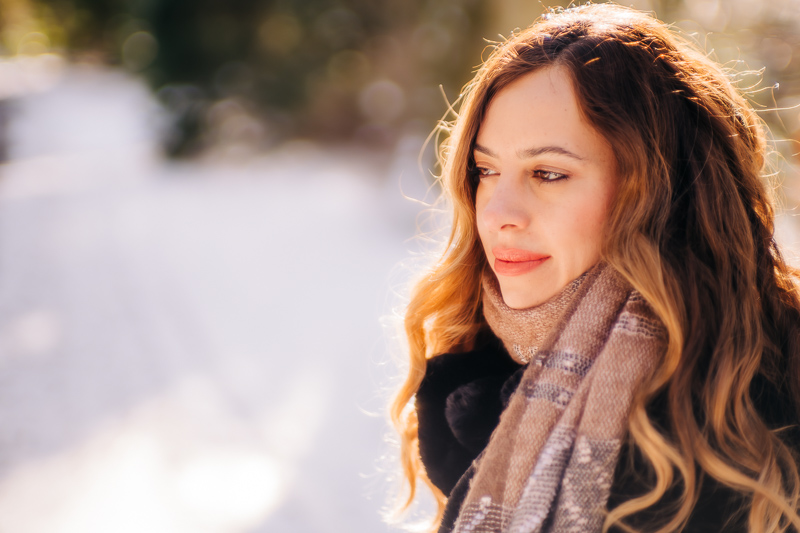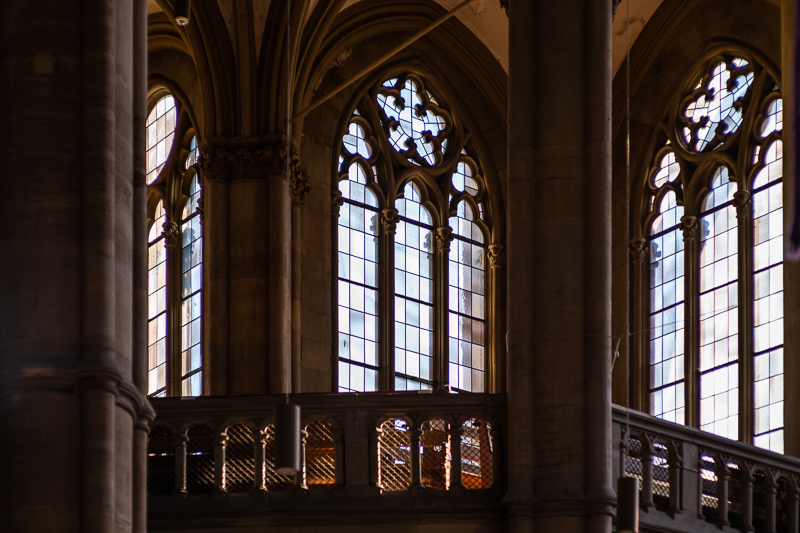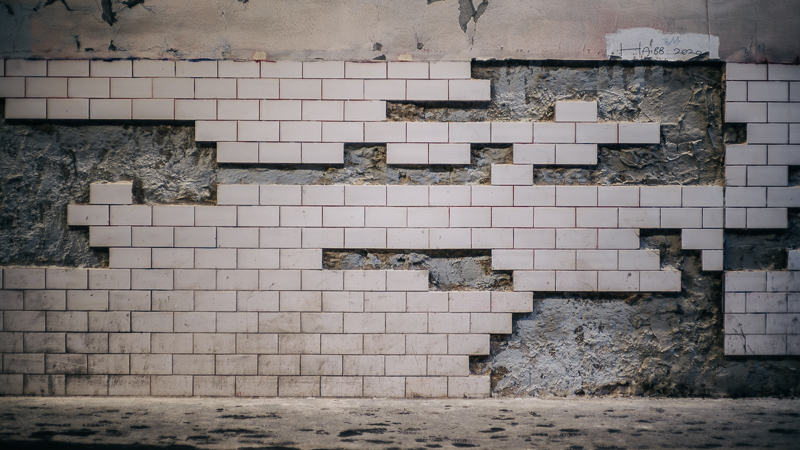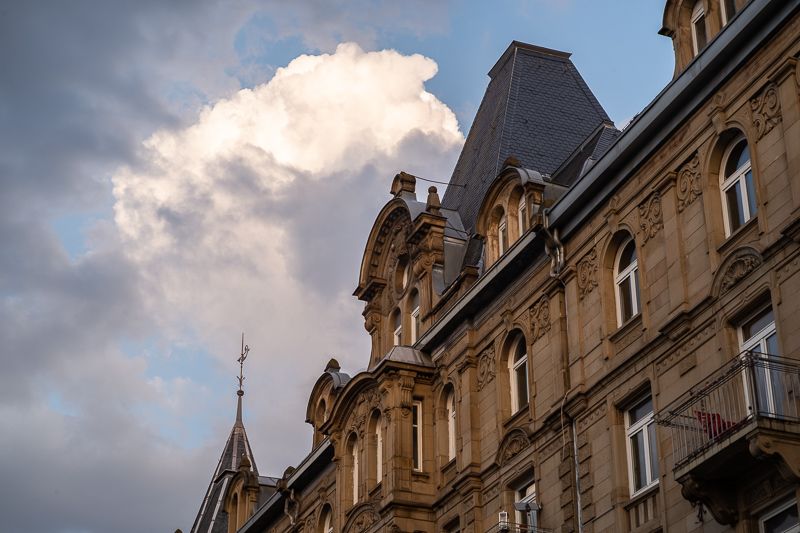 You can find most of the sample images in full resolution here.
Specifications / Version History
There are not many 73mm lenses, actually, this may be the only one. It has the following specifications:
Diameter: 49mm
Field of view: 33° (diagonally)
Length: 57mm
Weight: 201g
Filter Diameter: 49mm (reversed)
Number of Aperture Blades: 16 (rounded)
Elements/Groups: 5/4
Close Focusing Distance: 0.9m (measured)
Maximum Magnification: 1:10.6 (measured)
Mount: Leica-M
You can find information on all the MS-Optics M-mount lenses in my Overview: MS-Optics M-mount lenses.
You can find this lens at japanexposures.com or on ebay.com (affiliate link) but don't expect it to be always available. It starts selling for about $1100
Handling / Build Quality
As usual with MS-Optics there are a few things to point out here, especially when you are only used to the latest first party lenses.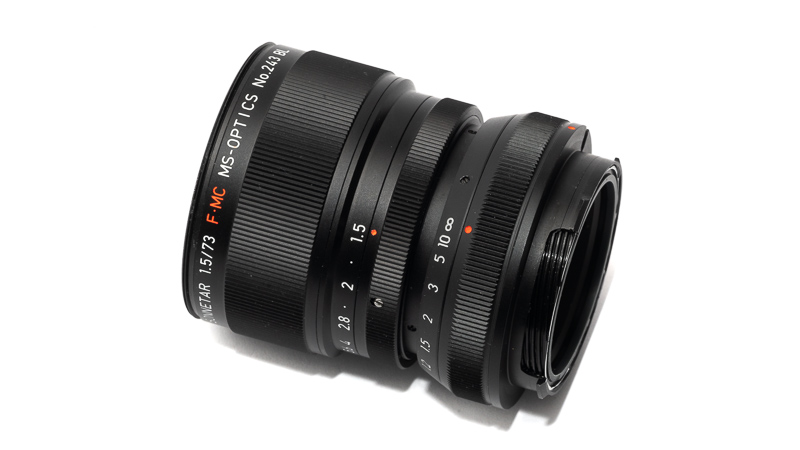 The focus ring travels ~90° from infinity to the minimum focus distance of 1.0 m. The focus ring is actually the whole front barrel (unit focus design), so aperture ring and front element also rotate when adjusting focus. So better first decide what aperture you want to shoot at, set it, and then focus.
The resistance of the focus ring as well as the aperture ring is very nice.
The aperture ring is also clickless and turns roughly 100° from f/1.5 to f/16. It is also notable, that the aperture ring turns in the "wrong" direction, as was also the case with the MS-Optical 50mm 1.1 Sonnetar and the MS-Optics 135mm 2.4 Aporis.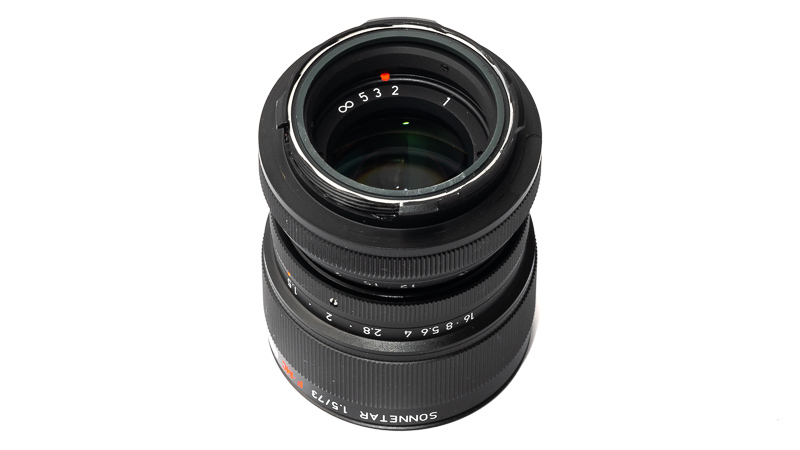 At the rear you can find a "coma adjustment ring", but you need a camera spanner to change the setting and if you change the setting you may loose the calibration with the rangefinder coupling.
The MS-Optics 135mm 2.4 Aporis also features a Coma adjustment ring and I did not see it making a really big difference but it can actually be used to adjust the infinity hard stop.
The lens also comes with a 49mm screw on metal lens hood: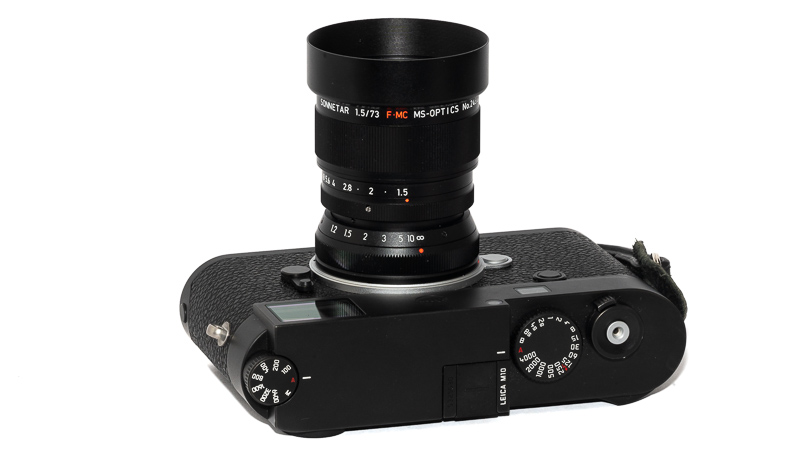 Instead of the lens hood you can also attach a normal 49mm filter, but it needs to be mounted reversed, so if you want to use a polarizer you either need to flip the glass in the polarizer or get a 49mm-49mm Female-Female adapter like I did: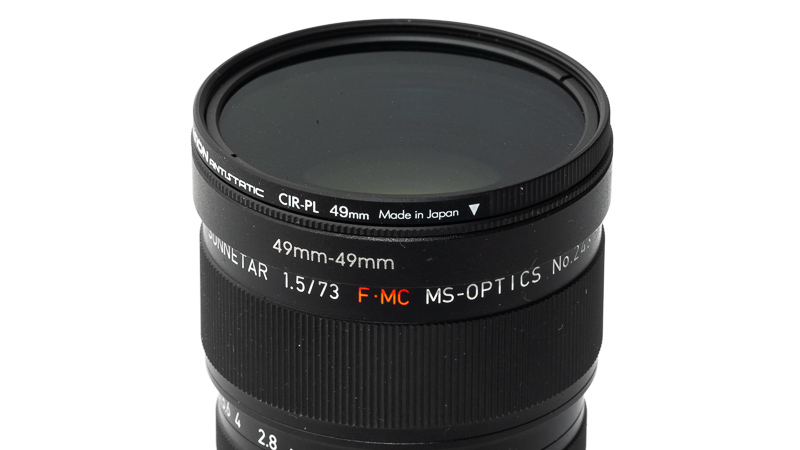 While the Voigtlander VM 75mm 1.5 Nokton is not a big lens to begin with the MS-Optics 73mm 1.5 is noticeably smaller and lighter: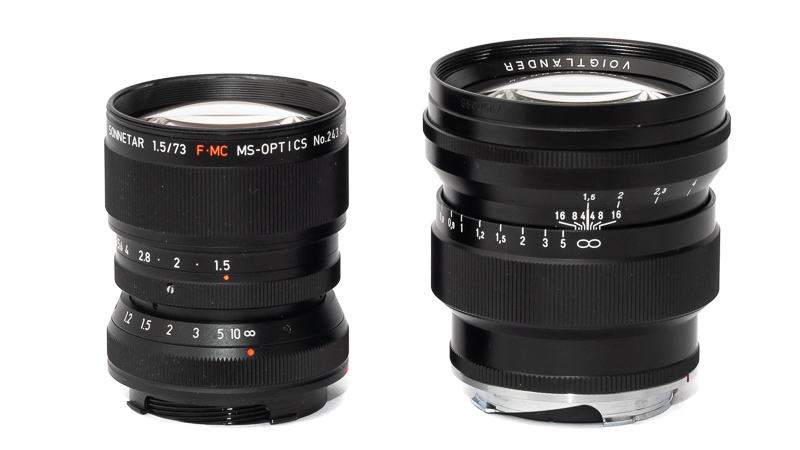 As is the case with all MS-Optics lenses I have used so far on the Leica M10 the 6-bit-code-reader is not fully covered and therefore under bright light the camera will often think you changed the lens and throw you ouf of live view should you be using that. I added a small piece of duct tape which solves the issue.
Vignetting
light falloff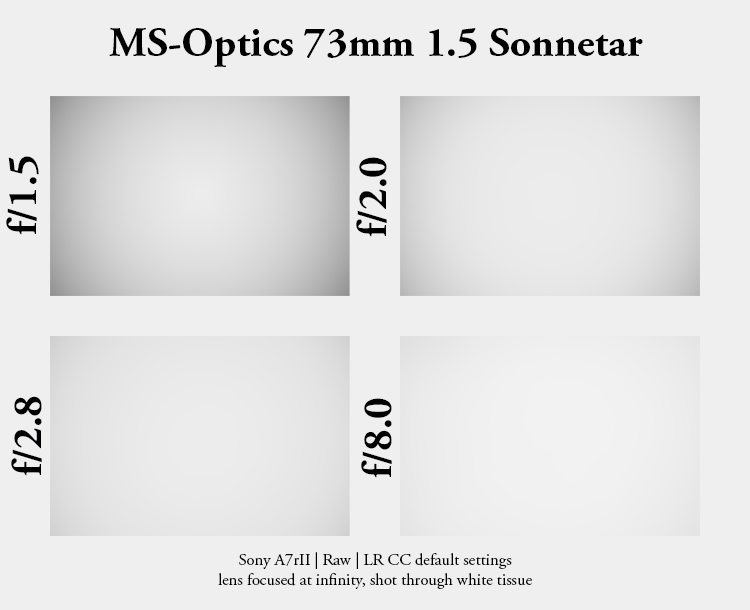 I was curious how the MS-Optics 73mm 1.5 compares to the Voigtlander VM 75mm 1.5 here. At maximum aperture I measure 2.0 EV which improves to 1.5 EV at f/2.8. Already at f/2.8 it is only 1.0 EV and further improves to 0.7 EV at f/8.0.
The Voigtlander lens shows similar values wide open and about 0.3 EV lower ones stopped down, so all in all not a bad performance here.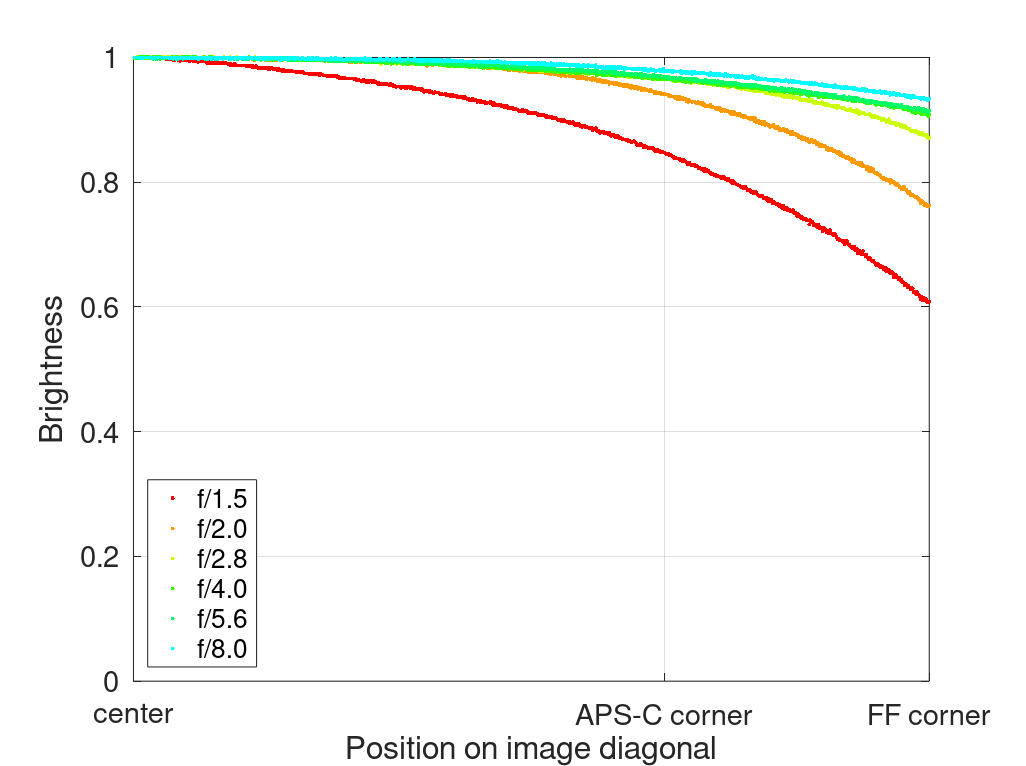 It is recommended to have a look at this article first to get an idea how this brightness graph works.
optical vignetting
Very fast yet compact lenses usually show a significant amount of optical vignetting. Without going too much into technical details optical vignetting leads to the truncation of light circles towards the borders of the frame.
In the center of the frame almost every lens will render a perfect circle, but only lenses with very low optical vignetting will keep this shape in the corners.
So in the following comparison we move from the center (left) to the extreme corner (right) and see how the shape of the light circle changes.
At maximum aperture I see an interesting flare effect around point light sources near the center which also makes them look significantly bigger. In the midframe this same effect leads to that lemon like shaped light spill.
For comparison's sake I included the Voigtlander VM 75mm 1.5 Nokton here which shows a bit more optical vignetting but also shows cleaner shapes of the highlights.
Sharpness
MTF-Graphs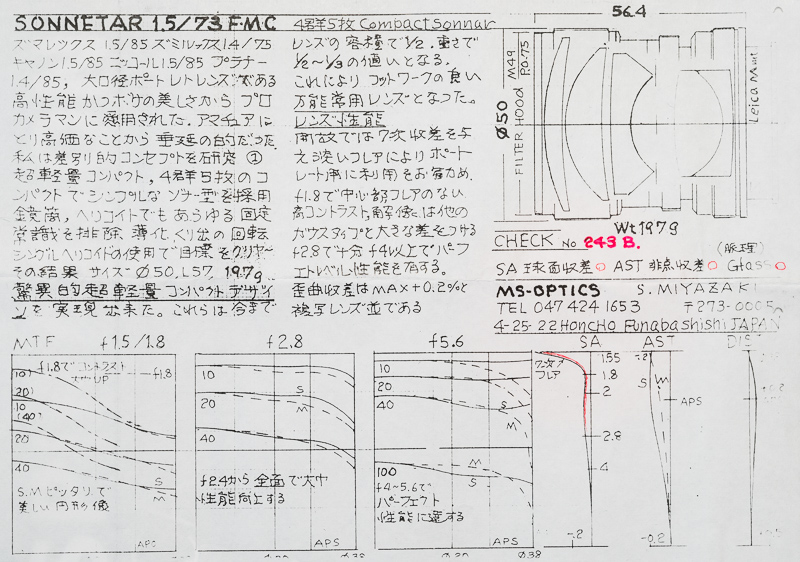 The MS-Optics lenses always come with hand-drawn MTF-graphs which do give a pretty good idea of what to expect.
What these graphs are telling me: a bit lower contrast at f/1.5 which in the center already increases quite a bit at f/1.8. Generally low astigmatism at wider apertures, which often is the case with Miyazaki's designs.
At f/2.8 we should see high resolution and contrast across the whole frame and really good performance at f/5.6 except for the extreme corners where there also seems to be a fair amount of astigmatism stopped down. We will investigate in the following sections what that means for us.
infinity (42mp Sony A7rII)
Wide open we see some glow (spherical aberration) across the whole frame, this improves steadily on stopping down. By f/2.8 the center part shows high resolution and contrast.
The midframe does not lack far behind. It looks good by f/4.0 and very good by f/5.6. As usual I am showing you the worst part of the frame here.
Unfortunately the corners suffer a bit due to filter stack induced field curvature. Stopped down to f/11 and focused a bit closer might yield better results than you see here.
Let us see in the next section how the lens performs on a camera with a thinner filter stack.
infinity (24mp Leica M10)
Originally infinity was not reached on my M10 at wider apertures, this is always a risk with lenses with infinity hard stop, which is why I am not a big fan of such hard stops.
A small adjustment of the coma-adjustment-ring could fix this (I changed the setting from 3.0 m to ~ 2.5 m), I am showing you the sharpness series after adjustment here.
By f/8.0 the lens looks really good across the whole frame, so when the light allows for it or a tripod is available it is a good performer for landscape or achitecture shooting.
Interestingly with this lens I also don't see the high astigmatism in the corners shown in the MTF-graphs.
Nevertheless, the Voigtlander VM 75mm 1.5 Nokton yields higher resolution and contrast, especially at wider apertures.
portrait distance (2.0 m)
For portraiture it isn't so important how flat the field is, it is more interesting to see what the sharpness is like when focused at different parts of the frame to take field curvature (and also focus shift) out of the equation.

This is what I did here, I refocused for every shot and aperture to get the best possible result at different locations in the frame (center, inner midframe and outer midframe).
Focus distance was roughly 2.0 m and the circle of the dollar bill is more or less the size of a human eye.
Sony A7III <—> Leica M10
100% crops, Sony A7III, Leica M10
As is expected from looking at the MTF the contrast is a bit lower at maximum aperture, but thanks to low astigmatism we can get usable results everywhere in the frame from the maximum aperture.
Stopping down to f/2.0 greatly increases contrast everywhere in the frame.
There is also only little difference between using the lens on a Leica M10 or a Sony camera here.
close (1.0 m, 1:10.6)

100% crops from center, Sony A7rII, refocused for every shot
A minimum focus distance of 0.9 m is not that great for a 73mm lens, especially when you are used to the 0.7 m of the Voigtlander VM 75mm 1.5 Nokton like I am.
The lens obviously does not feature a floating elements design and it generally does not seem to be optimized for these distances, as it takes stopping down to f/2.8 or better f/4.0 to get really crisp results here.
Flare resistance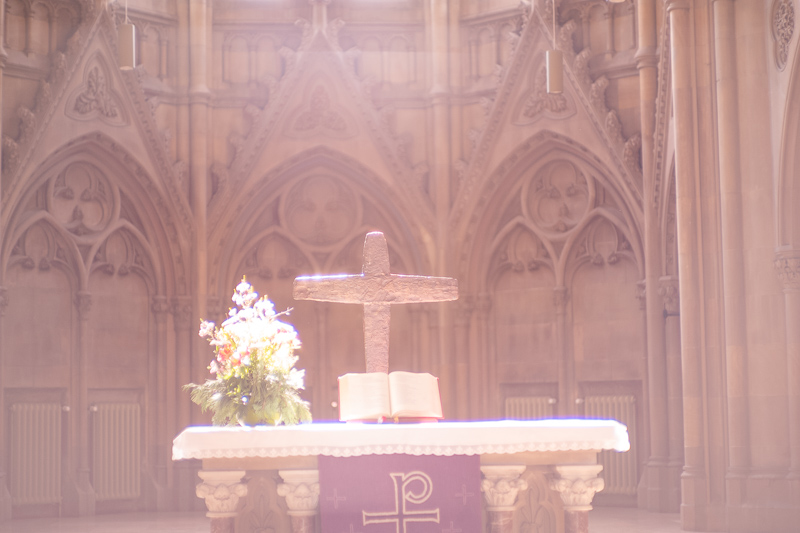 As always evaluating flare is a complex matter since you can get any lens to look bad if you push it hard enough and a slight change of scenario can affect results a lot.
Nevertheless, it was easy to make the MS-Optics 73mm 1.5 look bad here, as it is not a great performer when it comes to work against bright light. Despite the multicoating on all the elements rainbow artefacts as well as veiling flare are easily caught. The small hood also won't reduce the veiling flare in a meaningful way.
The Voigtlander VM 75mm 1.5 Nokton isn't perfect either, but it performs way better here.
Coma
100% crops from extreme corner, Leica M10
Coma at f/1.5 and f/2.0 is very noticeable in the corners, stopping down to f/2.8 yields a big improvement and by f/4.0 the performance is good. The behaviour here is actually similar to that of the small fast Voigtlander lenses.
Distortion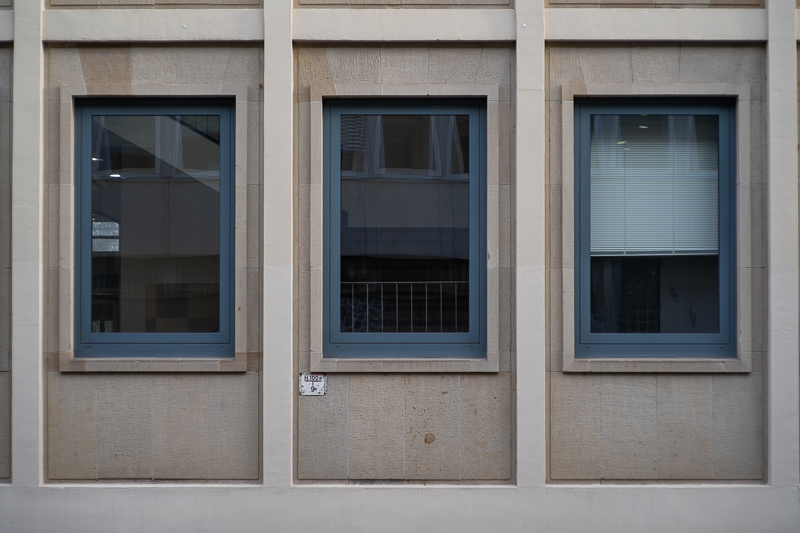 Distortion is very low and will hardly be field relevant.
Sunstars
Sony A7III | MS-Optics Sonnetar 73mm 1.5
The MS-Optics 73mm 1.5 Sonnetar is using 16 rounded aperture blades so I wouldn't have been surprised not to see sunstars at all. Nevertheless stopped down and with strong point light sources they really look quite okay, my favorite is the rendering at f/8.0 and f/11.
If you want to learn more about this topic have a look at this article.
Bokeh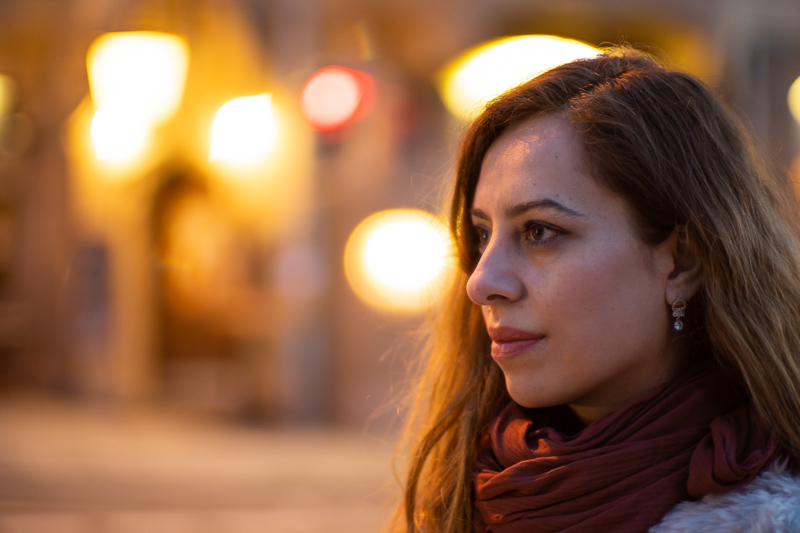 Sonnar lenses are known for smooth but also for funky bokeh rendering. Which one it is depends on focus distance, background and the aperture you are shooting at. In addition to that the MS-Optics 73mm 1.5 Sonnetar shows some "interesting" artefacts when used at f/1.5:
This mainly looks like coma, but I have never seen such strong coma this close to the center of the frame, so maybe it is actually a mix of coma and spherical aberration. Either way, I find it very distracting.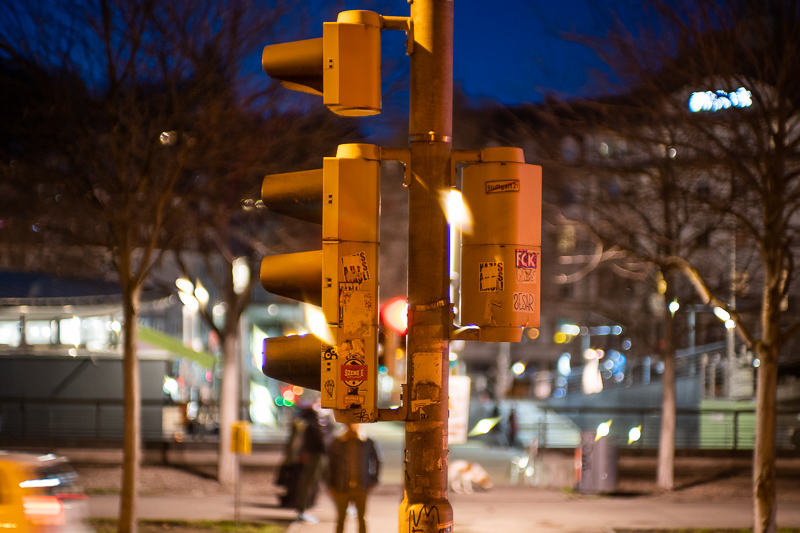 If you now think you will only encounter this effect at night you are mistaken, also under daylight it can be visible: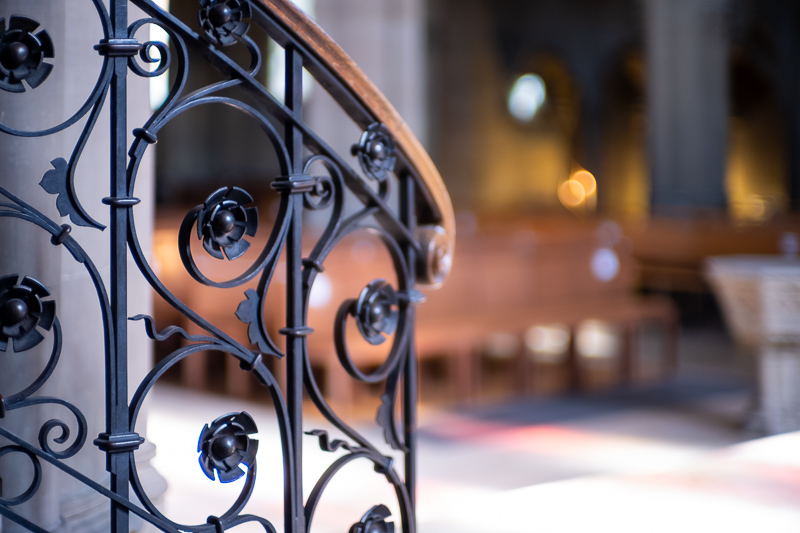 With carefully chosen background the bokeh can look very nice though: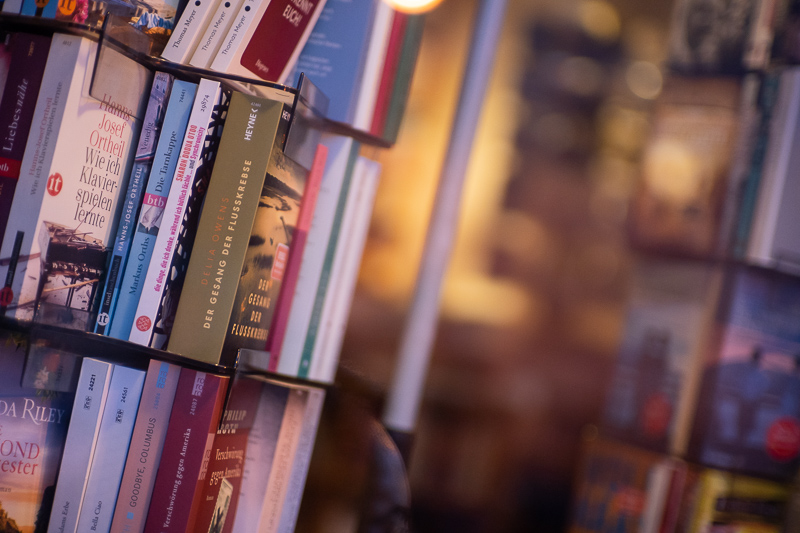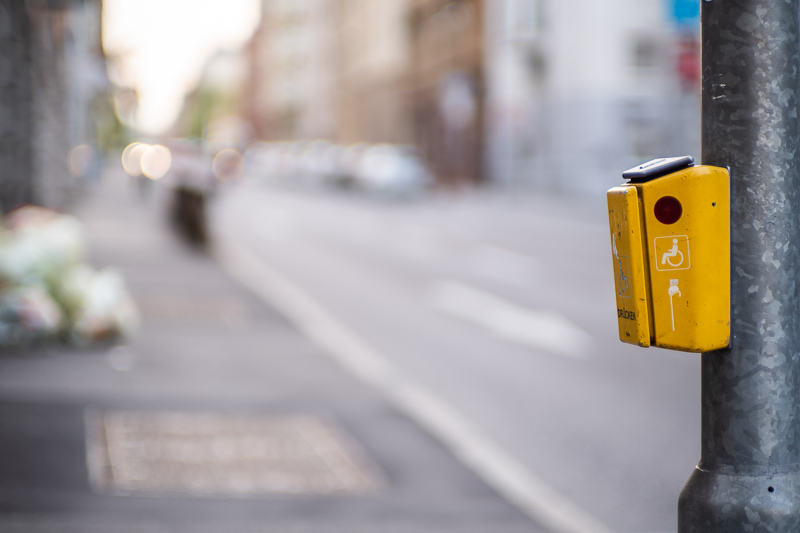 But more structured backgrounds end up rather nervous and distracting, which is often the case when using Sonnar lenses at maximum aperture: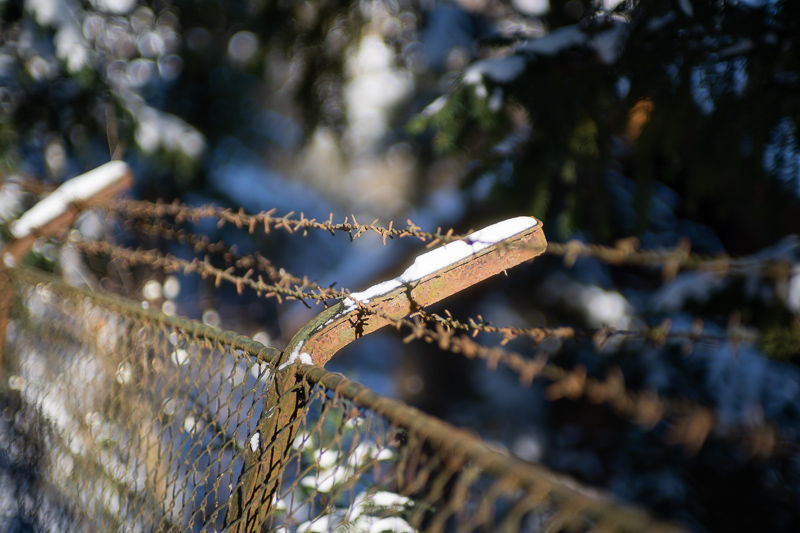 Generally I like Sonnar-style rendering, but this lens proved to be a bit unpredictable, especially at f/1.5 where I find those artefacts very distracting. All things considered, I definitely prefer the Voigtlander VM 75mm 1.5 Nokton here.
Chromatic Aberrations
lateral
100% crops from extreme corner, A7rII
Lateral CA are strong, they can be mostly corrected in camera (for Jpegs) or in a raw developer like Lightroom by one click but it looks to me like there are still some small traces left.
longitudinal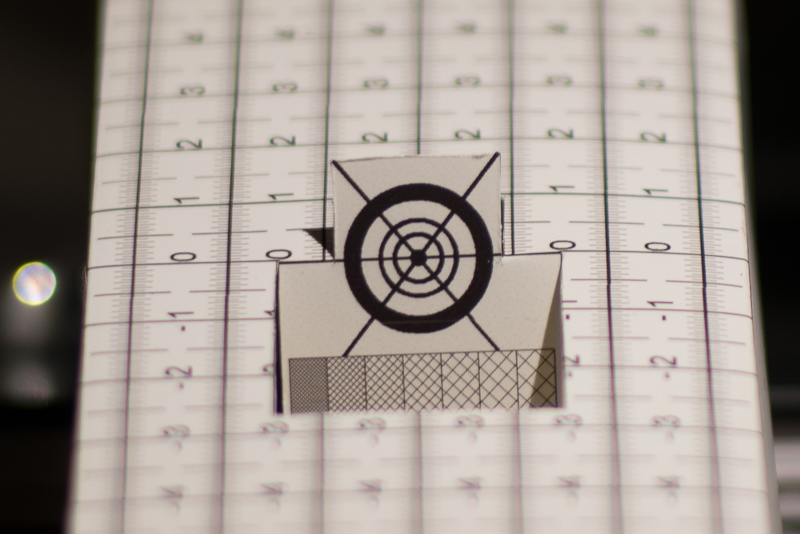 The MS-Optics 73mm 1.5 has high spherical aberration at the maximum aperture (which some may want to call "Sonnar glow") which masks the longitudinal CA to some degree, therefore I am showing you the f/2.0 shot here.
Still, longitudinal CA are also strong, if you look at the following section you can see that even stopped down to f/4.0 they are still visible.
With strong backlight the MS-Optics 73mm 1.5 Sonnetar shows a really bad performance similar to super fast lenses like the Zhong Yi 50mm 0.95 III: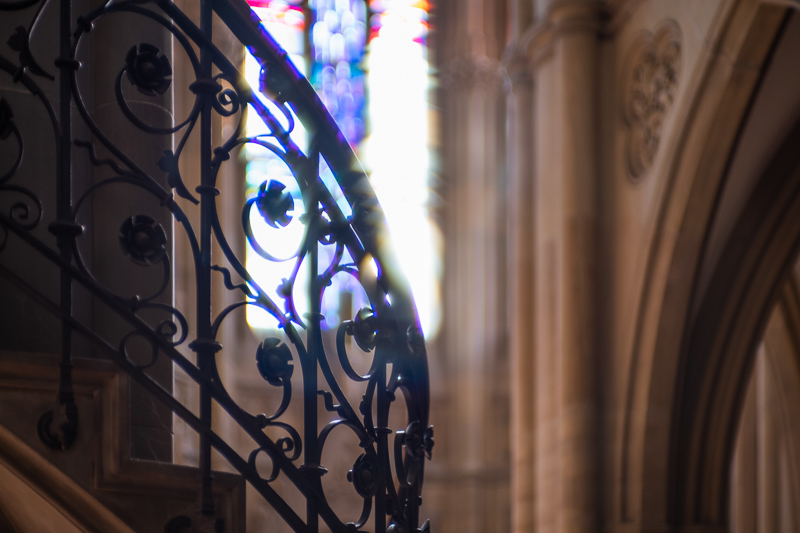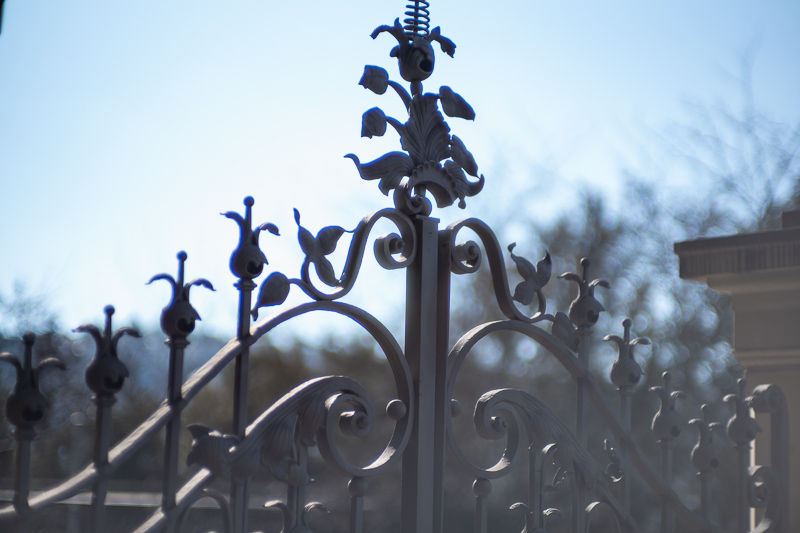 Unfortunately even stopped down to f/2.8 the purple fringing still goes really strong:
Leica M10 | MS-Optics 73mm 1.5 Sonnetar | f/2.8
Most of the MS-Optics lenses I have reviewed show a good performance when it comes to the correction of longitudinal CA. This is clearly not the case here.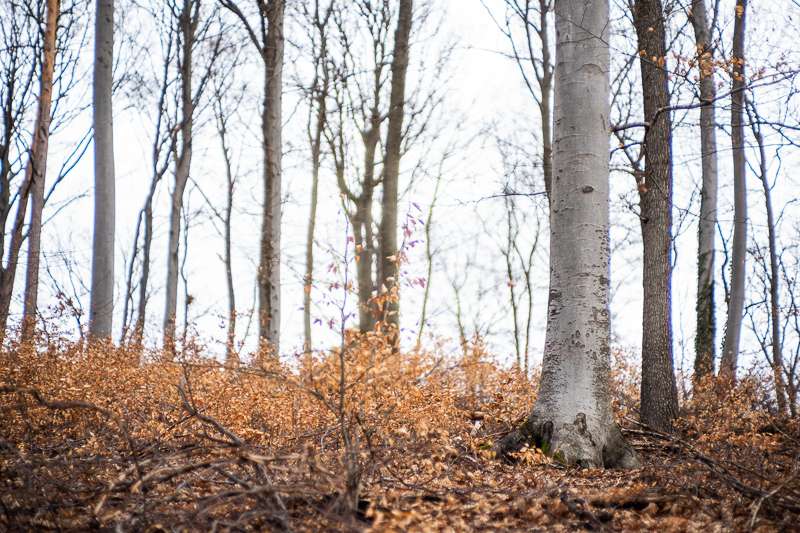 Focus shift
50% crops, A7rII
Sonnar lenses are known for their notorious focus shift, so I expected this 73mm 1.5 Sonnetar to behave no different, but actually – while noticeable – it is not that bad.
As you will accidentally change the focus when adjusting the aperture anyway this shouldn't be a big deal on cameras with live view though.
Alternatives
E-mount
Samyang 75mm 1.8 AF:
This seems to be one of Samyang's better small lenses. You get AF, low weight, nice bokeh and good sharpness at a fair price here.
buy from amazon.com | amazon.de | B&H | ebay.com for $399 (affiliate links)
M-mount
Voigtlander VM 75mm 1.5 Nokton:
A lens I really enjoy and already used for plenty of pictures I am very happy with. Most people should rather get this lens, it is less quirky and really well corrected for what it is and even a bit cheaper. The reasons to prefer the MS-Optics lens boil down to the distinct Sonnar look (if that is something you like) and the smaller size and weight.
buy from amazon.com | amazon.de | B&H | ebay.com | ebay.de for $999 (affiliate links)
7Artisans 75mm 1.25:
Smooth bokeh, softer at maximum aperture, more focus shift, 3 times as heavy. Enjoyable f/1.25 portrait lens at a fair price for those that don't mind the size and weight.
buy from amazon.com | amazon.de | B&H | ebay.com | ebay.de for about $449/499€ (affiliate links)
Leica Summilux-M 75mm 1.4:
I have never used this lens personally, but the link above will lead you to an in-depth guest review.
buy from amazon.com | amazon.de | B&H | ebay.com | ebay.de (affiliate links)
Conclusion
I have reviewed a few MS-Optics lenses lately and as usual the small size and weight are pretty astonishing and as always they come at the price of very quirky handling.
Unlike the two 50mm MS-Optics lenses I reviewed this 73mm is also a really capable lens stopped down (on Leica and Sony cameras) which makes it more of an everyday and less of a special occassion lens.
When it comes to the bokeh rendering I am a bit disappointed though. I was hoping for something like the Jupiter-9 85mm 2.0 (meaning soft and smooth) but in a more compact package and with modern coatings.
In close focus scenarios soft and smooth is usually what you get, but when you focus on something farther away it gets busy and funky very fast.
And then there are those strange coma/spherical aberration artefacts at maximum aperture which I find very distracting and tried to avoid, so I see it more as an 73mm f/1.8 lens to be honest.
Strong longitudinal chromatic aberrations are also something I try to avoid in my lenses and here the MS-Optics 73mm 1.5 Sonnetar is not doing a great job either.
If you like the look of the images or you really want the smallest and lightest lens in class maybe the MS-Optics 73mm 1.5 is exactly what you are looking for, but these are the only reasons I can think of getting this over the great Voigtlander VM 75mm 1.5 Nokton.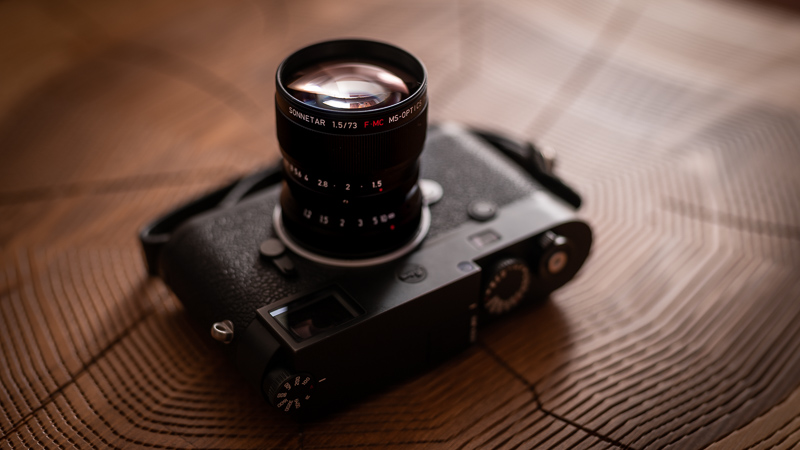 You can find this lens at japanexposures.com or on ebay.com (affiliate link) but don't expect it to be always available. It starts selling for about $1100
Further Sample Images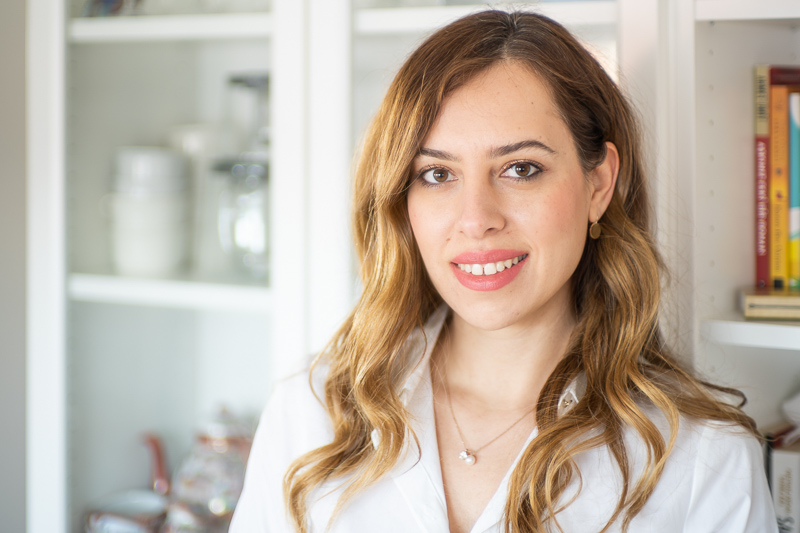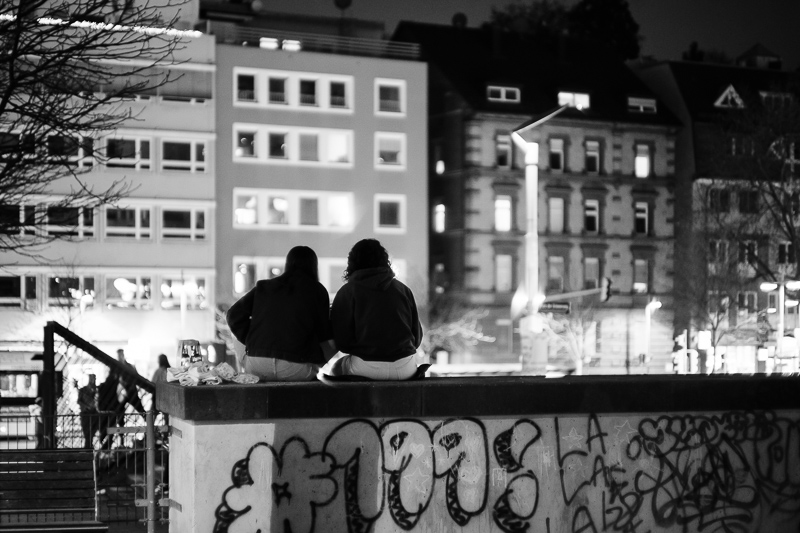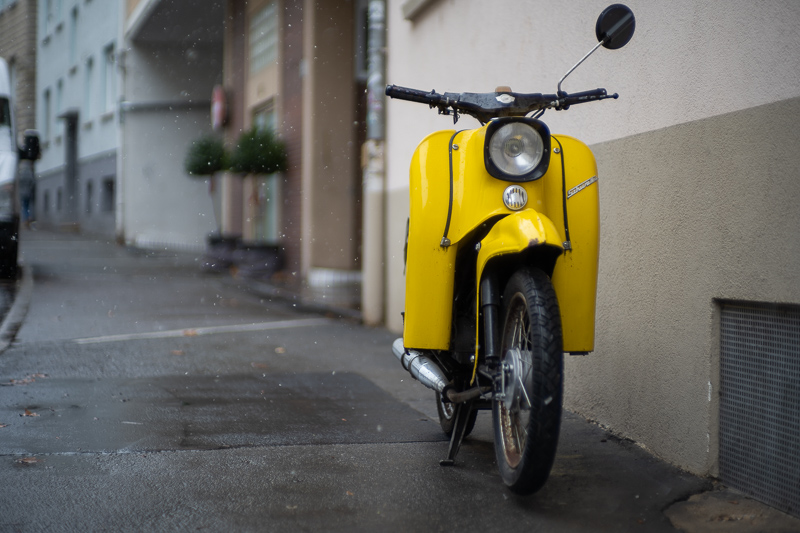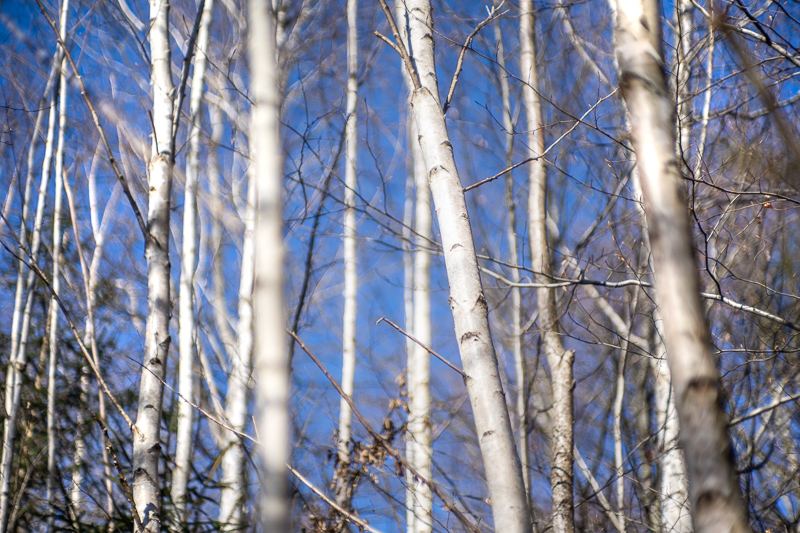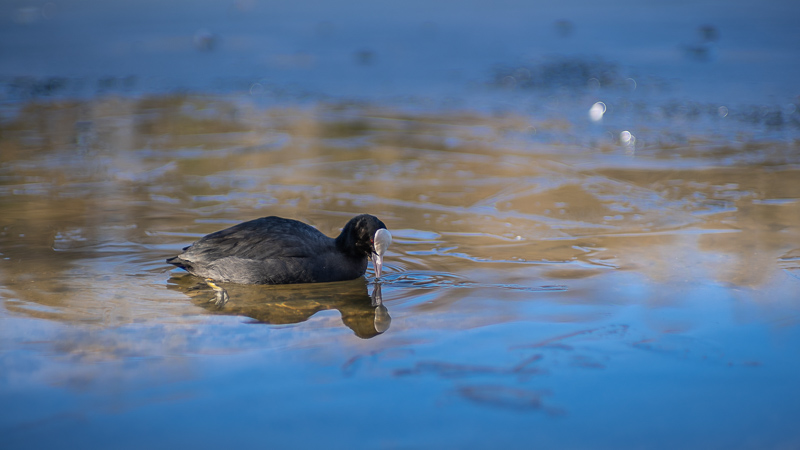 You can find most of the sample images in full resolution here.
Further Reading
Support Us
Did you find this article useful or just liked reading it? Treat us to a coffee!


via Paypal
The following two tabs change content below.
My name is Bastian and I am your expert here when it comes to ultra wide angle lenses, super fast portrait lenses (ranging from a 50mm f/0.95 to a 200mm f/1.8) and I also have reviewed way too many 35mm lenses. Don't ask me anything about macro or wildlife shooting though.