Introduction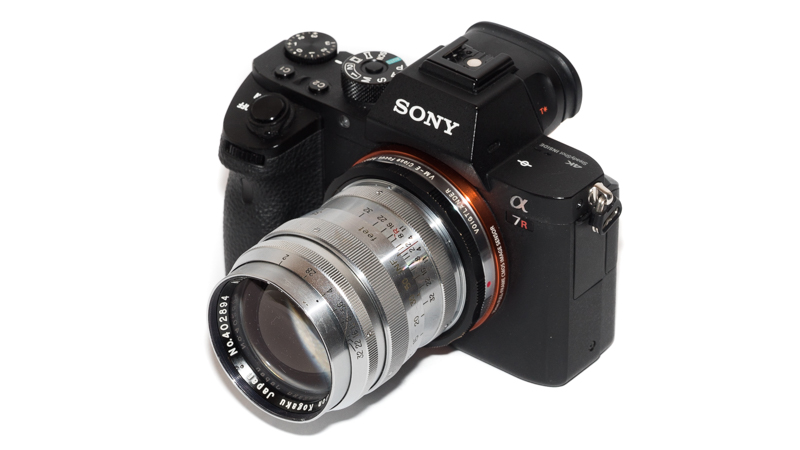 Many people today might not even know Nikon (and also Canon) produced rangefinder cameras and lenses in their early days. Thanks to a reader I got the chance to review not one but three of these rather exotic Nikkor rangefinder lenses from the 50's. The first one is the Nikkor-P 85mm 2.0 portrait tele.
Sample Images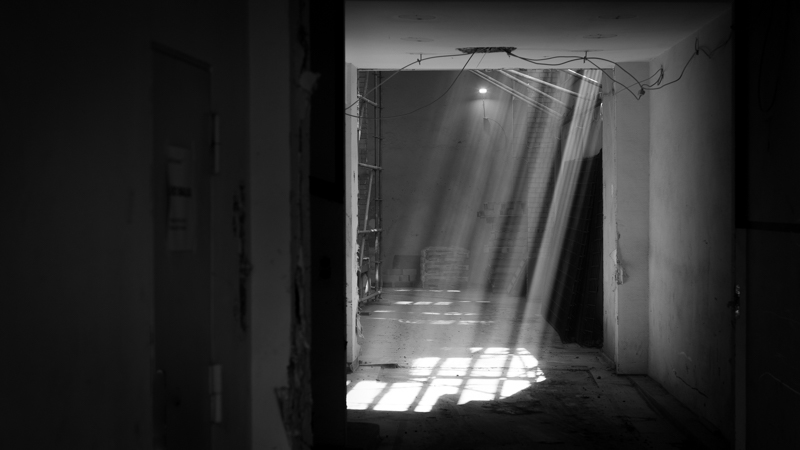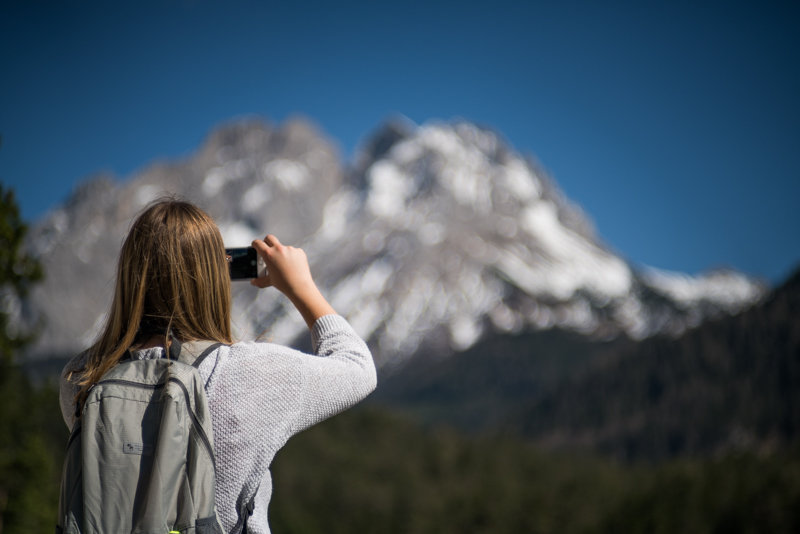 You can find most of the shots in this review in full resolution here.
Specifications / Version History
If you are interested in the history of this lens and it's many versions you might want to have a look at this page which contains quite comprehensive information. The lens I got the chance to review has the following specifications:
Diameter: 57 mm
Field of view: 29° (diagonally)
Length:  68 mm + adapter
Weight: 425g + adapter
Filter Diameter: 48×0.5 (not M48!)
Number of Aperture Blades: 10 (rounded)
Elements/Groups: 5/3
Close Focusing Distance: 1.0 m (~0.7 m with VM-E helicoid adapter)
Maximum Magnification: 1:10 (~1:6.7 with VM-E helicoid adapter)
Mount: M39 / LTM
You can try getting one of these used from ebay.com/ebay.de starting at 300$/600€
(affiliate links).
Handling / Build Quality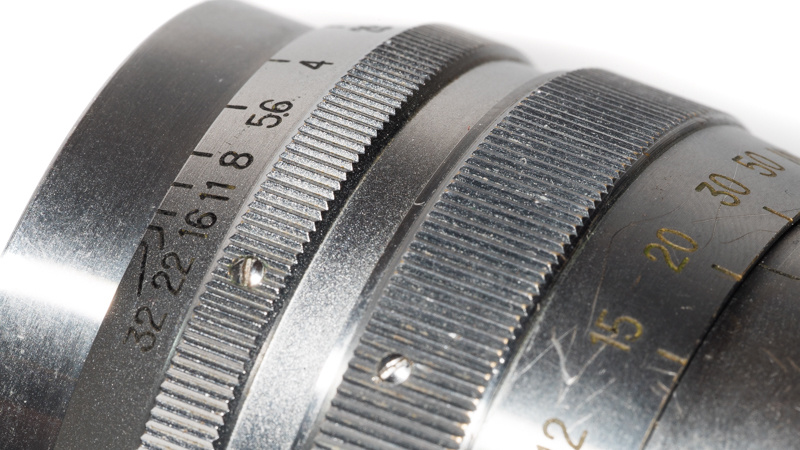 On first sight the Nikkor looks very similar to the Jupiter-9 85mm 2.0 from the same era, but there are in fact many differences: while the Jupiter is made from lightweight aluminium the Nikkor is made from heavier chrome/brass. To my surprise the Nikkor even features (full stop) click stops on the aperture ring (the Jupiter doesn't). But unfortunately the Nikkor's whole front barrel rotates (including filter thread and aperture ring) when you focus it, so when adjusting the aperture you will probably change focus even if you don't want to and using a polarizer isn't very straightforward either (the Jupiter features a more complex design where filter thread and aperture ring do not rotate).
None-withstanding this design issue the Nikkor still feels like a better made lens with tighter tolerances.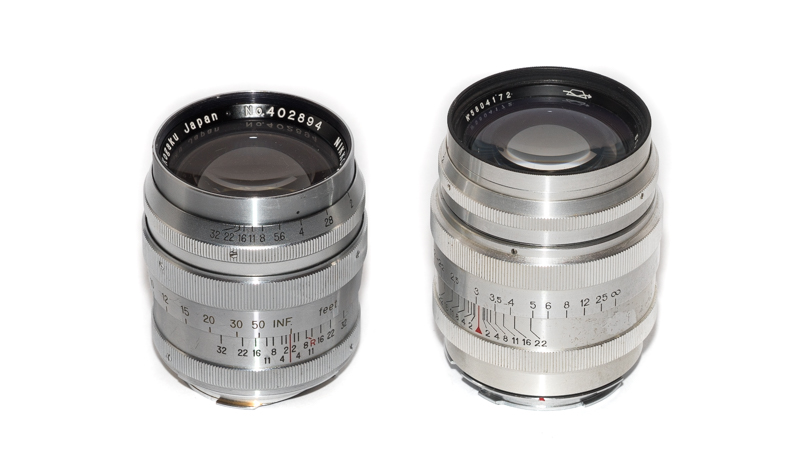 Vignetting / Colorcast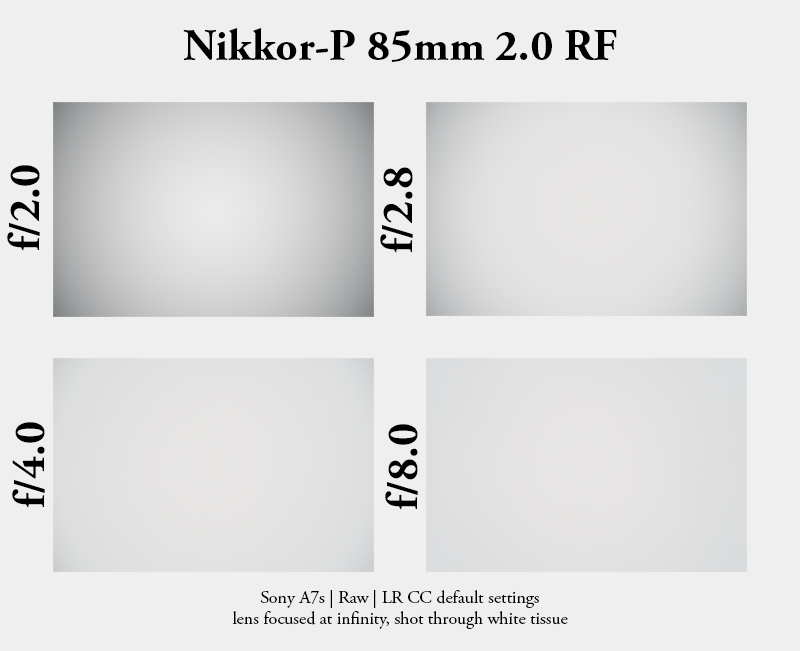 Wide open there is signiffican vignetting of about 2.3 EV, stopped down to f/2.8 this improves to still noticeable 1.5 EV, at f/4.0 vignetting is only 0.7 EV and at f/8.0 unnoticeable 0.3 EV. This is in line with similar lenses.
There are no color cast issues towards the edges on the A7s and A7rII.
Sharpness
infinity



Wide open when focused near infinity the whole image is soft and hazy with low contrast but the resolution is actually quite high, no smeared corners or something like that and with some post processing definetly usable. Stopped down to f/2.8 everything is improved and the center starts to look quite good.
At f/8.0 the lens looks best regarding across the frame sharpness, but this is not a lens that outperforms the 42mp sensor.
close focus (100 cm)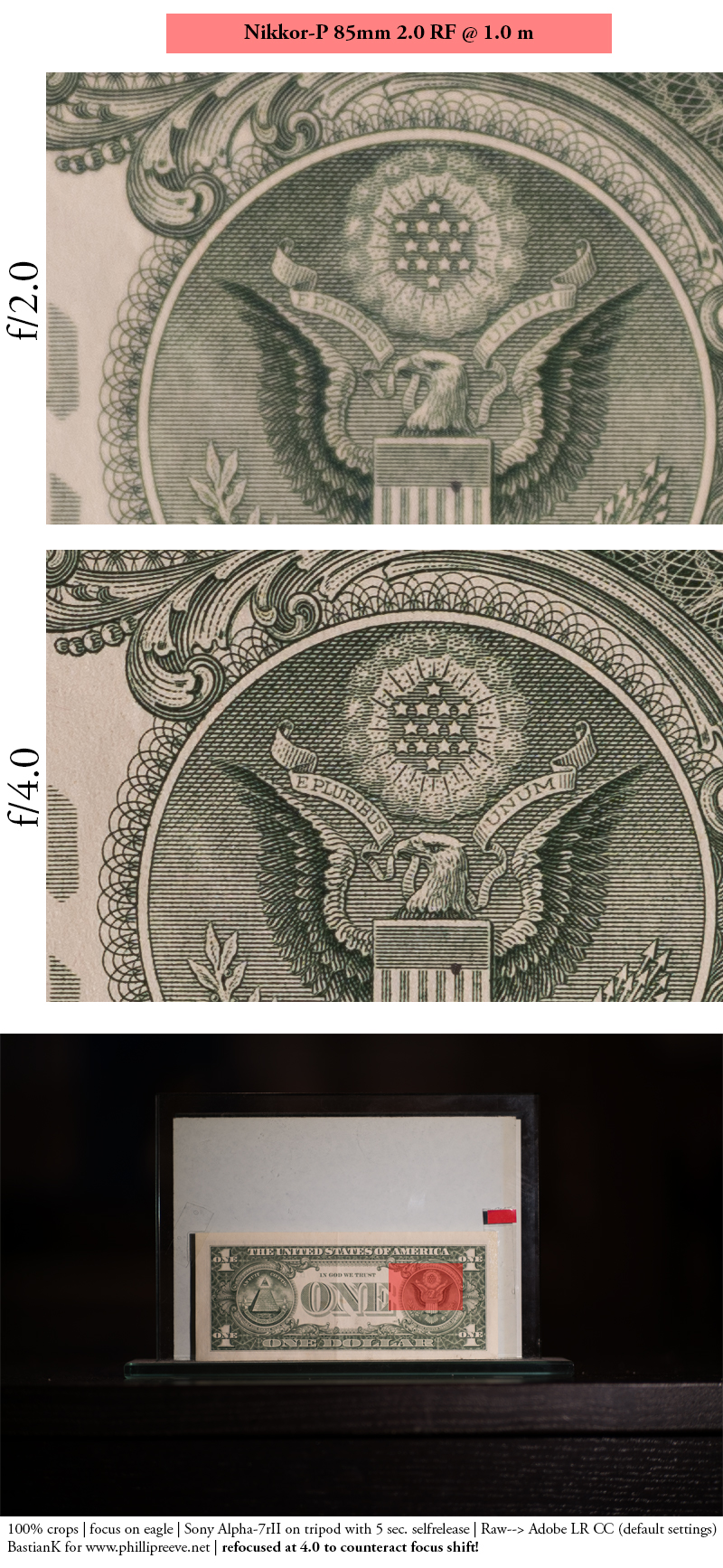 close focus (70 cm with VM-E helicoid adapter)
At the native minimum focus distance of 100 cm the lens really struggles wide open, as do many legacy lenses without a floating elements design. It needs stopping down to f/4.0 for very good performance on the 42mp sensor.
If you reduce the minimum focus distance with a helicoid adapter (like I did here with the Voigtlander VM-E close focus adapter (affiliate link)) the situation is pretty much the same: soft at f/2.0 and f/2.8 but sharpness improves considerably on stopping down to f/4.0. Keep in mind the lens was never intended to be used at these focus distances by the designers.
I also had to refocus the lens stopped down because of significant focus shift, see the corresponding section farther down this review.
Flare resistance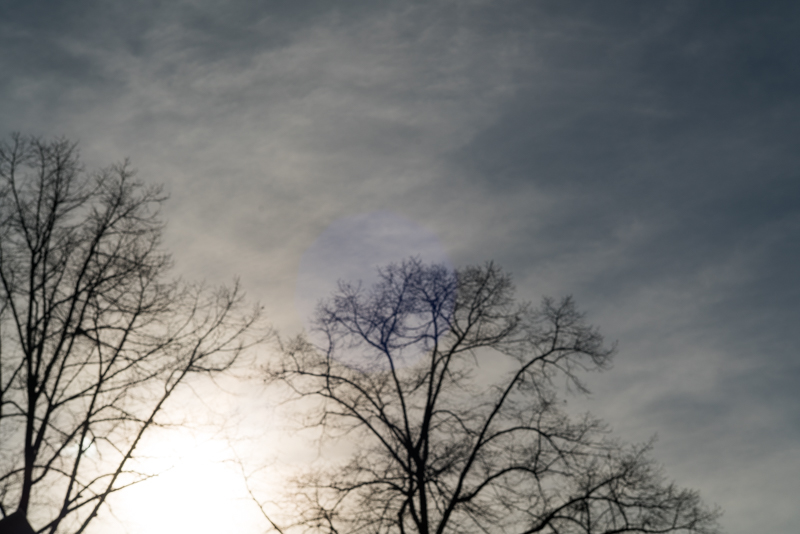 Performance against bright light is often a weak spot of very old lenses and the Nikkor-P 85mm 2.0 is no exception to that rule. With the sun in the frame the loss of contrast is noticeable and you can catch obtrusive ghosts quite easily.
To my surprise the lens handled scenarios with backlighting better than expected, albeit there is still some loss of contrast with the sun just outside the frame.
Distortion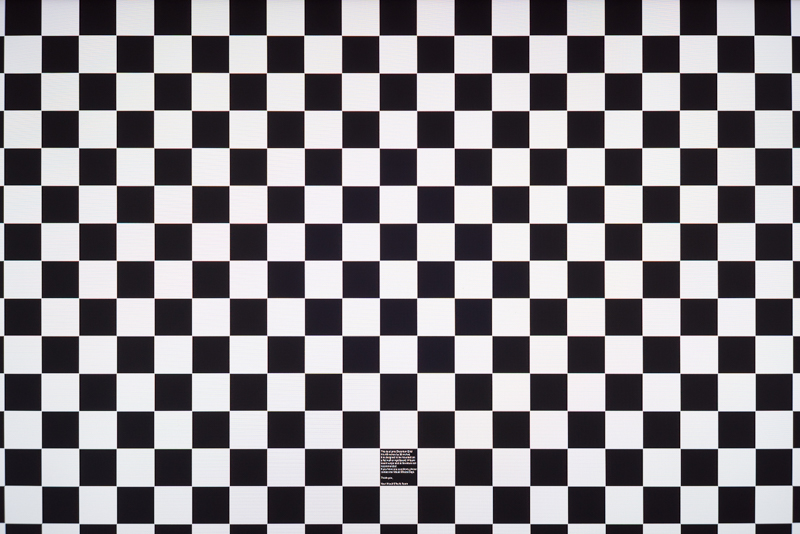 Distortion is pretty much non existent.
Bokeh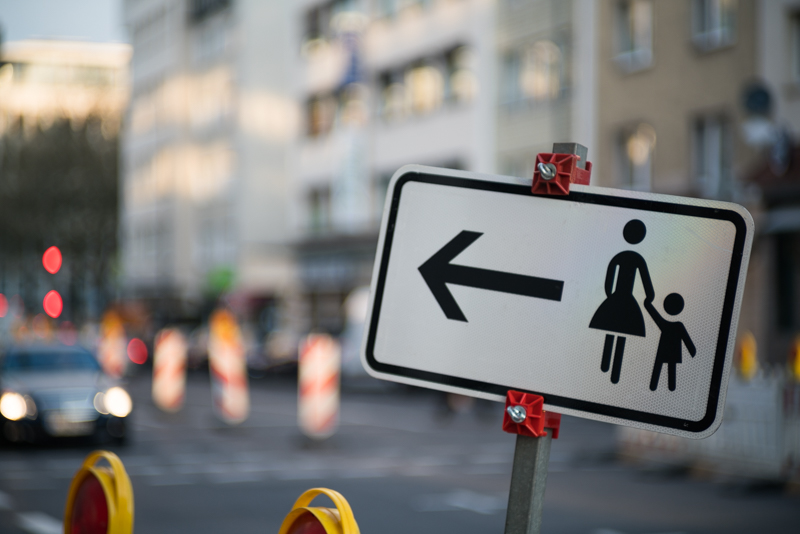 Like many 85mm 2.0 lenses from that era this seems to be also based on Zeiss' Sonnar design which usually translates to smooth bokeh, also in the often difficult transition zone.
Nevertheless in my shooting I found it to be quite a bit of a mixed bag. If you take a look at the second sample image on top of this review the highlights on the mountain are a bit too busy for my taste and same is true for the transition zone when focusing near the minimum focus distance (see the following sample).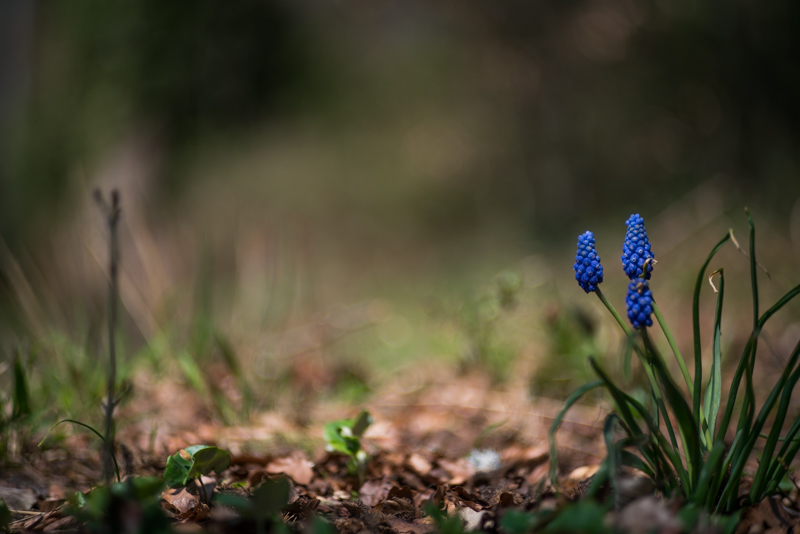 For my taste the bokeh of this lens works best at medium distances, as in this example: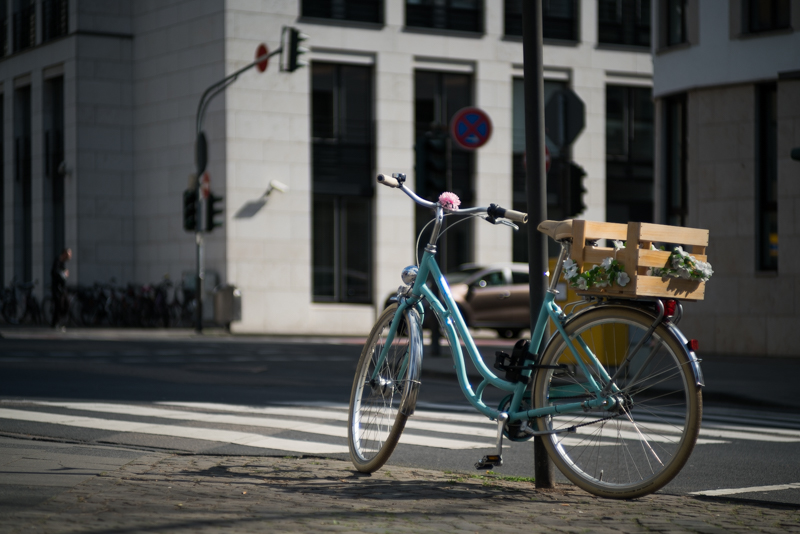 Bokeh compared to Jupiter-9 85mm 2.0
Sony A7rII | Before: Nikkor-P 85mm 2.0 RF @ 2.0 | After: Jupiter-9 85mm 2.0 @ 2.0

Apart from the differences in color rendition (Nikon warmer than Jupiter) and contrast (Nikon more contrast) what's really interesting are the borders, as the Jupiter looks much more out of focus here. The Jupiter-9 is a pretty stellar performer when it comes to mechanical vignetting and it's deterioration of light circles (cat's eye effect), which leads to more blur here compared to the Nikon lens.
You can also see the differences in this comparison:
Sony A7rII | Before: Nikkor-P 85mm 2.0 RF @ 2.0 | After: Jupiter-9 85mm 2.0 @ 2.0
Sunstars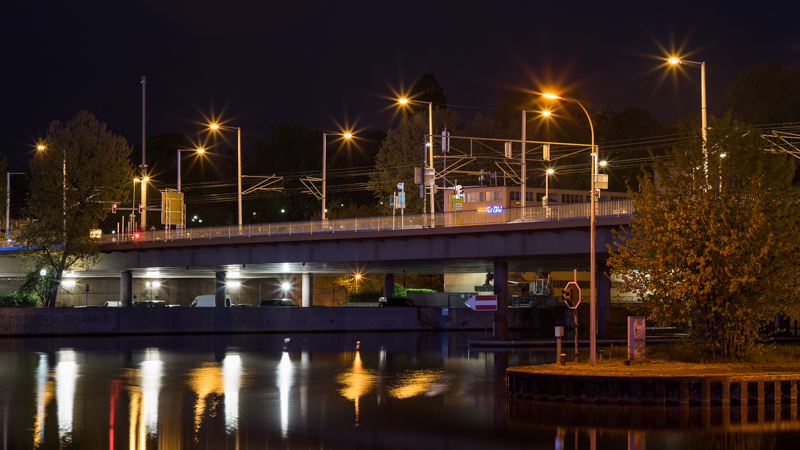 This lens features 10 rounded aperture blades which will yield 10-pointed sunstars around point light sources. They are actually quite well defined and I like them, but as this is a highly subjective topic you might want to have a look at this article and decide for yourself what you prefer.

Chromatic aberrations
longitudinal
Sony A7rII | Nikkor-P 85mm 2.0 RF | 40% crop | before: f/2.0, after: f/4.0
You can see slight green outlining behind the plane of focus and purple outlining in front of it wide open, but the correction is actually pretty decent, there are many modern lenses which perform considerably worse. Stopping down naturally  further improves the performance, as can be seen in the example above.
lateral
Sony A7rII | Nikkor-P 85mm 2.0 RF | f/8.0 | 100% crop from corner | before: no correction, after: corrected
Lateral CAs are certainly present, but can still be easily corrected e.g. in Lightroom.
Focus shift
Most (old) Sonnar designs are plagued by focus shift and unfortunately the Nikkor-P 85mm 2.0 is no exception here. Focus shift describes the effect of the plane of optimal focus shifting on stopping down. This is actually less of an issue with the A7 cameras as you will most of the time stop down first and focus after that, but more of a problem with most Leica rangefinder cameras.
Nevertheless, the focus shift between f/2.0 and f/2.8 is pretty much negligible, but when stopping down to f/4.0 you should definetly adjust the focus. With the rotating front barrel design it is pretty hard changing the aperture without having to adjust focus after that anyway.
Alternatives
When it comes to fast ~85mm legacy lenses there are much to choose from and I can't cover them all, so I will only name a few I have actually experience with or Phillip or Jannik have reviewed.
Jupiter-9 85mm 2.0:
This lens is from the same era and looks pretty similar on first sight, but actually these lenses are more different than I thought at first. The Jupiter offers smoother bokeh especially towards the borders while the Nikon gives contrastier and more saturated images. The build quality of the Nikon lens is higher and I like the implementation of click stops, but I didn't like the rather basic design with rotating front lens.
Leica Summicron 90mm 2.0 pre Asph:
This is also a rangefinder lens like the Nikkor-P and the Jupiter-9 and shares their small size. It is a more modern lens and also significantly more expensive. If you are curious take a look at my review.
Zeiss Loxia 85mm 2.4:
This might be the best 85mm manual focus lens if you are looking for maximum image quality in a still portable package. Nevertheless it is far from cheap and more neutral in its rendering and therefore less of a character lens as the aforementioned ones.
Phillip has already reviewed many legacy 85mm SLR lenses which are usually bigger but also cheaper than the rangefinder lenses:
Tokina AT-X Pro 90mm 2.5 Macro
Quick-Review: Minolta MC/MD 85mm 1.7
85mm comparison: Tokina, Samyang, Minolta
Now there is also a rather decently priced native FE 85mm 1.8 with AF from Sony available, check out Jannik's review.
Conclusion
good

contrast from f/2.8 onwards

sunstars

build quality


correction of longitudinal CA

distortion

size

average

bokeh
correction of lateral CA
flare resistance
vignetting
weight
price

not good

contrast
wide open (at infinity

)

handling (front barrel rotates)
Given the similar outer apperance and the comparable age I assumed that the Nikkor would behave very similarly to the Jupiter-9 85mm 2.0, but to my surprise this was not the case.
The Nikkor 85mm 2.0 shows unexpectedly high contrast, more so than many other legacy lenses I have used so far and seeing click stops on the aperture ring of a more than 60 years old lens was a nice touch as well. Even the sunstars are very well defined, something I can't say about any of the Jupiter lenses (and many Leica lenses) for sure.
Unfortunately when it comes to the important bokeh category I am not entirely happy: At head-shot distances everything is alright, but being a bit farther away from your subject may result in more nervous backgrounds than I prefer.
Nevertheless, I quite enjoyed shooting with this lens and in case you can find one which is decently priced and get around the rotating front barrel it may prove to be a nice and small short tele you can throw at many shooting situations, from portraiture over landscape to cityscapes.
Still, there is much competition in the segment of fast 85mm lenses, count in the 90 and 100mm lenses and there is even more, so what makes this lens stand out?
Compared to the many legacy SLR lenses with just 6 aperture blades it yields very nice sunstars and at the same time the bokeh still looks decent stopped down, I haven't seen many lenses that are able to accomplish this.
Furthermore there is the size advantage: I still highly prefer using small lenses with short adapters handling wise.
But if this is worth the premium you have to pay over the legacy SLR lenses is a question only you can answer for yourself.
You can try getting one of these used from ebay.com/ebay.de starting at 300$/600€
(affiliate links).

Sample Images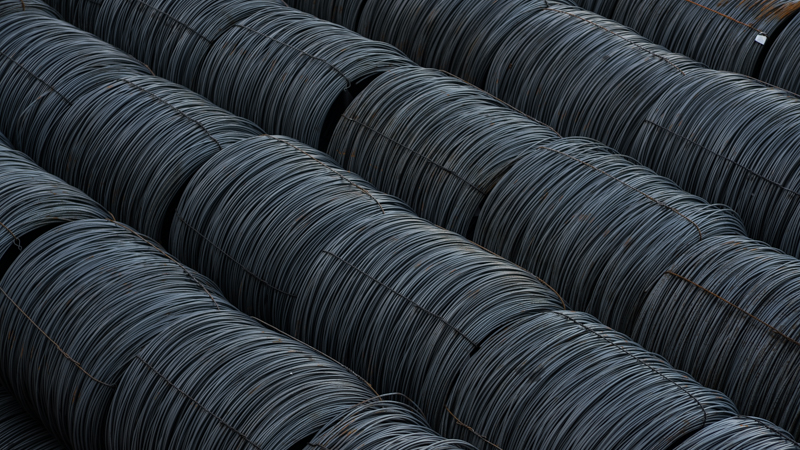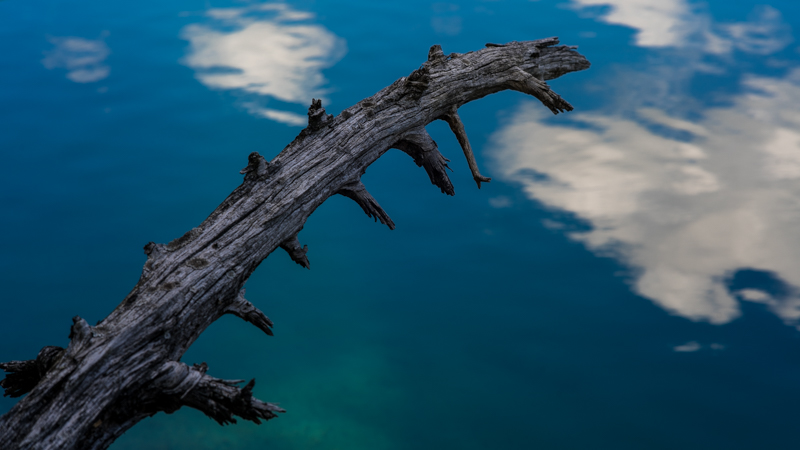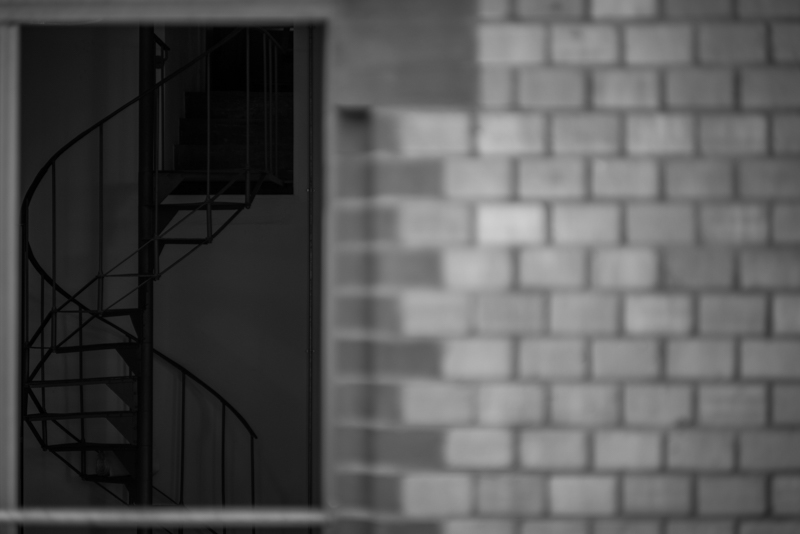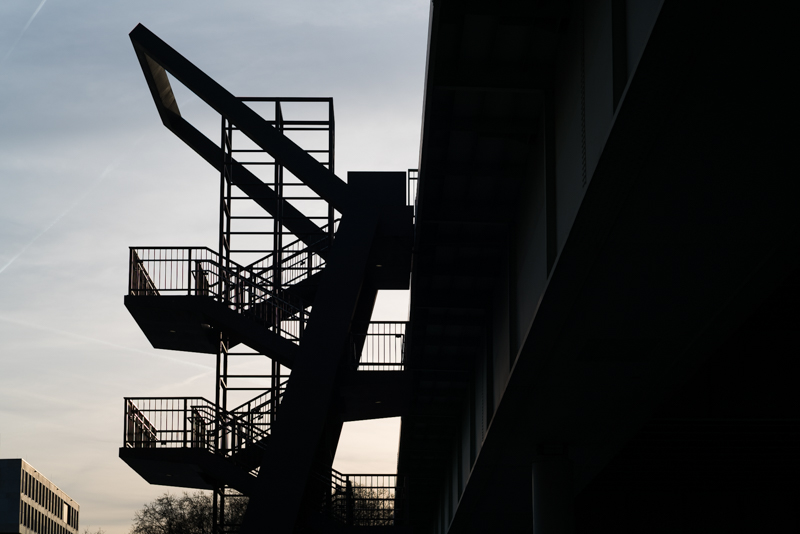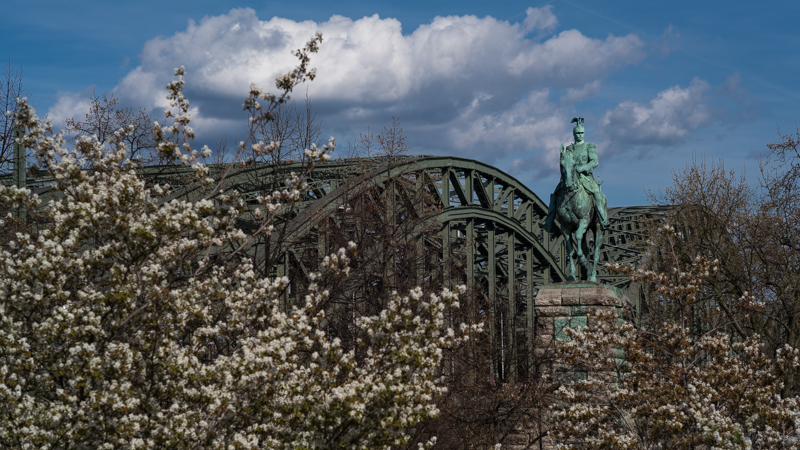 You can find most of the shots in this review in full resolution here.
Further Reading
Support Us
Did you find this article useful or just liked reading it? Treat us to a coffee!


via Paypal
The following two tabs change content below.
My name is Bastian and I am your expert here when it comes to ultra wide angle lenses, super fast portrait lenses (ranging from a 50mm f/0.95 to a 200mm f/1.8) and I also have reviewed way too many 35mm lenses. Don't ask me anything about macro or wildlife shooting though.