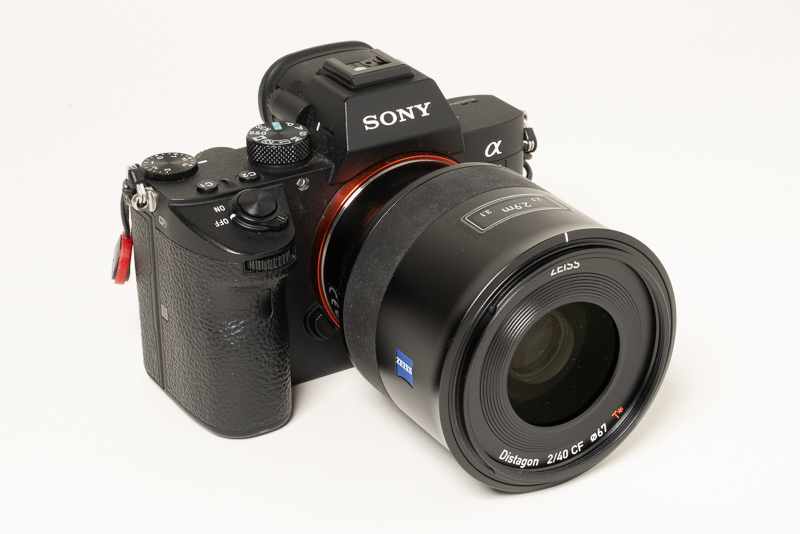 The Zeiss Batis 2/40 CF is a lens of a very popular focal length / aperture class that was missing in the FE lineup from the beginning. When we released our review 6 months ago there were some serious issues and Zeiss released a firmware update some time later. Read our review to check if that could solve all the issues.
Sample Images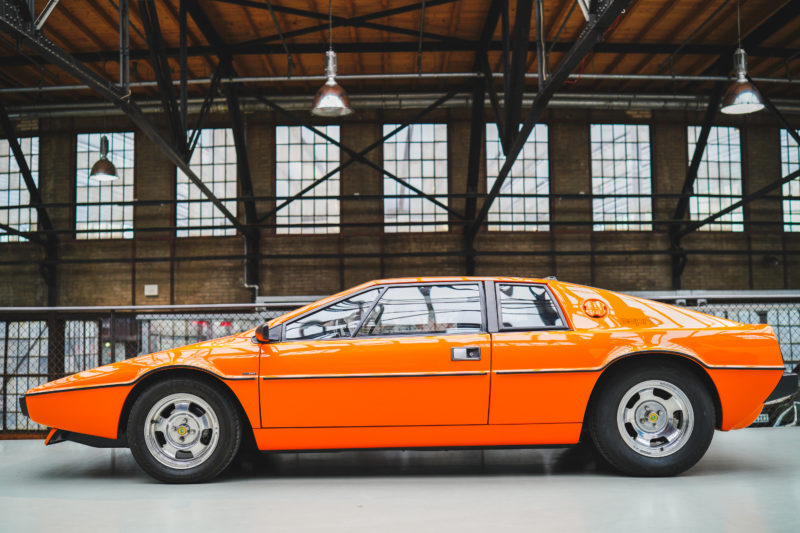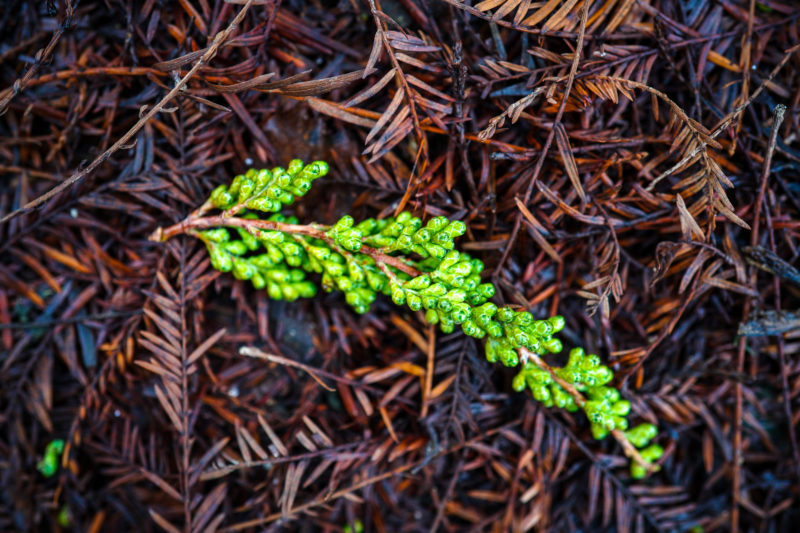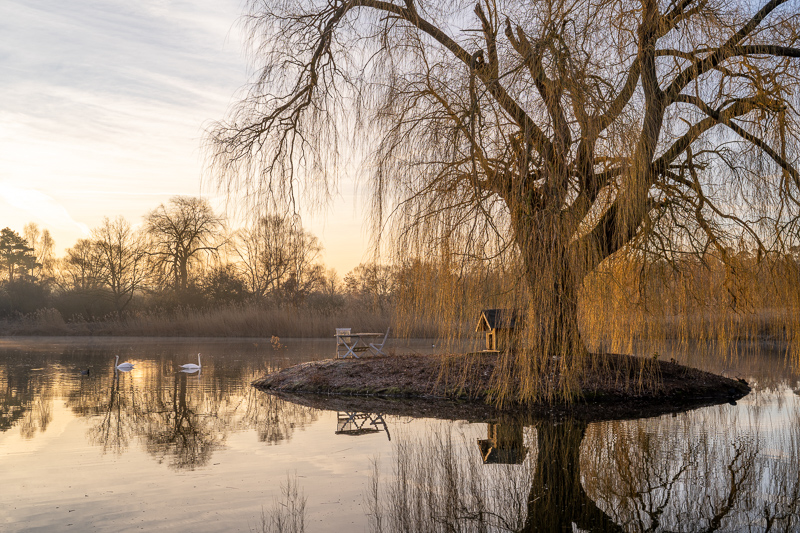 Sony A7III | Zeiss Batis 2/40 CF | f/8 | full size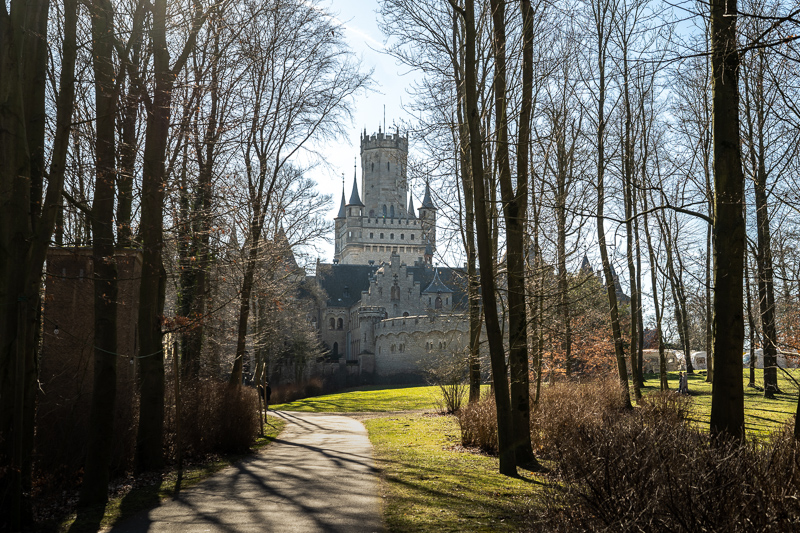 Specifications
The Zeiss Batis 2/40 CF has the following specifications
Diameter: 78-91 mm
Field of view: 56° (diagonally)
Length: 93 mm
Weight: 361g
Filter Diameter: 67 mm
Number of Aperture Blades: 9 (slightly rounded)
Elements/Groups: 9/8
Close Focusing Distance: 0.24 m
Maximum Magnification: 1:3.3
Mount: Sony-E
This is a review of my own lens.
Price : $1299/1299€
Build Quality / Handling
The build quality of the Batis 2/40 CF is in line with the other Zeiss Batis lenses. The lens has a metal barrel and a rubberized focus ring which is sticky and prone to catch dust. The shape of the lens is sleek and rather odd. It looks a bit disrupted without the lens hood.
You can call it futuristic if you want to see this in it. It almost looks like the Batis 1.8/85. The lens is quite light (361g) and rather tall for a 2/40 which makes the lens feel rather lightweight. The weather and dust sealed Batis design has proven to be robust in our long term experiences with the other Zeiss Batis lenses.
The biggest difference between the Batis 2/40 CF and the other lenses in the Batis lineup is the switch for the three focus modes:
Full focal range (infinity to minimum focusing distance)
Infinity to 0.4m (useful for fast AF in all non-macro situations)
0.5-0.24m (only for macro work)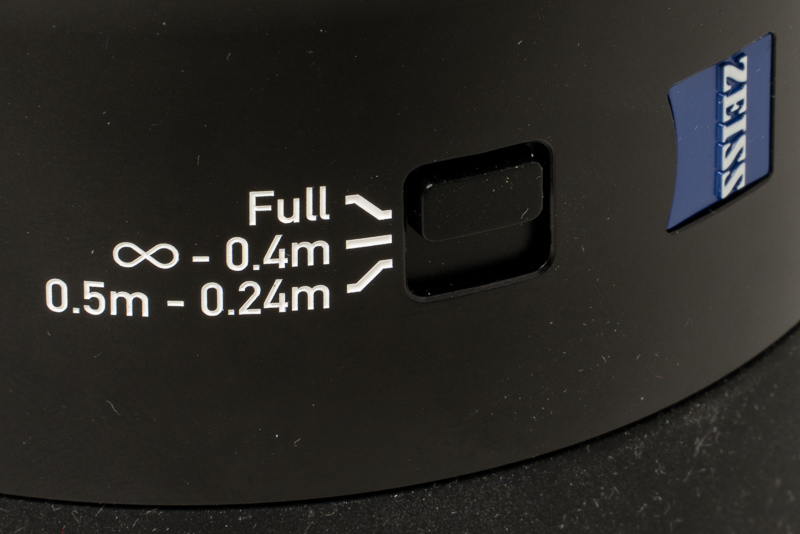 It is obvious that Zeiss tried to keep the Batis lineup as uniform as possible. This has the penalty that Zeiss isn't able to introduce comfort achievements like the AF/MF switch, aperture ring or lens button. The experience is a bit underwhelming if you use this lens after a GM prime lens.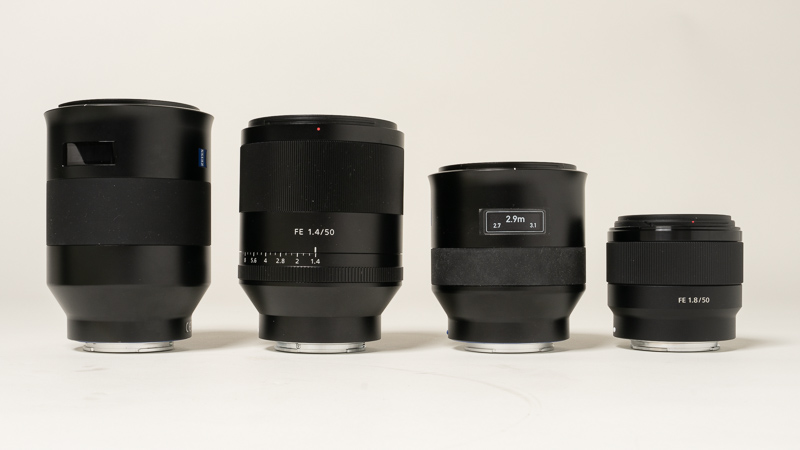 Manual Focus
Manual focusing is the same as with the rest of the Zeiss Batis family which feels okay, at least with the 3rd generation Sony cameras.
This lens doesn't have a linear transmission/coupling of the focusing ring. This makes manual focusing less direct and enjoyable than the recent Sony lenses.
Of course, this is a focus-by-wire lens. Therefore, the lens has no hard infinity stop. A speciality of the Zeiss Batis lenses is to feature a OLED-Display on top of the lens barrel. It shows a distance scale when the lens is in MF mode.This feature is not perfectly accurate but useful if you have reference points.
Auto Focus
As it was released there were two big complaints with the Zeiss Batis 2/40:
unreliable Eye AF: I got very inconsistent results at distances below 1.5m when trying to capture my kid. As did many others.
the Batis stopped down automatically as you focused closer. Beginning below a distance of 66m the Batis began to stop down automatically until f/4 at the close focusing distance of 24 cm. As a user you had no way to stop that. The reason given for that was to "keep the quality" high.
I think this behavior was unacceptable. Period. I really don't like this way of customer paternalism. Most of the photographers who are willing to spend more than a thousand dollars on a Zeiss lens are probably able to choose between speed, depth of field and image quality. What was causing the most trouble to me is that the 2/40 I had paid a thousand Euros for became a 2.8/40 with unreliable AF at typical portrait distances.
After some time and less than well handled customer complaints Zeiss announced a Firmware issue to address the issue but I decided to return the Batis and not wait for the Firmware update. This is why David Mathar takes over from here to have a closer look at the Batis after the update.
After the Firmware Update – User experience by David Mathar
AF issues with the 40 CF2 – old firmware
When Zeiss acknowledged the AF-issues and announced a firmware update (after quite a while) they framed it as an issue with Eye-AF solely. I found this somewhat hard to believe, so I tested focus accuracy of my Batis sample (before the firmware update) with small/medium flexible spot. The inconsistent AF accuracy was apparent both using Eye-AF and standard AF-C both settings within the suspicious distance (<1.5m). In more detail, the 40mm Batis suffered from front-focusing by approximately 2-3cm at these distances. I assumed that there might be a link between the automatic aperture closing and the AF issue, as both appeared at distances below 1.5m.  I also contacted Zeiss in this regard, with little success at this point. As a result, I returned my first Batis.
AF issues with the 40 CF2 – new firmware
In April this year (2019) Zeiss finally issued a firmware update addressing the user complaints about unreliable Eye-AF and automatic aperture closing. This was highly anticipated by me, as I generally love Zeiss glass and specifically like the Batis line for its moderate size and low weight without compromising on image quality. The 40mm focal length in combination with the close focusing ability seemed like a great general purpose walk-around lens. Thus, I did not hesitate and ordered my second 40mm Batis copy. Three days later, a Batis 2/40 with new firmware arrived and I took it out for a spin.
The first apparent difference to the old firmware is the reduced automatic closing of the aperture. Now, the Batis 2/40 closes its aperture from 0.65m successively in smaller steps to a minimum of 2.8. Also, if you already shoot at 2.8, the aperture doesn't close any further as compared with the old firmware. Although I would have preferred a constant 2.0 aperture, the reduced closing is much appreciated.
But did they also address the focusing issues as they claimed?
Testing AF-C accuracy
To test AF-C I took a book cover with enough details to judge critical sharpness, opened the aperture to F2 and focused with AF-C (+ small/medium flexible spot) from distances where the aperture automatically started closing.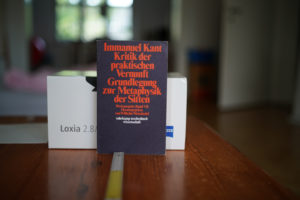 With the new firmware this resulted in distances below ~.65m. Already the first test revealed that the Batis still showed front-focusing behavior in a significant portion of the test shots. During testing it seemed that at distances, where the aperture is about to close by one increment (i.e. ~.65m: 2.0–>2.2 | ~.5m: 2.2–>2.5 | ~.35m: 2.5–>2.8), front-focusing occured reliably. With the aperture closed down a bit in relation to the distance (e.g. 2.2 at ~ .65m instead of 2.0) focusing accuracy seemed just fine again. With the aperture closed to 2.8, AF-C works reliably without any front-focusing. Here is a typical example at F2:
At first sight, without a direct comparison to F2.8 this seems more or less fine. But when zooming in a bit, softness due to front-focusing gets apparent.
A closer look at the folding ruler in the two crops reveals a front-focus under F2.
Testing Eye-AF
With the help of a photo, I repeated the same test for critical Eye-AF: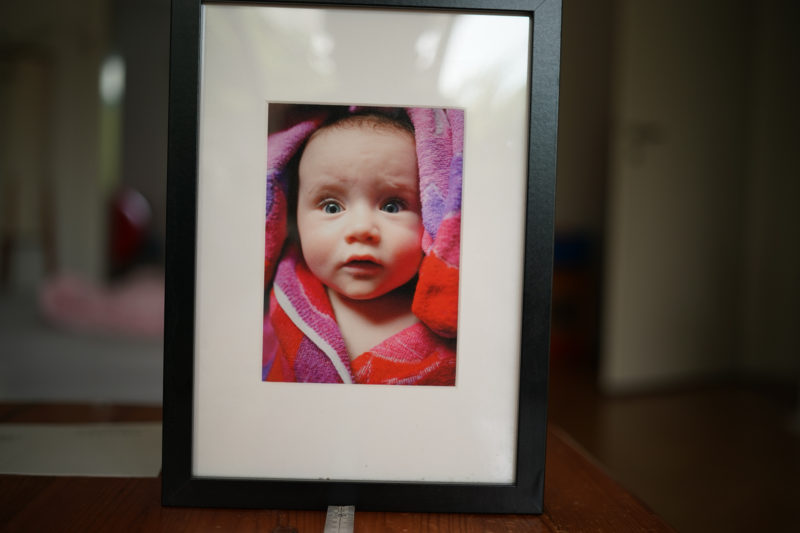 Here are the crops comparing F2 with F2.8. F2 appears soft due to front-focusing: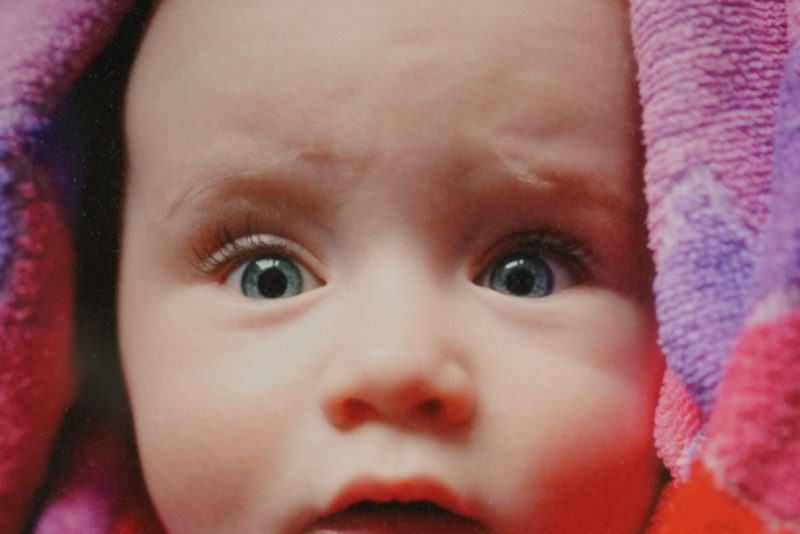 The same behavior occurs in more 'real-life' scenarios, such as taking snaps of my son. Unfortunately, the typical portrait distance falls exactly in between these critical distances. Here's one example shot of front-focusing with Eye-AF: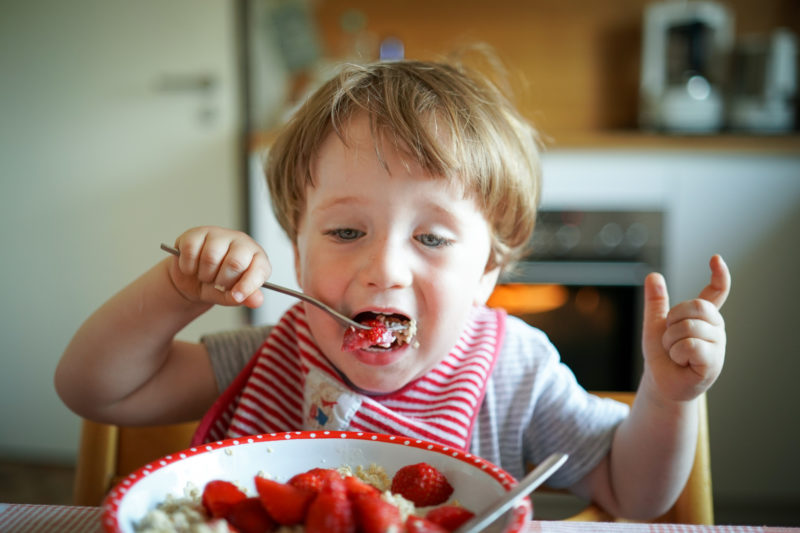 Again at first sight, sharpness seems fine. But when zooming in, the eyes are soft (although Eye-AF indicated spot on sharpness):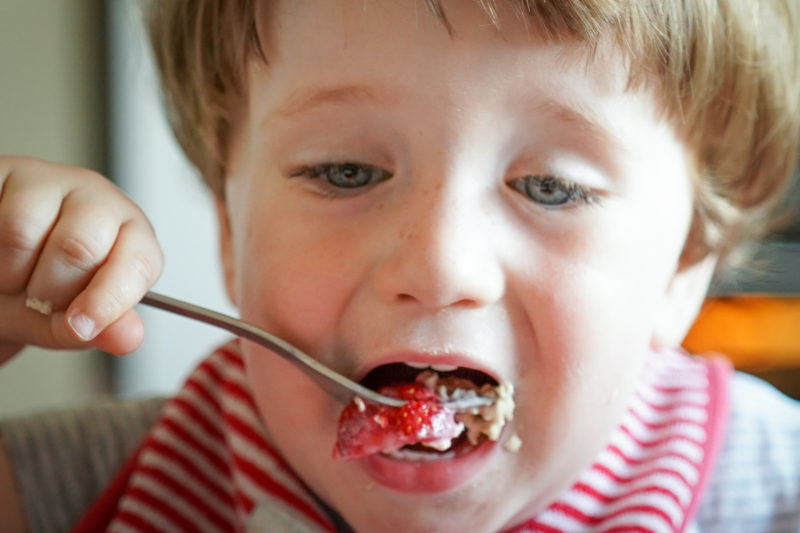 Instead, the focus plane lies on the edge of the plate (a bit in front of the eyes):
After the first AF disappointment with the new firmware, I ordered another (third) copy, but here the front-focus seemed even a bit worse. Meanwhile I had started a quite open minded discussion with a Zeiss employee. He asked for sample images, and was surprised by the apparent focusing issues. As he claimed, they did not observe such a behavior in their lab. Nevertheless, he assured me that they will test this again at some point. Just to be sure, I ordered a last (fourth) copy. However, the results remained the same. I cordially invite Zeiss to loan me a copy without the above outlined issues to prove their claim.
Firmware Update – Conclusion 
After the firmware update the Batis 2/40 still stops down automatically but only to f/2.8 and only from a distance of 0.65m. AF is now reliable at distances above 0.65m or with the aperture closed to at least 2.8. AF is still unreliable when the 2/40 is used wide open at closer distances which is a typical setting for tighter portraits. For a lens in this price range, this is simply unacceptable in my opinion. This is really disappointing as, focusing issues aside, I really like the versatility and the output I get from the Batis. As some might say, it has quite some character.
Sharpness
infinity

The Batis 2/40 CF shows very good results when it comes to infinity sharpness across the frame.
f/2: Sharpness in the centre and in the midframe are already very good to excellent. Corners also show good sharpness.
f/2.8: Visible boost in contrast, especially in the centre. Corners improve a bit and are now very good.
f/4: Image is excellent across the frame.
f/5.6: Sharpness and contrast peaks.
f/8: first diffraction penalties are visible.
f/11: Diffraction is clearly visible.
Close Up
Won't be tested with the current firmware!
Flare resistance
The Zeiss Batis 2/40 CF has generally quite good flare performance and is especially very resistant against veiling flare. Nevertheless, Ghostings can be quite pronounced if the light source is really bright.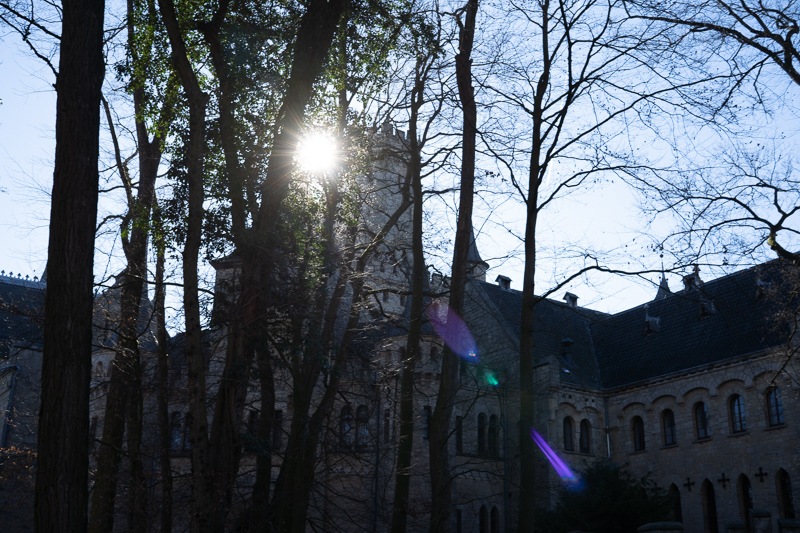 Coma
Stars are rendered well from the center to the edges, very overexposed light sources like the bright star below have a slight halo. One of the best performances of a lens below 50mm that I have seen yet.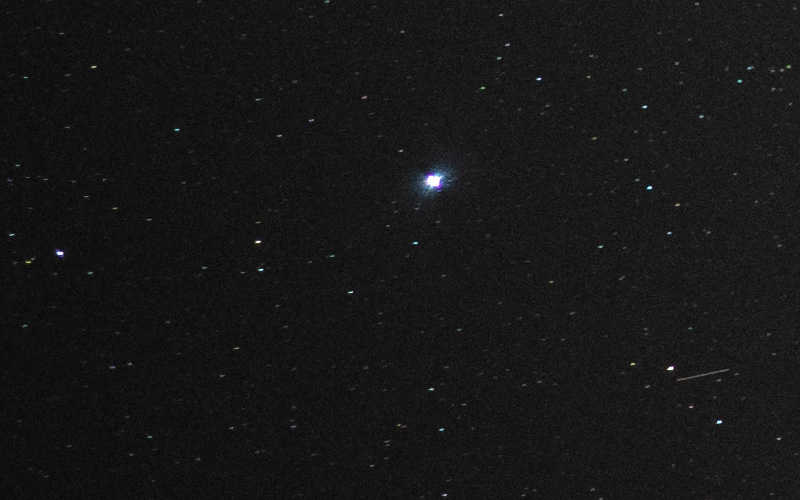 Distortion
Low pincushion distortion, LR value around -1.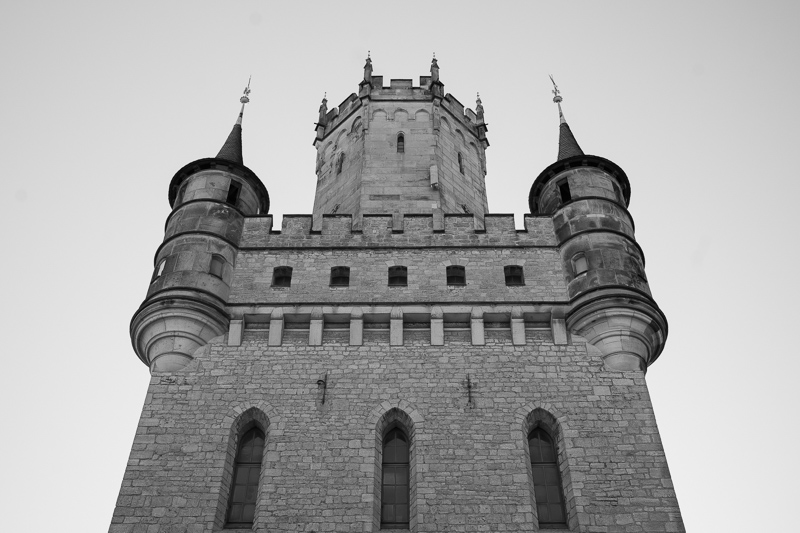 Vignetting
The vignetting performance is comparable to many lenses in its class. Looking at native FE options, most small lenses like Voigtländer 1.2/40, Zeiss Loxia 2/35 or Sony FE 2.8/35 show more pronounced vignetting.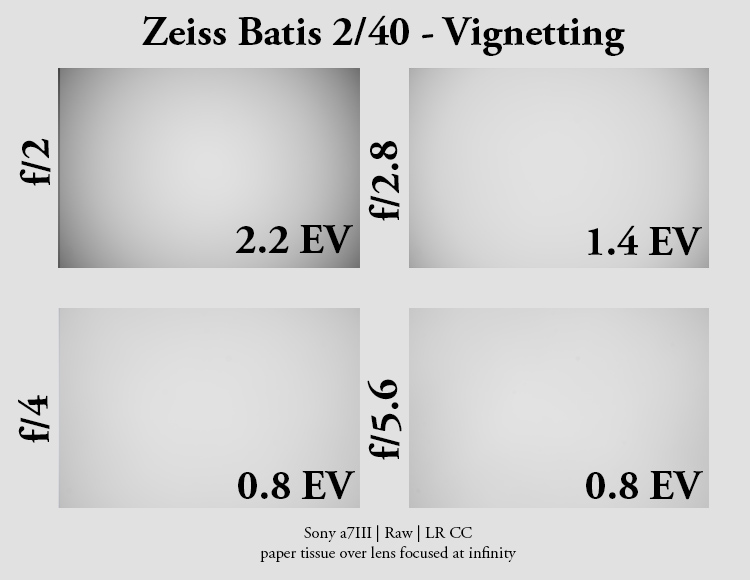 Bokeh
Rather contrasty/structured, onion rings, nonagonal shapes stopped down. Not the best lens for smooth and clean bokeh. Gets smoother the closer you get. Reminds me of Batis 1.8/85 in general.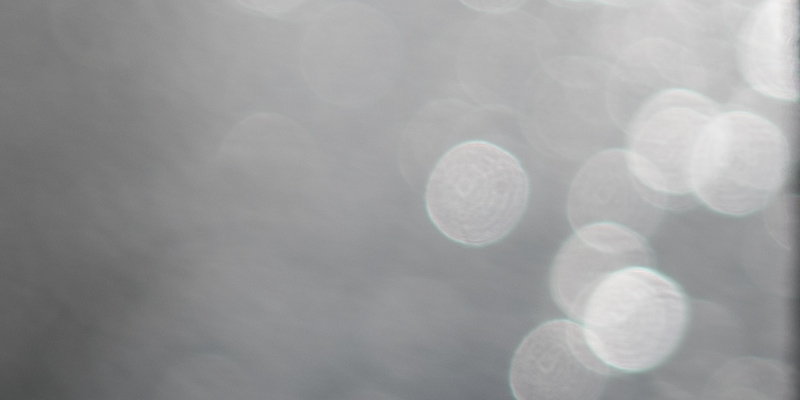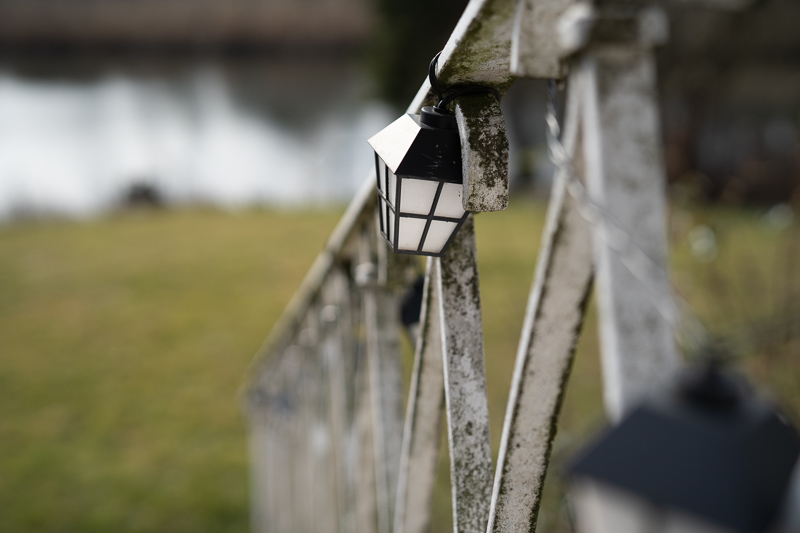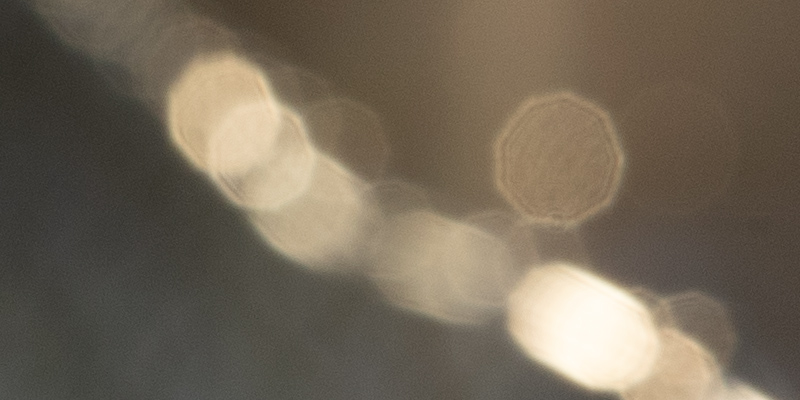 Chromatic Aberrations
Lateral
This lens shows minor lateral chromatic aberrations. Even if the cameras JPEG lens corrections are all turned off, LaCA is very unobtrusive.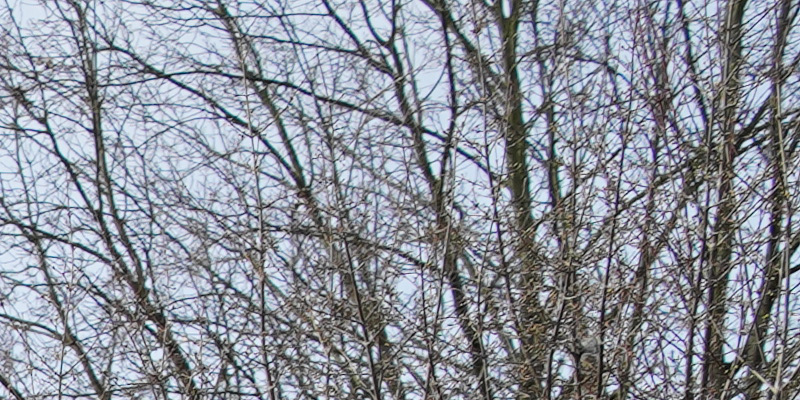 Longitudinal
The lens can exhibit some green/purple longitudinal chromatic aberrations under demanding circumstances. The level of LoCA is mostly low, even when I expected to see much of it. The performance seems to be a fair bit better than most competing fast Sony lenses (1.8/50, 1.8/55 ZA, 1.4/35 ZA, 1.4/50 is also better corrected).
Note that the automatic aperture closing can improve the impression artificially in that test. I'll redo it after the firmware update.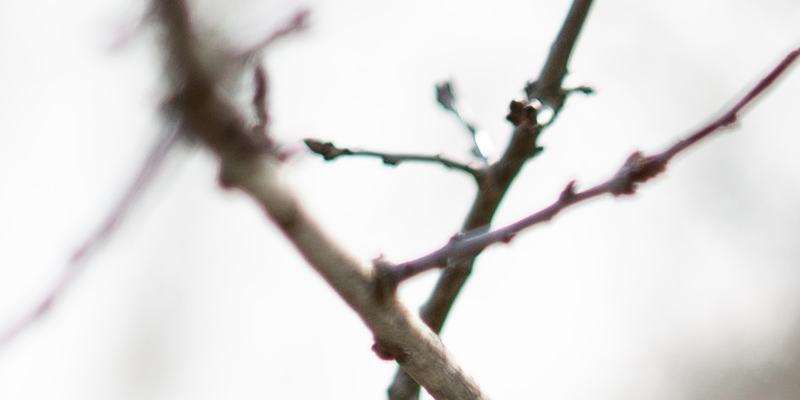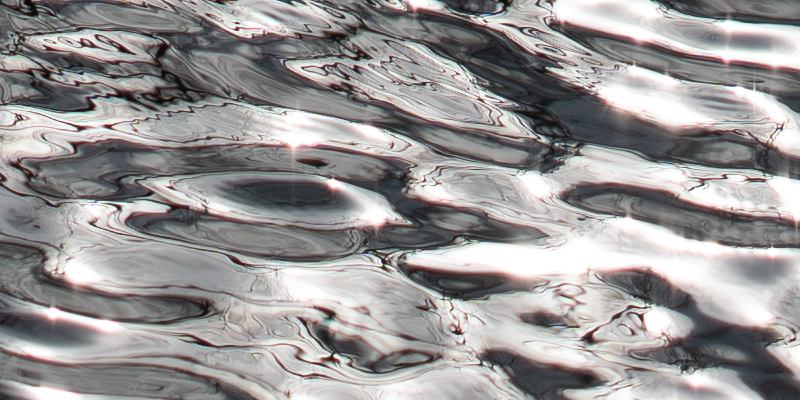 Sun Stars
As expected, sun stars are not very defined and are hardly ever there. Actually it is the opposite of the extremely pronounced and big Zeiss Loxia sun stars. I did a sun and a street lantern test. Note that the Batis 2/40 is already stopped down at f2 on a target that is 30m away from the camera:
Alternatives
This list could be endless in this lens class, I will try to cover the most relevant:
Compared to the Batis 2/40 CF, this lens is smaller but much faster. It shows a balanced performance and is a good everyday option if you can live with MF. Optically, it shows worse correction and is also less sharp on the edges of the frame. Vignetting is high and MFD is much worse.
Samyang 1.8/45
At half the weight and a much smaller size and price the Samyang is an attractive alternative to the Batis if you are willing to compromise on build quality, deal with higher variance and magnification. I had no issues with my copy in this regard but other reported inaccurate AF.
Sigma 1.4/40
A behemoth of a lens but with a much smoother rendering and superior sharpness. Check our comparison.
Sigma 2.8/45
A small lens with super smooth rendering and good sharpness but it also has serious AF issues up to several meters.
Sony FE 1.4/50 ZA

The Sony FE 1.4/50 ZA has a true focal length of 47mm, quite close to the Batis 2/40 CF. I own the lens for quite a long time. It is razor sharp in the central region even at f1.4 and renders beautifully with nice bokeh and contrast. It is my preferred choice for all people related photography if weight is not an issue. However, its 778g let reach for something lighter.
This is where this little lens comes into play. It is super light and very small. Its AF is fast and reliable on the A7III, something I can't say about the Batis 2/40 CF yet. Optically, it isn't as sharp (wide open) and well corrected, is more prone to flare, has worse MFD but better bokeh. Regarding its price, it's hard not to recommend it.
This lens is brighter and smaller but the focal length is quite different and it also lacks the close focusing capabilities. It is very sharp wide open and stopped down. AF is very fast and reliable . Bokeh is not great either and LoCA can be a problem.
This lens is tiny and also very sharp if you find a good copy. Much worse MFD and high vignetting. Funny enough that this lens and the Batis 2/40 share the same aperture for portraits at the moment.
Like the 1.4/50 ZA, this lens is very large and heavy. It is optically quite capable but can't reach the same optical quality in comparison. Very nice transition zone but onion ring plagued bokeh. Not the best landscape lens due to a visible midzone dip. Furthermore it has horrible sample variation. I tried it many times but didn't get a well centered sample.
This is the in-house competitor of the Batis 2/40 CF. The lenses are very different from each other. The Batis is optically more capable and features AF. The Loxia has great MF, is much smaller and has good sun stars.
Canon RF 1.8/35 IS
This is obviously not an alternative for everybody who already owns an E-Mount camera. Nevertheless, I need to mention this lens here. It is faster, has optical image stabilization, even better MFD (still sharp without automatic aperture closing!) and is smaller, lighter and much cheaper. To me, this lens looks like the real deal in this lens class and lets the Batis look quite odd in comparison.
Conclusion
good

very good sharpness across the frame even wide open

low chromatic aberrations

close focusing

weight

weather sealing

fast and silent AF

low distortion

low coma

average

vignetting
size
bokeh
flare resistance
OLED display is nice to have but inaccurate

not good

unreliable Eye-AF and AF-C in some settings

automatic aperture closing

non-linear manual focusing

sticky focus ring

price

Undefined sun stars
The Zeiss Batis 2/40 CF is an optically very capable but quite expensive lens with issues a lens at this price shouldn't have.
It is able to render with high sharpness, contrast and decent flare resistance. It shows low distortion and coma.The Batis is also quite light, well built, weather sealed and focuses very close which makes it a possible choice as an everyday lens. The bokeh is not really disturbing but has high contrast, outlining and onion rings.

The bad manual focus experience (non-linear) and the undefined sun stars (for those who like defined sun stars, myself included) are the major shortcomings for landscape photography.
After the firmware update issues are not as annoying as before but they are still an annoyance you wouldn't expect in a lens of this price class. If you shoot tight portraits AF can be unreliable and a closed aperture is forced upon you at short distances. There are of course still many applications where the behavior isn't an issue and the other qualities weight a lot more but you should keep the flaw in mind when making a purchase decision.
More Sample Images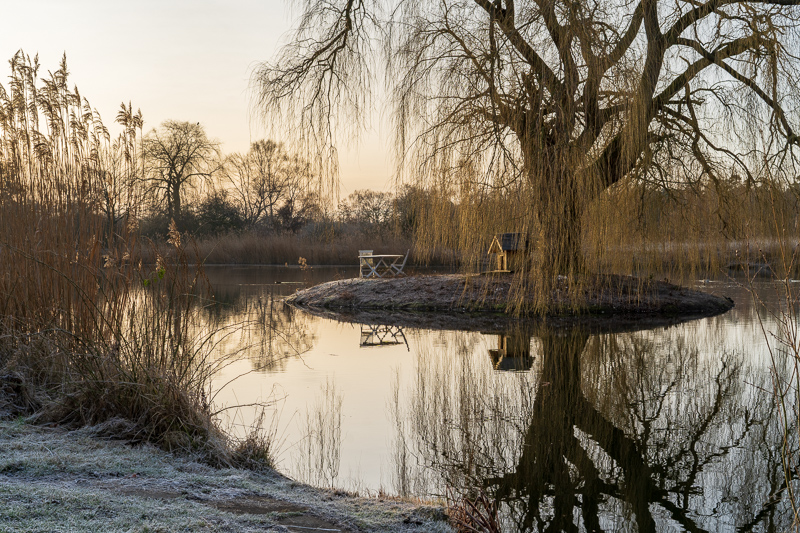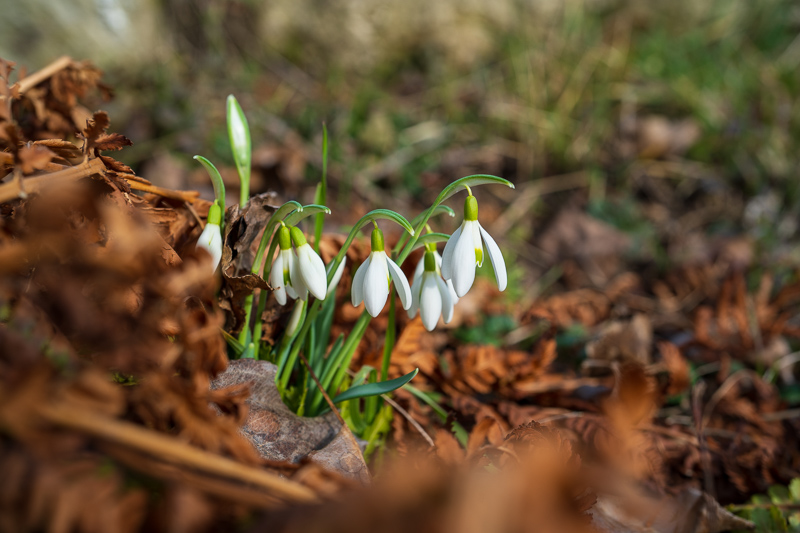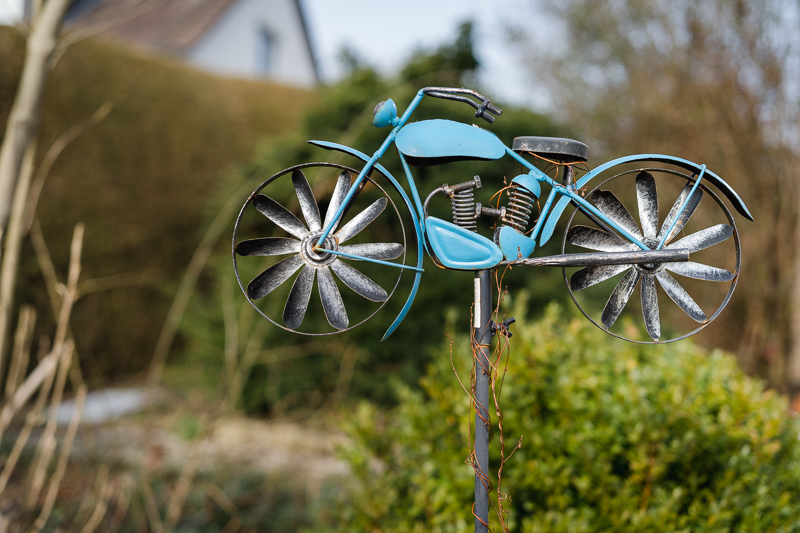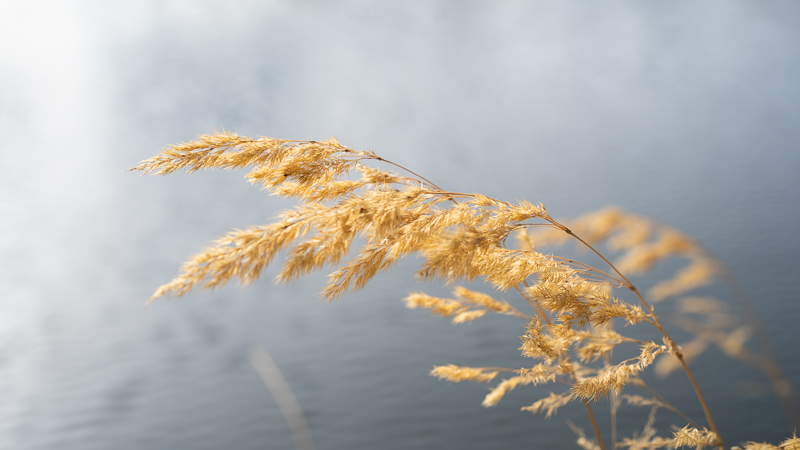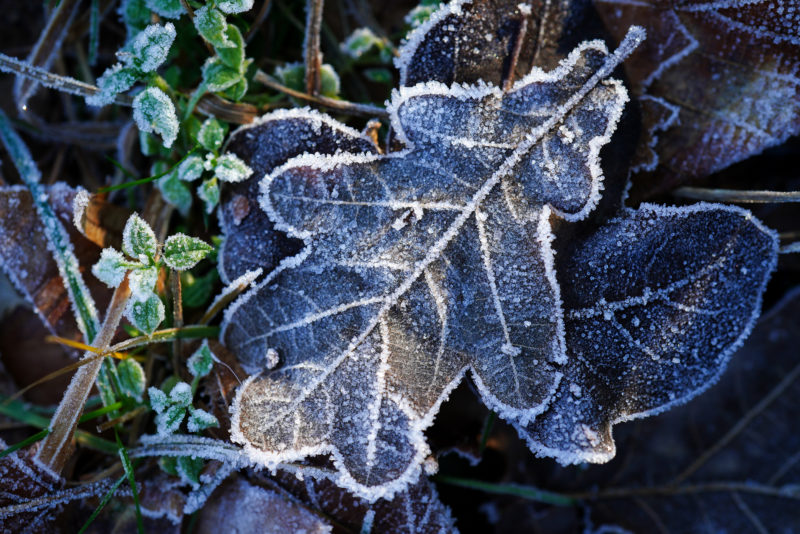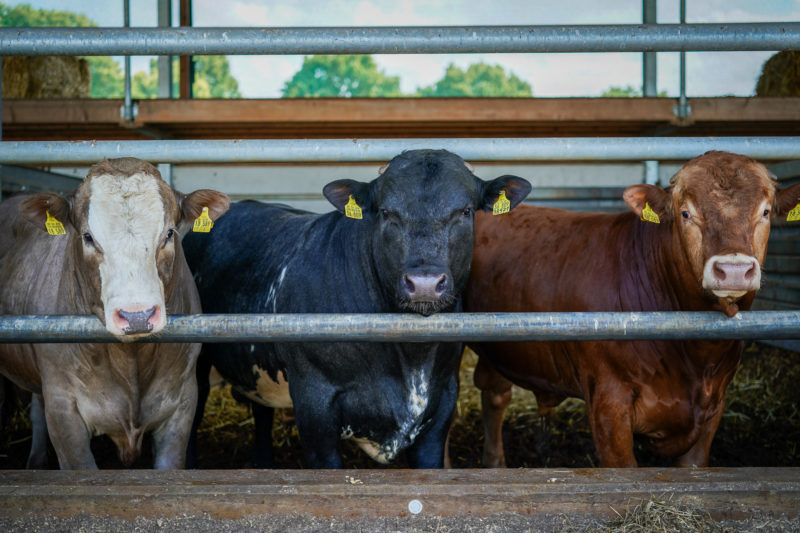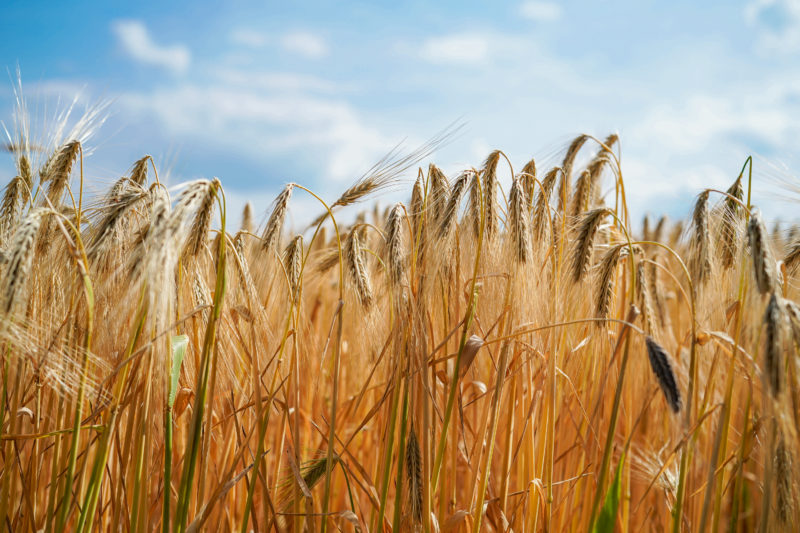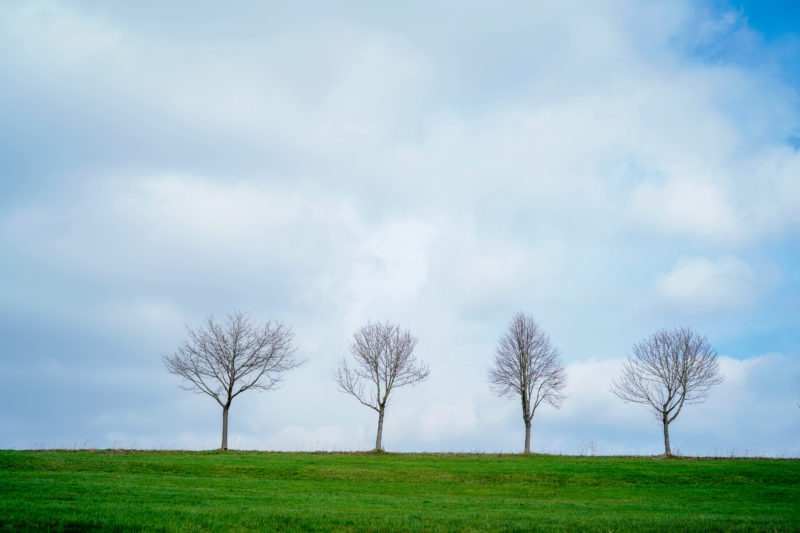 Further Reading
The following two tabs change content below.
Jannik Peters
I am a passionate photographer from northern Germany and I love landscape, architecture, travel, portrait and family photography. I use manual lenses but I also enjoy the comfort of autofocus lenses, therefore both can be found in my bag.
Latest posts by Jannik Peters (see all)