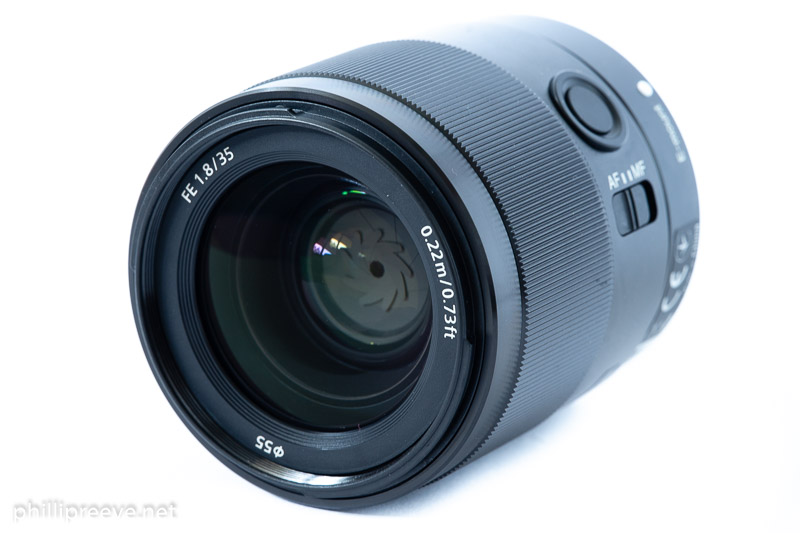 The Sony FE 1.8/35 has been one of Sony's most anticipated lenses. So can they live up to the expectations? Read on if you want to know.
Sony FE 1.8/35 Review
Most images in this review can be found in full resolution in my Sony FE 1.8/35 flickr set.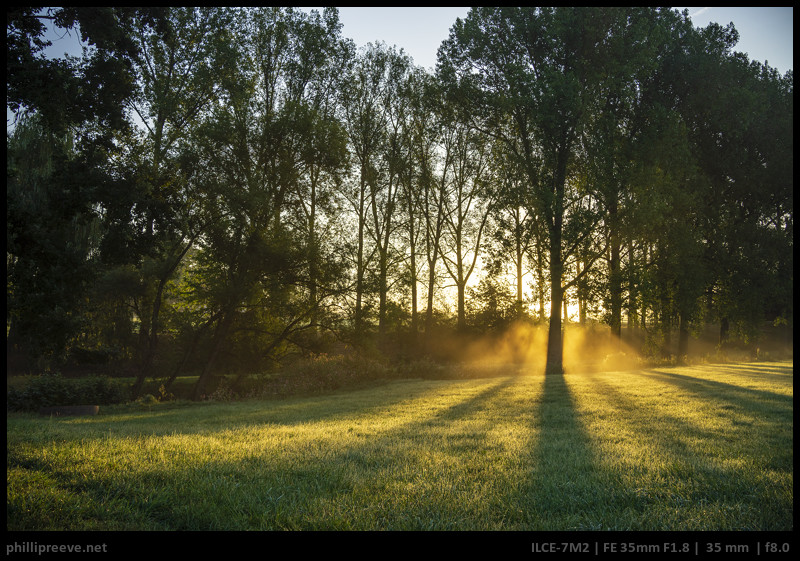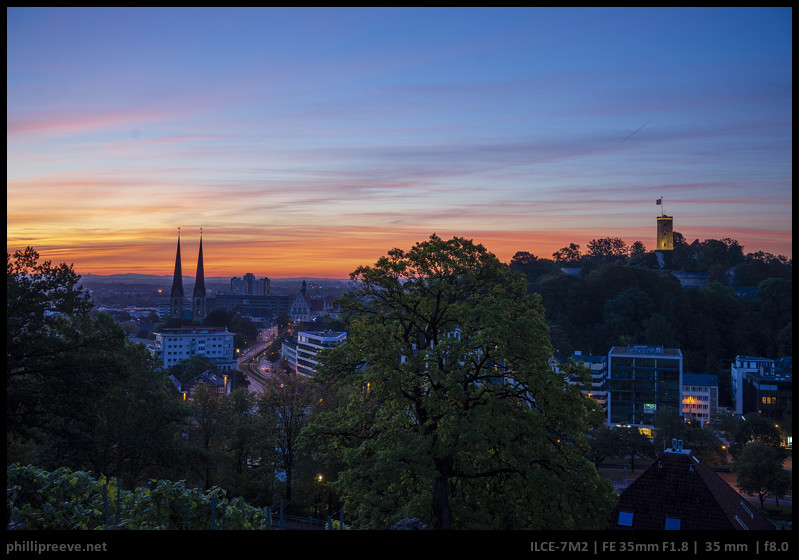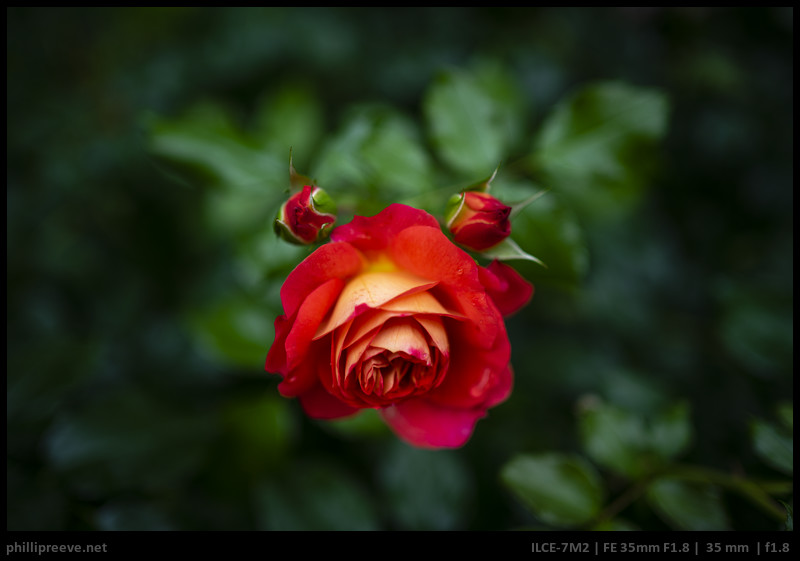 Specifications
| | |
| --- | --- |
| Diameter | 66 mm |
| Length | 73 mm |
| Filter Thread | 55 mm |
| Weight (no hood, no caps) | 280 g |
| Max. Magnification | 0.24 |
| Close Focusing Distance from the sensor | 22 cm |
| Number of aperture blades | 9 |
| Elements/ Groups | 11/9 |
| Mount | E-mount |
The Sony FE 1.8/35 has a recommended price of $749. Check current prices at amazon.com, B&H or ebay.com. In Germany the recommended price is 699 €. Check at amazon.de. If you purchase the lens through one of these affiliate-links I get a small compensation with no additional cost to you. .
Disclosure
This copy was loaned to me free of charge from Sony Germany for two weeks. 
Features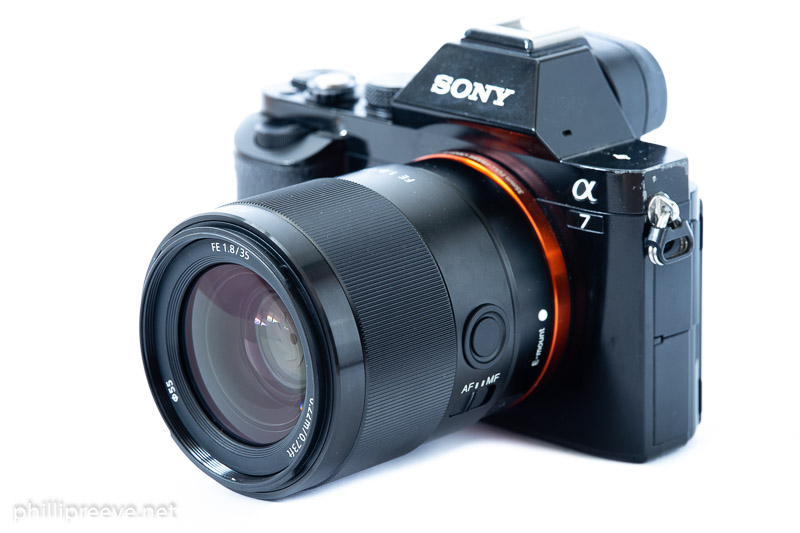 The Sony FE 1.8/35 offers a focus-hold button which can be programmed to useful functions such as eye AF. It also features a AF-MF switch. Another feature is highest magnification of any current 35mm E-mount lens of 1:4.
Build quality
The Sony FE 1.8/35 feels nice thanks to a metal hull and a wide focus ring with a pleasant resistance. In the past Sony's metal hulls have scratched rather easily and it will be interesting to see how well the Sony holds up long term.
Sony claims that it is a weather resistant design. I have no way to verify that without risking serious trouble with Sony so if you find a teardown please tell me.
Handling
AF
I used the Sony FE 1.8/35 only on my a7II wich is a much slower focusing camera than the a7III and Sony's other new models. I was generally happy with the nearly noiseless AF. Reading other photographer's reports it seems that the 1.8/35 also performs really well on faster cameras. Some called it the fastest focusing 35mm prime in E-mount right now
Focus Ring
The well damened focus ring travels around 150 degrees from 22cm to infinity and focus is linear. While this is one of the best implementations it is still a focus by wire lens with the usual small but annoying lag.
Hood
Theo Sony FE 1.8/35s hood is made from plastics, locks safely into place and protects the front of the lens well without taking ip too much volume so I always left it attached to the lens.
Size and Weight
At just 280g the Sony FE 1.8/35 is very light weight especially for its speed. It weights less than half as much as the available 1.4/35 E-mount AF-lenses while being just half a stop slower. It is significantly larger and heavier than the tiny 2.8/35 lenses from Sony and Samyang though. On the a7II it felt very well balanced.
Optical performance
These results are based on the use with a Sony Alpha 7II.
Flare Resistance
As always evaluating flare is a complex matter since you can get any lens to look bad if you push it hard enough and a slight change of scenario will affect results a lot.
I would rather the Sony FE 1.8/35 as average. I read quite a few other reviews praising its performance in this regard but those were mostly lab based and I had quite a few images where significant ghosting and veiling flare affected images. In other scenarios it hold up well.
before: unprocessed image | after: processed image with lifted shadows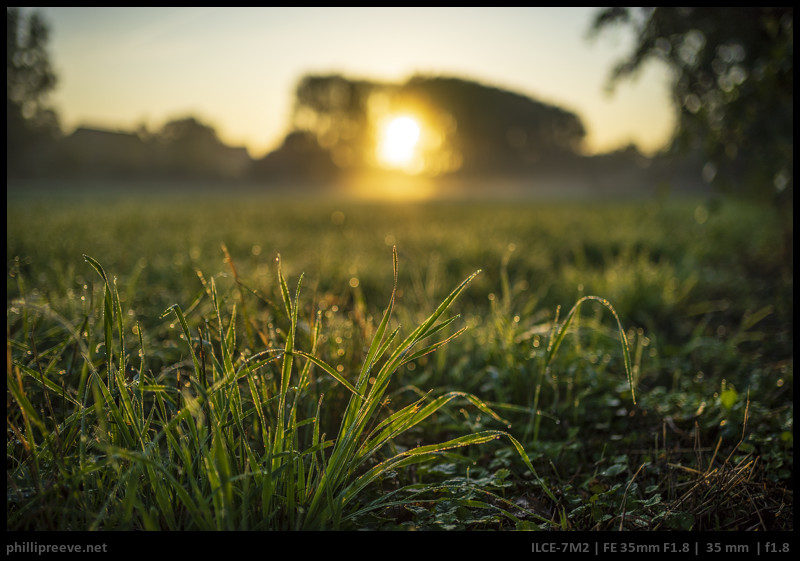 Sunstars
9 rounded aperture blades result in average at best sunstars even stopped down a lot.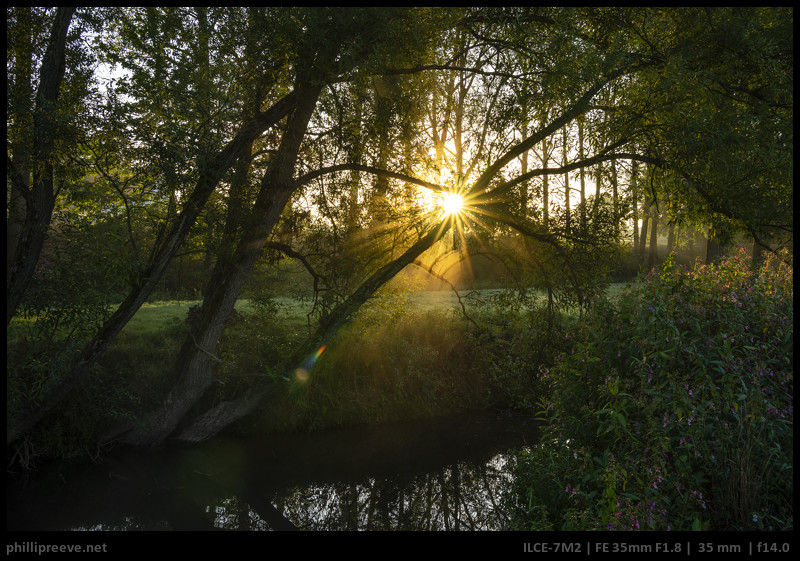 Bokeh
Out of-focus-highlights are rendered neutral with little outlining at shorter distances and some outlining off-center at longer distances.
Bokeh circles are rather rendered clean with no obvious onion rings. They also stay more or less round as you stop down.
Cat's eyes are visible but they aren't very pronounced.
The transition zone is a bit nervous.
In most scenarios you can expect rather smooth bokeh from the Sony FE 1.8/35 but in more difficult scenarios with high contrast background at longer distances bokeh can become somewhat harsh. A characteristic it shares with most other 35mm lenses.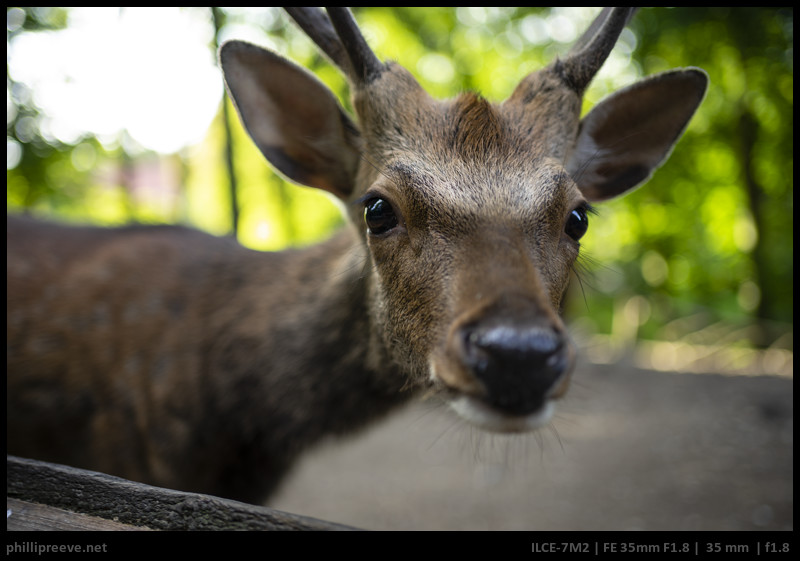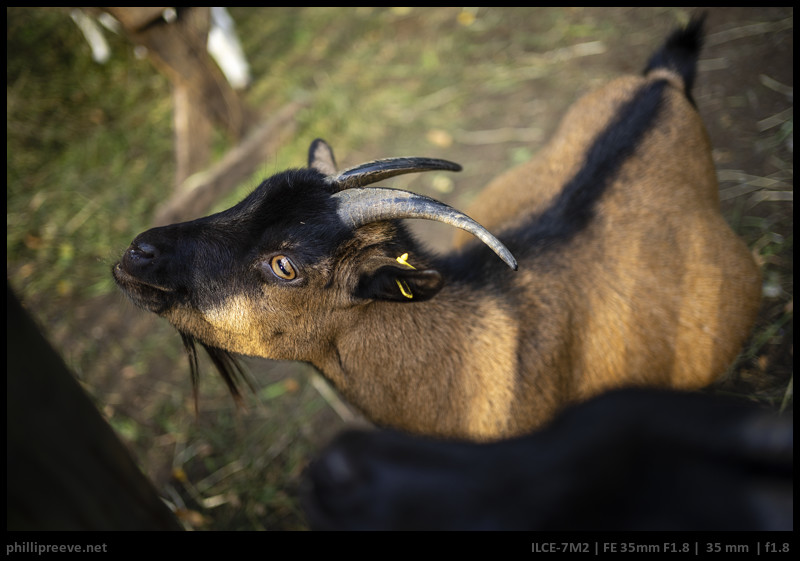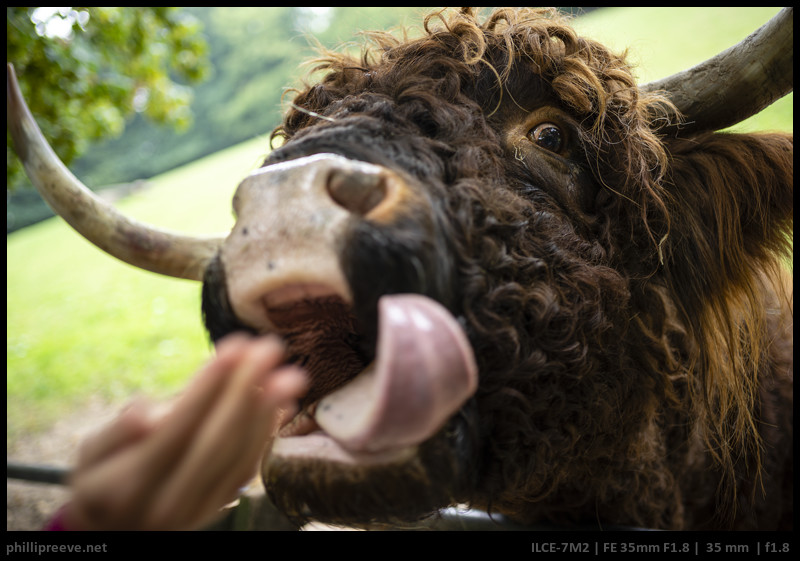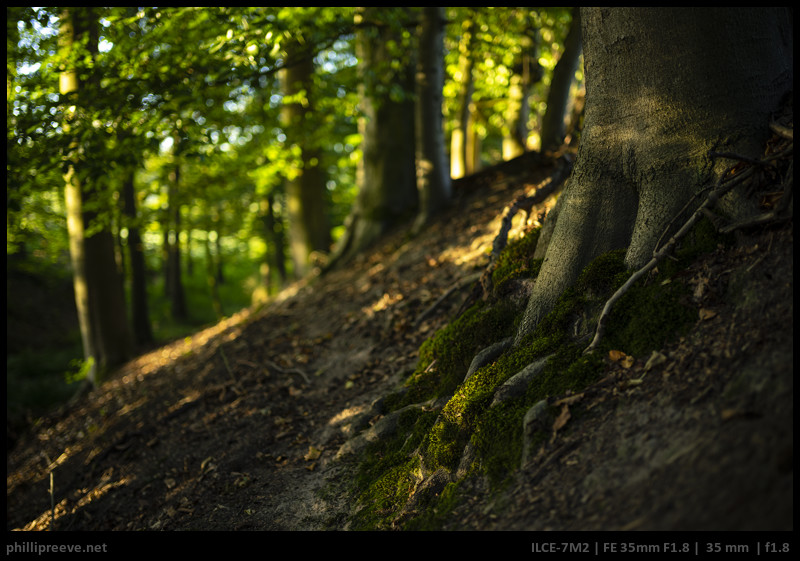 Chromatic Aberrations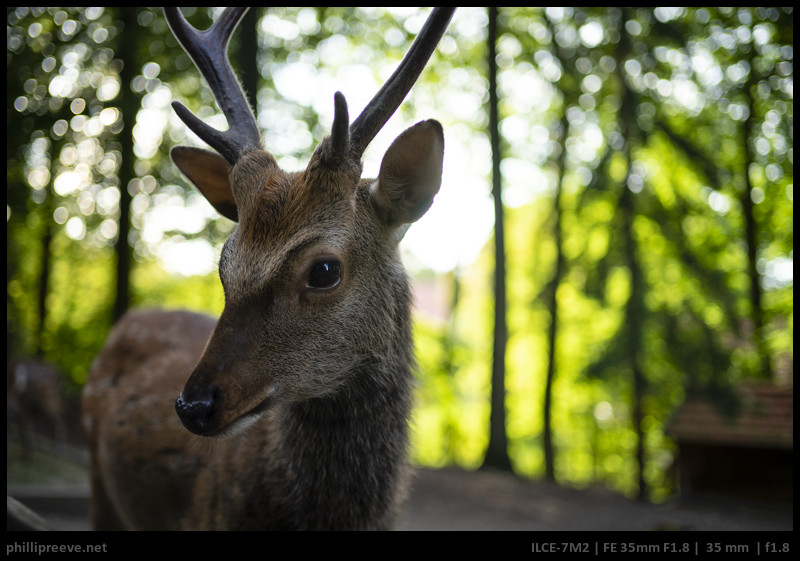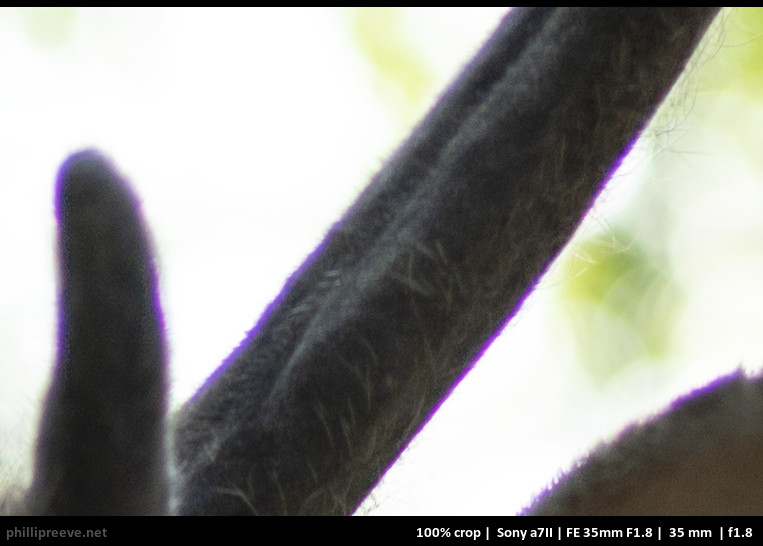 Axial CA isn't well corrected until f/4 and in high contrast scenarios you will se quite bit of color fringing. This is usual for a fast 35mm lens and can be manually corrected to a degree.
Since I use LR correction of lateral CA is corrected by profile and I can't turn the correction off. It isn't corrected that well though and some CA is still visible.
Vignetting
| | |
| --- | --- |
| Aperture | Vignetting |
| f/1.8 | 2.6 EV |
| f/2 | 2.5 EV |
| f/2.8 | 2.4 EV |
| f/4 | 2.3 EV |
| f/5.6 | 2.1 EV |
Vignetting is pretty strong at 2.6 stops wide open which is reduced to 2.1 stops at f/5.6. This high amount of vignetting is one reason why the Sony FE 1.8/35 can be so compact. Because vignetting stays above 2 stops even at f/8 and is abrupt I had quite a few landscape images where I felt I should correct it.

Distortion
Only a small amount of pincushion distortion.
Astro-Performance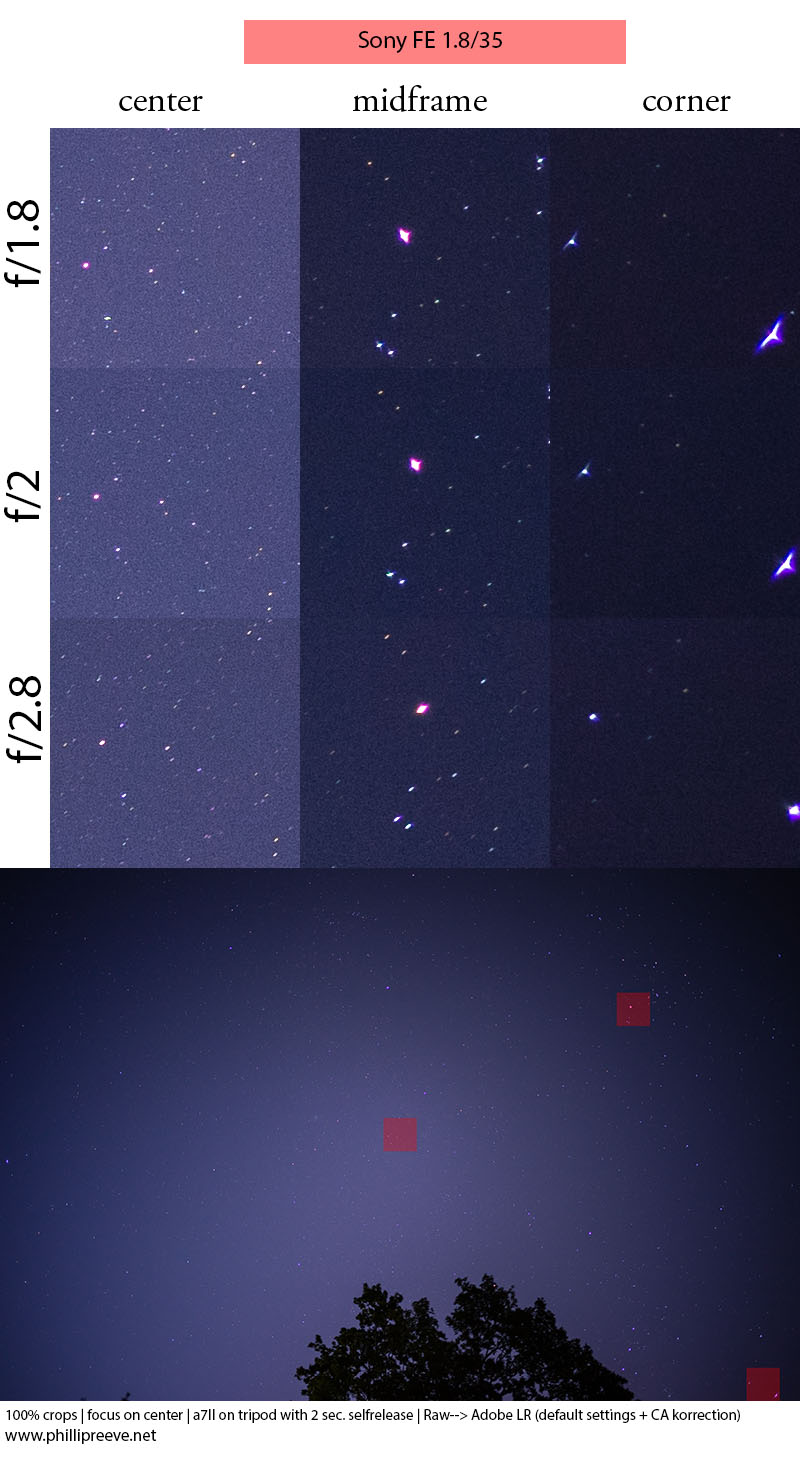 You have to stop the SEL35F18F down to f/2.8 for a decent astro performance and even then you have to accept the high amount of vignetting.
Sharpness
close focusing distance
First I have to compliment Sony for giving the 1.8/35 1:4 magnification. This is the highest magnification among 35mm E-mount lenses. At f/1.8 there is quite a lot of spherical aberration present but by stopping down to f/2.8 this goes away and you can expect crisp results.
infinity

f/1.8: Good in the center. Good outside of it.
f/2: A slight improvement over f/1.8 everywhere.
f/2.8, f/4: Excellent in the center, good to very good outside of it.
f/5.6: A light improvement midframe and in the corners.
f/8: A tad softer in the center.
f/11: Some what softer due to diffraction.
All in all a good performance. You can use f/1.8 with little hesitation for most applications and by f/2.8 you can expect very good results even in the corners. Only the most demanding users will want to look for slightly better performance in the ART 1.2/35.
Alternatives

Sigma Art 1.4/35: At the time I finish this review the more than twice as heavy Sigma is actually $50 cheaper than the Sony 1.8/35. Of course you get more blur out of the Sigma and you can expect less vignetting at shared apertures but have to live with onion ring bokeh. Apart from these factors optical performance seems to be similar in most aspects. By some reports the Sony is quicker to focus. Unless you really need that half stop or are on a very tight budget the Sony seems to be the more appealing lens to me.
Samyang 1.4/35: New the Samyang is currently $200 cheaper, used the difference is even bigger. You get more blur, a little smoother bokeh and a much bigger and heavier lens. Reports about AF are all over the place for the Samyang, in general it doesn't seem as dependable. Manual focus is annoying. There is also seems to be a high degree of copy to copy variation.
Sony ZA 1.4/35: A $1600 lens which is decentered more often than not.
Sony ZA 2.8/35: Size is the only advantage of the 1.5 stops slower lens I see.
Sigma Art 1.2/35: The current king of 35mm lenses. At least in E-mount. It is quite a bit sharper and it is currently the only E-mount 35mm lens which offers smooth bokeh across the frame at any distance. It is also twice as expensive and four times as heavy.
Batis 2/40: The most comparable E-mount lens in terms of speed and size. The 100g heavier and significantly more voluminous Zeiss focuses a bit closer, is a bit sharper and of course much more expensive. It also has some AF-issue.
Voigtlander 1.2/40: If you prefer manual focus have a closer look at this very versatile lens. It is quite a bit longer than the 1.8/35 but for me it fulfills a similar role and it is my most used lens. It is shorter and a little heavier with better flare resistance but apart from that the 1.8/35 is technically the better lens in most regards.
Voigtlander 1.4/35: A close relative of a 40-years-old Leica with corresponding performance. If you like character lenses.
Sonnar 2/35 (RX1): Besides the Art 1.2/35 the only 35mm I know which offers smooth bokeh across the frame. General performance seems to be a notch above the 1.8/35. The only issue is that it comes permanently attached to either the older RX1 or to the still rather expensive RX1RII.
Zeiss Loxia 2/35: Wide open the Sony is a much better lens than the manual focus Loxia but for stopped down for landscapes I would expect the Loxia to outperform it in contrast and actuance and the much nicer sunstar.
Conclusion
pros

Size & Weight

Sharpness (mostly)

Bokeh (mostly)

Handling

Quick AF

Low Distortion

average

Astro-performance
Flare Resistance
Manual focus
CA-correction
Bokeh (at longer distances)

cons
The Sony FE 1.8/35 is a very well balanced lens. It is very sharp, for most applications. It has pleasant bokeh at short to medium distances and becomes a bit harsher at longer distances but so does almost any competing 35mm. In general it corrects all aberrations good enough so that you need to push it for them to become distracting. At the same time it handles well thanks to quick AF, ok MF and useful buttons without any quirks. And the 1.8/35 manages all that while being rather small and significantly lighter than most competing E-mount lenses. Therefore I would say that the Sony 1.8/35 will easily keep up with most photographer's expectations. Only the price seems to be maybe $100 too high at the moment and I hope that we will see it come down a bit with time.
Recommendation
Because it is such a well balanced lens I would recommend the Sony FE 1.8/35 to most photographers looking for a 35mm lens. It is a small lens you can rely on to capture your kids, a smaller detail in nature or a landscape and you don't need to think twice about taking it with you. Of course there are some use cases where I would recommend other 35mm lenses:
If you want to be certain to never compromise on sharpness and/or bokeh you should have a look at the twice as expensive and four times as heavy Sigma 1.2/35 ART.
If you feel you need a faster lens but don't want to break back or bank check out the Sigma 1.4/35 ART.
If you are on a tighter budget have a look at the Samyang 1.4/35 which has a few quirks but it offers a very good price/performance ratio.
Personally I prefer manual focus lenses like the Voigtlander 1.7/35 or 1.2/40.
The Sony FE 1.8/35 has a recommended price of $749. Check current prices at amazon.com, B&H or ebay.com. In Germany the recommended price is 699 €. Check current at amazon.de. If you purchase the lens through one of these affiliate-links I get a small compensation with no additional cost to you.
More Image Samples
Most images in this review can be found in full resolution in my Sony FE 1.8/35 flickr set.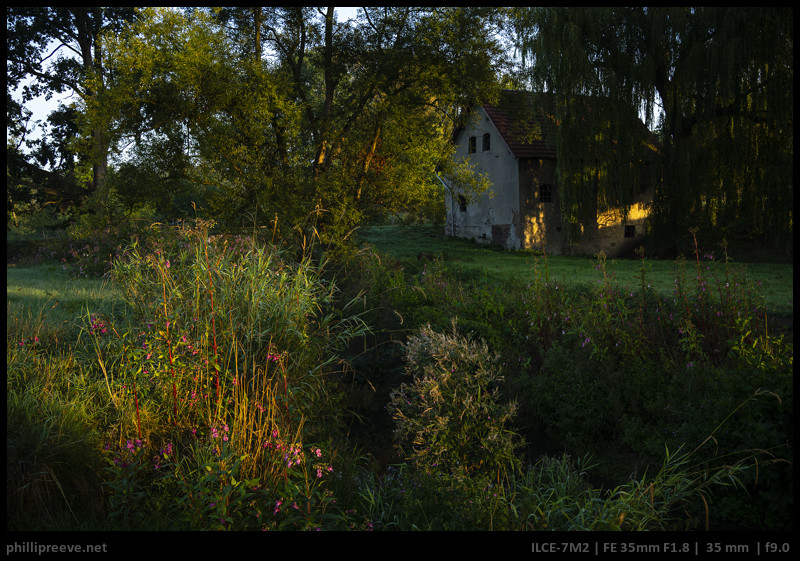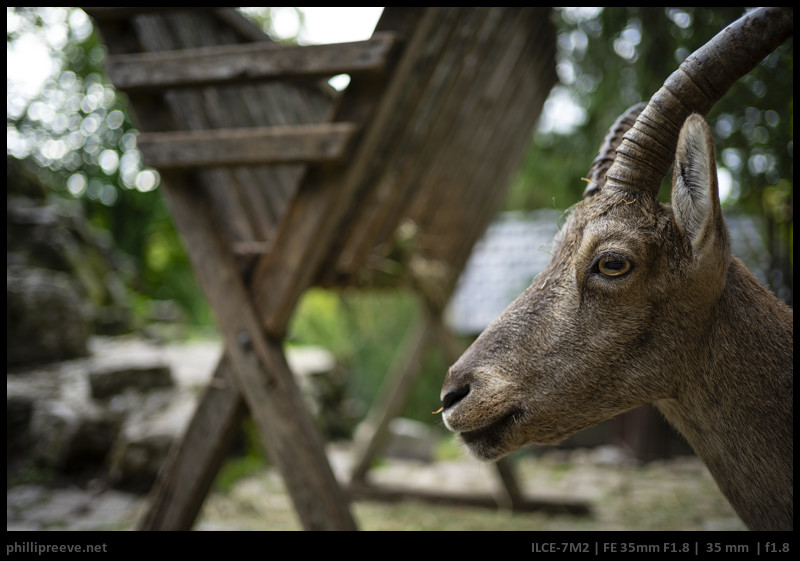 Other articles
The following two tabs change content below.
I have two hobbies: Photography and photographic gear. Both are related only to a small degree.
Latest posts by Phillip Reeve (see all)