Introduction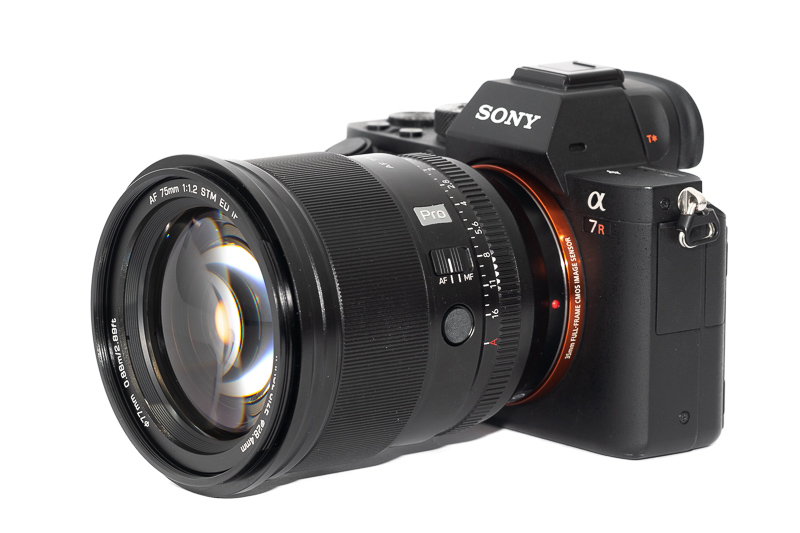 If you are a regular reader you know I only rarely review APS-C lenses – I only use fullframe cameras and therefore have no personal use for APS-C lenses – but Viltrox played it smart by just sending this 75mm 1.2 AF to me without asking first. I guess they were hoping a fullframe equivalent of 113mm f/1.8 coupled with the raving reviews from the Fuji-X users would be enough to convince me to have a closer look at this lens. As you are reading this now, it seems their plan came together.
Update: lens is available to order from the manufacturer's shop (use the code PRnet for 8% discount) | ebay.com (affiliate links) now
Sample Images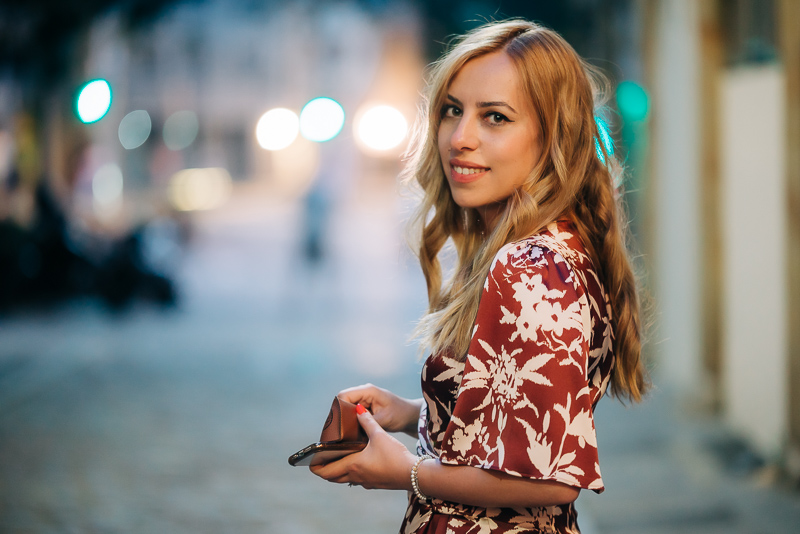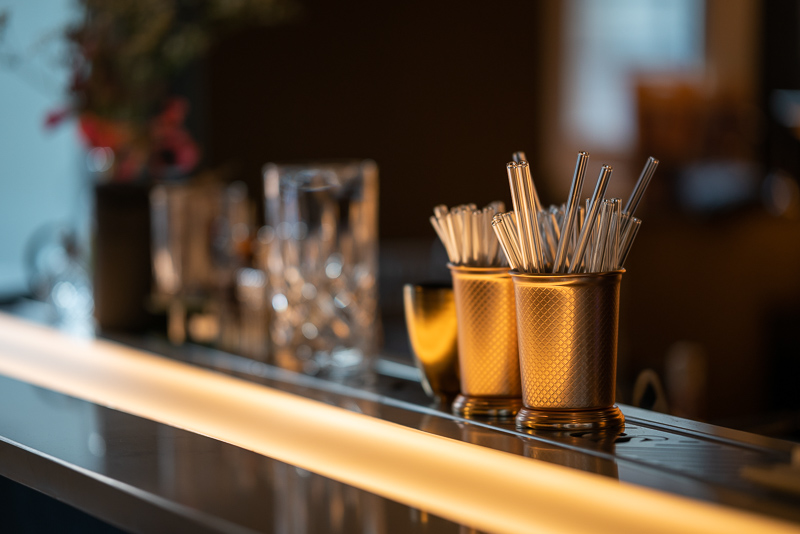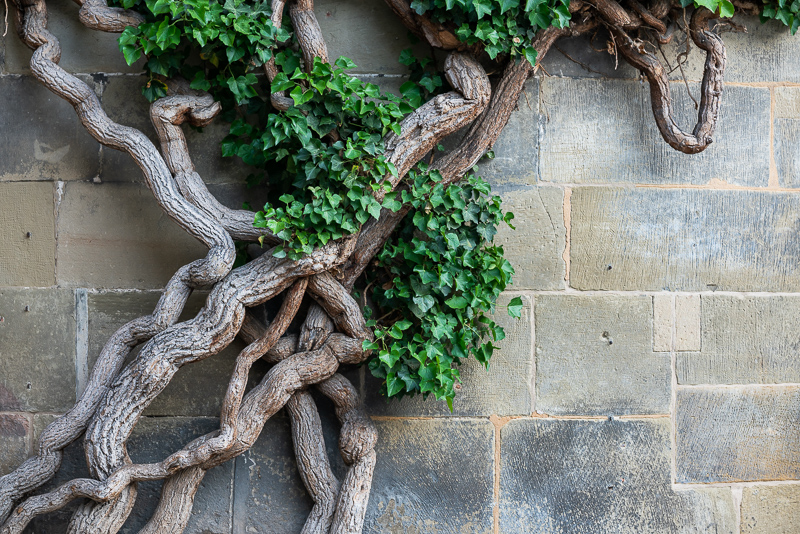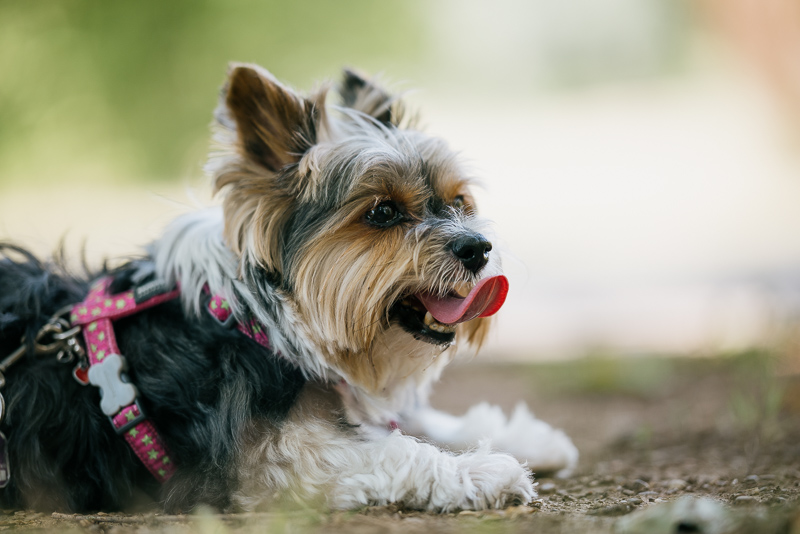 Most of the sample images in this review can be found in full resolution here.
Specifications
The Viltrox 75mm 1.2 AF E has the following specifications:
Diameter: 87 mm
Field of view: 21.4° (diagonally)
Length: 101 mm
Weight: 674g (without hood and caps)
Filter Diameter: 77 mm
Number of Aperture Blades: 11 (rounded)
Elements/Groups: 16/11


Close Focusing Distance: 0.88 m
Maximum Magnification: 1:9.6 (measured)
Mount: Sony E (APS-C)
The E-mount version is scheduled to be officially released on July 31st, 2023.
buy from manufacturer's shop (use the code PRnet for 8% discount) | B&H | amazon.com | amazon.de | ebay.com | ebay.de (affiliate links) for $549

Disclosure
The Viltrox 75mm 1.2 AF E was kindly provided free of charge by Viltrox for reviewing purpose for a few weeks.
Handling/Build Quality
When released in mid 2023 this 75mm 1.2 AF was the first and only lens of Viltrox' "Pro" line up. The build quality and materials are hardly distinguishable from the fullframe Viltrox 16mm 1.8 AF FE though, except for the absence of an LC display here.
The aperture ring has 1/3 of a stop click stops – which you can declick by using a lever on the right side of the lens.
You can also set the ring to "A"(utomatic) and let the camera choose the aperture value or to be able to use the camera dial to change the aperture value instead of using the aperture ring.
The focus ring has okay damping and a linear coupling. No matter how fast you turn the focus ring it always takes ~270° from the minimum focus distance (0.88 m) to infinity.
When you turn your camera off the lens will remember the last focus position and will still be there when you turn the camera on again.
The lens does feature a focus-by-wire system and not the best I have used, as when trying to set precise focus you may notice rather abrupt "steps". I guess most people will mainly use this lens with eye-AF though, in which case this will go unnoticed.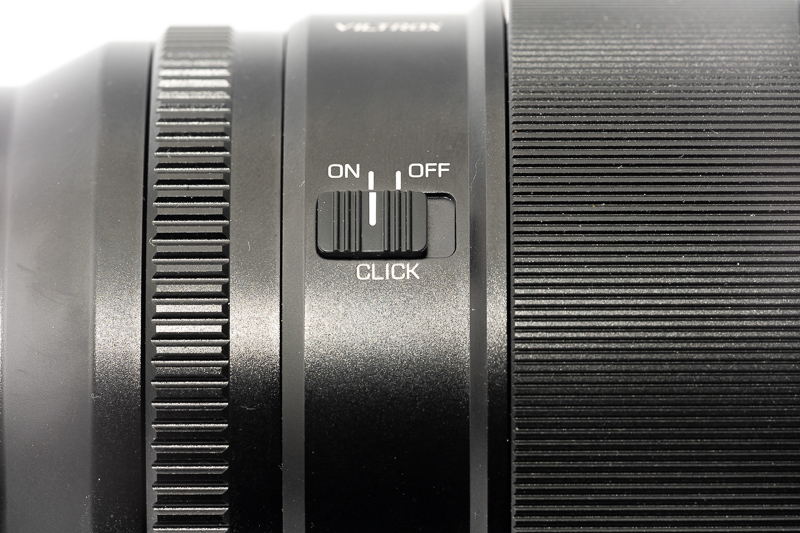 On the left side of the lens there is the lens button and an AF/MF switch and on the right side a de-click lever for the aperture ring.
As was already the case for the Viltrox 16mm 1.8 AF FE there are also a rubber gasket and a USB-C socket for firmware updates to be found at the bayonet.
The outer casing seems to be made from a high quality polycarbonate and all markings on the lens barrel are engraved and filled with paint. The markings on the front retention ring seem to be only printed though.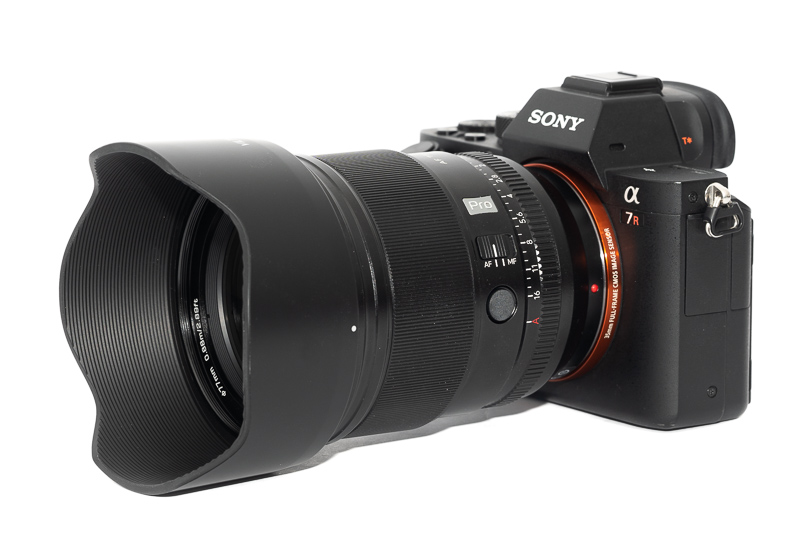 The quality of the hood is inbetween those of the 16mm 1.8 and 28mm 1.8. It is made from slightly cheaper materials than the actual lens' casing but it snaps firmly into place.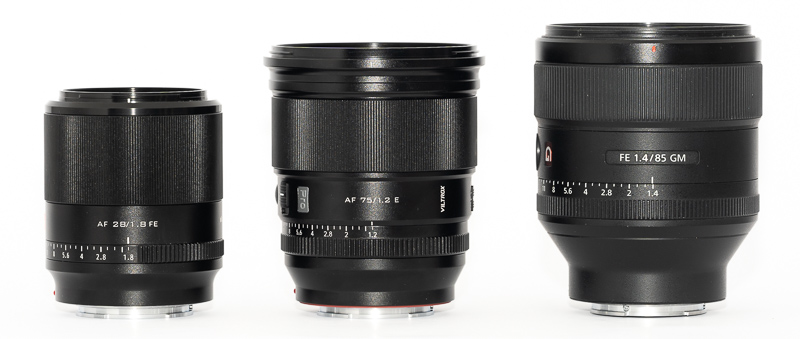 I have no comparable APS-C lenses to compare this lens to so I am showing it next to the Sony FE 85mm 1.4 GM as well as the Viltrox 28mm 1.8 AF for fullframe.
AF performance
I am not shooting sports or fast moving animals/humans so if you want to know if the lens is fast enough for this or how it compares to other lenses in this segment you may have to look for a different review with a more detailed assessment of this aspect.
In everyday use I found the AF to be very fast, perfectly usable and also silent..
Vignetting
Light Falloff
| | |
| --- | --- |
| f/1.2 | 2.2 EV |
| f/1.4 | 1.9 EV |
| f/2.0 | 1.1 EV |
| f/2.8 | 0.7 EV |
| f/4.0 | 0.4 EV |
| f/5.6 | 0.1 EV |
| f/8.0-f/16 | 0.0 EV |
About 2 EV at f/1.2 and no light fall off at all from f/5.6. A typical performance for a lens with these parameters. The 7Artisans 75mm 1.25 shows a bit higher vignetting figures, but it also has to cover the whole fullframe area.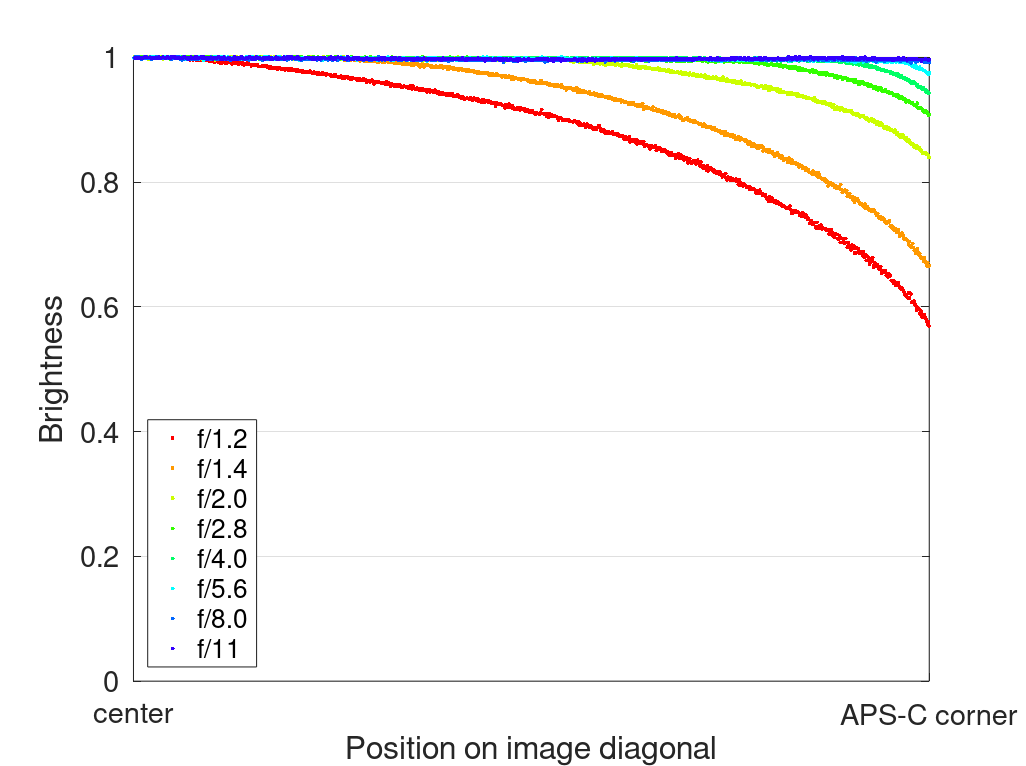 It is recommended to have a look at this article first to get an idea how this brightness graph works.
I know there are always some of you wondering how much more than the APS-C area does this lens cover? Well, not that much:
Sony A7rII | Viltrox 75mm 1.2 AF | focus set to infinity
Optical Vignetting
Fast lenses usually show a noticeable amount of optical vignetting. Without going too much into technical details optical vignetting leads to the truncation of light circles towards the borders of the frame.
In the center of the frame almost every lens will render a perfect circle, but only lenses with very low optical vignetting will keep this shape in the corners.
So in the following comparison we move from the center (left) to the APS-C corner (right) and see how the shape of the light circle changes.
Sony A7rII (crop mode) | Viltrox 75mm 1.2 AF | ~2.0 m
The lens was set to ~2.0 m focus distance, results may vary at other distances.
The amount of optical vignetting is high and the shape of the out of focus highlights also deteoriates noticeably towards the borders and corners, leading to the typical cat's eyes shape. Considering the specifications of this lens this doesn't really come as a surprise.
Viltrox doesn't claim any aspherical elements and there are also no onion rings visible.
The mostly vertical lines running through the circles are due to the glass I used as a mirror to take these pictures and are not a feature of the lens.
Sharpness
Focus Shift

Sony A7rII (crop mode) | Viltrox 75mm 1.2 AF | 50% crops
With some lenses the point of optimal focus shifts on stopping down and this Viltrox 75mm 1.2 AF E is one of those lenses. On Sony cameras this is irrelevant though, because the cameras generally focus with the lenses stopped down to the desired value.
infinity (18mp Sony A7rII in crop mode)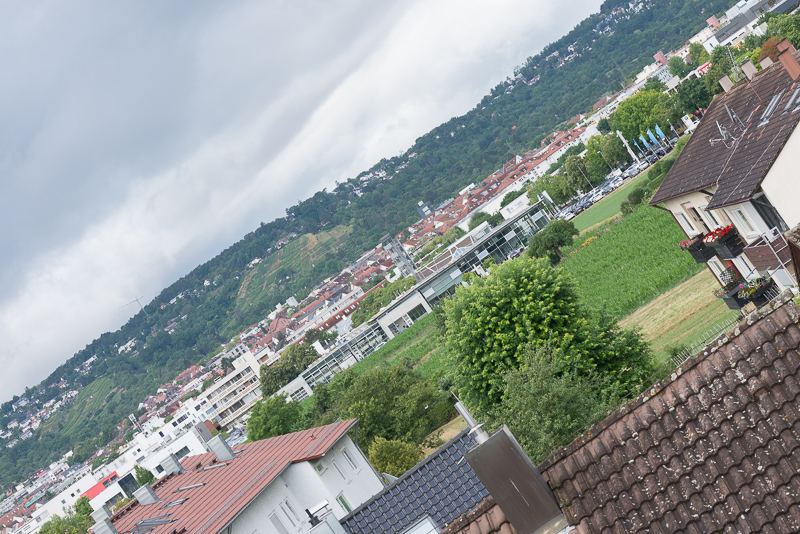 This will not take much time: the Viltrox 75mm 1.2 shows an impeccable performance here. Already at f/1.2 the performance is so good, stopping down really only extends the depth of field. I have no idea what more we could wish for.
portrait distance (3.3 m)

I refocused for every shot and aperture to get the best possible result at different locations in the frame (center, inner midframe and outer midframe).
The circle of the dollar bill is more or less the size of a human eye.
f/1.2 <—> f/2.0
Sony A7rII (crop mode) | Viltrox 75mm 1.2 AF | 100% crops
The trend continues at portrait distances, also here great from f/1.2.
close (0.88 m, 1:9.6)

Sony A7rII | Viltrox 75mm 1.2 AF | 100% crops
Only at the minimum focus distance stopping down actually has a notable influence on the image quality, as here the lens shows sharper results at f/2.0.
When using f/1.2 in the field I haven't been disappointed either though.
Flare resistance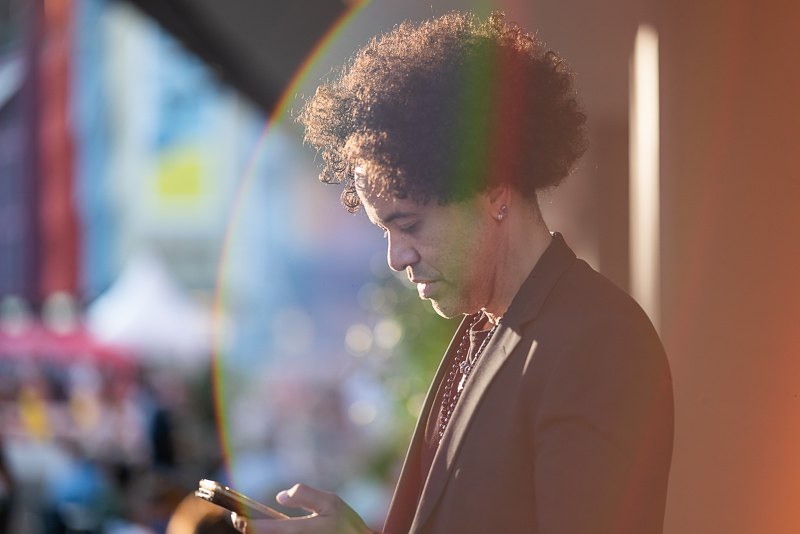 As always evaluating flare is a complex matter since you can get any lens to look bad if you push it hard enough and a slight change of scenario can affect results a lot.
That being said: tele lenses usually struggle in this category and very fast lenses do, too. And this is a very fast tele lens.
At maximum aperture you can encounter some ring flares and also ghosts. In backlit portraits some of you may actually like this kind of ghosts, as they mainly brighten one part of the frame without being overly distracting:
Sony A7rII (crop mode) | Viltrox 75mm 1.2 AF | f/1.2
Stopped down, depending on the position of a strong light source in the frame, we can encounter way more obvious and obtrusive artefacts though. Most prominent are some green ghosts that may even span across the whole frame:
Sony A7rII (crop mode) | Viltrox 75mm 1.2 AF | f/8.0
At f/1.2 we see a red ring flare as well as some internal reflections. The internal reflections are gone by f/1.4, to get rid of the ring flare as well it takes stopping down to f/1.7:
Sony A7rII (crop mode) | Viltrox 75mm 1.2 AF
In the field in backlit scenarios it is rather common to encounter some artefacts, like in this picture: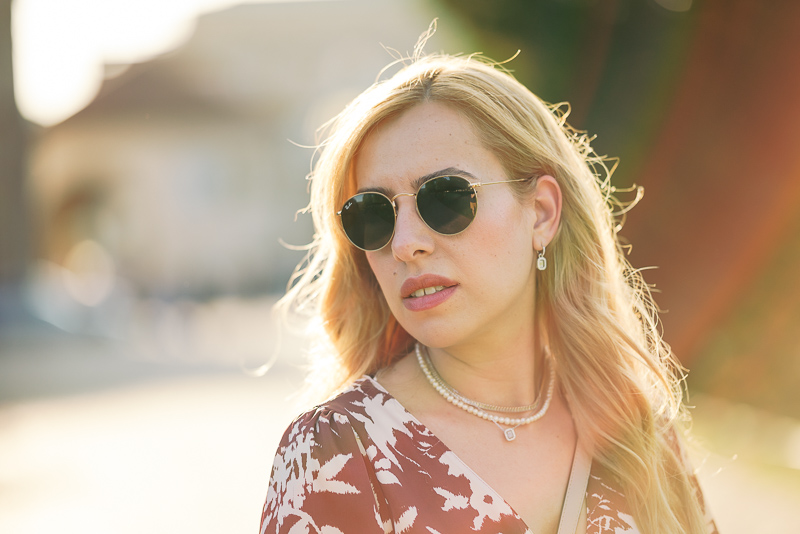 Not a terrible performance and I know some people also like to make use of these artefacts in portrait pictures, but it isn't a great performance either.
I didn't find the big hood to make a real difference. Most of the pictures in this section have been taken with the hood attached.
Coma
Sony A7rII (crop mode) | Viltrox 75mm 1.2 AF | 100% crops from APS-C corner
A low amount of Coma is visible at f/1.2 and f/1.4, but this is not something with the potential to ruin your shots. A good performance.
Distortion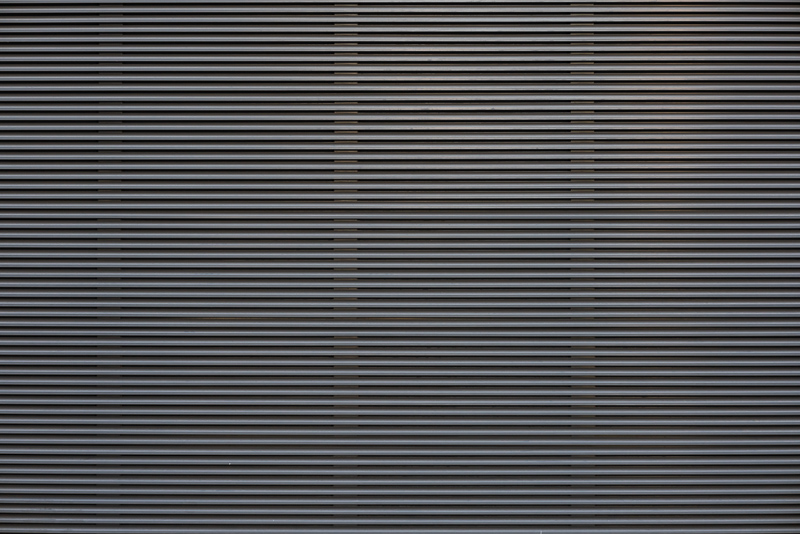 The Viltrox 75mm 1.2 AF shows no visible distortion in the field.
Bokeh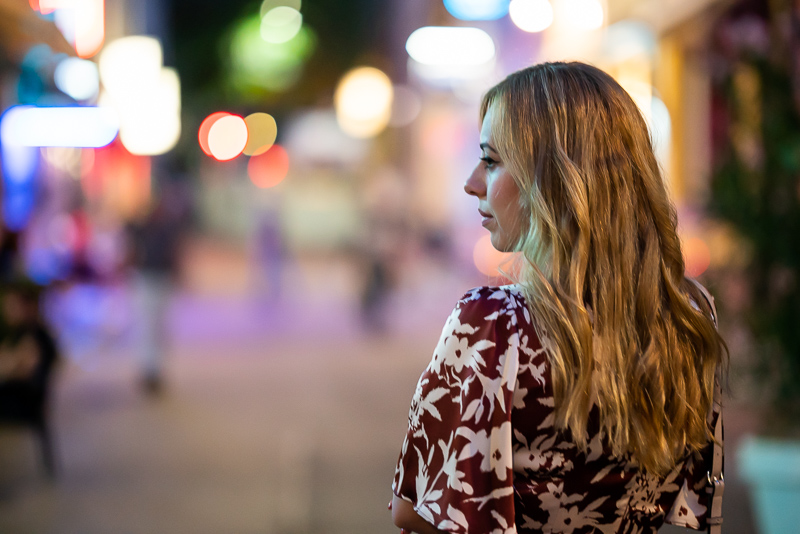 This category is what you are here for, isn't it? A maximum aperture of f/1.2 always sounds nice and a focal length of 75mm means we have an entrance pupil size of 62.5mm, which is even slightly bigger than that of the typical 85mm f/1.4 fullframe lenses.
So quantity we have definitely covered, but what about the bokeh quality? Let's have a closer look at different scenarios.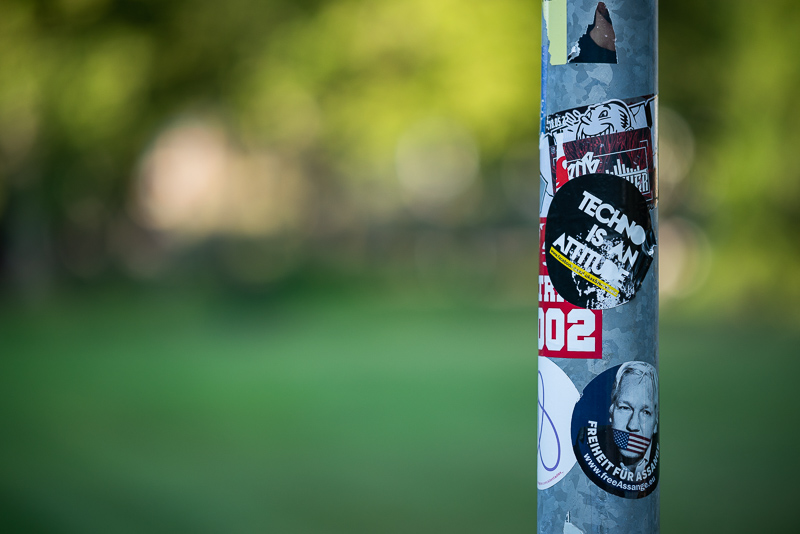 A minimum focus distance of 0.88 m allows for nice close up shots and unsurprisingly the bokeh is butterly smooth here.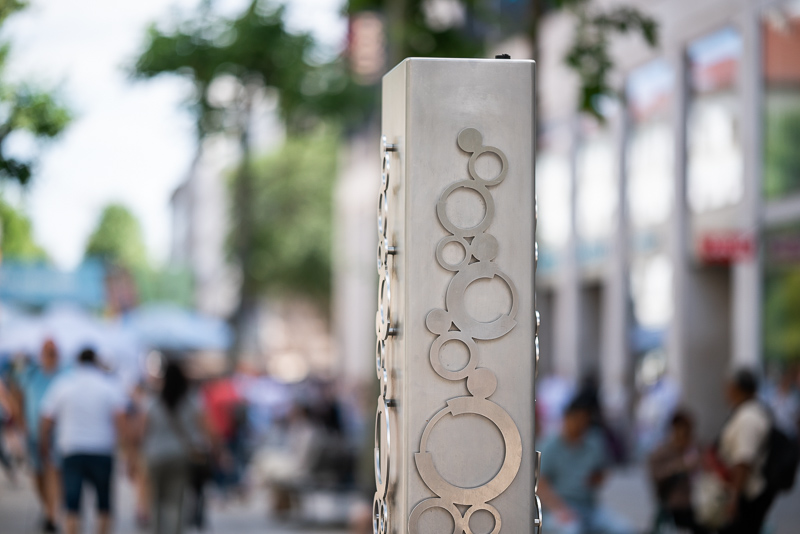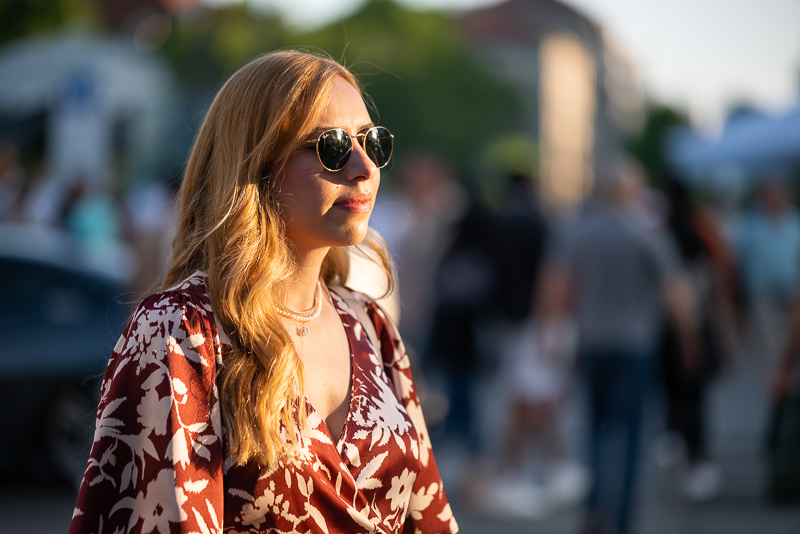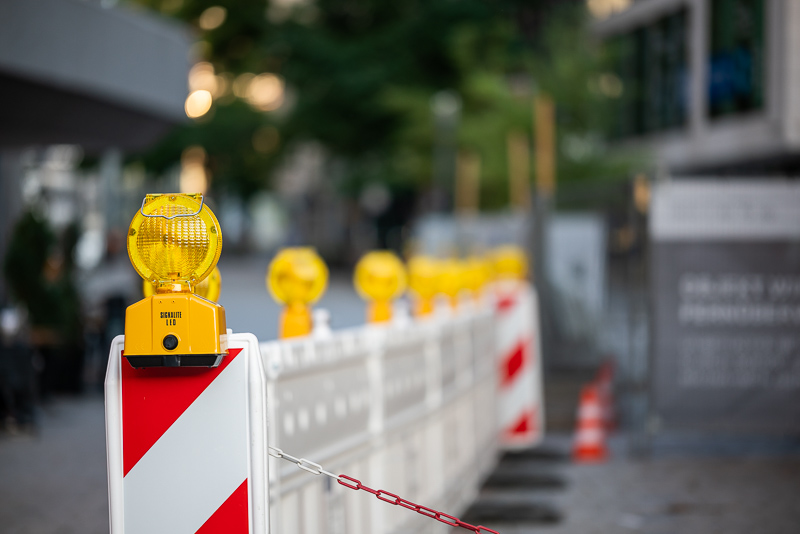 At mid distances the high sharpness and contrast at f/1.2 really help with the subject separation, as there is a very abrupt difference between in-focus and out-of-focus.
Highlights already take on a cat's eye shape in the midframe though, so with the right background (e.g. forest) this lens will create some swirly bokeh.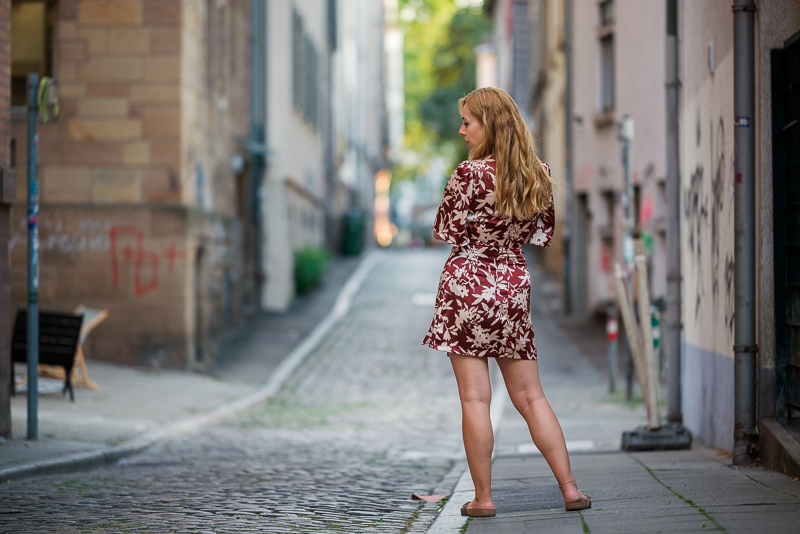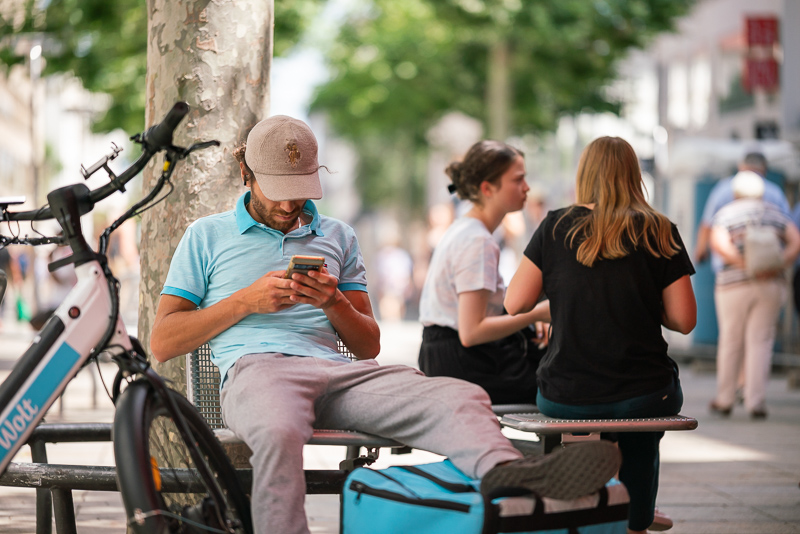 The nice thing about lenses with these parameters is, that also for full body portraits (or bigger objects) you can also easily throw the background out of focus.
I like what I am seeing here, but this is of course subjective, so have a look at the sample images and decide for yourself if this lens creates a look you would like for your pictures.
Sunstars
Sony A7rII (crop mode) | Viltrox 75mm 1.2 AF | crops from center
This Viltrox 75mm 1.2 makes use of 11 rounded aperture blades and I can only call the sunstars these create as fuzzy and not very nice to look at.
But this is a portrait lens and I am happy they went for a high number of rounded blades instead of doing something stupid that would negatively impact the bokeh as we have seen from e.g. the Zhong Yi 50mm 0.95 III (10 straight blades) or the Laowa 85mm 5.6 2:1 macro (7 straight blades).
If you want to know more about sunstars have a look at this article.
Chromatic aberration
lateral
Lateral CA are perfectly corrected, I cannot show you any here.
longitudinal
Also the way more bothersome longitudinal CA are really well corrected. I took pictures of a lot of shiny chrome and several water fountains in the sun but neither bokeh fringing nor purple fringing is an issue.
If you magnify the chain you can see a hint of green outlining in the background, but I don't see anything here that has the potential to ruin your pictures.
Had they put an Apo tag on this lens, I would have not complained.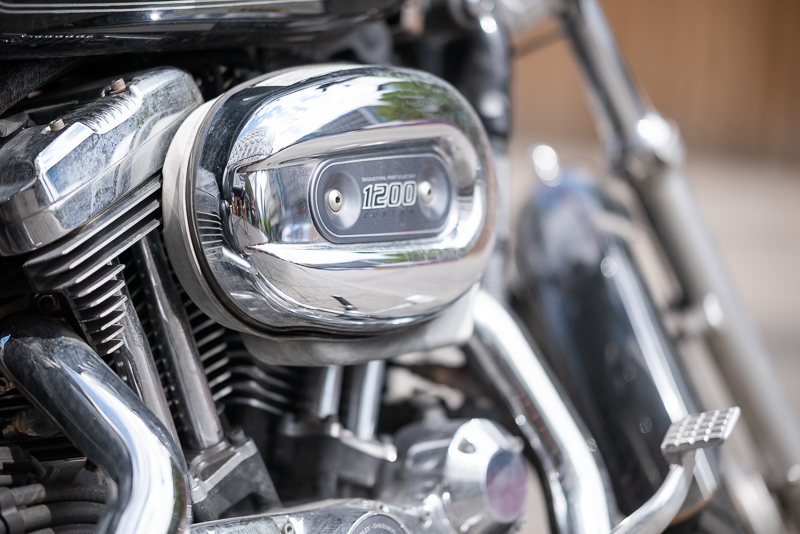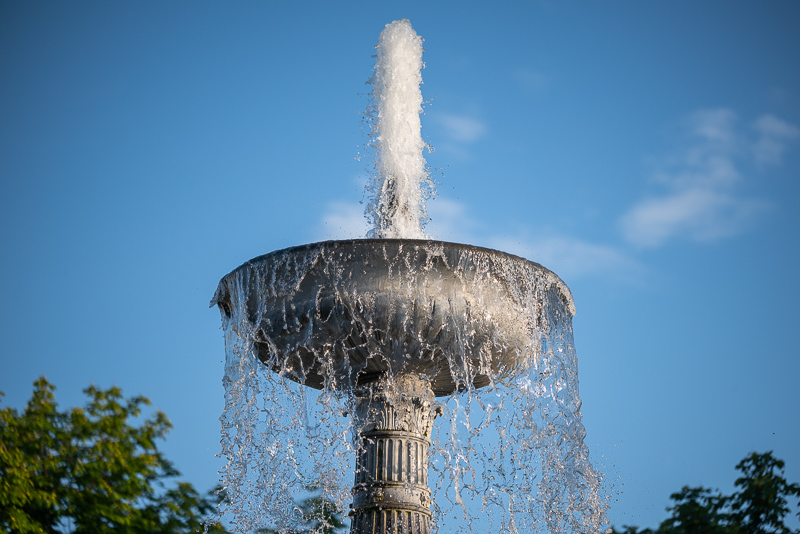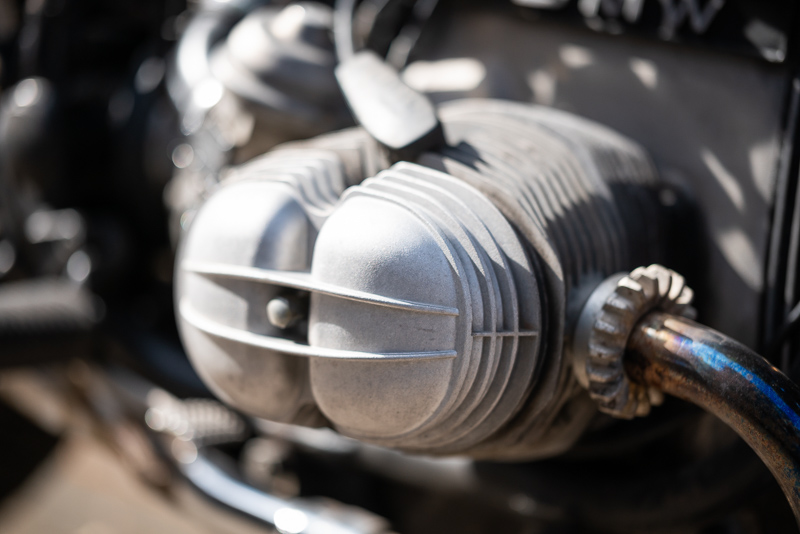 Conclusion
good

pleasing bokeh and a lot of it

excellent sharpness at all distances everywhere in the frame

coma correction

CA correction (Apo level)

no distortion

build quality/handling (buttons)

price

average
not good
Dedicated portrait tele lenses designed solely for the APS-C frame are rare, by which I mean this Viltrox 75mm 1.2 doesn't have a real competitor in the APS-C world. Fuji "only" has a 56mm f/1.2 and a 90mm 2.0 for their X-mount, whereas Sony, Canon, Nikon and Sigma didn't really bother to produce a similar lens like this at all. They would probably point at their fullframe lenses, but if they are comparable to this Viltrox lens they are far from being as affordable.
Therefore In the past, whenever someone asked me for an affordable longer portrait lens for their APS-C E-mount or Fuji-X camera, I usually recommended the Viltrox 85mm 1.8 Mk II. But from now on that recommendation will be changed in favour of this Viltrox 75mm 1.2 AF.
We don't need a longer conclusion here: the image quality is outstanding, bokeh is nice, the build quality and controls hardly leave something to be desired and even the price is fair. What is not to like here?
The E-mount version is scheduled to be officially released on July 31st, 2023.
buy from manufacturer's shop (use the code PRnet for 8% discount) | B&H | amazon.com | amazon.de | ebay.com | ebay.de (affiliate links) for $549
Alternatives
There are no real APS-C alternatives to this lens available, so you kinda have to resort to fullframe lenses, which are covered in our 85-135mm guide.
Sample Images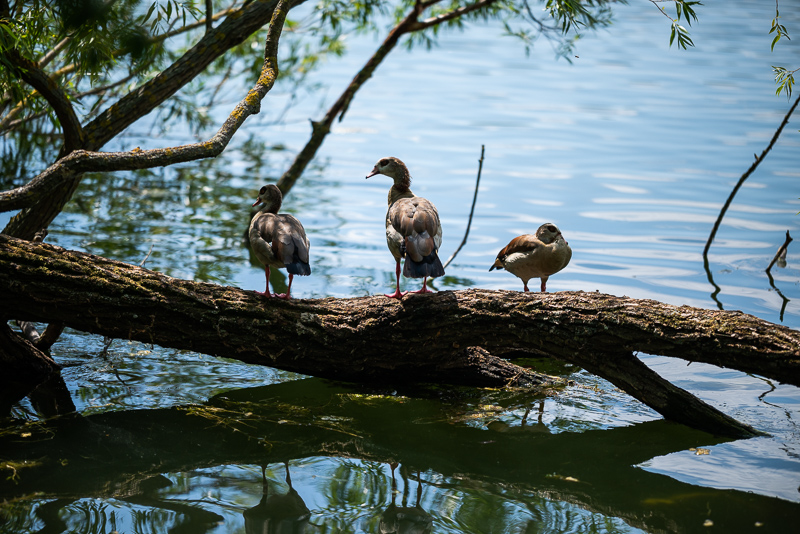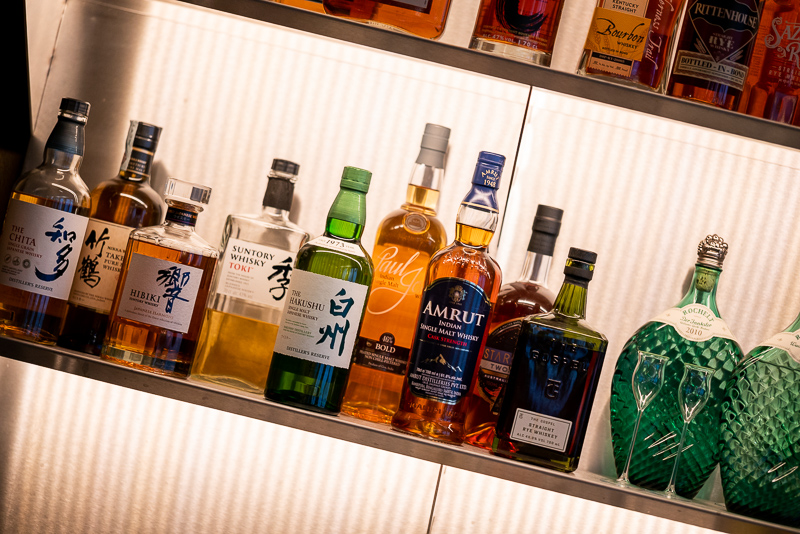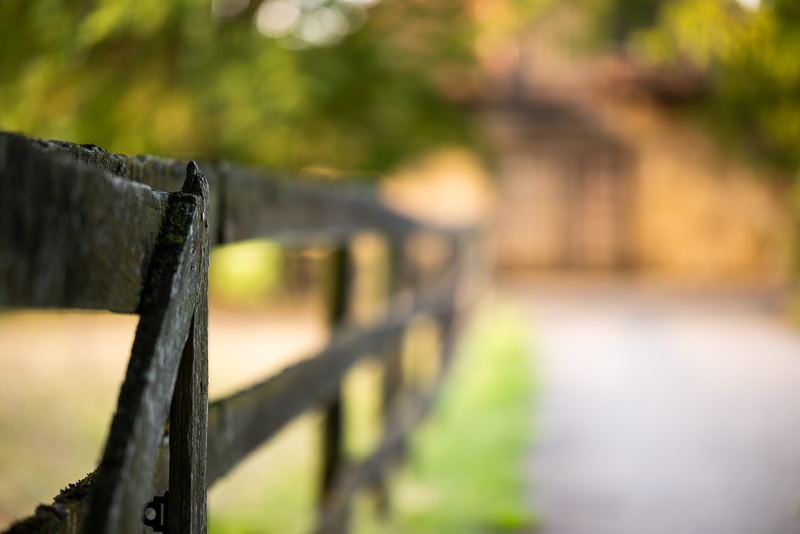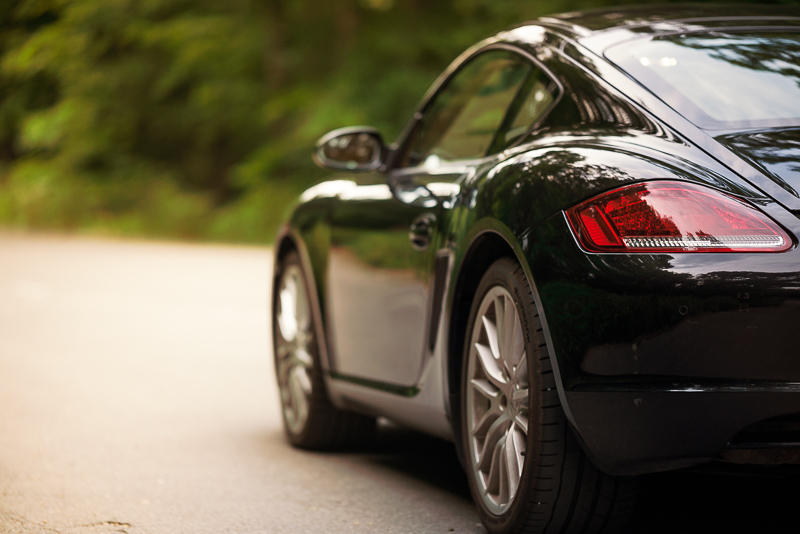 Most of the sample images in this review can be found in full resolution here.
Further Reading
Support Us
Did you find this article useful or just liked reading it? Treat us to a coffee!


via Paypal
The following two tabs change content below.
My name is Bastian and I am your expert here when it comes to ultra wide angle lenses, super fast portrait lenses (ranging from a 50mm f/0.95 to a 200mm f/1.8) and I also have reviewed way too many 35mm lenses. Don't ask me anything about macro or wildlife shooting though.