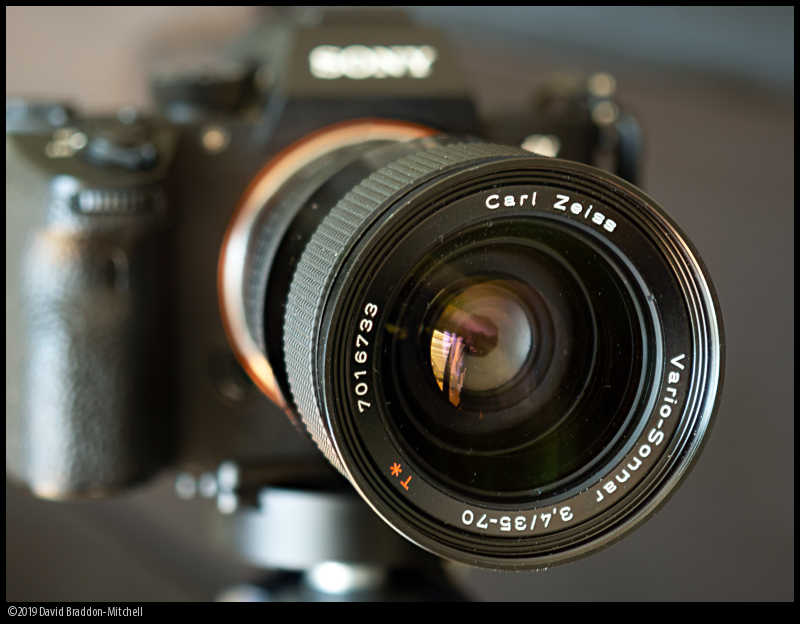 The Carl Zeiss Vario-Sonnar T* (C/Y) 35-70mm f3.4 was a standard zoom lens designed for the Yashica and Contax series of film SLR cameras. It was, perhaps, the first standard zoom of truly decent quality throughout its range. You could use it an any focal length and not really have any compromise relative the prime lenses of the time. That cliché "a tube full of primes" was (for once) true of it: at least in its day.
It's since acquired a kind of cult reputation. Some think it remains the finest standard zoom you can get. But how much of this reputation is due to it being so amazing by the standards of when it was designed in 1982, and how much because it still deserves a place in the kits of some modern photographers? Read on to find out!
Specifications
| | |
| --- | --- |
| Diameter | 70mm |
| Length | 80.5 mm |
| Filter Thread | 67 mm |
| Weight (w/o adapter) | 475 g |
| Minimum Focusing Distance | 0.7m |
| Maximum Magnification | 1:2.5 |
| Number of aperture blades | 8 |
| Elements/ Groups | 10/10 |
The Carl Zeiss Vario-Sonnar T* (C/Y) 35-70mm f3.4 can be purchased
used on eBay.com
here.
Image Samples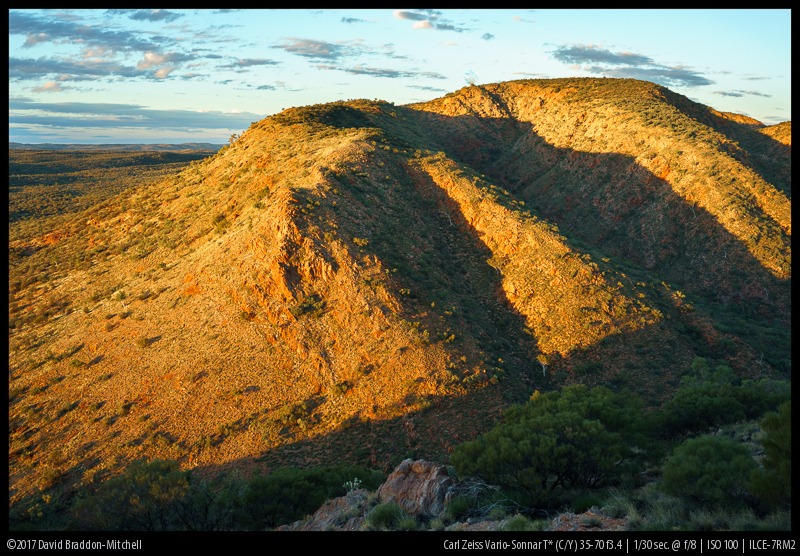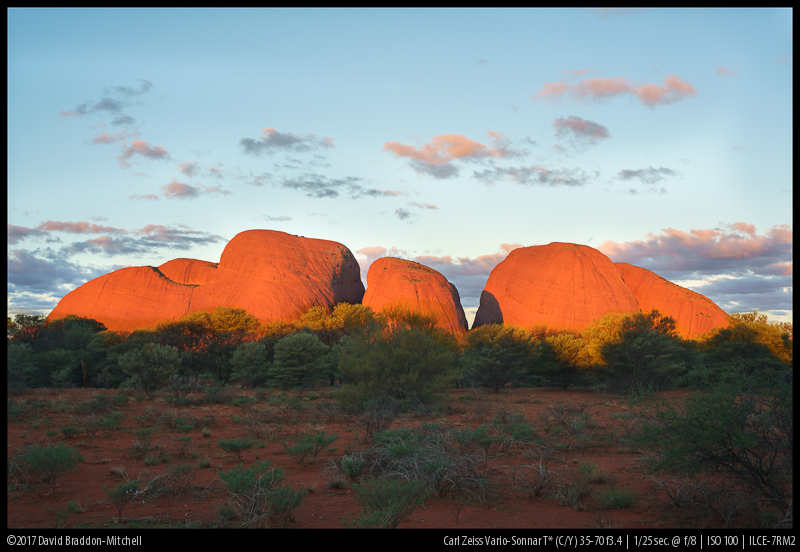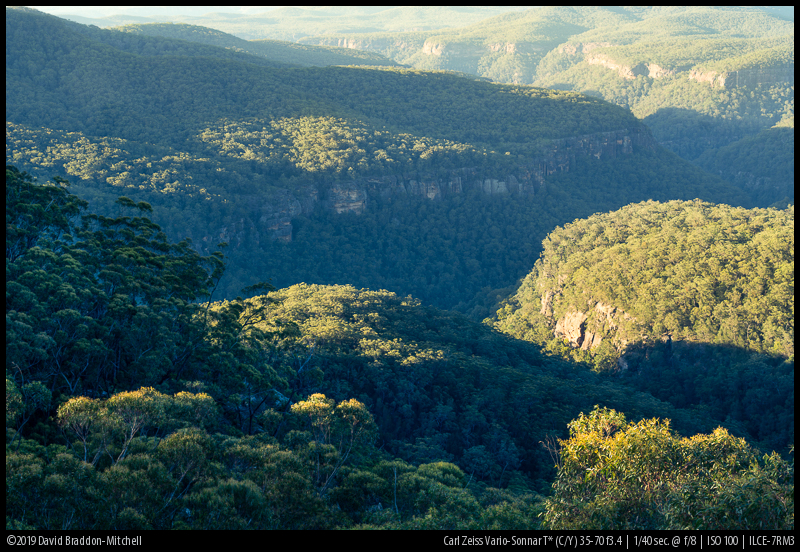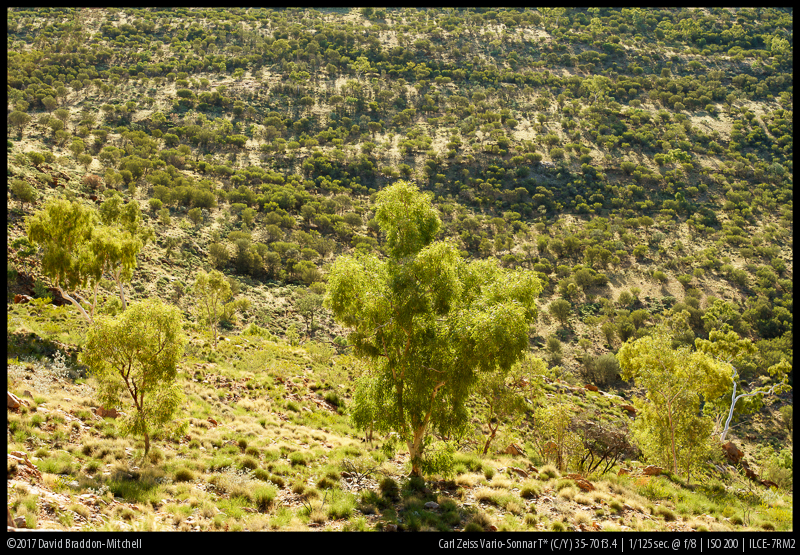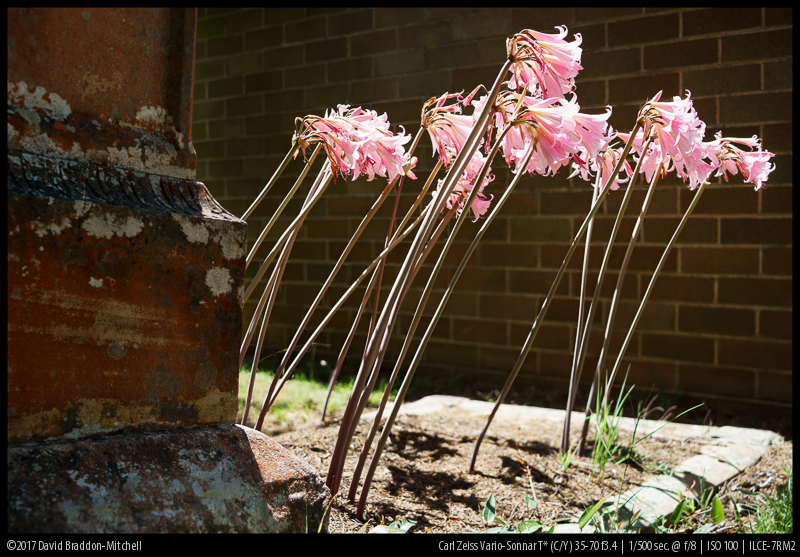 Build quality and handling
This is a trombone zoom lens; sometimes called a "one touch". A single mechanism when pushed and pulled zooms, and when turned focusses. It's no longer fashionable, and indeed for precision I prefer separate zoom and focus rings. It may have made things faster in the field, but these days people looking for speed in the field are using AF lenses: anyone using this lens is likely looking for precision.
As you can see in this image, there is relatively little difference in overall length between 40mm (where it is close to  longest) and tele. This is because the zoom mechanism does not extend the lens for as you zoom from 70mm out to about 50mm, and only then starts extending slightly.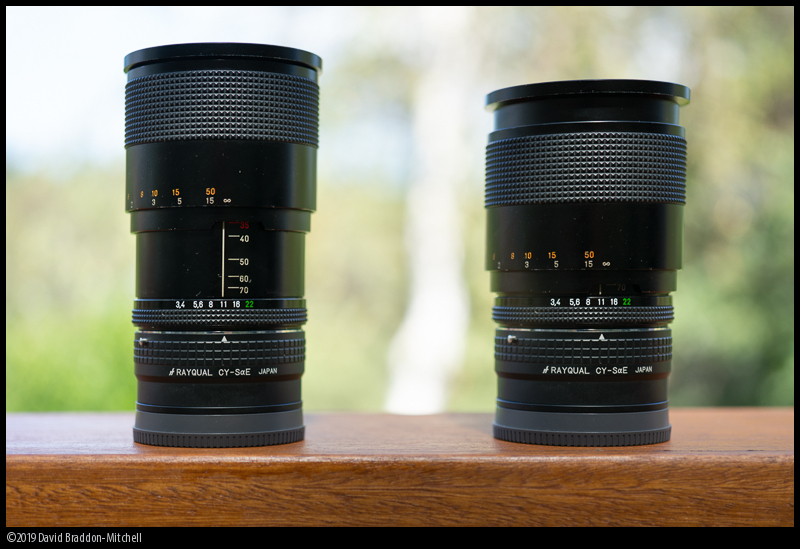 But if you can live with that the lens is very solidly built from metal and rubber. The fact that most samples are still working now is testament to that.
Focusing Ring
Nicely damped with a rubberised grip that works well. Tnly issue is that focussing without making small changes to focal length takes a bit of practice. It focusses from the standard close focus distance of 70cm to infinity in about 240 degrees.
Aperture
The aperture ring is a nice metal ring at the back of the lens and it stops down from f3.4 to f22. There is a first click that takes you from f3.4 to f4, and then its one stop clicks to f22. Intermediate positions are fairly easy to set.
Hood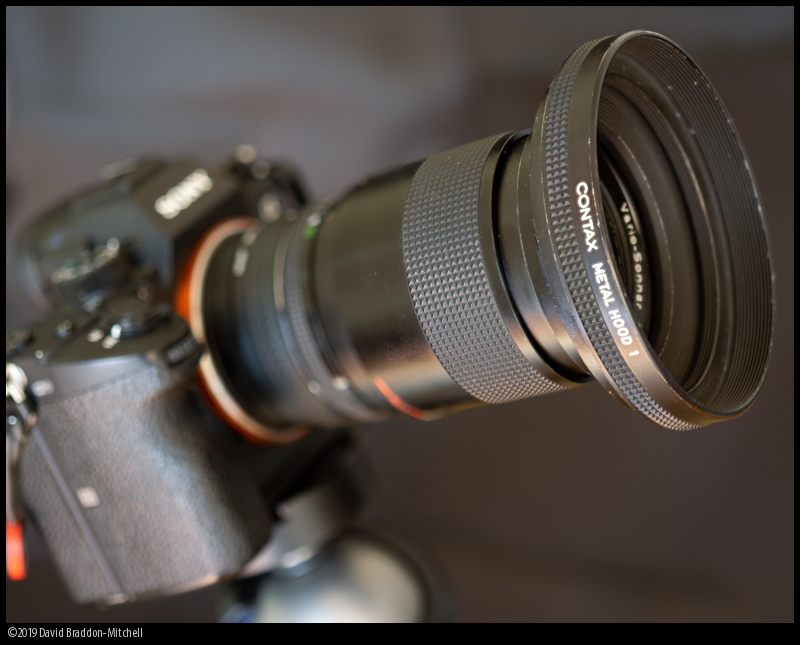 The official Zeiss hood is the CONTAX metal Hood 1 combined with the CONTAX 67/86 ring. You can often find these on eBay. I have one for the fun of it: it's a lovely solid kit, though very large and not that cheap. Frankly, though, these Contax hoods were a bit too big. They do give about the best shading you can get from a fixed circular hood because of that, but realistically a folding rubber hood for almost nothing from eBay in a 67mm mount is a more practical option.
Adapting the lens to Sony
I use the Rayqual adapter, which is in my opinion the best dumb adapter you can get when the exact length of the adapter matters. It also has better baffling than any others I know. Exact length probably does with this lens because of the complex zoom movements. With unit focussing lenses Novoflex is just as good (they tend to be a bit short, but that doesn't matter in that case.) Of course you can try your luck with a cheaper adapter. The second generation K&F adapters are my choice for cheaper ones. Have a look  at our article here. You can get one via our affiliate link at B&H
Size and Weight
This lens is neither small nor light. With adapter it extends 12cm, and weighs more than a half kilo. But that's still less than three primes, and less than one modern f1.4 35mm or 50mm fast prime. As a single lens landscape hiking option, it still makes sense.
Optical performance
These results are based on use with a Sony Alpha A7rIII.
Infinity Resolution
The resolution section is here a little bit different from how we have usually done things at PhillipReeve. Rather than sections from a single diagonal image I have moved the camera and taken separate aperture sequences in each position (corner, rule of thirds intersection, centre). This is slightly more work, but means that because it is the same infinity subject in the different positions, it is easier to compare.
As this is likely to be used for landscape, I show the crops with the focus on centre: thus the corners are showing the effect of a very small amount of field curvature. Very slightly better corner results could be achieved by focussing on the corner or midfield.
The results are remarkable for a zoom lens of this vintage. The centre and midfield results are outstanding at every focal length and aperture. The extreme corner is a little worse, especially at wide aperture and 35mm (as Zeiss own MTF shows) but at most apertures and focal lengths remains very good, and as good or better than decent primes of the era. The extreme corner shows a bit of contrast drop off as well. There is a touch of primary LoCA (Purple fringing) but much less than many fine primes of the era.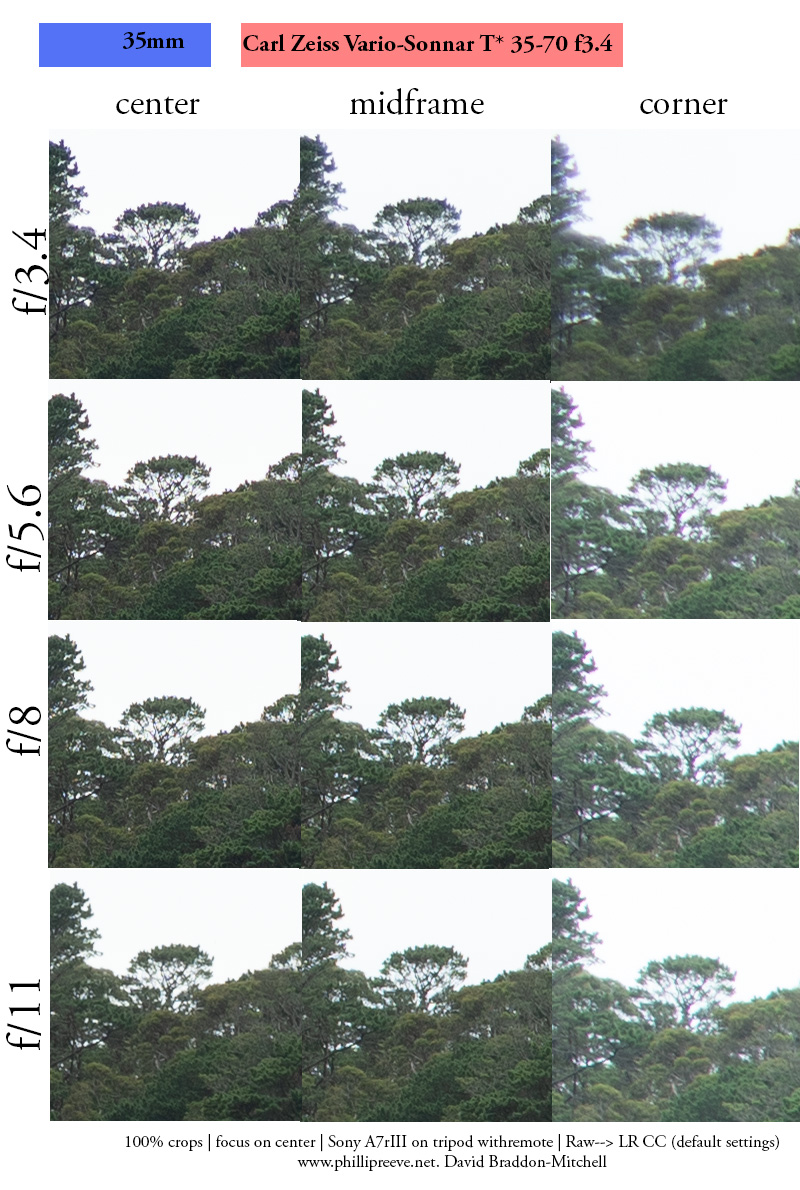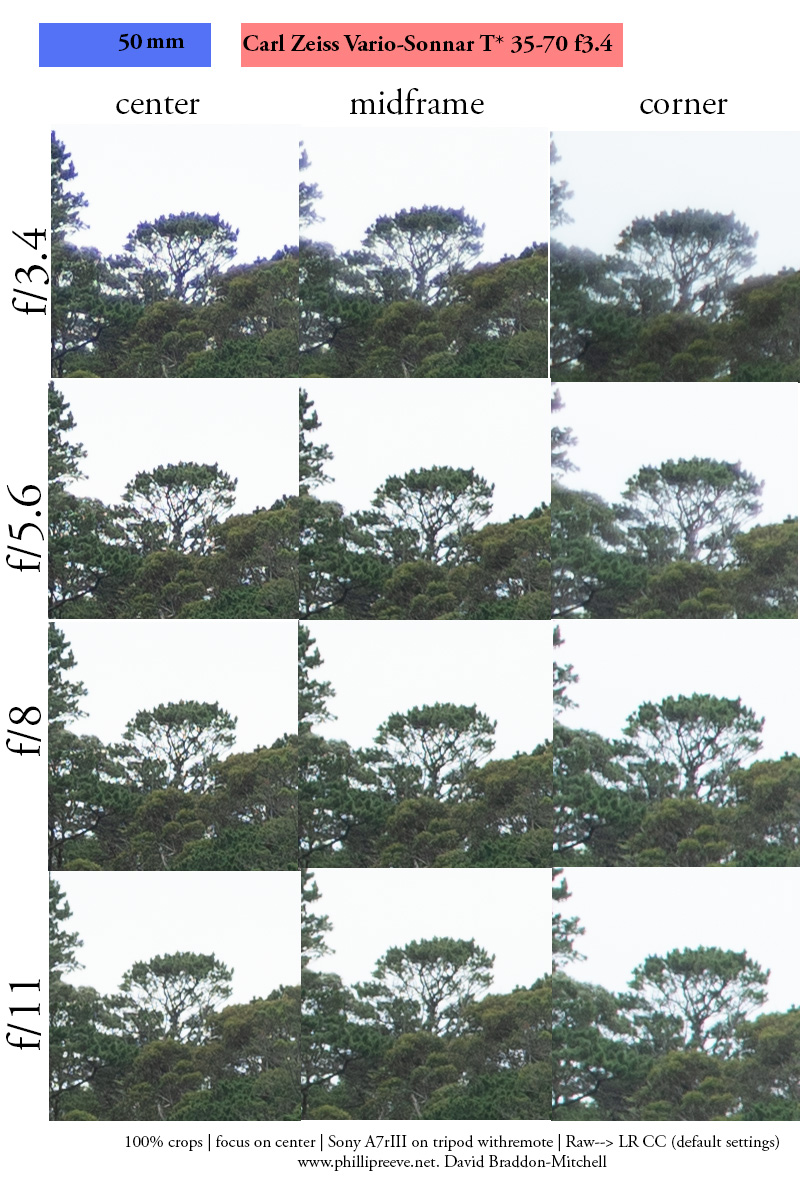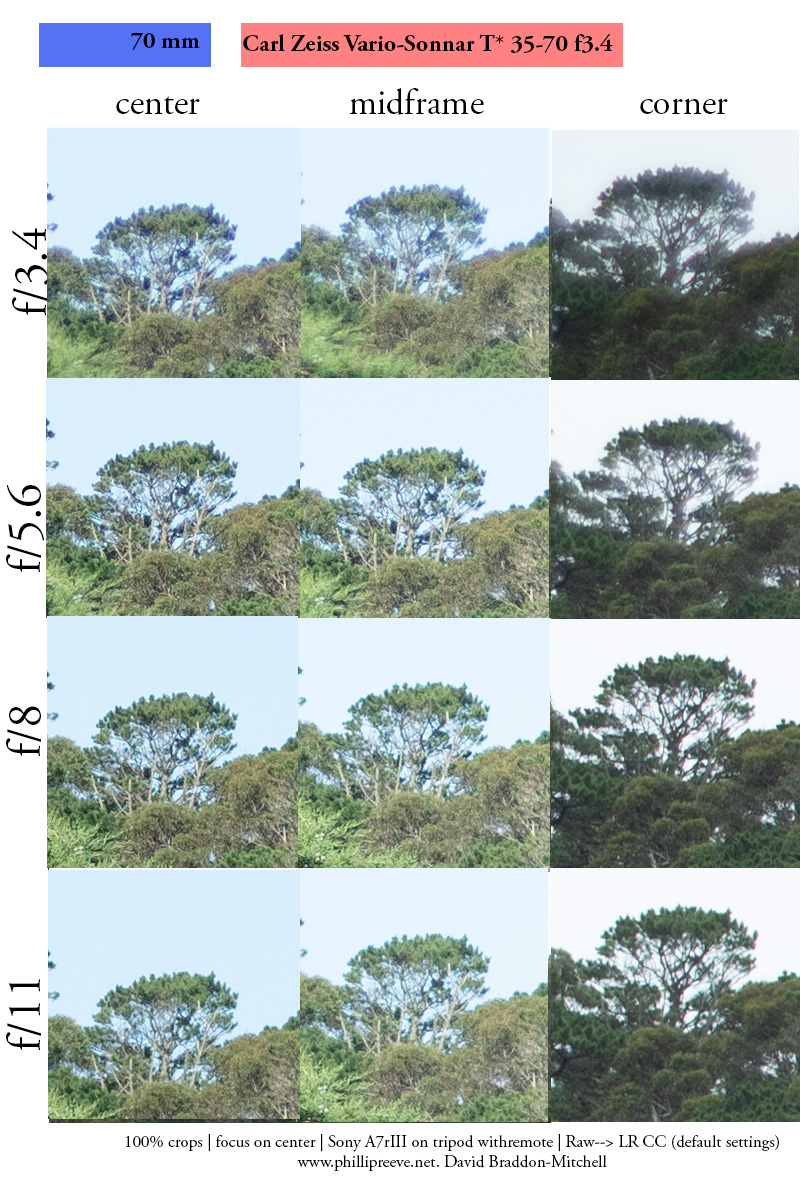 Flare Resistance
Flare resistance was amazing for a zoom  by 1982 standards. But by contemporary standards it is a mixed bag. On the one hand it's remarkably free of distracting coloured artefacts and distracting flare effects: more so than many beloved modern lenses, and comparable with the very best. On the other hand with the sun in the frame there's a fair bit of overall glare and loss of contrast. With the sun outside the frame judicious use of a hood and hand shading can deal with it really well, and its' good enough that you should never get much trouble if you are good at shading. But of course there's nothing you can do if the sun is in the frame.
The following aperture series are all taken with the maximum shadow lifting, and exposure boosted by a stop in post, so they represent a worst case for the overall glare.
This is not bad performance; but it is performance that the best modern lenses will easily exceed. On the other hand, this lack of fancy modern methods of predicting where non image-forming light will go is  also the probably the cause of the slightly lower overall contrast which many like about a good classic lens.
70mm. Sun in centre
50mm Sun in Centre
35mm Sun in Centre
I tried all positions of the sun to see if it made a difference. Remarkably it didn't , except when the sun is exactly on the rule of thirds corner, where you get slightly worse results for artefacts at the widest focal length (shown next) but not at others. This is still not bad, given the degree of shadow lifting.
35mm Sun in Rule of Thirds intersection
Sunstars
The lens does not produce pronounced sunstars, despite its eight bladed iris mechanism, which often make crisp stars with eight rays.
One interesting feature is that you can see almost as much star wide open as stopped down a little, at every focal length, which suggests that the iris mechanism never retracts completely from the optical path.
You can see above in the flare series that you never get much of a sunstar from direct sun, due probably to glare around the sunstar area washing it out. You do get some sunstar when there is a dark object near the sun to emphasise it, as in the following series:
Sunstars at 35mm (very similar at other apertures)
Bokeh
Bokeh is not a central feature of a slowish zoom lens. But the bokeh here is not distracting, and you can get decent portraits at the long end and f3.4. And there are natural subjects where having the subject shot with a wide angle close up with an OOF background is desirable. So these are the two cases I'll illustrate both at about a meter. A lens this slow has not much blur beyond that (though what there is is fairly smooth). And any lens will produce reasonable bokeh very close up, so I won't illustrate anything in the macro range. There are of course no aspherical elements, so no danger of onion skin bokeh.
First case: 70mm with subject at 1m and background starting 2m behind subject:
Case 2: 35mm subject 1m, background from 2 m behind subject.
Chromatic Aberrations
Axial Chromatic Aberrations
You do not exepect a great deal of secondary LoCA (the nasty green and magenta fringing either side of the plane of focus) on a slower lens, but this lens is impressively free of it, even for a slower lens. You can see only a trace wide open, and it is completely gone a stop or so down. Here's a sample at 70mm: other focal lengths perform the same.
Lateral CA
Lateral CA (magenta and green fringing in the plane of focus, generally in the corners of an image) is very low at most focal lengths, though a little (still remarkably little for a zoom of any era) is visible in the extreme corners, especially at the wide-angle setting. It does not vary with stopping down, of course, unlike axial CA.
It however corrects with no cost in IQ with a simple tickbox (unlike axial CA which is hard to correct without undesirable effects)
Here is the 35mm corner, and the corrected version:
Again, really impressive performance.
Vignetting
At 35mm I measure just over two stops in the extreme corner wide open, falling to under a third of a stop at f8.
At 50mm I measure just one stop in the extreme corner wide open, falling to negligible at f8.
At 70mm I measure about the same as at 50mmm – just one stop in the extreme corner wide open, falling to negligible at f8.
If using the close focus mechanism, vignetting appears to increase somewhat, but this is partly greater sensitivity to filters/hoods.
Distortion
At 35mm I measure about 2.5 % barrel distortion. It is not complex and can be corrected in LR or other software fairly easily, and is small enough that this ca be done without much cost in IQ
At 50mm distortion seems almost undetectable; perhaps a negligible hint of pincushion.
At 70mm there is about 1% pincushion distortion: a very low amount which can be generally ignored, though is easy to correct.
Close Focus Resolution
The lens has a close focus distance in it's regular mode of .7 metres. This is pretty normal for a 70mm lens, and a little far for a 50mm prime but good for a zoom. At 35mm there is a 'macro' mode which gets you a fair bit closer which can be very useful: this is the amount of the field a US $100 note covers.
Here is the comparison wide open at f1.5: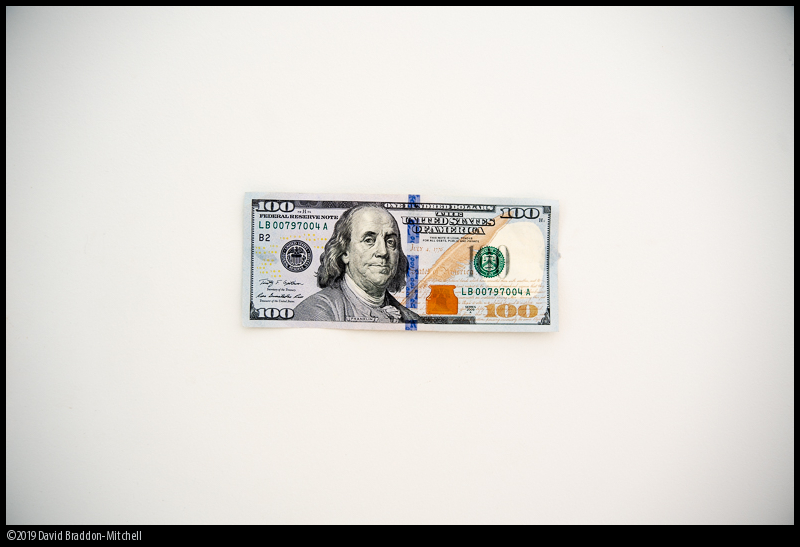 Here are 1:1 crops wide open and f5.6. It's excellent wide open, and a touch better at f5.6. This performance extends almost to the edge of the frame
The same great performance is available at other focal lengths at the "normal" 70cm focussing distance, albeit obviously at lower magnification. Here is the long end, 70mm, at the 70cm focussing distance:
Alternatives
Sony G 24-105 This is a very good standard zoom, which goes both wider and longer than the Zeiss. It's a bit heavier than the Zeiss and many times more expensive. It's at least as sharp, despite its wider range (though there is a fair bit of copy variability). If that's your preference you can by one via my affiliate link at B&H for no added cost to you, and a tiny tip to me, or else new or used on eBay
Sony Zeiss ZA 24-70 This This lens is much maligned; certainly it's not as good as the Zeiss at 24mm or 28mm. But the Zeiss doesn't go to those wider angles, and it really is just as good as the Zeiss at 35mm which is the sweet spot of this lens! The Zeiss on the other hand is quite a bit better than the Sony Zeiss across the field at 70mm (at least on the copy I had of the ZA and many other copies I've seem samples from – it does vary a bit). I guess if you think worse performance at 70 is paid for by OK performance at 28mm and an emergency 24 setting you might prefer the Sony Zeiss, especially if you would like AF.
Tamron 2.8/28-75 Di III RXD  You might think this is an obvious comparison, and in many ways it is, but in fact I think these two lenses serve very different functions. If you want a lens for event coverage or portrait work the Tamron is an easy choice over the current lens. It's a bit contrastier, has AF, and is a little faster. But for landscape use or architecture it's less clear cut. At 28mm – a focal length the Zeiss doesn't have – I think the Tamron is at least as good across the field (I'm going here on Jannick's review on this site)But by 35mm the Zeiss is noticeably better in the corners than the Tamron, despite this being the weakest focal length of the Zeiss. This remains true at all other focal lengths. So if you love 28mm landscapes and want a faster AF lens for other purposes, the Tamron makes sense. But if considered landscape type work in the 35-70 range is your preference, I'd still go with the Zeiss.
A kit of small modern  primes  One way to try to cover this length manually without it being altogether too large is with Loxia primes, ZM primes CV primes or certain Leica primes  at 25mm 35mm, 50 mm 75mm or 85mm. Pick any three. There's not doubt that these lenses will give a bit of a contrast boost as well as be sharper across the field at wider apertures, and handle flare better. But such a kit is much more expensive and a bit less convenient for landscape – and not be all that much better.
A kit of smaller classic primes: You could also put together a kit of legacy primes – OM, C/Y, Canon Nikon or Minolta. Have a look at the reviews on this site. But if you want decent wide lenses and a good tele, it won't cost less, and it will be at best about the same in overall IQ and at worst not as good. I'd pick this lens for a relatively low cost landscape solution over a kit of legacy primes, unless I were unhappy with the focal lengths.
Other Lenses These are the lenses I have direct access to and which I consider rivals, or which are such direct rivals it was worth commenting for you to find more information. These include various Leica zooms which I have not tried,  though reliable sources say they are no better and cost more. No doubt there are also other lenses I could use to compare with this lens, but I don't have copies of them, so when you write in the comments "please compare this with lens X" the answer is "Sorry, No".
Conclusion
pros

Resolution generally high, and stopped down quality good enough for demanding landscape at all usual landscape apertures

Mechanical construction very robust

A good single lens package for a landscaper which is smaller and cheaper than other options.

Flare artefacts very low

average

Contrast is only average by modern standards
LaCA is noticeable, but can easily be corrected without loss
Veiling flare great for its day, only OK now.

cons

Sunstars are not great if you care

One touch design not to everyone's taste.
So is this lens a piece of dark art, the like of which cannot be made by soulless modern lens makers? Of course not. But it is remarkably good and useful. If you want a zoom lens, and don't mind paying four to five times as much, and putting up with a lens almost double the weight, the Sony G 24-105 has more range, is at least as sharp, and has a bit more contrast.
But not everyone either cares about or even wants that slightly more saturated look. And if you you do you might be prepared to trade it off for saved money and the fun (if it's your thing) of using a vintage lens. This is a consistently crisp vintage lens, that can give results  you can be proud of, and not have to explain away by talking about its classic look.
If I were a landscaper on a budget who wanted the convenience of a single zoom, didn't have a taste for more extreme focal lengths and regarded brilliant sunstars as a bit of an effect, I'd pair this lens with a more affordable A7 body in a heartbeat. And many other categories of user might find it great too. It's often my all in one hiking kit: a decent sharp 35, 50 and 70 all in 475 grams. What's not to like.
The Carl Zeiss Vario-Sonnar T* (C/Y) 35-70mm f3.4 can be purchased used on eBay.com here. Used prices vary a bit; be  patient and you should be able to save quite a lot.
If this review was helpful to you, please consider using one of my affiliate links or sharing the review with others. Thanks ?
Some more image samples