Introduction
There are plenty of great lenses available for fullframe E-mount cameras in the 20mm range, but it is said among those this Sony FE 20mm 1.8G is an outstanding, well-balanced highlight. A review was long overdue, so here we go.
Sample Image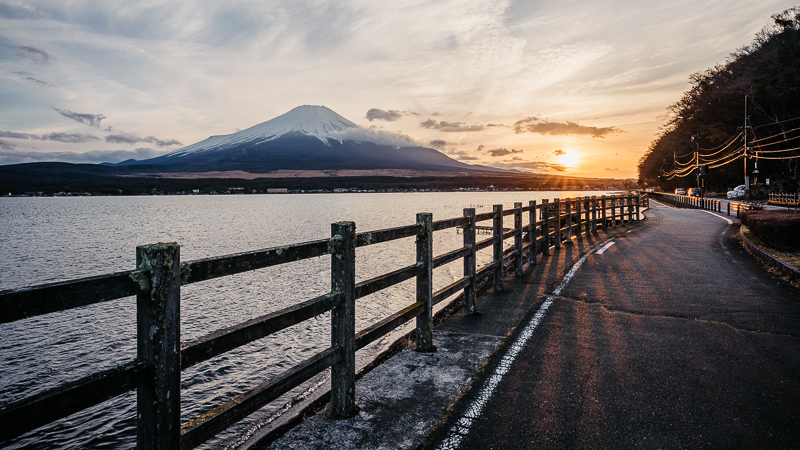 Most of the sample images in this review can be found in full resolution here.
Specifications
The Sony FE 20mm 1.8G has the following specifications:
Diameter: 74 mm
Field of view: 94° (diagonally)
Length: 85 mm
Weight: 372g (without hood and caps)
Filter Diameter: 67 mm
Number of Aperture Blades: 9 (rounded)
Elements/Groups: 14/12

Close Focusing Distance: 0.19 m
Maximum Magnification: 1:3.8 (MF, measured)
Mount: Sony E
buy from amazon.com | amazon.de | B&H | ebay.com (affiliate links) for $898
Disclosure
The Sony FE 20mm 1.8G was kindly provided free of charge by our reader Clemens R. from Austria for reviewing purposes, thanks a lot!
Handling/Build Quality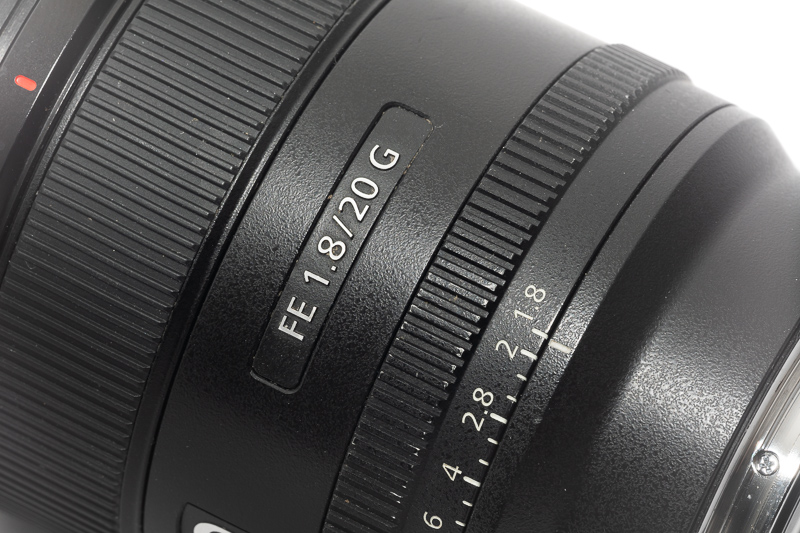 The later G-series lenses feature the same build quality as the GM lenses, so if you are used to lenses like the Sony FE 35mm 1.4 GM or the Sony FE 85mm 1.4 GM you already know what to expect here.
The rubberized focus ring has okay damping and a linear coupling which means it always takes 180° from the minimum focus distance (0.19 m) to infinity no matter how fast you turn the focus ring.
When you turn your camera off the lens will remember the last focus position and will still be there when you turn the camera on again.
The aperture ring has 1/3 of a stop click stops – which you can declick by using a lever on the lens.
You can also set the ring to "A"(utomatic) and let the camera choose the aperture value or use the camera dial to change the aperture value instead of using the aperture ring.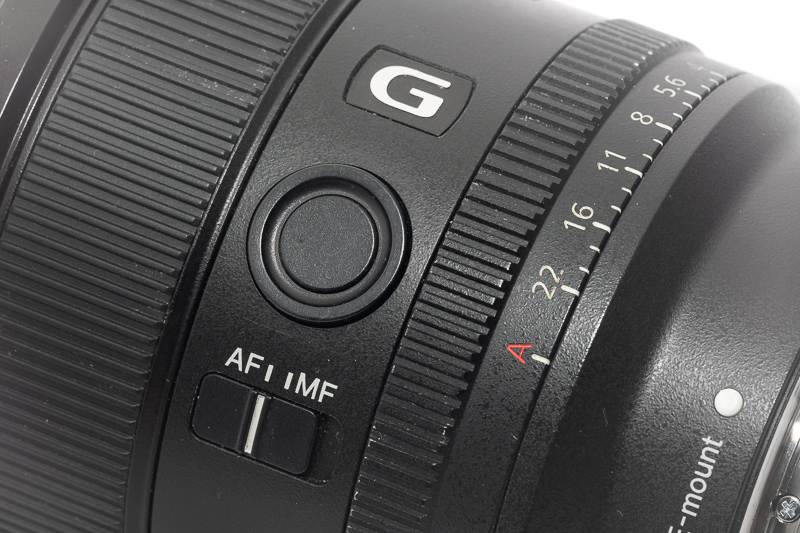 On the left side of the lens there is a programmable button and an AF-MF switch.
The outer casing seems to be made from a high quality polycarbonate and all markings are engraved and filled with paint.
The hood is simpler than those of the GM lenses, it is only attached via a bayonet, no fancy lock button and also no rubberized front bumper like on the Sony FE 35mm 1.4 GM or FE 85mm 1.4 GM.
All in all the build quality is about as good as it gets when it comes to modern AF lenses. One thing that should be noted though: the focus group moves around freely when the camera is turned off or simply when the lens is detached from camera, this is normal and not something you need to worry about.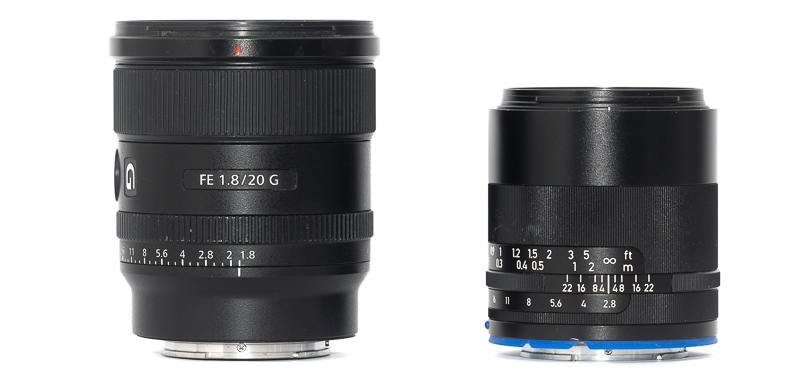 The Sony FE 20mm 1.8G is noticeably bigger than the Zeiss Loxia 21mm 2.8 – not a big surprise consider it is 4/3rds of a stop faster, but the Sony lens is actually a few grams lighter.
AF performance
I am not shooting sports or fast moving animals/humans so if you want to know if the lens is fast enough for this or how it compares to other lenses in this segment you may have to look for a different review with a more detailed assessment of this aspect.
In everyday use I found the AF to be very fast, perfectly usable and also silent.
Vignetting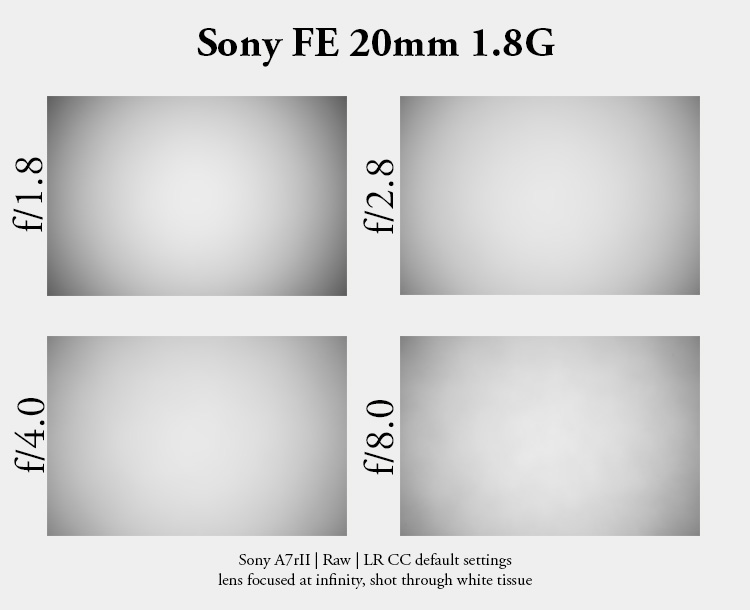 | | |
| --- | --- |
| f/1.8 | 2.9 EV |
| f/2.8-f/16 | 2.2 EV |
These are very interesting vignetting figures, at f/1.8 I measure 2.9 EV corner shading which improves to 2.2 EV at f/2.8 and stopping down further yields no additional benefit. Not only this behaviour but also these values are similar (meaning slightly worse within the margin of error) to those of the Samyang FE 24mm 1.8 AF as well as the Sony FE 24mm 1.4 GM and are generally in line for what is to be expected from a fast yet compact wide angle lens.
It is recommended to have a look at this article first to get an idea how this brightness graph works.
Sharpness
infinity (42mp Sony A7rII)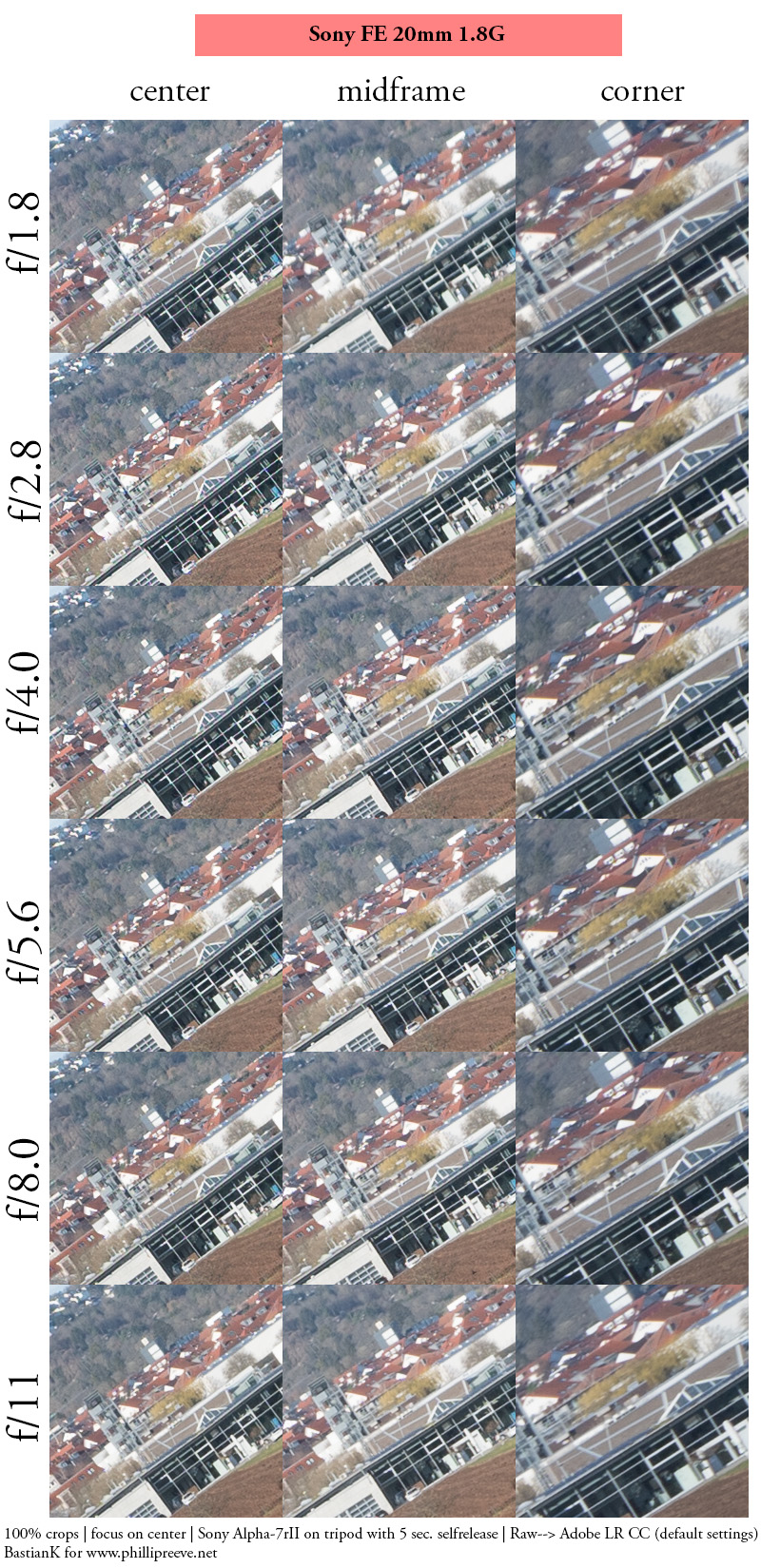 The contrast is very high across the whole frame from f/1.8, but when it comes to resolution already the midframe area benefits from stopping down a bit. The midframe starts to look good at f/2.8 and very good from f/4.0. The corners look best from f/5.6.
This is not to say the corners look bad at wider apertures, actually they look pretty good, I am not even sure you would notice the differences between midframe and corners on a 24mp camera.
The Zeiss Loxia 21mm 2.8 is as good at shared apertures, maybe the corners of the Zeiss look even a bit better at f/2.8 to f/4.0, but the differences caused by sample variation can be higher than actual differences in the lens' design here.
The Sony FE 24mm 1.4 GM might perform a bit better in the midframe at f/2.8, but also here the differences are generally negligible.
The Samyang FE 24mm 1.8 AF shows slightly lower resolution in the center, but the differences in the midframe and corners are hardly worth talking about.
If the message wasn't clear: all these lenses easily offer high enough sharpness. This is not what your decision between these lenses should be based on.
close 0.19 m, 1:3.8 (42mp Sony A7rII)

100% crops from center, A7rII
A maximum magnification of ~1:4 is really nice for a fast 20mm lens (also better than the ~1:6 of the Sony FE 24mm 1.4 GM) and the performance at f/1.8 is also noticeably better than what I experienced with the Samyang FE 24mm 1.8 AF.
Flare resistance
Sony A7rII | Sony FE 20mm 1.8G
No matter whether with or without the lens hood I found the performance to be surprisingly good in this category.
There is a small red ghost that can appear and will turn into a rainbow/crescent artefact depending on the position of the strong light source in the frame, but this is about the worst that can happen and with slight reframing it was often possible to get rid of this completely.
It takes very extreme scenarios like these to actually create some artefacts but the contrast stays on a surprisingly high level: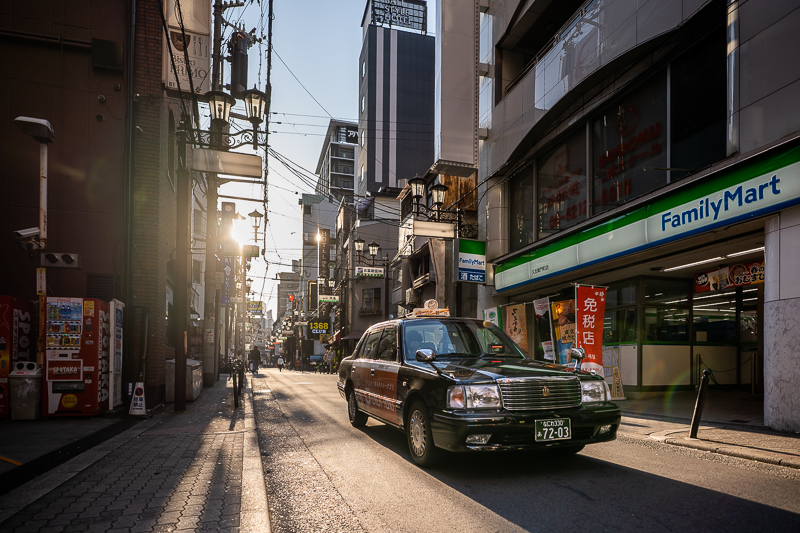 Coma
One of the main applications of a lens with these parameters is landscape astrophotography and here good coma correction is of notable importance. At the maximum aperture of f/1.8 some coma is visible in the corners and this will also be visible with bright stars close to the corner. Stopping down to f/2.5 to f/2.8 is sufficient to get rid of this.
The performance here is actually slightly worse than that of the Samyang FE 24mm 1.8 AF I reviewed.
100% crops from extreme corner, Sony A7rII, focus on center
The lens can certainly come in very handy to take pictures during the blue hour – or in other dimly lit areas – without a tripod and I found the coma correction to be perfectly sufficient for this: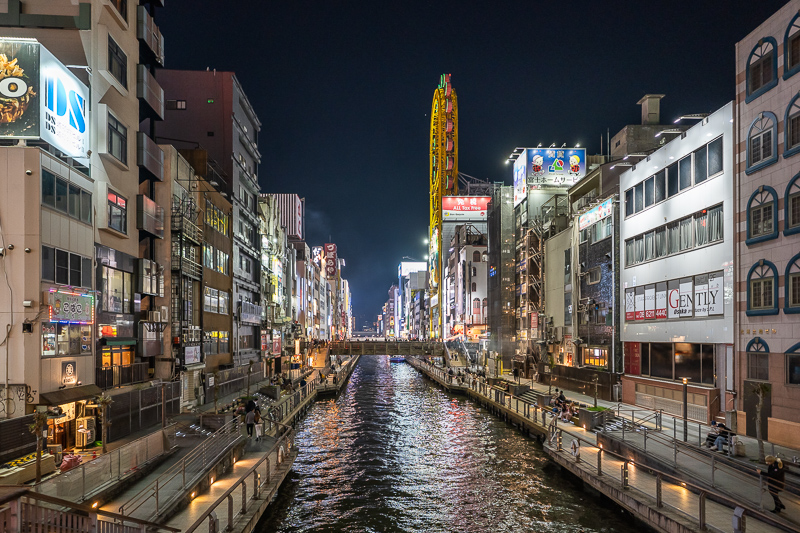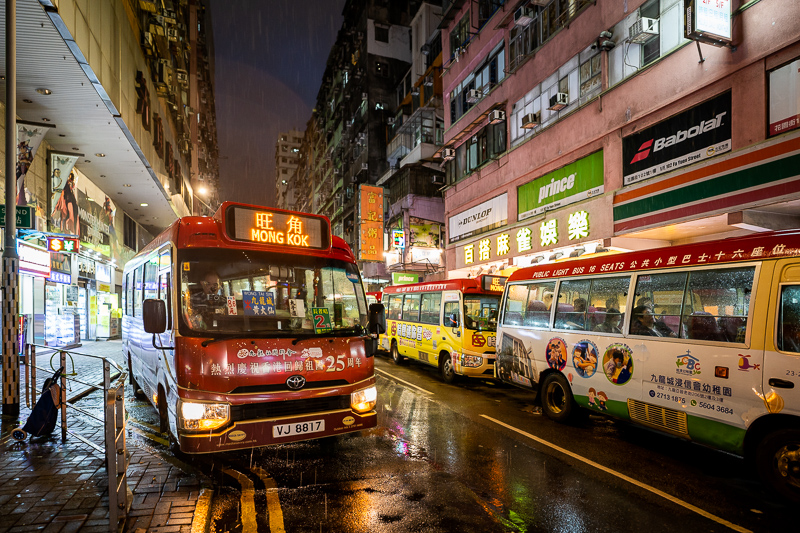 Distortion
Sony A7III | Sony FE 20mm 1.8G | f/11
The Sony FE 20mm 1.8G shows wavy pincushion distortion, luckily the lens has an embedded profile for Jpeg shooters and there is also a correction profile for Lightroom/CameraRAW available that is doing a good job.
Bokeh
When it comes to bokeh fast 20mm lenses are not as spectacular in the field as they sound on paper. It is possible to create very shallow depth of field, but only at close focus distances when you are very close to your subject – not ideal for portraiture.
Already at mid focus distances (0.7 to 1.0 m) not much bokeh is left actually.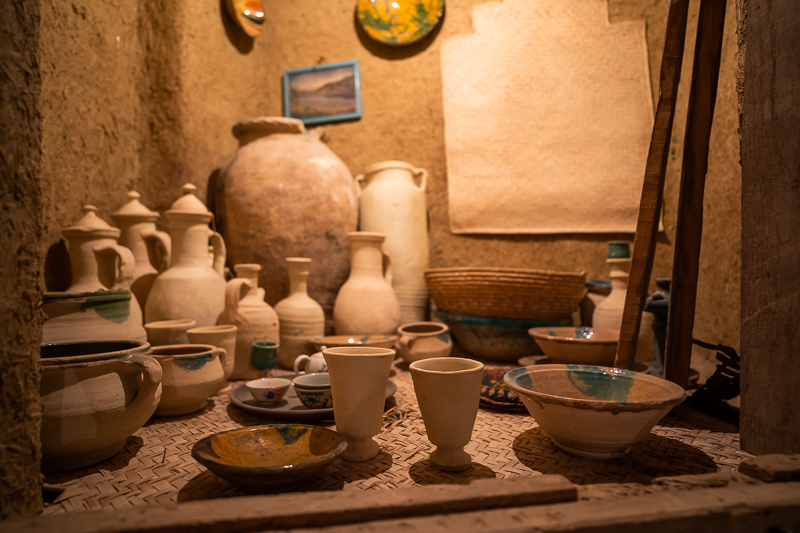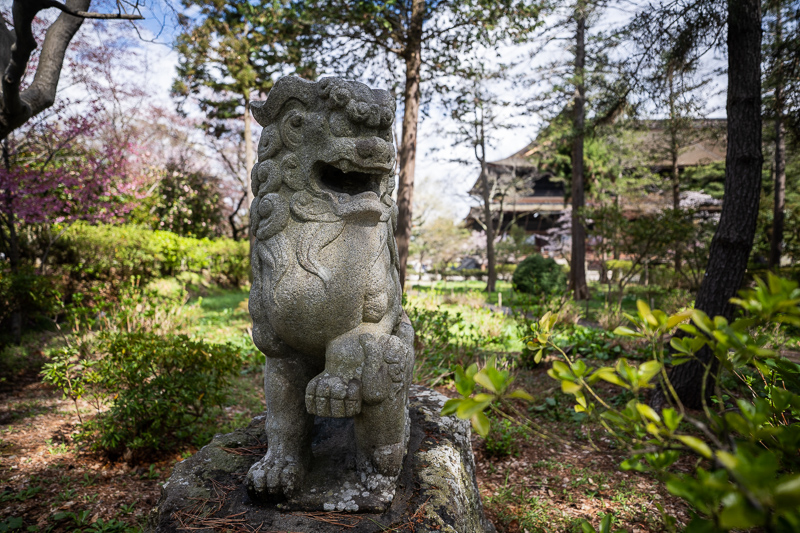 And for full body portraits – or even bigger objects like cars – at longer distances you will barely notice that the background is out of focus at normal viewing distances at all: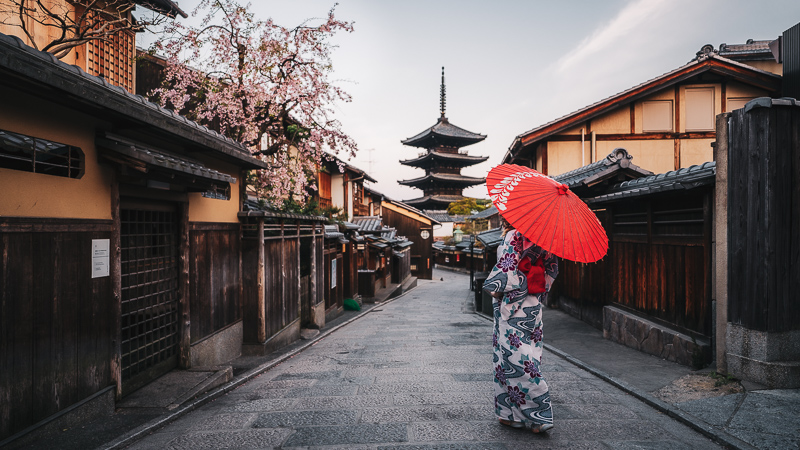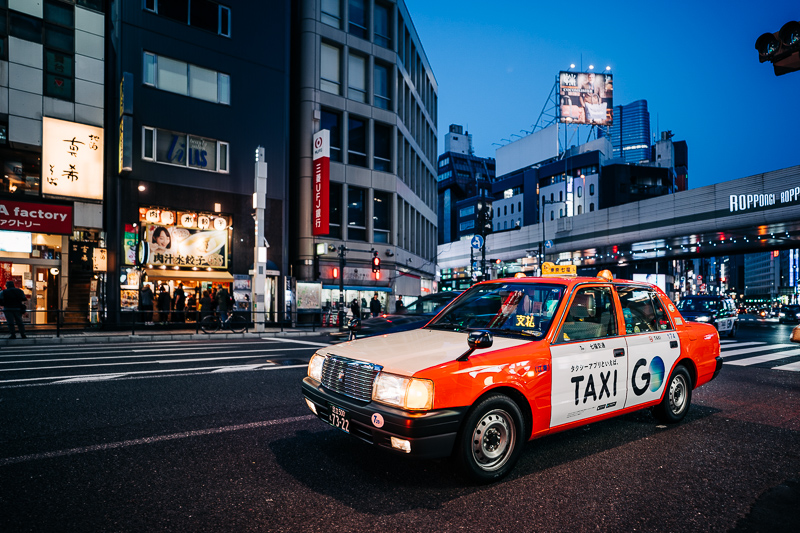 Sunstars
Regular readers already know that an even number of aperture blades leads to distinct sunstars whereas this Sony FE 20mm 1.8G is using 9 rounded aperture blades.
Still, Sony is using some of the best made aperture diaphragms these days so despite 9 rounded aperture blades this lens produces pleasing to look at sunstars with an even length of equidistantly spaced rays. Just have a look at the Samyang 24mm 1.8 AF for comparison that also uses 9 aperture blades but looks way worse.
If you want to know more about sunstars have a look at this article.
50% crops, Sony A7rII
Chromatic aberration
lateral
Sony A7rII | Sony FE 20mm 1.8G | f/8.0
The lens contains a correction profile for lateral CA which is automatically applied even to Raw files in Lightroom/CameraRAW, so you will not be spotting any.
I was still curious what the situation looks like without this correction profile applied, so I took a picture with the lens slightly detached from the camera, as you can see in that case the lateral CA are visible but on a low level.
longitudinal
The Sony FE 20mm 1.8 G is almost completely free of longitudinal CA, many manufacturers would probably put an Apo tag on this lens and rightly so. The Sony FE 20mm 1.8 G also performs better than the Samyang FE 24mm 1.8 AF here.
Sony A7III | Sony FE 20mm 1.8 G | f/1.8
Conclusion
good

sharpness

pleasing bokeh

flare resistance

CA correction

coma correction (barely)

handling/build quality

size/weight

average

not good

strong vignetting at f/1.8

wavy distortion
The Sony FE 20mm 1.8G is a lens that you will hardly read anything negative about and there are good reasons for that: sharpness is more than good enough, flare resistance is very good, coma correction is good (I am not aware of any 20mm f/1.8 lens that is doing better), in terms of handling it is as good as the GM lenses and it isn't even priced too high.
If I was to look for negative aspects I would have to mention the strong vignetting, especially at f/1.8, and the wavy pincushion distortion. The vignetting figures are not higher than those of the competition and the distortion can be easily corrected, so these are only minor flaws.
If I was in the market for a fast 20mm lens now this Sony FE 20mm 1.8G would be very high on my list of potential candidates. I don't see any of the competitors being better and I would be hard pressed to pay the premium for a Zeiss Loxia 21mm 2.8 in 2023 and counting.
buy from amazon.com | amazon.de | B&H | ebay.com (affiliate links) for $898
Alternatives
All the alternatives are covered in our Guide to 20-28mm wide angle lenses for E-mount, so I will only talk about the most obvious ones in detail here.
AF
Sigma C 20mm 2.0 DG DN:
At the end of the day the only reason to choose this Sigma over the Sony FE 20mm 1.8G being reviewed here is its lower price. So if the massive 4.3 EV vignetting don't bother you this Sigma can be an interesting alternative that saves a noticeable amount of money.
buy from amazon.com | amazon.de | B&H | ebay.com | ebay.de (affiliate links) for $549
Tokina Firin 20mm 2.0 AF:
A sharp lens and a very good choice for astrophotography but for landscape photography the weak flare resistance can be a serious issue. When it was first released there was little competition, but now with the Sigma 20mm 2.0 C DG DN and this Sony FE 20mm 1.8G it became even harder to recommend than it already was.
buy from amazon.com | amazon.de | B&H (affiliate links) for $699
Sigma Art 20mm 1.4 DG DN:
At first sight this does sound like a very good lens, but it shares a significant issue with the Voigtländer 21mm 1.4 E: the vignetting figures are simply too high.
Going by the specifications the main application of a lens like this is astrophotography and for that reason alone you may want to choose it over this "slower" Sony FE 20mm 1.8G, but comparing the actual vignetting figures lenstip derived (which in the past were very similar to mine) you will find out those of this Sigma lens at f/1.4 are 2/3 of a stop higher in the corners than those of the Sony lens at f/1.8, meaning there is hardly any benefit of using the arguably "faster" f/1.4 lens here. If this is really the case I fail to see the point of this lens.
buy from amazon.com | amazon.de | B&H | ebay.com (affiliate links) for $899
MF
Voigtländer 21mm 1.4 Nokton E:
Thanks to the record breaking high vignetting figures what I have written about the Sigma 20mm 1.4 Art DG DN applies here as well. This Voigtländer lens is the best at combining nice distinct sunstars with an f/1.4 maximum aperture though.
Since release this came down a lot in price and I think there is a reason for that.
buy from Amazon.com | Amazon.de | B&H | ebay.com (affiliate links) for $899
Zeiss Loxia 21mm 2.8:
This was one of the first E-mount lenses I bought and it is still in use, but fact is there are now only three possible reasons to choose this over the much cheaper Sony FE 20mm 1.8G being reviewed here: you love manual focus lenses, you love its sunstars or you love Zeiss.
buy from Amazon.com | Amazon.de | B&H | ebay.com | ebay.de (affiliate links) for $1549
Sample Images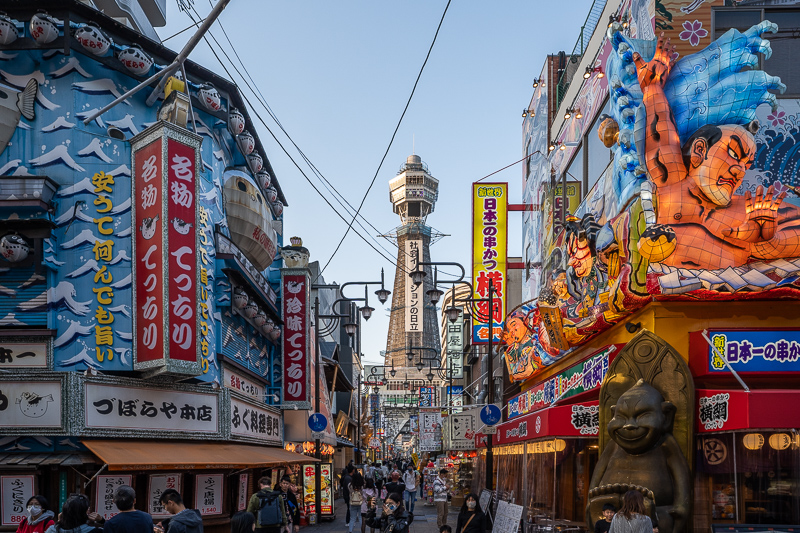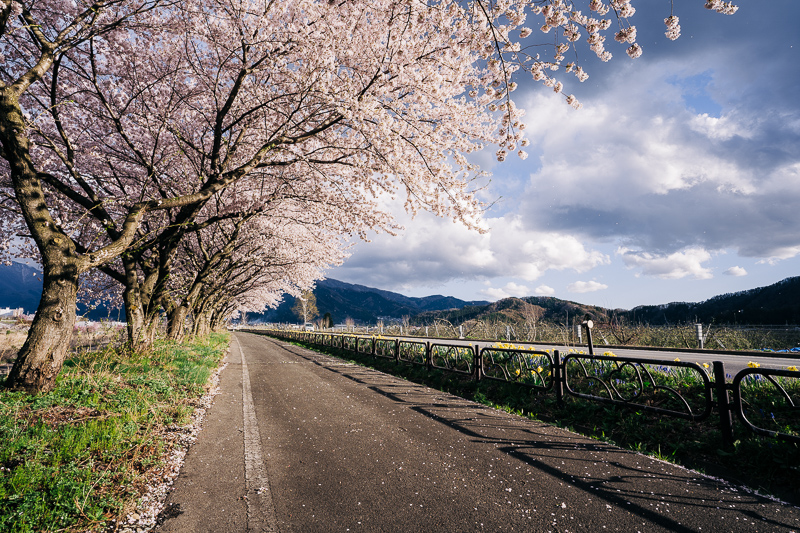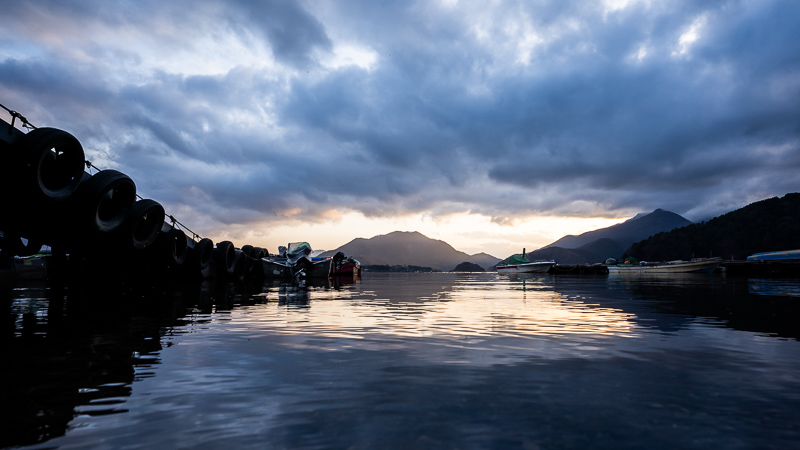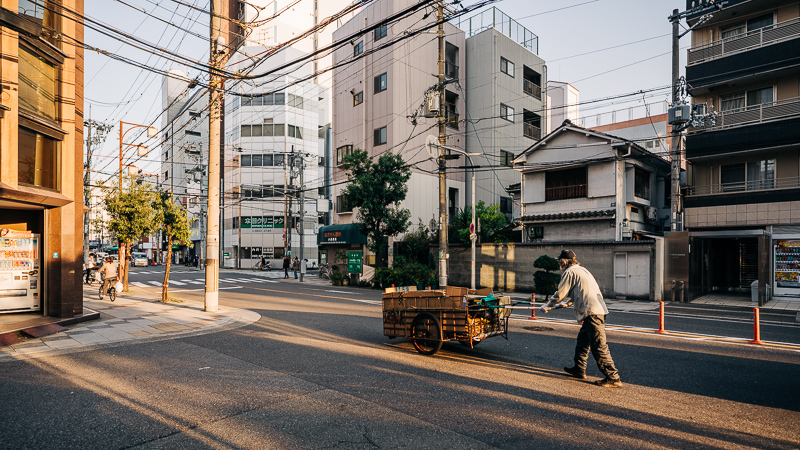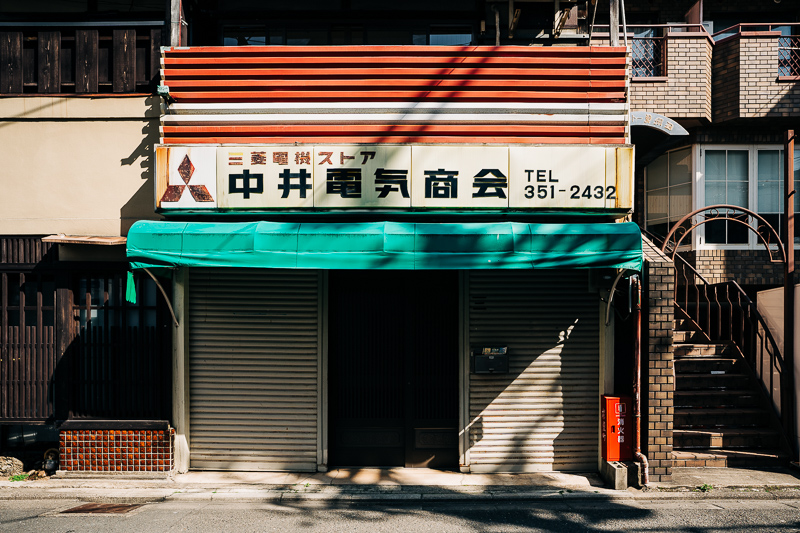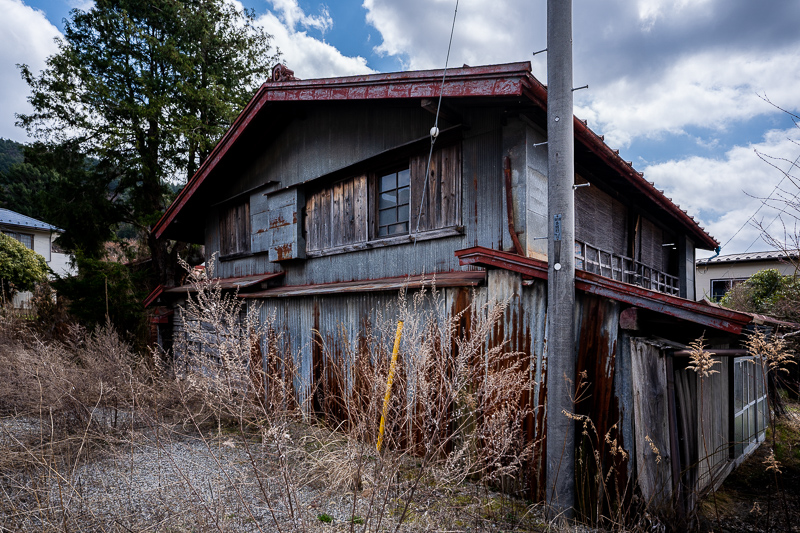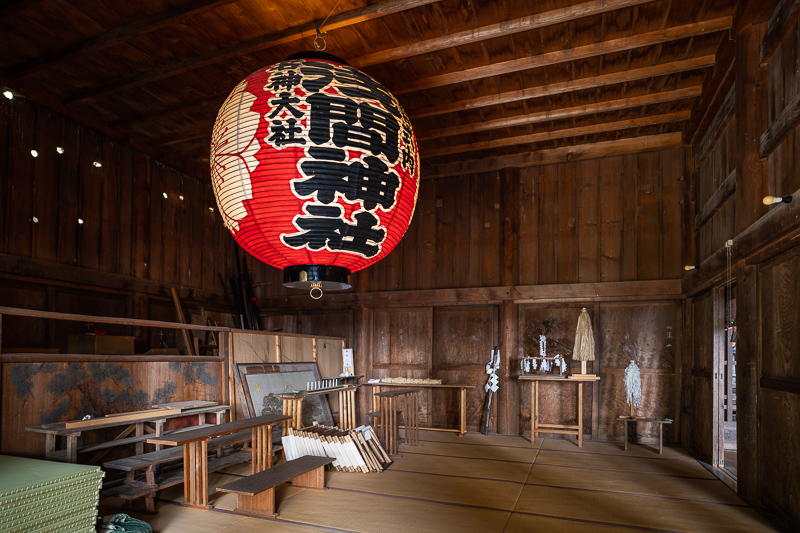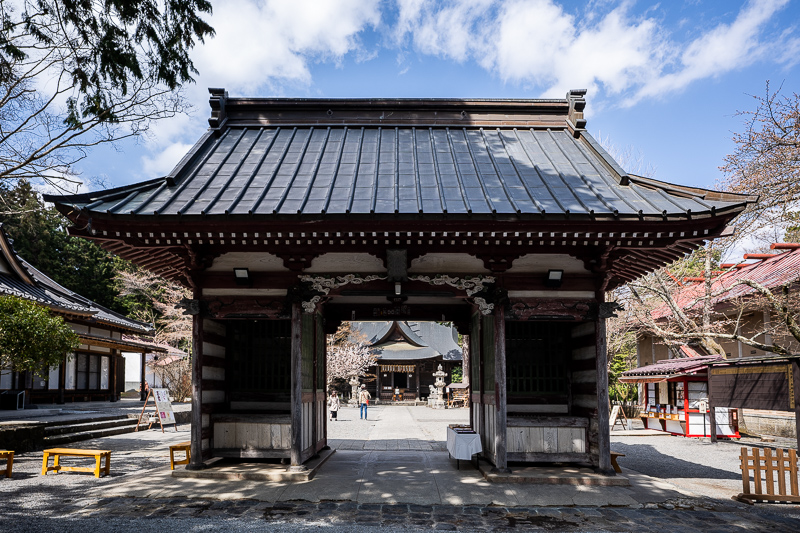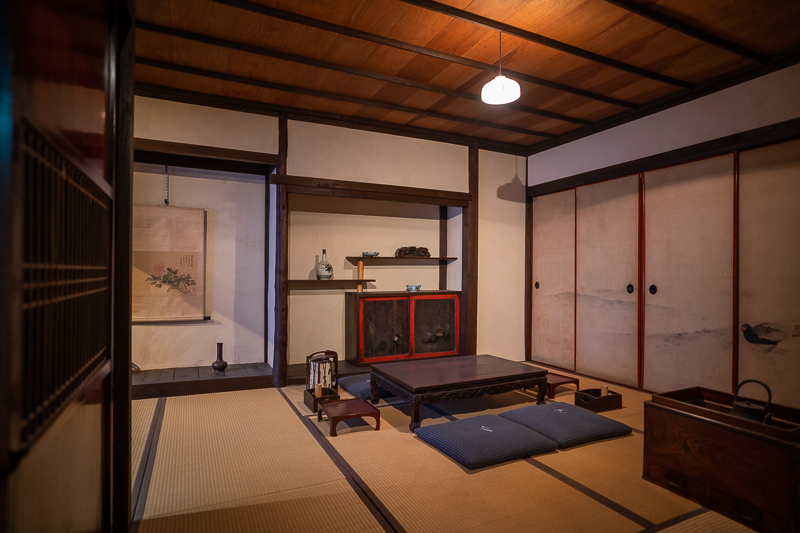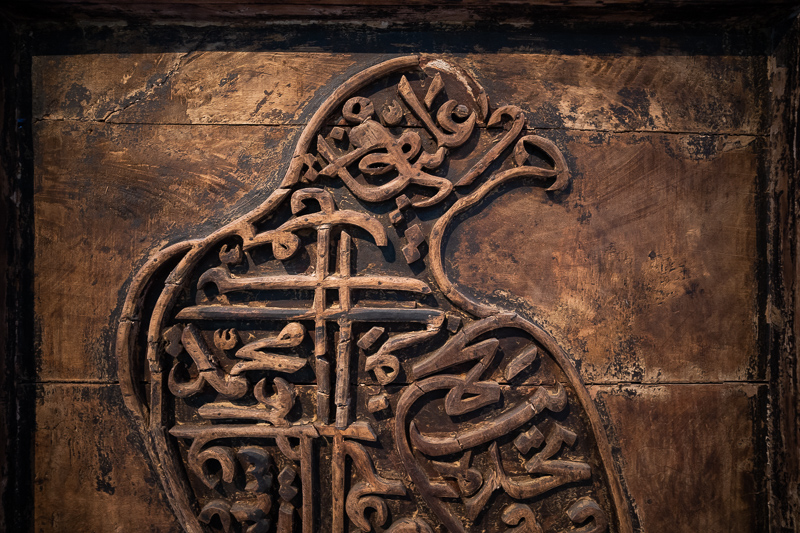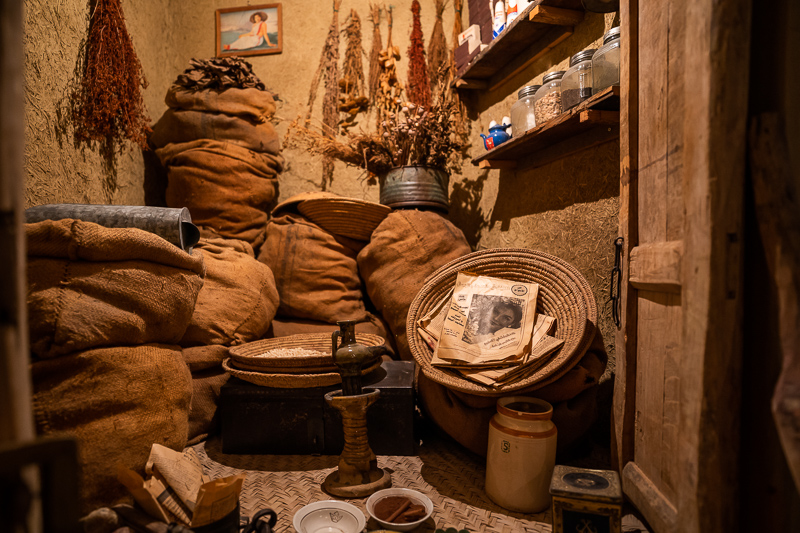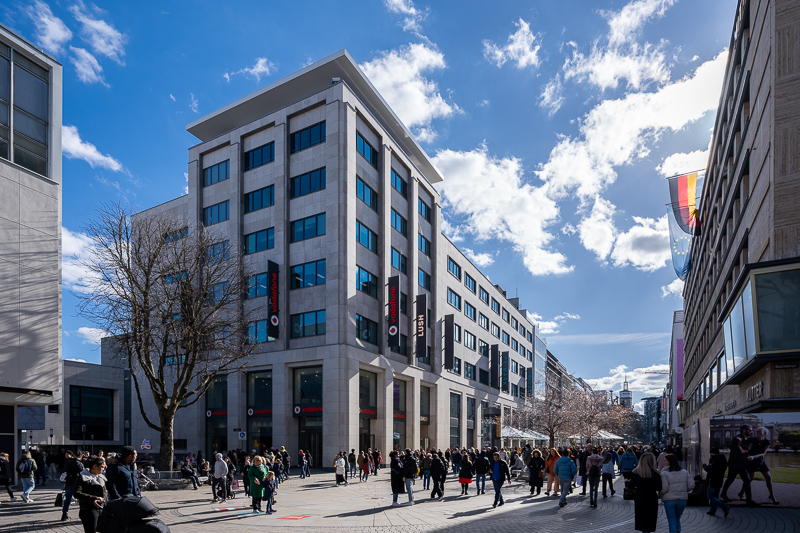 Most of the sample images in this review can be found in full resolution here.
Further Reading
Support Us
Did you find this article useful or just liked reading it? Treat us to a coffee!


via Paypal
The following two tabs change content below.
My name is Bastian and I am your expert here when it comes to ultra wide angle lenses, super fast portrait lenses (ranging from a 50mm f/0.95 to a 200mm f/1.8) and I also have reviewed way too many 35mm lenses. Don't ask me anything about macro or wildlife shooting though.