Introduction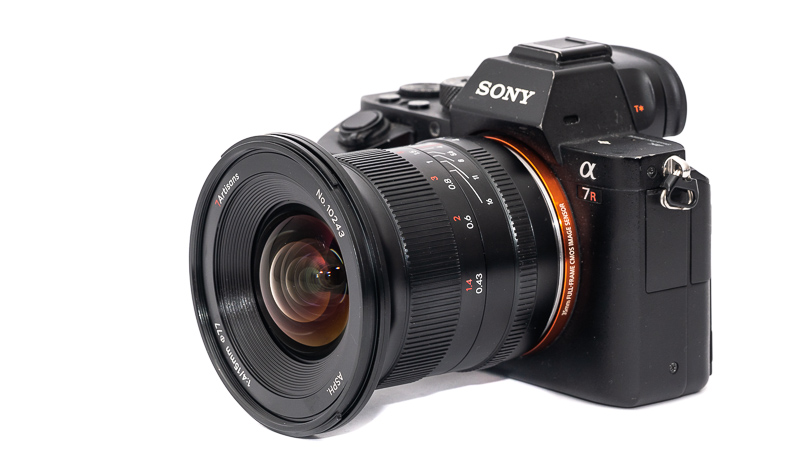 7Artisans are definitely busy with releasing new fullframe lenses and the latest addition is this 15mm 4.0 ultra wide angle lens. At first sight you may think this is a rebranded NiSi 15mm 4.0, because it shares focal length, maximum aperture and even its size is similar, but I can assure you this is not the case. So let's find out which one is the better affordable 15mm lens.
Sample Images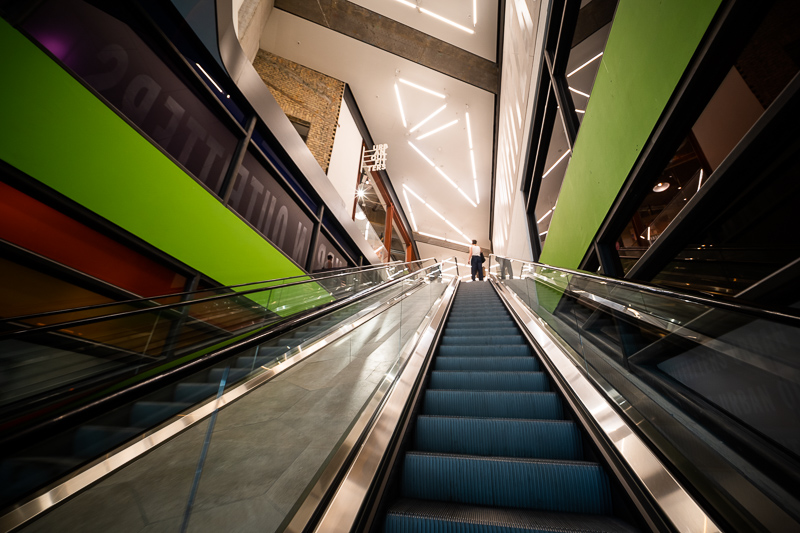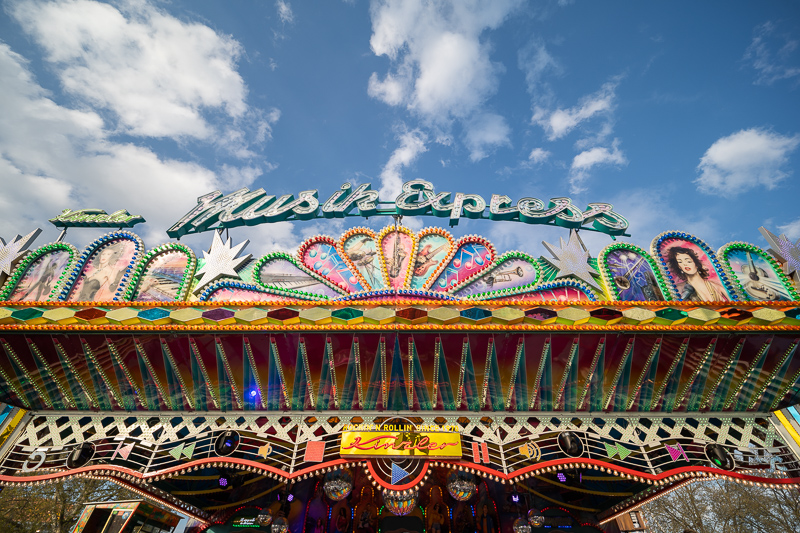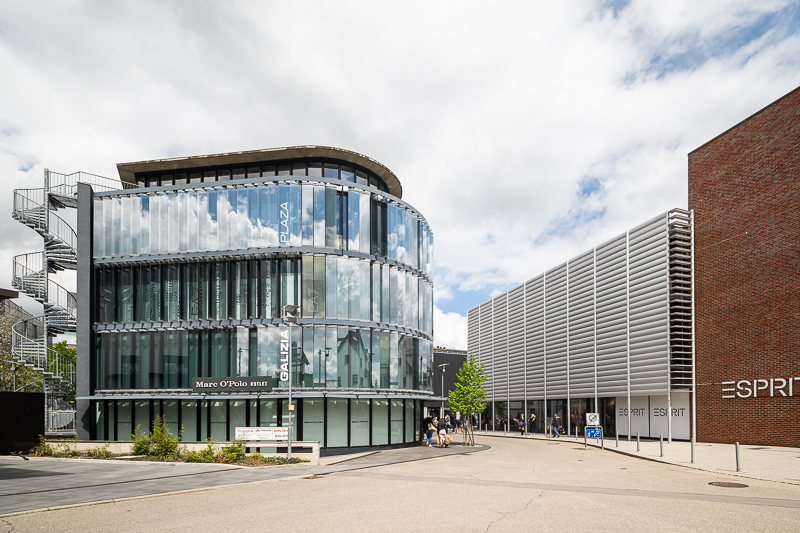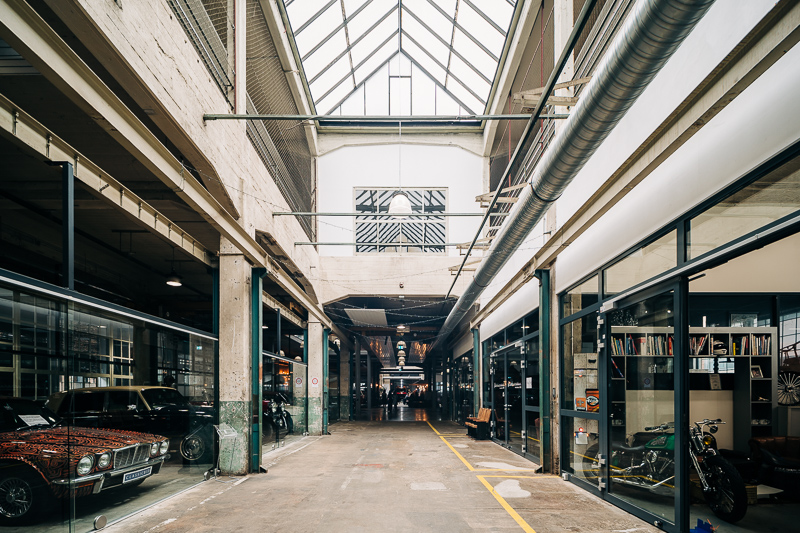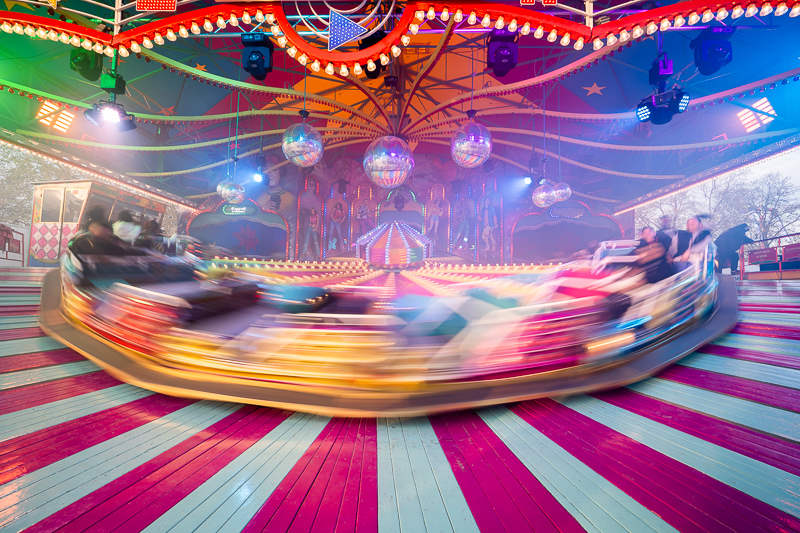 Most of the sample images in this review can be found in full resolution here.
Specifications / Version History
At first sight this 7Artisans 15mm 4.0 looks similar to the NiSi 15mm 4.0, but they feature a different optical design, different weight and a very different minimum focus distance:
Diameter: 84 mm
Field of view: 114° (diagonally)
Length: 78 mm
Weight: 544g (without hood and caps)
Filter Diameter: 77 mm
Number of Aperture Blades: 10 (straight)
Elements/Groups: 13/10

Close Focusing Distance: 0.40 m (measured)
Maximum Magnification: 1:19
Mount: Sony-E
buy from manufacturer's shop | B&H | ebay.com | amazon.de for $359 (affiliate links)

Disclosure
The 7Artisans 15mm 4.0 was kindly provided free of charge by 7Artisans for reviewing purpose for a few weeks.
Handling / Build Quality
The big focus ring turns ~120° from the minimum focus distance (40 cm) to infinity. The aperture ring has equidistantly spaced one-stop click-stops and rotates ~80° from f/4.0 to f/22.
The lens focuses slightly behind infinity which is normal for modern lenses because of mount tolerances.
Most parts seem to be made from metal and the markings on focus ring and aperture ring are engraved and filled with paint. Unlike some other 7Artisans lenses it seems this is also true for the branding and serial number on the front ring.
A removable lens hood is also part of the package: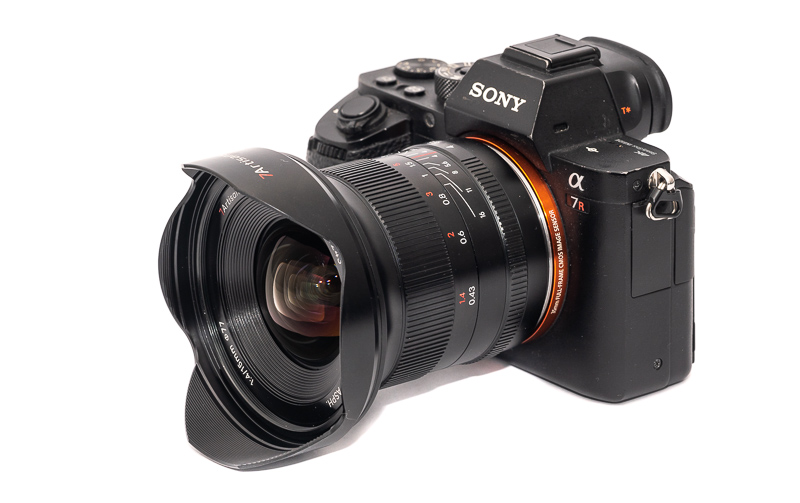 I cannot tell you much about the longevity of this lens, I can only tell you what it feels like and that would be solid and well made.
Even though the Laowa 15mm 2.0 is 2 stops faster than this 7Artisans 15mm 4.0 it is similarly sized and weighs a negligible 24g less.
Vignetting
light falloff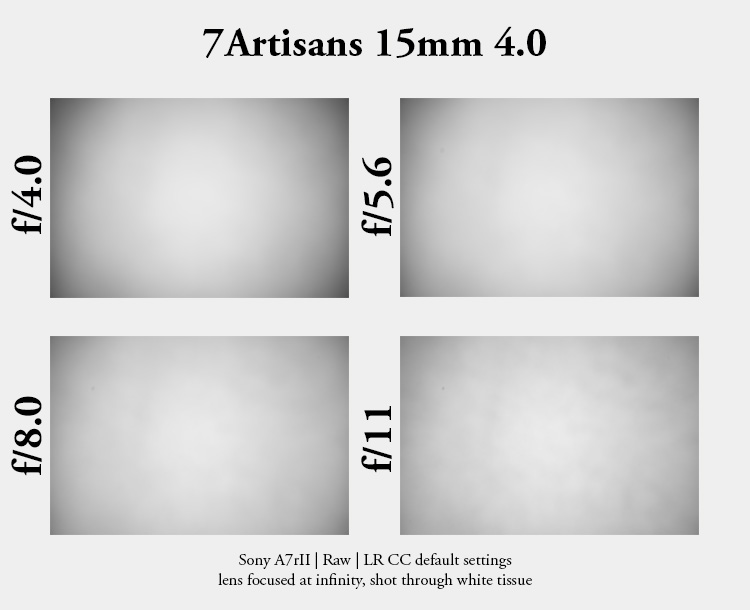 | | |
| --- | --- |
| f/4.0 | 3.1 EV |
| f/5.6 | 2.7 EV |
| f/8.0 | 2.3 EV |
| f/11 | 2.1 EV |
The direct competitor is the NiSi 15mm 4.0. The NiSi lens had surprisingly low vignetting at f/4.0 and stopping down barely improved the situation. Here the situation is different: vignetting at f/4.0 is almost one stop higher compared to the NiSi lens, stopped down to f/8.0 or further they perform very similar.
It is recommended to have a look at this article first to get an idea how this brightness graph works.
color cast
As is the case with many small ultra wide angle lenses there is a bit of green color cast visible in the corners. With normal subjects I did not notice it, but when taking pictures of a snowy landscape or an overcast sky it can become visible.
You can correct this e.g. using corner fix or gradients in Lightroom as described in this article.
This is hardly an issue, I did not correct any of the sample images for this.
Sharpness
infinity (42mp Sony A7rII)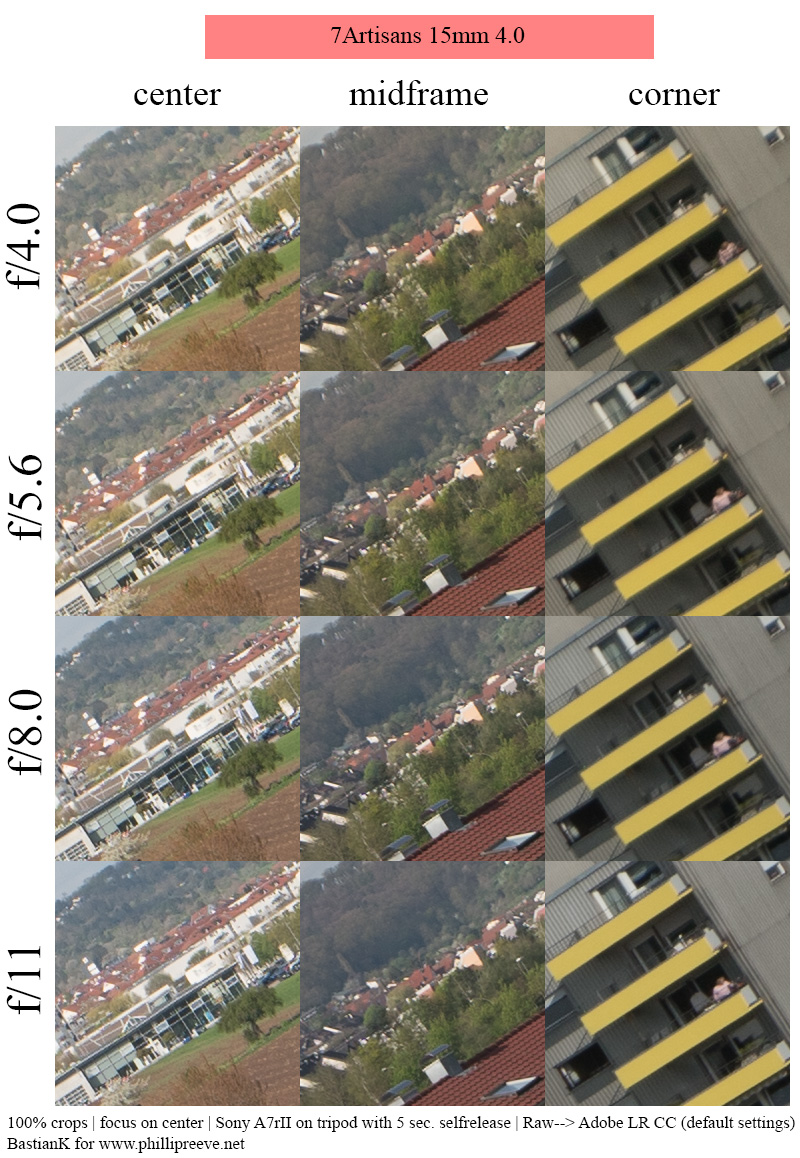 Generally the 7Artisans 15mm 4.0 shows a good performance here. Already at f/4.0 the performance is very even, I didn't see a noticeable midzone dip. The corners benefit from stopping down, peak performance is reached by f/11.
Compared to the NiSi 15mm 4.0:
At f/4.0 the NiSi is a bit punchier in the center but slightly worse in the corners. By f/8.0 the differences are very small, but the NiSi is still better at resolving fine details.
Compared to the Laowa 15mm 2.0:
In the center the Laowa at f/2.0 reveals more details than the 7Artisans at f/4.0, but in the corners the Laowa shows more aberrations that clear up on stopping down to f/4.0.
At shared apertures they perform similar, but also the Laowa reveals fine details a bit better than the 7Artisans.
close (0.40m, 1:19)

100% crops from center, A7rII
While the NiSi 15mm 4.0 and the Laowa 15mm 2.0 feature a very generous focus distance of 0.2 and 0.15 m this 7Artisans only allows for 0.4 m. For some people this might be a notable drawback. Performance is very good from f/4.0 though.
Flare resistance
Sony A7III | 7Artisans 15mm 4.0
As always evaluating flare is a complex matter since you can get any lens to look bad if you push it hard enough and a slight change of scenario can affect results a lot.
The aperture in use also makes a big difference here – and unlike many other lenses – I found the performance to be often a bid worse stopped down.
With a strong point light source like the sun in or close to the center of the frame a ring flare appears that is barely noticeable at f/4.0 to f/5.6 and becomes a problem at f/11 to f/16: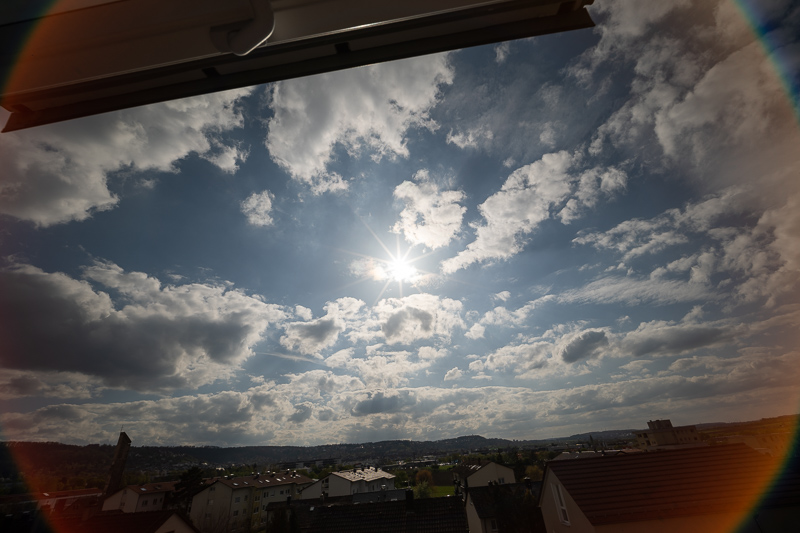 As is the case for many lenses with the sun outside the frame close to a corner there is a specific position that leads to a huge flare. This is a staged scenario and not something you should be afraid of encountering regularly in the field.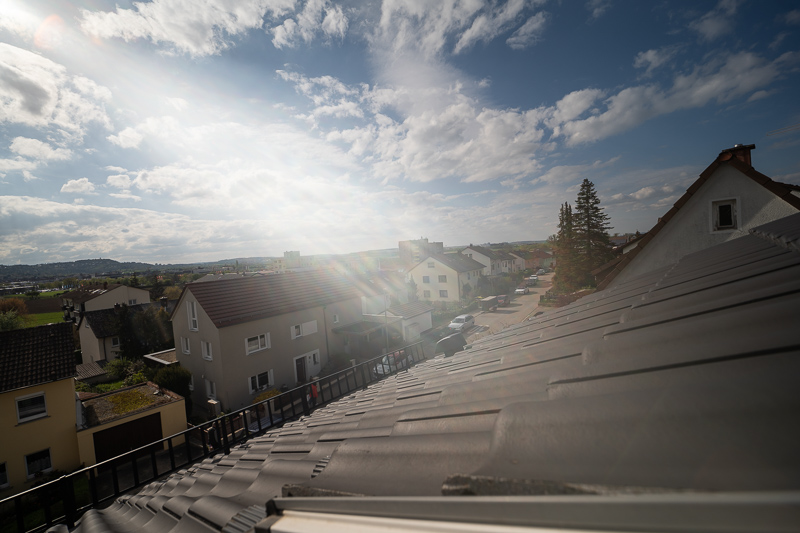 There is also good news though: this is a lens where using the hood can actually make a big difference:
Sony A7rII | 7artisans 15mm 4.0 | f/11
Here I wasn't using the hood and encountered noticeably lower contrast on the right side of the building: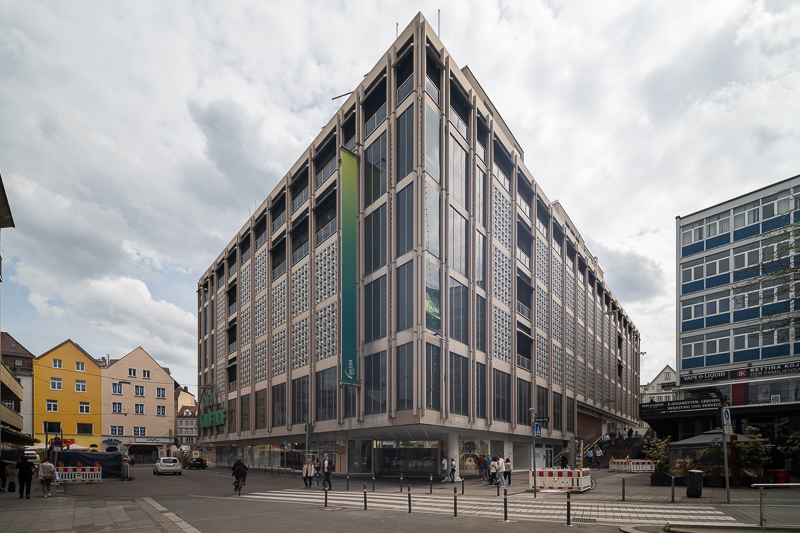 The performance here is not great but also not terrible. One should definitely watch out for artefacts towards the borders when a strong light source is in the frame though.
Coma
100% crops from extreme corner, focused on center
Coma is very well controlled, stopping down to improve the performance is not necessary.
Distortion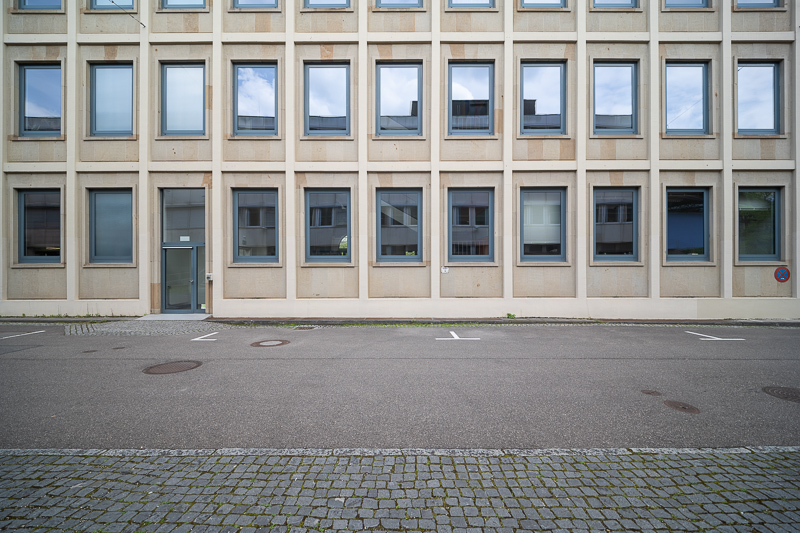 Distortion might be a tiny bit wavy but as it is close to zero this should rarely be an issue in the field.
Sunstars
crops from center, A7rII
I have seen various different aperture diaphramgs in 7Artisans lenses and here they decided to go for 10 aperture blades and similar to the NiSi 15mm 4.0 and some Zeiss Loxia lenses they are slightly closed at the maximum aperture, so you get sunstars around point light sources even at f/4.0. Generally the sunstars are well defined, if you want to learn more about this topic have a look at this article.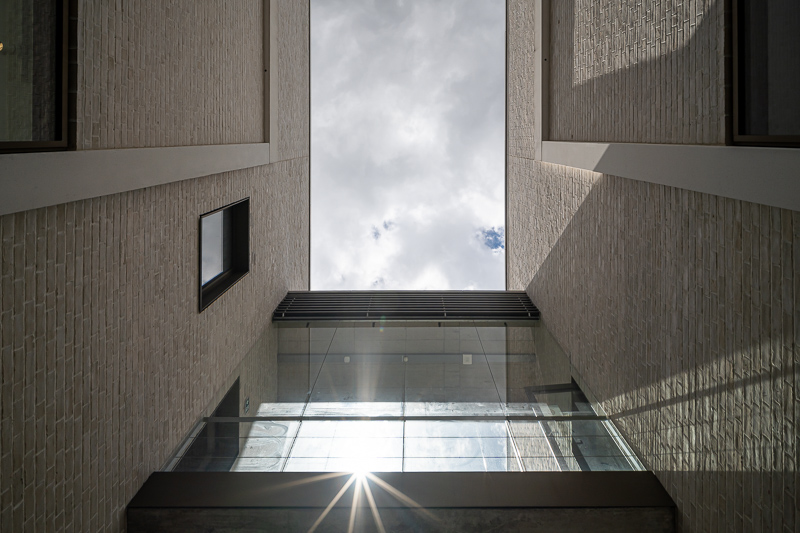 Chromatic Aberrations
lateral
100% crops from extreme corner, Sony A7rII
For a 15mm lens this 7Artisans shows a very low amount of lateral CA. The small amount that remains is easily corrected in a raw developer like Lightroom by one click.
longitudinal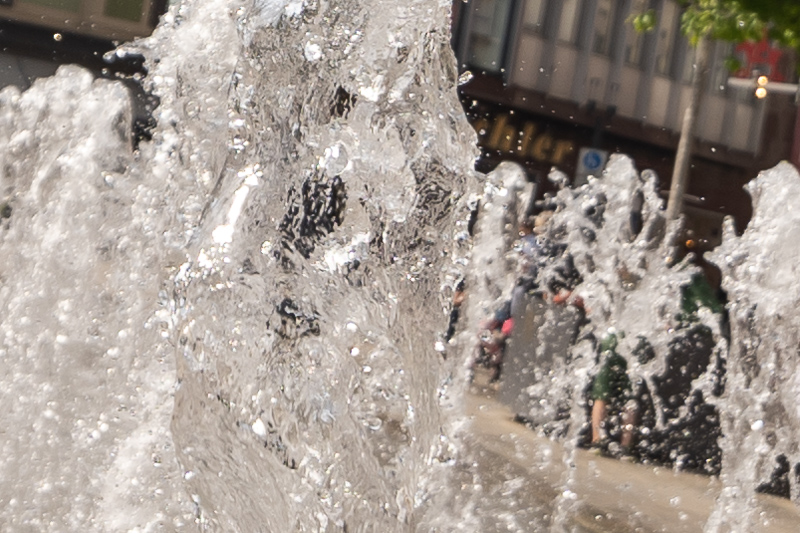 As this is a very wide and rather slow lens longitudinal CA (loCA) are nothing to worry about.
Conclusion
good

even sharpness from f/4.0 

coma correction

sunstars

CA correction

distortion

handling/build quality

average
not good

flare resistance

no exif data

slight color cast in the corners

minimum focus distance

size/weight
The 7Artisans 15mm 4.0 is a solid ultra wide angle lens but it faces some stiff competition. The NiSi 15mm 4.0 and the Laowa 14mm 4.0 are similarly priced and have similar optical qualities but they are smaller and lighter, especially the Laowa 14mm 4.0.
Now the Laowa 15mm 2.0 is still slightly smaller and even lighter, but a full 2 stops faster – also 50% more expensive though.
There are also some affordable ultra wide angle zooms available these days that offer similar performance and are often lighter and smaller – despite featuring an AF mechanism.
So at the end of the day I think this 7Artisans lens is simply too big and heavy by comparison and it will be hard to find a niche for itself.
buy from manufacturer's shop | B&H | ebay.com | amazon.de for $359 (affiliate links)
Alternatives
All the current 15mm options for E-mount are covered in our Guide to Ultra Wide Angle Lenses for the A7 Series, therefore I will only pick out a few very obvious alternatives to talk about here.
NiSi 15mm 4.0:
The NiSi lens is the most obvious competitor. It shows less vignetting at f/4.0, has slightly better flare resistance and focuses much closer. The 7Artisans has less distortion and is 100 bucks cheaper. I only tried one sample each and between those the sharpness differences were not big enough to get excited about, but the NiSi did a bit better in the center.
buy from B&H | ebay.com | amazon.com | amazon.de for $479/479€ (affiliate links)
Voigtlander 15mm 4.5 E SWH III:
Sharpness and sunstars are similar. The important differences are: the 7Artisans lens is roughly half the price, has a removable lens hood, is slightly faster and shows less vignetting (especially stopped down), but it is also heavier, bigger, has worse flare resistance and does not transmit Exif data.
buy from CameraQuest | amazon.com | amazon.de | B&H | ebay.com | ebay.de (affiliate links) for $699
Laowa 15mm 2.0 Zero-D FE:
Despite being a full two stops faster this Laowa lens is similarly sized and actually features a smaller 72mm filter thread. This 15mm 2.0 also shows slighty better performance at infinity. Neither of these two lenses transmits Exif data to the camera.
In comparison the only real downside of the Laowa lens is its higher price.
buy from manufacturer's online shop | amazon.com | B&H | amazon.de (affiliate links) for $649
Laowa 14mm 4.0 FF RL Zero-D:
This is your smallest option in this focal length range for E-mount. It is also about half the weight and takes 52 mm filters, but unfortunately the non-removable hood ruins the party for filter users. Like the 7Artisans lens reviewed here there are also no electronic contacts.
The small size takes its toll: field curvature is high and might be annoying for some applications and vignetting is also higher.
buy from manufacturer's online shop | B&H | eBay.com (affiliate links) for $449
Further Sample Images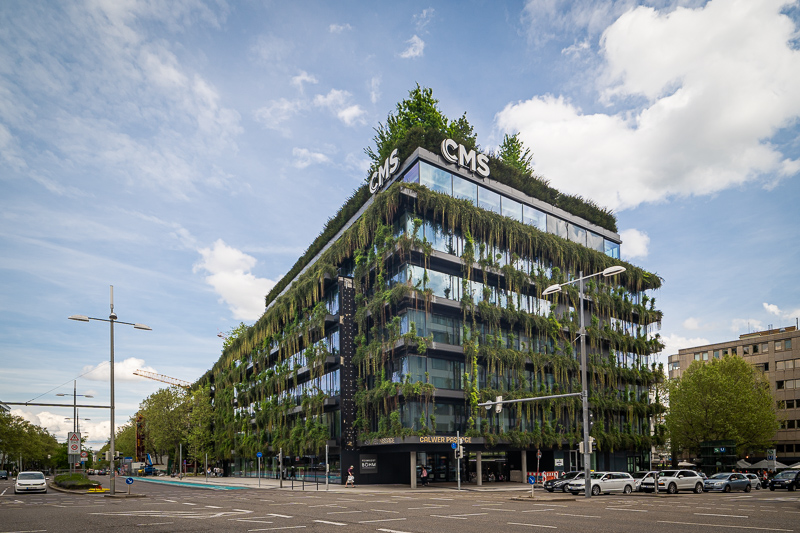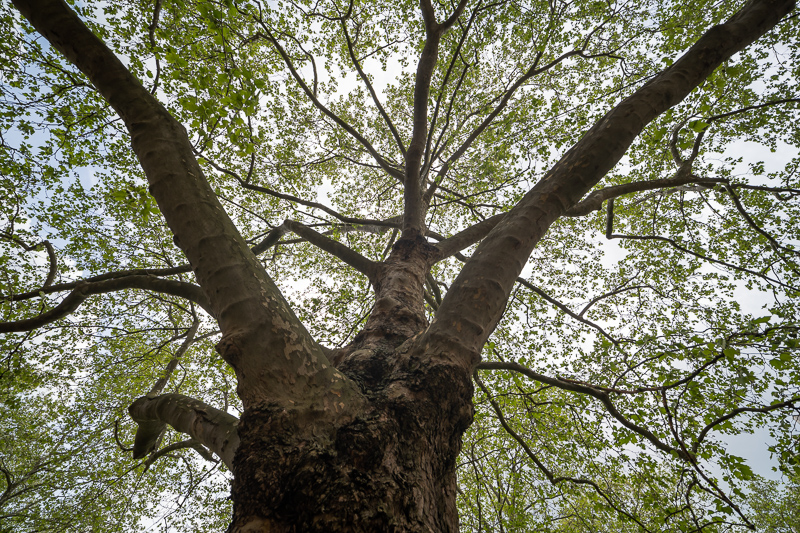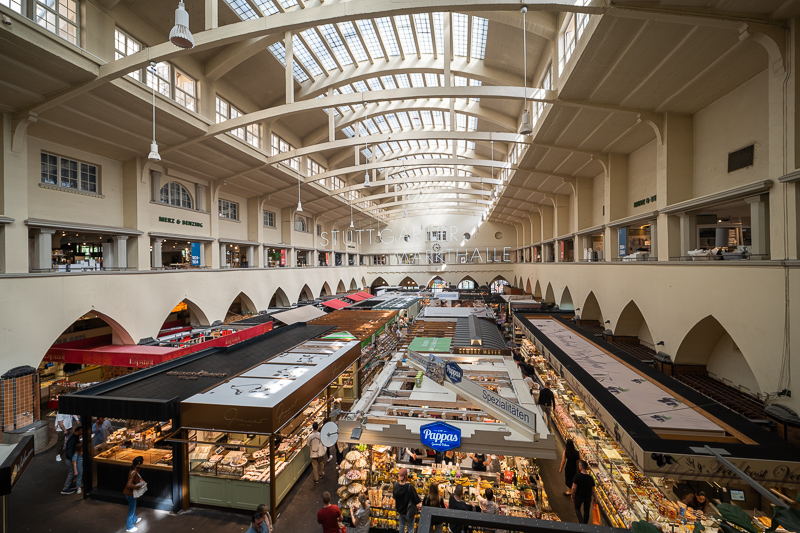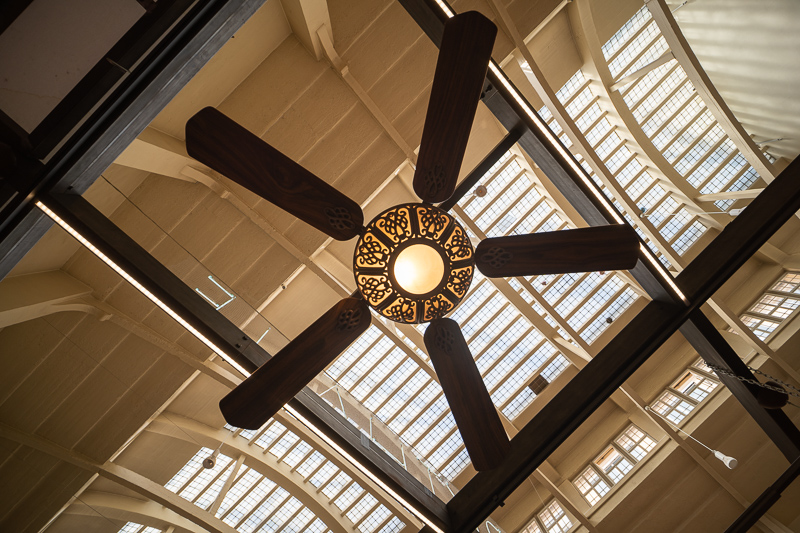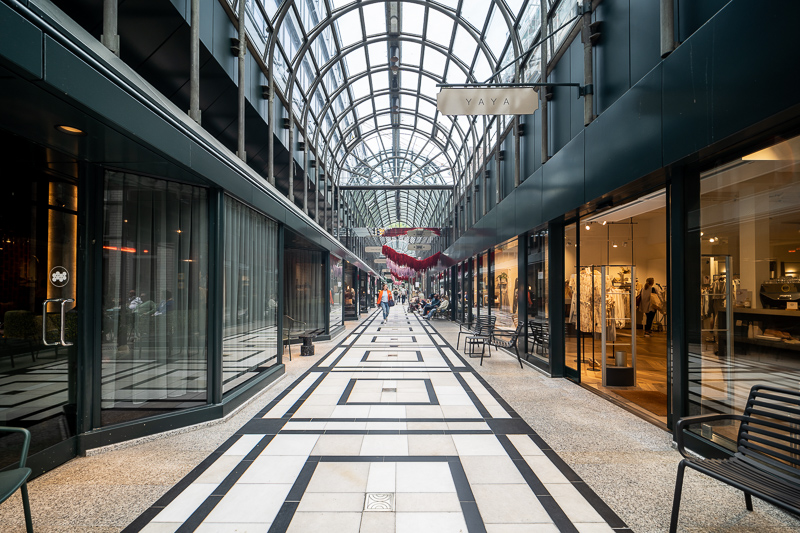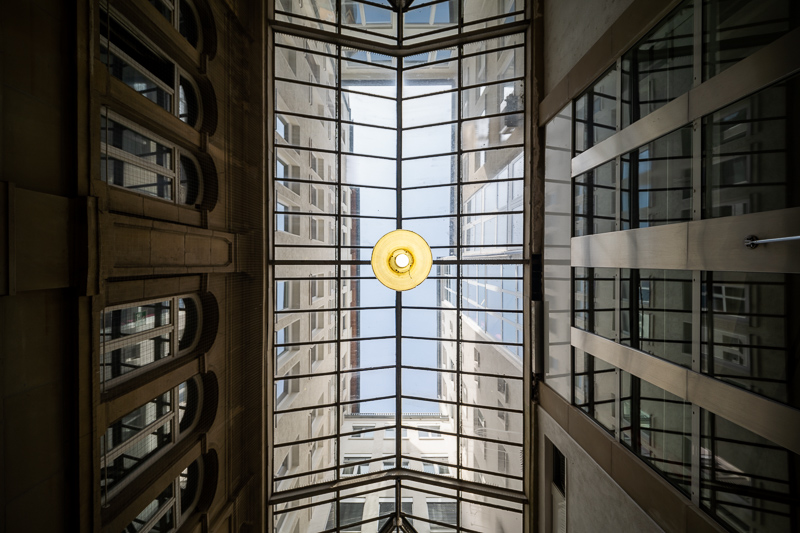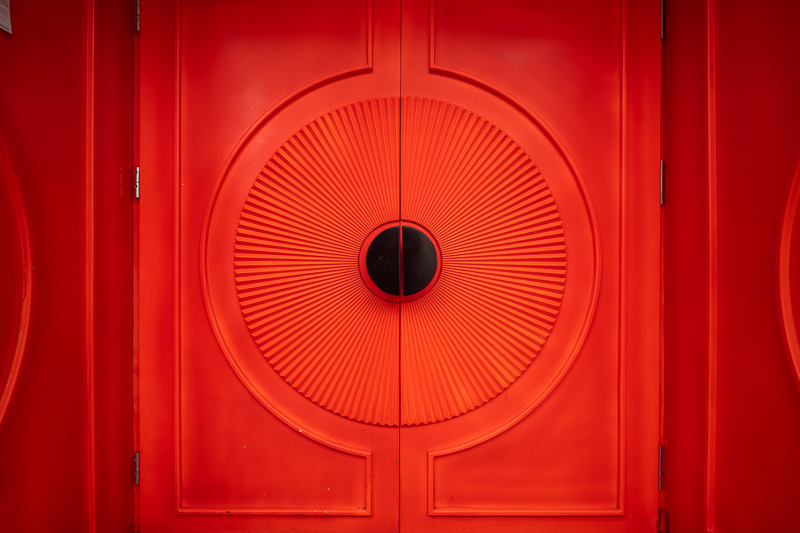 Most of the sample images in this review can be found in full resolution here.
Further Reading
Support Us
Did you find this article useful or just liked reading it? Treat us to a coffee!


via Paypal
The following two tabs change content below.
My name is Bastian and I am your expert here when it comes to ultra wide angle lenses, super fast portrait lenses (ranging from a 50mm f/0.95 to a 200mm f/1.8) and I also have reviewed way too many 35mm lenses. Don't ask me anything about macro or wildlife shooting though.