Introduction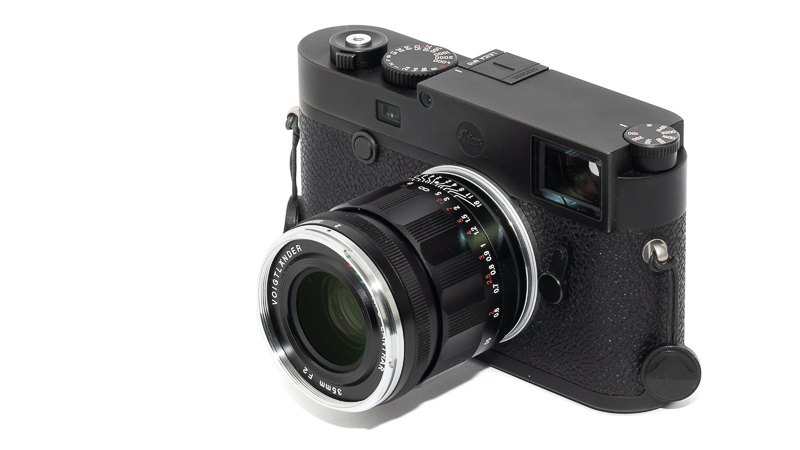 The Voigtländer VM 35mm 2.0 Apo-Lanthar is the second addition to Voigtländer's Apo-Lanthar lineup for M-mount.
I am going to have a look how it performs on the Leica M10 and also on the Sony A7rII to see what you are giving up using this lens on your E-mount camera instead of the native version I already reviewed here.
This lens will be reviewed on the 42mp Sony A7rII and the 24mp Leica M10.
Sample Images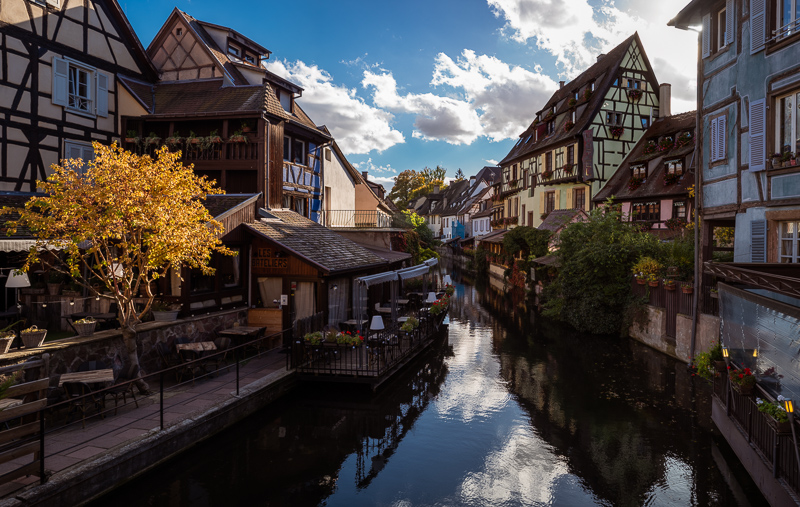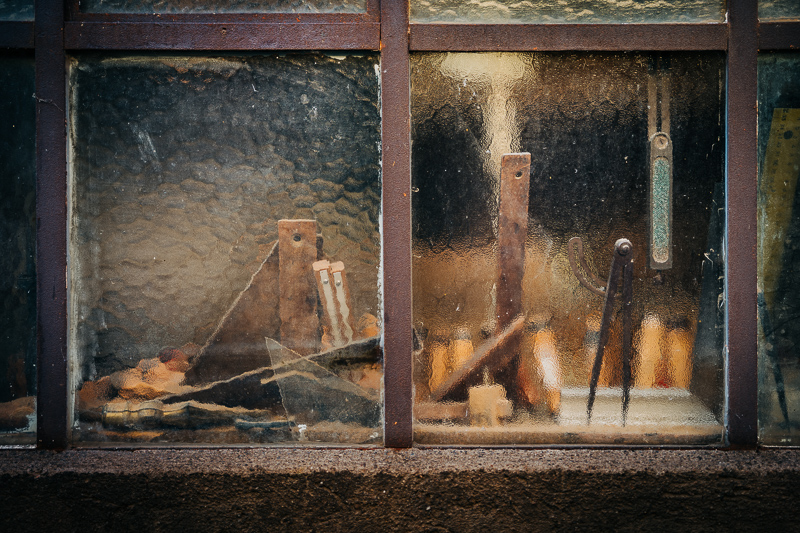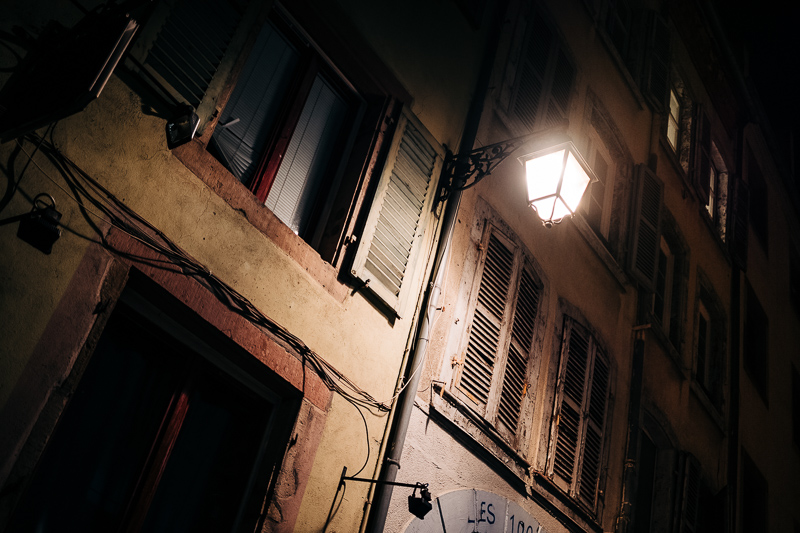 Most of the sample images in this review can be found in full resolution here.
Specifications
So far this lens only comes in M-mount and has the following specifications:
Diameter: 56 mm
Field of view: 63.6° (diagonally)
Length: 58 mm
Weight: 304g (without hood and caps)
Filter Diameter: 49 mm
Number of Aperture Blades: 12 (rounded or straight depending on aperture value)
Elements/Groups: 11/9

Close Focusing Distance: 0.5 m
Maximum Magnification: 1:11.3 (measured)
Mount: Leica-M
The lens is available from Robert White (UK) | Cameraquest (US) | B&H | ebay.com | ebay.de (affiliate links) and the price is $1149/1099€/£899.
Disclosure
The Voigtlander VM 35mm 2.0 Apo-Lanthar was kindly provided free of charge by Robert White/Flaghead for reviewing purpose for a duration of 4 weeks.
Handling / Build Quality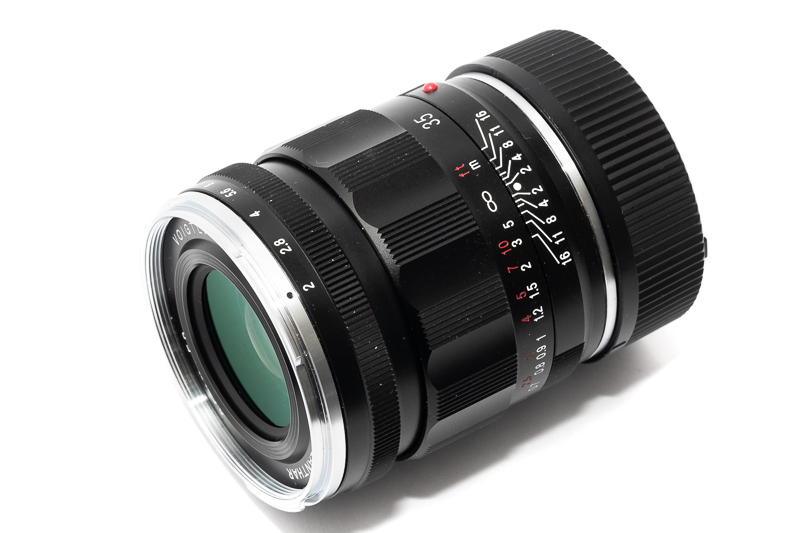 Cosina doesn't follow a clear line when it comes to the casing design of their M-mount lenses. This 35mm 2.0 follows the design of the faster modern Voigtländer lenses like the 35mm 1.2 III or 50mm 1.2.
Markings are red/white (engraved and filled with paint), focus ring has perfect resistance and turns about 120° from the minimum focus distance of 0.5 m to infinity.
The aperture ring has equidistant and very distinct half-stop click stops and feels very tightly assembled.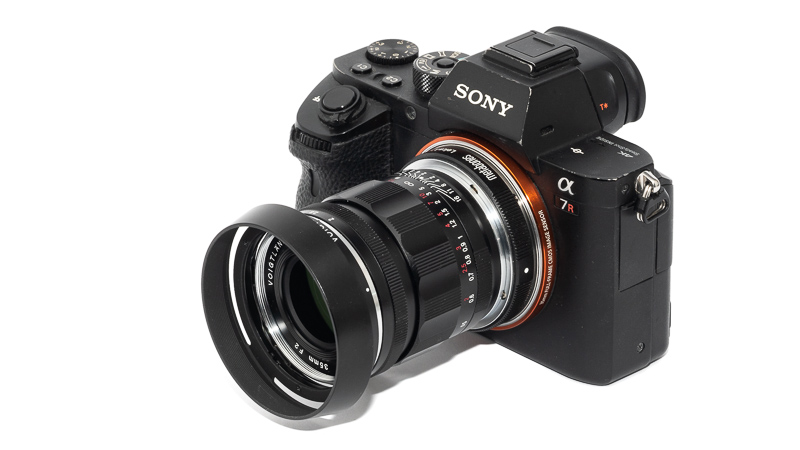 As is unfortunately often the case for Cosina's M-mount lenses there is no hood in the package, instead you can buy it separately. Above is the lens pictured with the LH-13 vented hood.
The lens features a rangefinder coupling but no focus tab. Out of box the lens was well calibrated on my Leica M10, but it looks to me that true infinity would be a tad behind the hard stop (see sharpness infinity section). Not the first time this happens to me and a good reason why the E-mount version can be focused past infinity.
What you can also see in the picture: the aperture ring rotates in the other direction on the E-mount lens.
Vignetting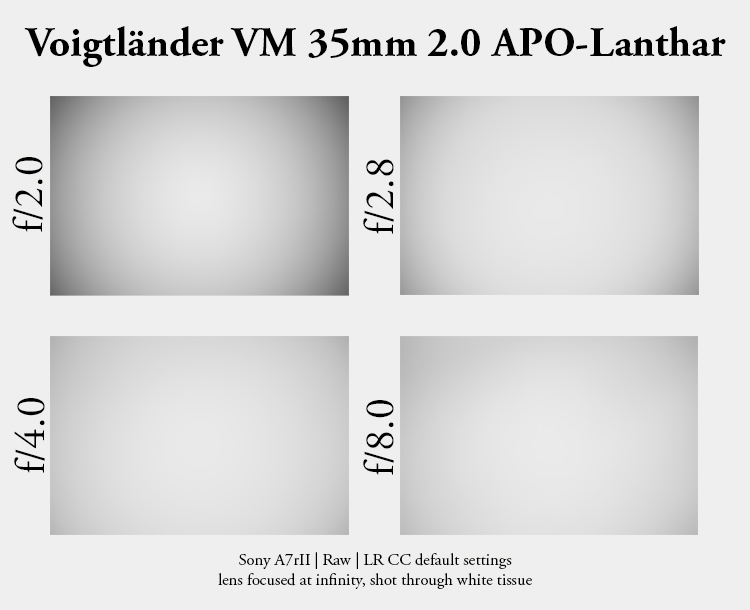 | | |
| --- | --- |
| f/2.0 | 2.8 EV |
| f/2.8 | 2.1 EV |
| f/4.0 | 1.6 EV |
| f/5.6 | 1.5 EV |
| f/8.0 | 1.4 EV |
| f/11 | 1.4 EV |
Wide open I measure almost 3 EV corner shading which is a lot, but similar to the competition. At shared apertures these values are about 0.5 EV better compared to the Voigtlander VM 35mm 1.2 III.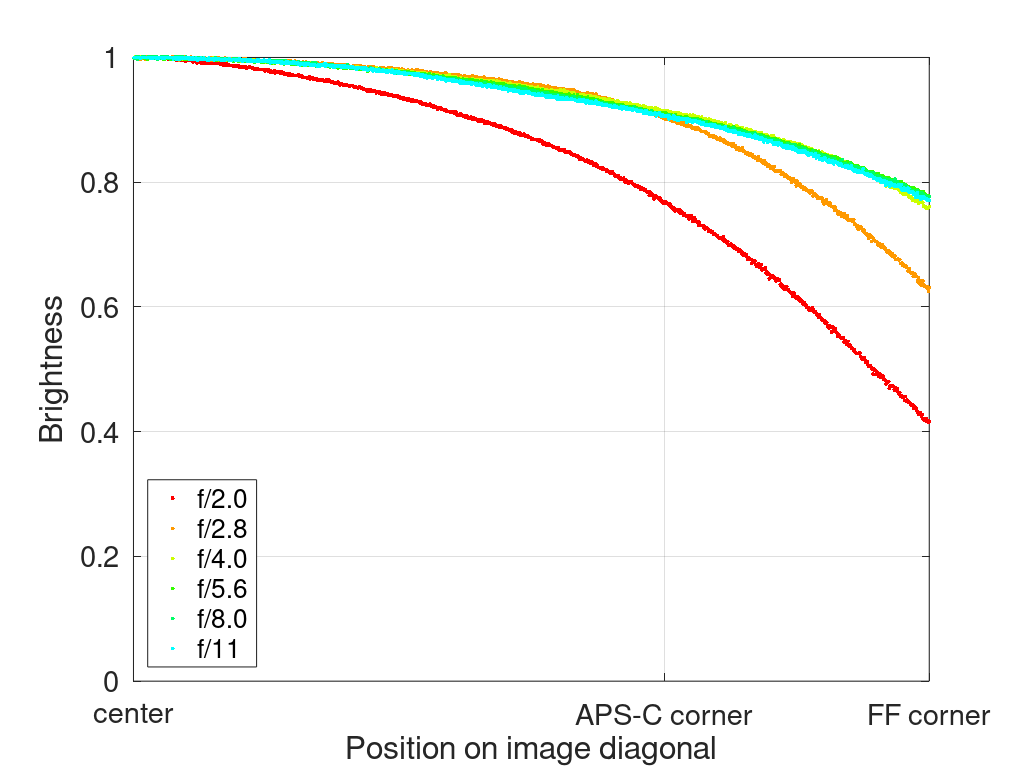 It is recommended to have a look at this article first to get an idea how this brightness graph works.
Sharpness
infinity (42mp Sony A7rII)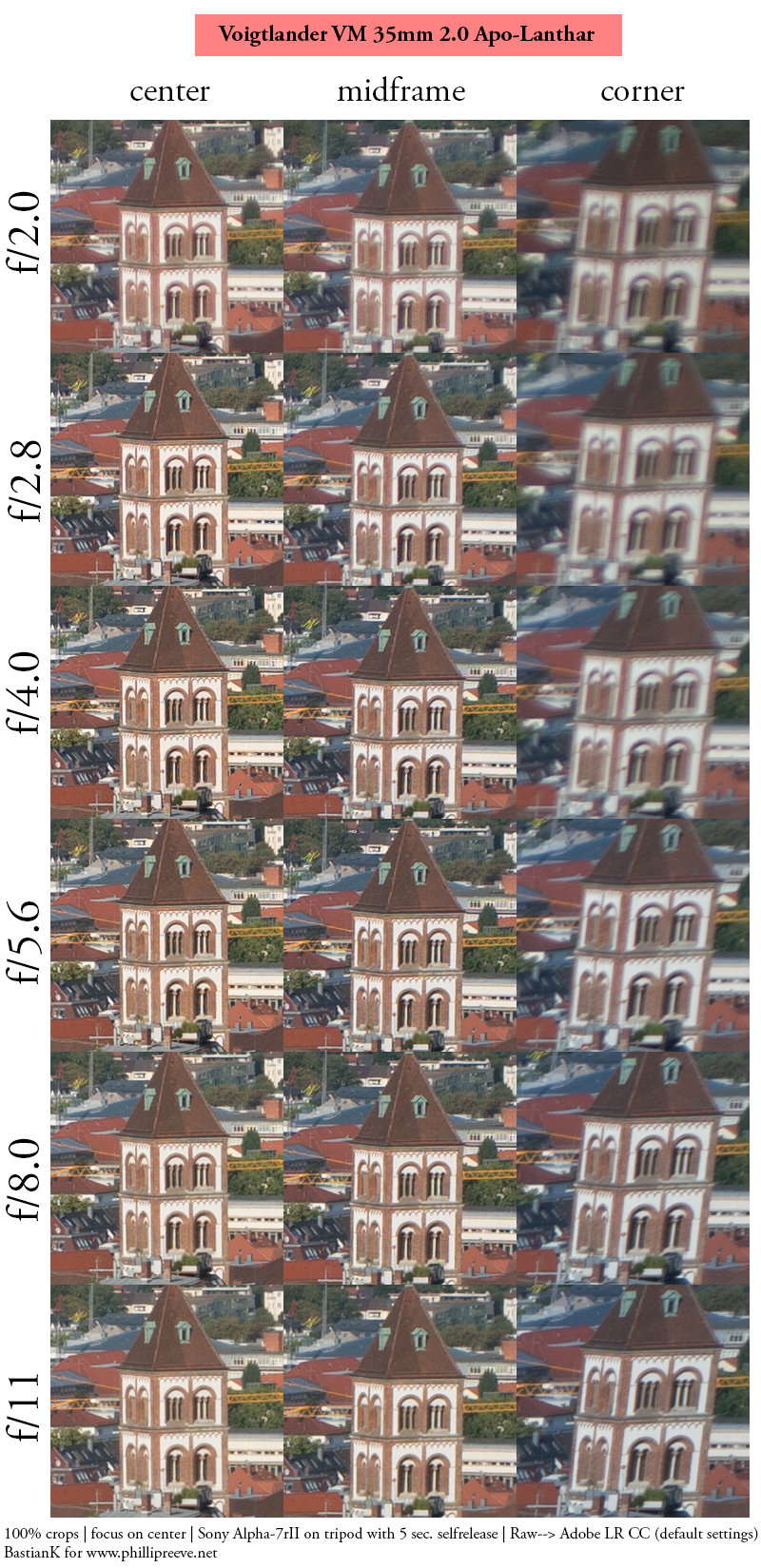 On a Sony camera we see decent center resolution and the midframe looks very good from f/4.0, but the corners never look remotely as good as those of the E-mount version.
So if you primarily want to use this lens on an E-mount camera: get the E-mount version.
infinity (24mp Leica M10)
Now on the Leica M10 the Voigtländer VM 35mm 2.0 Apo-Lanthar shows the performance we expect from a lens of the Apo-Lanthar series: flat field high performance already at f/2.0 that hardly improves on stopping down, if it wasn't for true infinity being slightly behind the lens' hard stop when used on my Leica M10.
Due to mount tolerances on lens and camera this can always happen and is the reason most non-M-mount lenses can be focused past the infinity mark.
portrait distance 1.0 m distance (24mp Sony A7III vs 24mp Leica M10)
For portraiture it isn't so important how flat the field is, it is more interesting to see what the sharpness is like when focused at different parts of the frame to take field curvature out of the equation.

We will be looking at 100% crops from the 24mp Sony A7III and the Leica M10. Both cameras do not have an anti aliasing filter in front of the sensor.
Sony A7III <—> Leica M10
observations
At a focus distance of 1.0 m the lens performs great in terms of sharpness and there are only minor differences in performance between the cameras visible.
close (0.50 m, 1:11.3, 42mp A7rII)

100% crops from center, A7rII, refocused for every shot.
The E-mount lens focuses down to 0.35 m whereas the M-mount version has a minimum focus distance of only 0.5 m. Unsurprisingly the performance is a bit better here at 0.5 m compared to the E-mount version at 0.35 m, but there is still some softness (spherical aberration) at the maximum aperture visible.
Flare resistance
As always evaluating flare is a complex matter since you can get any lens to look bad if you push it hard enough and a slight change of scenario can affect results a lot.
Generally the recent Voigtlander lenses have fared very well in this category, especially when it comes to veiling flare. Unfortunately the picture on top is already worse than anything I managed to create with the 35mm 1.2 or 50mm 1.2 lenses, but let us have a closer look.
Sun outside frame
With most lenses there is a very specific position close to the corner of the frame that will lead to a huge flare and the Voigtlander VM 35mm 2.0 is no exception.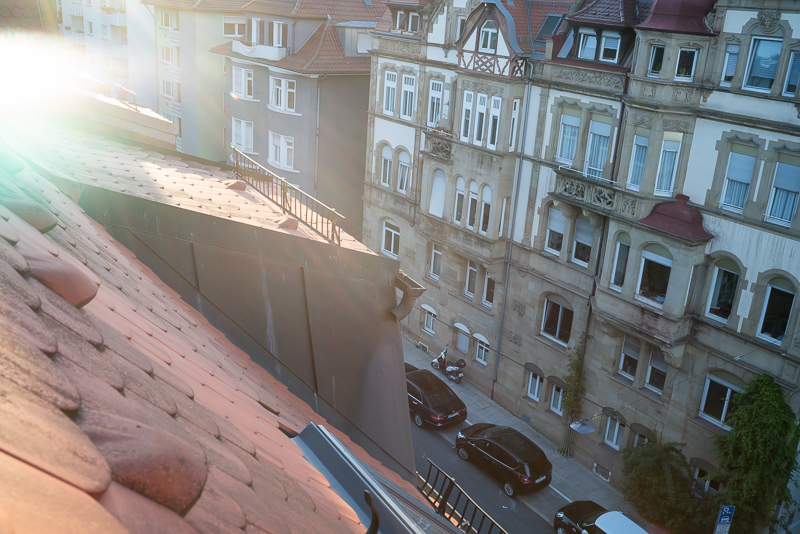 There is another position that leads to what looks like internal reflections, again, the light source needs to be in a very specific position for this, so this isn't something you should encounter often.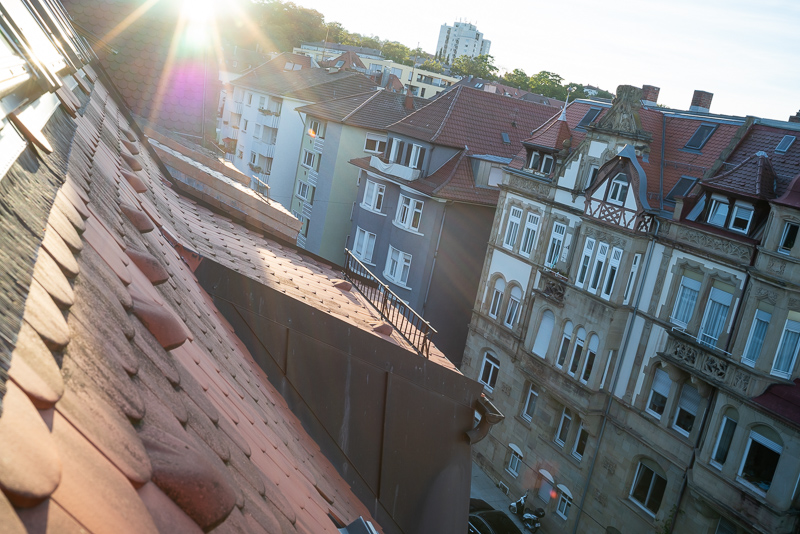 With the sun close to the edges a purple/green ghost can appear, that might also turn into a streak depending on the position in the frame.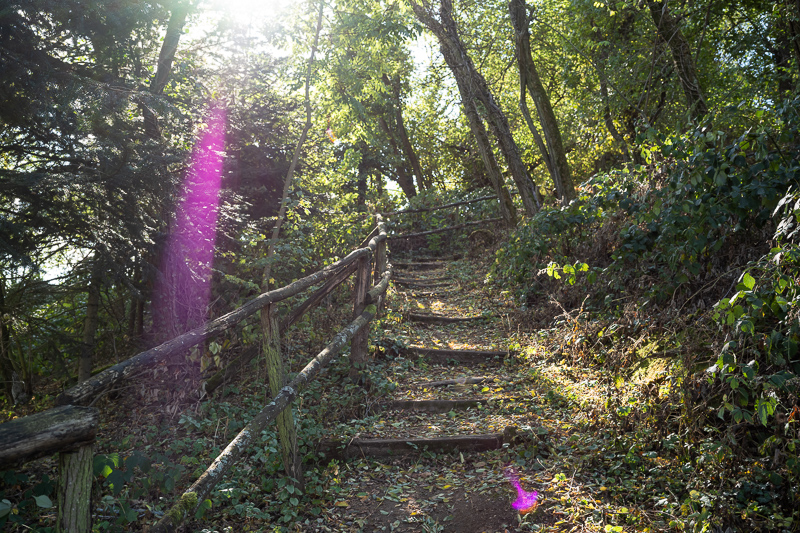 Sun inside frame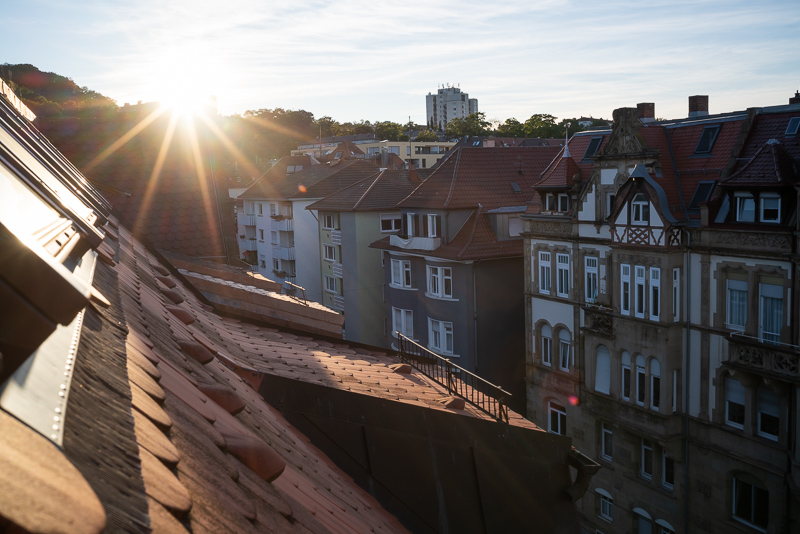 With the sun inside the frame the situation is generally better, but also here small ghosts can appear. Sometimes even sensor reflections can be visible.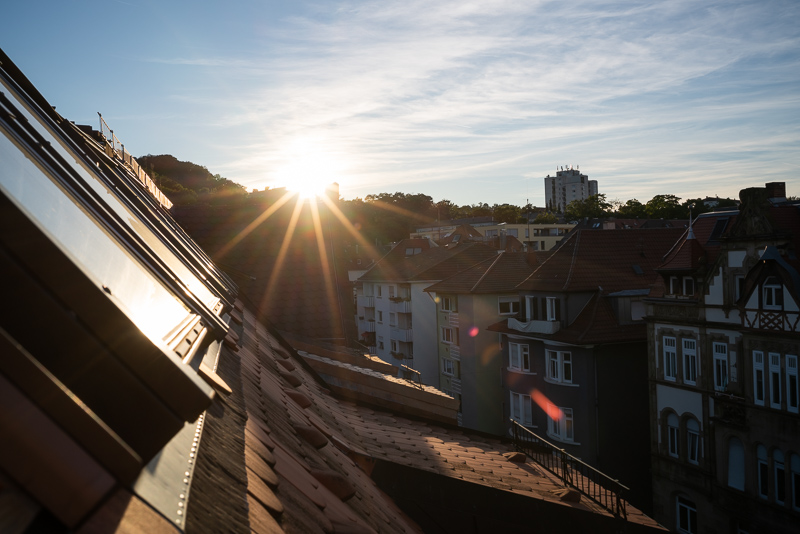 I took many pictures with a strong light source in the frame without any issues, still veiling flare is definitely something to watch out for.
Coma
In the very extreme corner you may spot a little bit of coma, but generally this aberration is corrected very well and will hardly be an issue in the field.
100% crops from extreme corner, focused on center, Leica M10
Distortion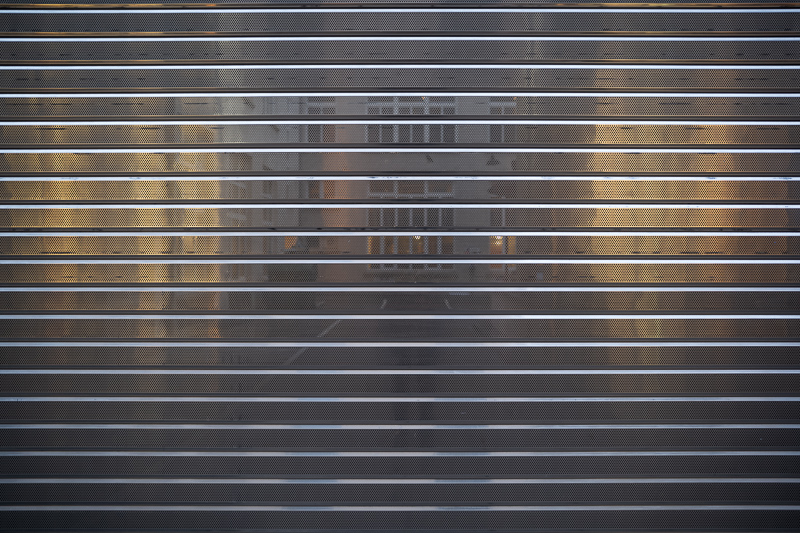 Distortion is hardly visible, but there is a slight waviness close to the corners. Nevertheless, even for architecture pictures I rarely felt the need to correct it.
Bokeh
When it comes to 35mm lenses a maximum aperture of f/2.0 is not that exciting anymore, as these days we have a very high resolving f/1.2 lens with autofocus, a compact M-mount 35mm f/1.2 lens and even an f/0.95 manual focus lens.
But when it comes to bokeh there is not only quantity, there is also quality, so let us have a closer look – as usual.
Close Distance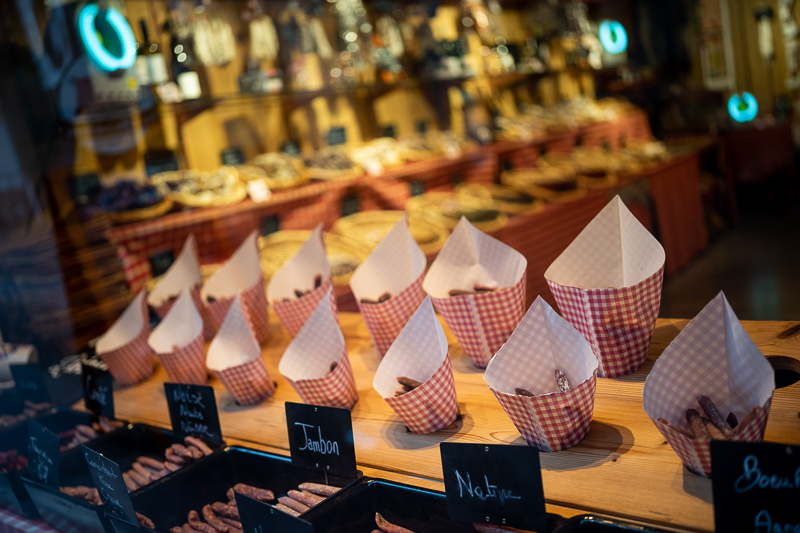 A minimum focus distance of 50 cm is quite decent for an M-mount lens, but compared to other mount lenses not that spectacular. Already at this distance we can sometimes encounter rather busy backgrounds with a bit of double edged structures.
Mid Distance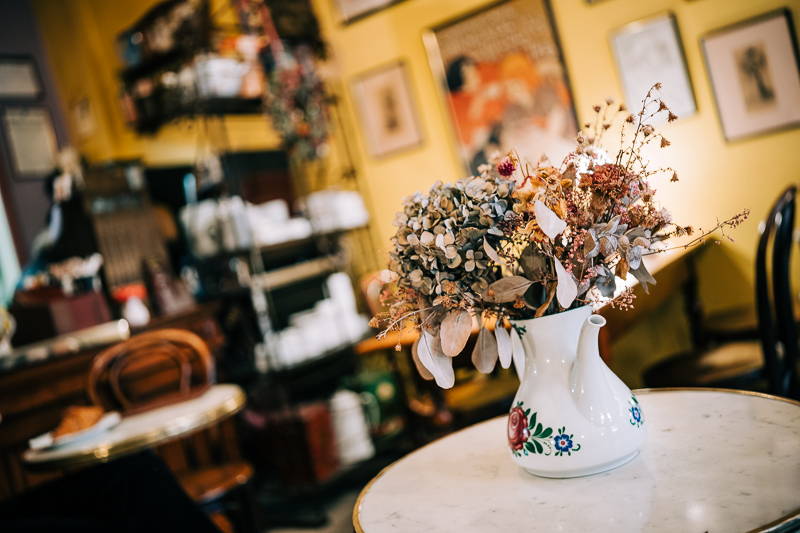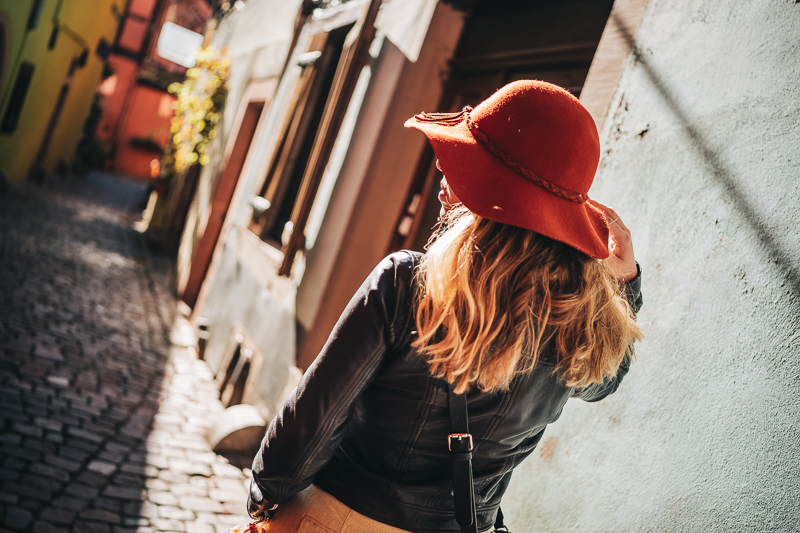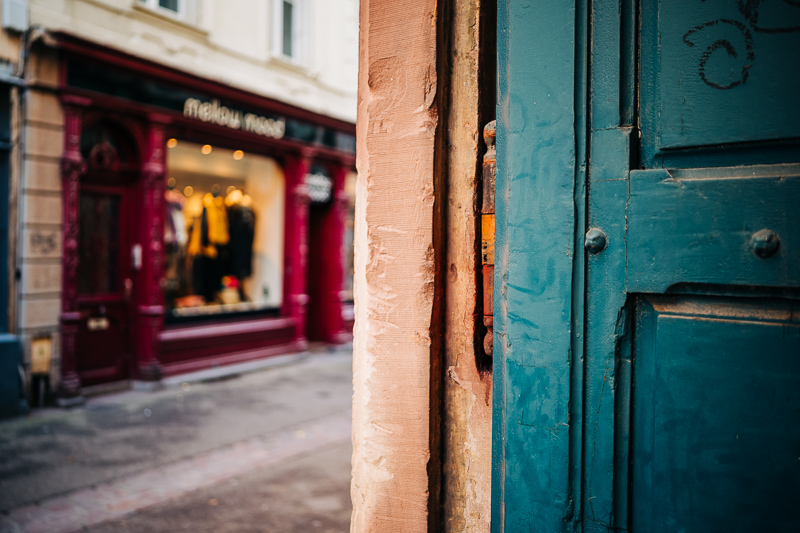 The trend continues at longer focus distances, as was already the case with the E-mount version reviewed here. Generally bokeh is not exactly the lens' strength and with complex backgrounds in many of the pictures I took there are double edges visible in the out ot focus areas than can be a little distracting.
Long distance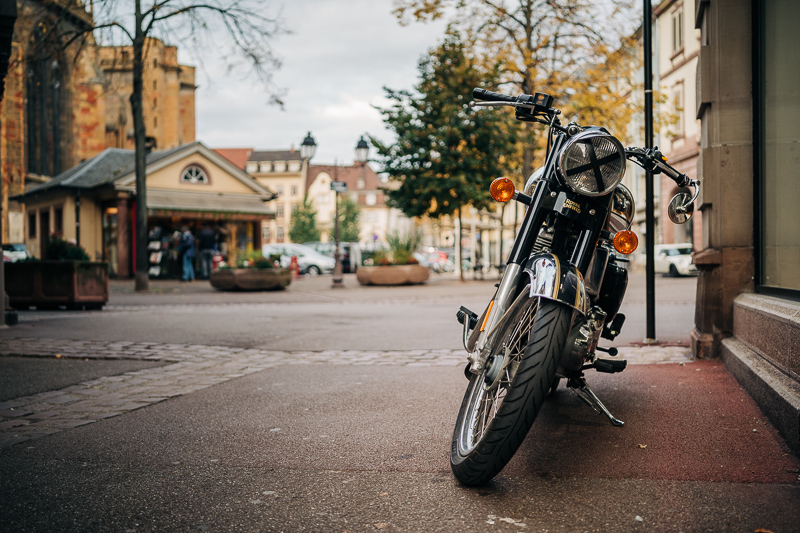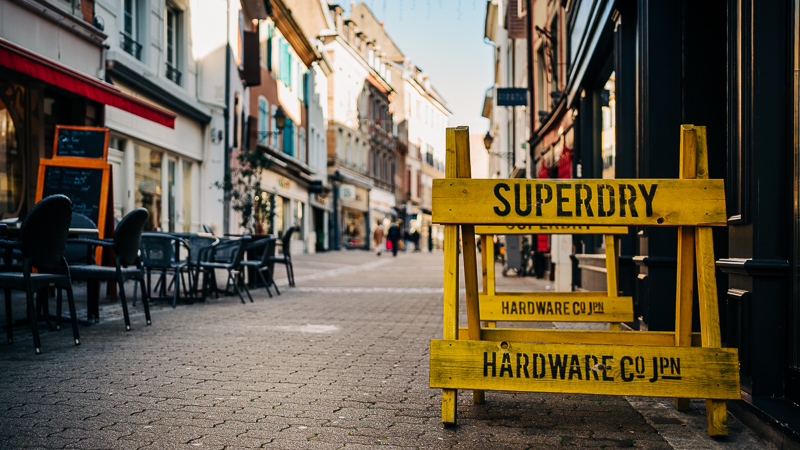 At longer focus distances a maximum aperture of f/2.0 in a 35mm lens doesn't really cut it for isolating your subject, but we knew that before. And as was to be expected also at these distances the background blur is not particularly smooth.
You might have noticed: I am not the biggest fan of the bokeh rendering of this lens, but this was also true for the previous Apo-Lanthar lenses. A very good correction of optical aberrations doesn't lead to exactly smooth and butterly bokeh (which is more what I like), but we should also keep in mind this is not what the lens has been designed for and there are faster lenses more suitable for that task available.
Sunstars
Like the Voigtlander 50mm 2.0 Apo-Lanthar before this 35mm lens features Cosina's speciel aperture diaphragm. At f/2.0, f/2.8, f/5.6 and f/16 the opening is perfectly round (no sunstars), at f/4.0 and f/8.0 the blades form a "crown cork" shape (whacky sunstars) and at f/11 they form a perfect dodecagon (sunstars).
Generally, I think the design is ingenious and I would love to see way more lenses using it, but compared to other Voigtlander lenses with only straight blades the sunstars are a little less distinct and they are harder to "control", as you cannot adjust their strength by stopping down more or less.
As this is a reasonably fast lens and you might also want to use it for some shallower depth of field photography I still consider it a very smart decision to use this diaphragm.
100% crops from center, A7rII
Chromatic aberration
lateral
I checked the amout of lateral CA and they are close to zero and therefore nothing to worry about.
longitudinal
In close focus scenarios longitudinal CA are hardly visible, but they may also be masked by spherical aberration a bit, so we will have a look how the lens performs at longer focus distances.
Sony A7rII | Voigtlander VM 35mm 2.0 Apo-Lanthar | f/2.0
Well… It is not like the performance is bad, but considering the Apo tag on the lens and taking into account the performance of previous Apo-Lanthar lenses I can't say I am impressed. The apochromatic correction was one of the main selling points of this series and here I simply don't see it. The M-mount lens also performs worse than the E-mount lens I previously reviewed, so I am not sure if it is the design or sample variation.
Alternatives
I reviewed plenty of 35mm M-mount lenses, notable ones are the Voigtlander VM 35mm 1.7 (if you are looking for a smaller/lighter option with nicer bokeh and similar image quality), Voigtlander VM 35mm 1.2 III (if you are looking more for speed than sharpness) or Zeiss ZM 35mm 1.4 (very good sharpness in an f/1.4 lens). What I didn't review is the direct competitor, the Leica 35mm 2.0 Apo Summicron-M. Interstingly this time it is the Leica lens that lets you focus closer, but the real difference it the price, as the Leica lens is roughly $8000. Or in other words: you can buy the aforementioned three Voigtlander 35mm lenses, the Zeiss 35mm lens and some other nice things for about half that price. Your call.
If you ended up here by accident and you want to have a general overview over the 35mm E-mount lenses have a look at our rather comprehensive guide on 35mm lenses for Sony FE cameras.
Conclusion
good

sharpness at all distances

aperture diaphragm construction

size/weight

distortion

coma correction

build quality and handling

average

bokeh
CA correction
flare resistance

not good

high vignetting even stopped down
What I wrote in my review of the E-mount version applies here as well:
The longitudinal CA correction is not as good as I expect from a lens carrying an Apo tag and in a direct comparison the M-mount version is even doing a little worse than the E-mount version. I am not sure if this is due to sample variation or the slightly different optical design of both lenses.
Don't get me wrong, the CA correction is still good, just not as excellent as that of the 50mm and 65mm Apo-Lanthar lenses.
I am also not a particularly big fan of the bokeh rendering of this lens, but this also boils down to personal preference, so you might come to a different conclusion about this.
Will these things matter to the typical landscape/architecture shooter this lens is supposed to appeal to? I don't think so. For these the positive aspects – by which I mean the 35mm 2.0 being a flat-field small manual focus lens with very high resolution and contrast straight from the maximum aperture and low amounts of chromatic aberrations, distortion and coma – will easily outweigh those comparably small negative aspects.
Compared to Leica's offerings – even the non-Apo ones – it is also quite the bargain in the M-mount world.
The lens is available from Robert White (UK) | Cameraquest (US) | B&H | ebay.com | ebay.de (affiliate links) and the price is $1149/1099€/£899.
Sample Images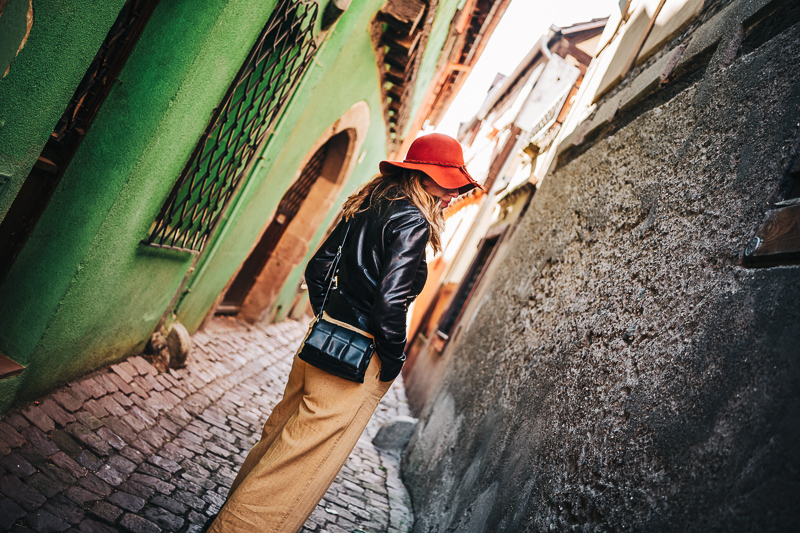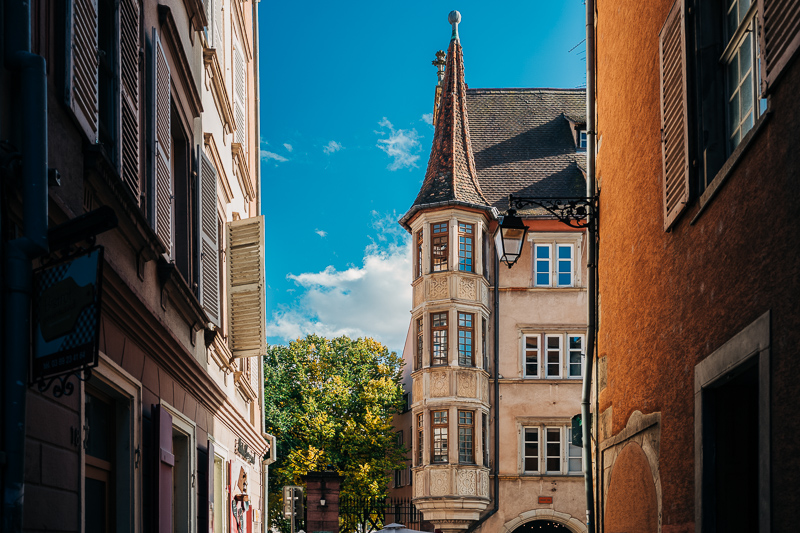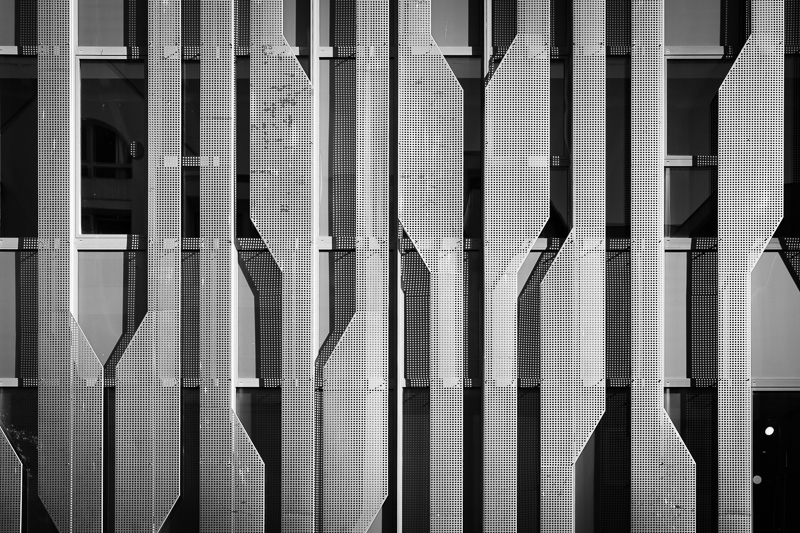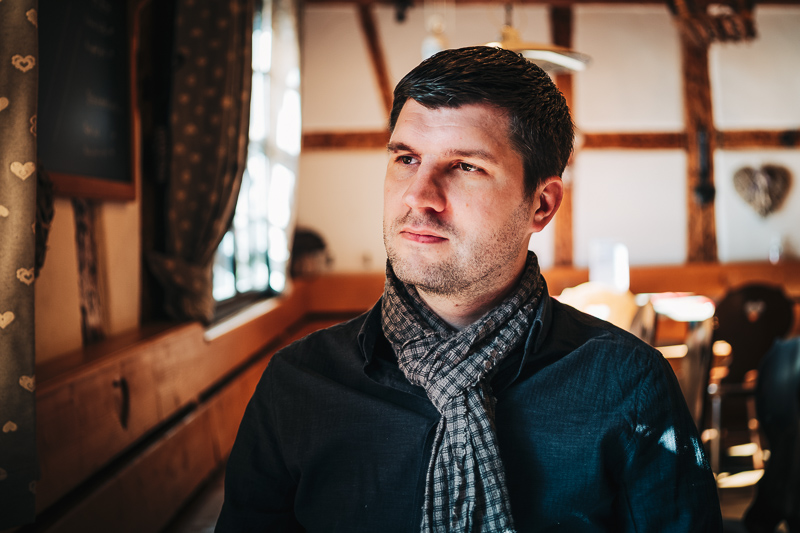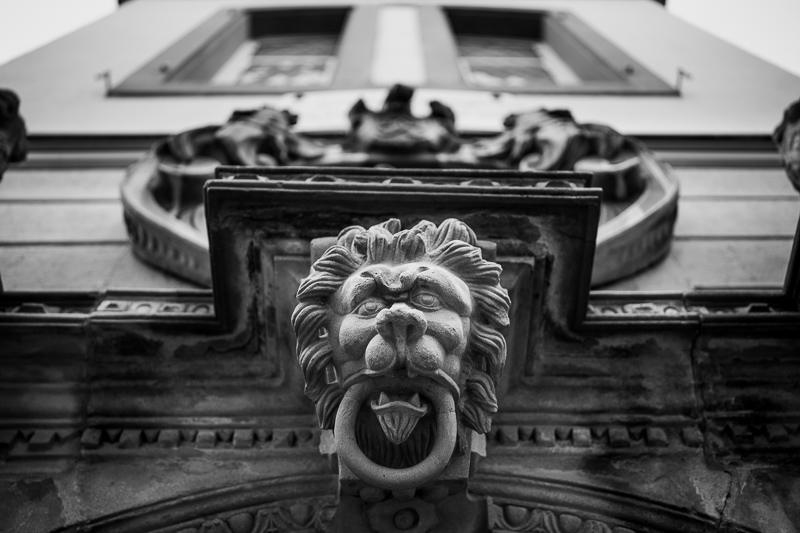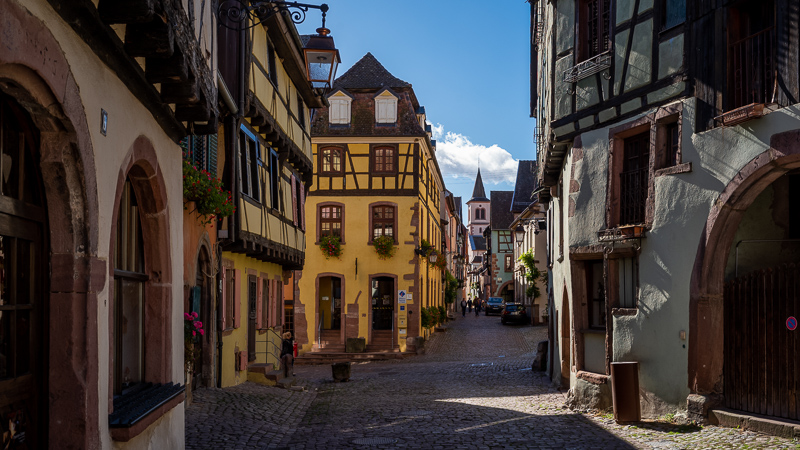 Most of the sample images in this review can be found in full resolution here.
Further Reading
Support Us
Did you find this article useful or just liked reading it? Treat us to a coffee!


via Paypal
The following two tabs change content below.
My name is Bastian and I am your expert here when it comes to ultra wide angle lenses, super fast portrait lenses (ranging from a 50mm f/0.95 to a 200mm f/1.8) and I also have reviewed way too many 35mm lenses. Don't ask me anything about macro or wildlife shooting though.